Dry & Mighty

Two Roads Brewing Company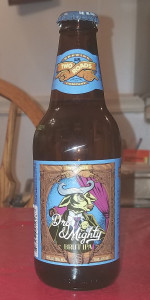 Write a Review
Beer Geek Stats:
| Print Shelf Talker
Style:

ABV:

6.8%

Score:

Avg:

3.69

| pDev:

7.05%

Reviews:

14

Ratings:

From:

Avail:

Rotating/Seasonal

Wants

Gots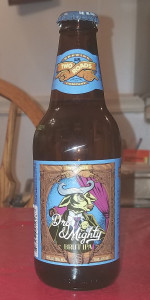 Notes: A citrus aroma balanced with hops and an effervescent , champagne-like mouthfeel.
Lampro from Virginia
3.65
/5
rDev
-1.1%
look: 3.5 | smell: 3.5 | taste: 3.75 | feel: 3.5 | overall: 3.75
Light and dry in body but with nice hops flavor and aroma, ranging from mild citrus to young pine. Not a hugely bitter IPA, which is pleasant and fits with the drinkable mouthfeel.
Dec 10, 2019

woodychandler from Pennsylvania
3.65
/5
rDev
-1.1%
look: 3.5 | smell: 4 | taste: 3.5 | feel: 3.75 | overall: 3.5
I dropped in at the Friendly Greek Bottle Shop (FGBS) on Friday night for the first time in a while. I just came to the realization that I have too extensive of a backlog to CANtinue to drink away from home & buy more beer to come home with me & so I curtailed my visits. I met a classmate to go to our alma mater high school's football game & afterwards I went back to buy a few things, including this one for The CANQuest (tm).
From the CAN: "A Dry & Refined Brut IPA"; "Here's to taking the road less traveled, in life and in beer!"; "A natural, harmless sediment may appear".
Really?!? In a Brut IPA? Well, I Crack!ed open the vent & beCAN a slow, steady C-Line Glug, keeping a close eye on the appearance of any sediment. It foamed up briefly to form just under two fingers of fizzy, foamy, rocky, bone-white head with low retention, quickly falling to wisps. Color was an oh-so-slightly-hazy Yellow-Gold (SRM = 4 - 5). Nose was both tropical fruity & citrusy, including both orange & lemon. Mmm. Mouthfeel was medium. The taste followed the nose pretty closely with the citrus flavors helping to keep the tropical fruit flavors in check. It was not as dry as some in the style, which may be a selling point to some. To me, I was kind of disappointed. I prefer my Brut IPAs to be really dry & a bit more bitter where this one tended towards tropical fruity. Finish was semi-dry & remained more tropical than citrusy. Meh. YMMV.
Sep 17, 2019
tone77 from Pennsylvania
3.74
/5
rDev
+1.4%
look: 4 | smell: 3.75 | taste: 3.75 | feel: 3.5 | overall: 3.75
Poured from a 12 oz. can. Has a golden color with a 1/2 inch head. Smell is strong of citrus. Taste is citrus, some light tropical fruits and crackers,dry at the finish and highly refreshing. Feels medium bodied in the mouth and overall is an enjoyable beer.
Aug 23, 2019
jlindros from Massachusetts
3.73
/5
rDev
+1.1%
look: 3.75 | smell: 3.75 | taste: 3.75 | feel: 4 | overall: 3.5
Canned Jan 11 2019
Pours a decent fizzy bubbly head, lighter retention, no lacing, very heavy pale sight orange color
Nose citrus and fruity hops, little grapefruit rind and pine, light cracker malt,
Taste more hops out front, citrus, grapefruit zest, light pine earthy note, light bitterness, mild cracker doughy malt, some stone fruit notes, dry champagne like finish but very little bitterness and a bit astringent like
Mouth is medium bodied, full carb little effervescent like
Overall meh, brut ipas should at least have some bitterness, it's not a super dry NEIPA as that kinda defeats the purpose of NEIPA. Plus this was very lackluster and bland. However, they did at least get that champagne like effect on the finish.
Apr 28, 2019

GratefulBeerGuy from New Hampshire
3.74
/5
rDev
+1.4%
look: 3.5 | smell: 3.75 | taste: 3.75 | feel: 3.75 | overall: 3.75
12 oz. Can 1/19/19 opened on 4/10/19
I love the idea of the style, a refined, dry and sparkling version of an ipa. I could dig that. My issue is, most versions I've had so far fall way short in the hop charecter to even be concidered an ipa. This version is obviously very light bodied, semi sparkling, slightly dry and not very hoppy.
Not nearly as active or carbonated as a "champagne-esque" should be, a rather relaxed, and mostly clear golden color. The white foam top proves to be thin and settles down fast, practically disapears. Not much left over in the way of head.
An effervescent kind of nose, with a cucumber and orange fruit/veggie aroma to the hop. Dry wheat and assorted peppery grains fill out the malty aspect.
The first sip is rather lively, crisp, kinda clean and only slightly dry. Still, this stuff is crazy easy to drink, thanks to its light golden presence. A mild flow of green veggies, slight citrus fruits and golden grains pretty much sums up the flavor spectrum.
Very hard to believe this anywhere near 6.8% abv.
Favorite aspect: The delightful, dry-golden grains and peppery bite and lingering aftertaste.
Apr 13, 2019
NeroFiddled from Pennsylvania
3.96
/5
rDev
+7.3%
look: 3.75 | smell: 4 | taste: 4 | feel: 3.75 | overall: 4
Two Roads Brewing Company "Dry & Mighty"
12 fl. oz. can, "PKG 11JAN19 10:36" and sampled on 8MAR19
$2.99 @ Total Wine & More, Cherry Hill, NJ
Notes via stream of consciousness: Great name, great label artwork. It's poured a hazy golden body beneath a short head of bright white foam that's settled into just a thin collar in the short time that I've been able to write this far. Perhaps my glass is not quite "beer clean"? I'll have to give them the benefit of the doubt as Two Roads has always produced high quality beers. On the other hand, the residual sugars should be that full as it's most likely been fermented out so who knows? The aroma is hoppy at least with plenty of fruity notes and just a little bit of "dankness". I'm going to guess Mosiac and Simcoe, although there could certainly be more, but what do I know - at least that should give you an idea of what my impression is; that being, of course, if you know what Mosaic and Simcoe hops are like. OK, on to the flavor... well I don't get the hops nearly as strong as the aroma led me to believe I would, but that's OK, it still works, and in fact now that I think about it too much hop flavor might throw it off balance. It remains fruity with orange and berries, some apple, and a light hint of pine and earthiness. The malt is basic and golden, nothing going on there. As you might expect it's fermented pretty well through so not that rich - which is good, of course, as this is a Brut IPA. I'm not sure where the IBUs are but it doesn't seem that bitter. I'll say it's got at least 15 but I'm not sure if it tops 22. It's a good balance though. In the mouth it's medium-light in body and gently crisp. Perhaps a little more carbonation would help? Or perhaps not. Overall except for the lack of clarity it pretty much hits the nail on the head for the style. The other part of that is the je ne sais quoi of it all and I'd say it's got a lot going for it. Is it the best Brut IPA I've tasted? Probably not, but it's up there.
Review# 6,510
Mar 09, 2019
Gajo74 from New York
3.89
/5
rDev
+5.4%
look: 3.75 | smell: 4 | taste: 3.75 | feel: 4 | overall: 4
Pours a clear yellow straw with an orange hue. Visible carbonation and a moderate bubbly white head, both dissipate shortly.
The aroma is bright and fruity with a combination of citrus and tropical fruit. Notes of orange pulp and pineapple stand out. There are also intermittent notes of herbal and floral hops aromas.
The taste actually opens kind of sweet and juicy, seemingly out of style. Notes of pineapple juice, mango, grapefruit pulp and orange. Nevertheless, the palate is dry overall, with the Jucy sweetness actually providing a nice balance. There is also a bit of hops spice and pine that adds a nice prickliness.
Medium to light bodied with a crisp and effervescent carbonation. Fruity yet dry, the finish has a spicy and gentle pine needle and lemon zest burn.
Overall I liked this. Perhaps it was a bit sweet fir the style, but as stated, I felt it added a pleasant balance. I would have it again.
Mar 05, 2019
PatrickCT from Connecticut
3.63
/5
rDev
-1.6%
look: 3.5 | smell: 3.5 | taste: 3.75 | feel: 3.75 | overall: 3.5
Another nice little beer from Two Roads.
Straw colored body. Clear with lots of bubbles. The barely one finger head dies down quickly.
Delicate fruity hop aroma and taste. Citrus and floral.
Light in body and mouth feel. Active carbonation. Not as dry as I expected.
Mar 02, 2019
hophugger from Virginia
3.38
/5
rDev
-8.4%
look: 3.75 | smell: 3.25 | taste: 3.25 | feel: 3.75 | overall: 3.5
Not a fan of the new "hot" style, Brut IPAs but I am having another one and here goes my assessment.....Pale gold, lightly clouded in color with fizzy white head measuring about a half finger, aroma full of orange and pineapple and not much alse. Taste is refreshing with citrus and finish is dry with only a bit of flavor lasting at the end
Feb 28, 2019

mike22ne from Massachusetts
3.8
/5
rDev
+3%
look: 3.5 | smell: 4 | taste: 3.75 | feel: 3.75 | overall: 3.75
My first "Brut IPA", not really sure what to expect... poured from a can, fresh from the brewery last week.
Looks ok, light gold with a coarse head that fades quickly.
Smell and taste are somewhat mild hops, citrus/herbal character. Light cracker malt flavor, a prickly champagne-like finish.
Feel is bright and lively, effevescent and light with a dry clean finish.
Overall pretty good. I don't love it, but would be willing to try another of the style.
Feb 23, 2019

hopsputin from New Jersey
3.53
/5
rDev
-4.3%
look: 3.5 | smell: 3.5 | taste: 3.5 | feel: 3.75 | overall: 3.5
A: slightly hazy straw yellow color with a thin, bright white head
S: lemongrass, grapefruit, straw, sweet caramel, mango, and a crackery bready malt backbone
T: muted grapefruit, crackers, faint mango and some sweet grains. Some sweeter mango towards the end with a crisp dryness
M: lighter side of medium with a very dry finish. Medium-high carbonation
O: a very muted beer. It's on the sweeter side for sure, but there's not much going on here besides the dry finish
Feb 18, 2019
metter98 from New York
3.66
/5
rDev
-0.8%
look: 3.5 | smell: 3.75 | taste: 3.75 | feel: 3.5 | overall: 3.5
A: The beer is clear light golden yellow in color and has a light amount of visible carbonation. It poured with a quarter finger high bright white head that quickly died down, leaving some lacing on the surface and a narrow collar around the edge of the glass.
S: Light aromas of green grapes are present in the nose.
T: The taste follows the smell and has flavors of green grapes with hints of lemons. No bitterness is perceptible.
M: It feels a bit more than light-bodied on the palate and has a moderate amount of carbonation. There is only a light amount of dryness in the finish.
O: This Brut IPA seems to be more fruitier and has less dryness compared to other beers in the style.
Serving type: can
Feb 10, 2019

HorseheadsHophead from New York
3.75
/5
rDev
+1.6%
look: 3.75 | smell: 3.75 | taste: 3.75 | feel: 3.75 | overall: 3.75
The appearance is slightly hazy transparent bright yellow, with a small white head. Good retention and spotty lacing.
Smells like orange and lemon pith, Pine-Sol, hay, honeydew melon, cracker, and grass.
Tastes like orange and lemon soda. Some zest of orange and lemon. A bit of pineapple, cracker, honey, wheat, hay, and grass. Only lightly to moderately dry. Very citrusy and refreshing.
Medium-light mouthfeel, well carbonated, crisp, clean, and moderately dry.
A solid Brut IPA! Not the best, but certainly not the worst. Quite good.
Feb 06, 2019

mnrider from Connecticut
3.84
/5
rDev
+4.1%
look: 3.75 | smell: 4 | taste: 3.75 | feel: 4 | overall: 3.75
12 oz. Can. 10 Day's Fresh.
A: The beer pours a clear slightly hazed yellow. Good amount of carbonation. Thin fizzy head quickly dies down to nothing. No lacing.
S: Fruity. Dry. Grapes.
T/M: Sweet and fruity. Lemon with grapes. Some more citrus flavors pop out. The beer is pretty dry, as expected. Nice crisp carbonation tingle. A little zesty which lingers into the aftertaste.
O: Not as flavorful as other Brut IPA's I've had. Still refreshing with a good mouthfeel.
Cheers!
Jan 29, 2019
Dry & Mighty from Two Roads Brewing Company
Beer rating:
84
out of
100
with
33
ratings