Cruise Control

Two Roads Brewing Company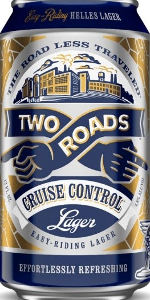 Rate It
Beer Geek Stats
| Print Shelf Talker
Style:

ABV:

4.8%

Score:

Avg:

3.84

| pDev:

8.33%

Reviews:

10

Ratings:

From:

Avail:

Year-round

Wants

Gots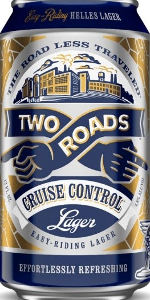 Notes: An effortlessly refreshing golden lager built for kicking back and taking it easy down the Road Less Traveled.

moodenba from New York
3.11
/5
rDev
-19%
look: 3.5 | smell: 3 | taste: 3 | feel: 3.25 | overall: 3.25
Two Roads Cruise Control poured at 45F into a sham pilsener glass. Head is white and very nice, and leaves lacing on drinking. Body is a slightly cloudy medium amber. This has a reasonable body with just enough bitterness. Aftertaste is fairly neutral. Flavor reminds me of some of the regional American beers of the seventies (maybe Schmidt's of Philadelphia?). It won't knock anybody's socks off, but if you're looking for something to toss down after a hard day's work, this might be just the thing.
Dec 09, 2020

CTHomer from Connecticut
4.02
/5
rDev
+4.7%
look: 4.25 | smell: 4 | taste: 4 | feel: 4 | overall: 4
A; crystal clear; pale gold in color; 1+ finger finely pored ivory head that receded to a skim cap; OK lacing;
S: light grain, grass, leaves, and a hint of lemon;
T: follows the nose from start to finish; the lemon was a bit more noticeable in the middle; mild bitterness at the end;
M: light to medium bodied; moderate carbonation; moderately dry finish;
O: refreshing; nice example of the style;
Apr 20, 2020
tigg924 from Massachusetts
4.04
/5
rDev
+5.2%
look: 4.25 | smell: 4 | taste: 4 | feel: 4.25 | overall: 4
Had on tap. Pours clear light gold in color with one third inch head. Taste is honey, light wheat, and corn flakes. Light bodied, sweet, with moderate carbonation. Makes for a super easy to drink clean classic helles. Could do several on a hot day.
Dec 28, 2019
NeroFiddled from Pennsylvania
4.1
/5
rDev
+6.8%
look: 3.5 | smell: 4 | taste: 4.25 | feel: 4.25 | overall: 4
Two Roads Brewing Company "Cruise Control Lager"
12 fl. oz. can, "PKG 28FEB19 13:30" and sampled on 23AUG19
$2.79 @ Total Wine & More, Cherry Hill, NJ
Notes via stream of consciousness: A rough pour brings up almost three inches of bright white foam atop a somewhat hazy yellow gold body. Is this unfiltered? It looks great, but it doesn't look like a helles lager. The aroma smells like beer. I'm kidding, but at the same time I'm not. It smells exactly like what most people think of as "beer". It's got grainy malt and floral and grassy hops. It's clean and bright and welcoming. On to the flavor... as expected, it follows exactly. The grainy malt is nicely threaded through with hop flavor and you get it from start to finish where some grassiness lingers along with some moderate bitterness. It's perfectly balanced. In the mouth it's medium leaning towards medium-light in body and crisp with a fine-bubbled, standard carbonation. This is a great beer! It's better than some of the examples I've tasted in Germany, although the haze would be completely unacceptable there.
Review #6,663
Aug 23, 2019

daliandragon from Maryland
3.76
/5
rDev
-2.1%
look: 4.25 | smell: 3.75 | taste: 3.75 | feel: 3.5 | overall: 3.75
Part of a summer sampler of single beers I picked up at the Trader Joe's near my parents' house while home for the holiday last weekend: lagers, gose, summer ales and the like.
This pours cloudy and golden with an impressive white head and lace. Nose has a little spicy noble hops and the expected biscuit/bread malt tones. Body is thin intially but holds up better later on. Flavor is tasty and relatively simple. A little honey and a hint of pepper but otherwise just a clean, drinkable summer German lager.
May 30, 2019

HoppingMadMonk from New Jersey
3.83
/5
rDev
-0.3%
look: 4 | smell: 4 | taste: 3.75 | feel: 3.75 | overall: 3.75
Cloudy gold yellow color.
Medium body with about medium body.
Aroma is malt, grain,cracker,yeast,classic pilsner aroma
Taste is bitter hops, bread,grain,malt, some corn.
Overall it was a very flavorful beer,comes and well made. Would definitely get this again
May 18, 2019

keithmurray from Connecticut
4
/5
rDev
+4.2%
look: 4 | smell: 4 | taste: 4 | feel: 4 | overall: 4
Appearance - pale straw color with white head
Smell - bready, doughy, grassy, biscuit
Taste - much like the smell, bread, dough, grass, biscuit, slight white bread sweetness in the end
Mouthfeel - medium bodied, medium carbonation, bready, biscuit upfront, white bread sweetness in the back end. Crisp and clean
Overall - very good Helles here, all the flavors are crisp and clean, makes for a great BBQ type of brew. Give this a shot
Price Point - $2.29/12 oz can
May 13, 2019
jlindros from Massachusetts
3.65
/5
rDev
-4.9%
look: 4 | smell: 4 | taste: 3.5 | feel: 3.5 | overall: 3.5
One of my new fav styles, let's see how Two Roads does. Canned Feb 28, 2019
Pours a very large pasty-white foamy head with good retention, a little lacing, mostly clear slight hazed bright pale yellow almost neon color
Nose a bit light but decent malt profile, grainy-sweet with a bit of depth, lots of pilsner malt and a little corn note, very faint hop, not bad just a bit light
Taste brings more sweet malts, less grainy-sweet pilsner malt and more like generic sweet pale malt notes, not much depth, and malts fade off quickly, clean lager mostly but a bit of fruity flavors, hops come with some of the fruity notes and a little grassy herbal, low bitterness, gritty dry finish, a little astringent
Mouth is on the lighter side body, medium to lighter carbonation too, and gritty astringent finish
So there were quite a few things I didn't like about this, lack of malt depth overall, overall way too light, in addition it was astringent on the finish, so I feel like they kinda missed the mark a bit on this one. Not sure if it's me or Two Roads quality has been sliding a lot in the last couple of years.
May 10, 2019
Tucquan from Pennsylvania
4.17
/5
rDev
+8.6%
look: 4.25 | smell: 4 | taste: 4.25 | feel: 4 | overall: 4.25
Had this on 2019-03-31 in Columbia, PA from a 16oz canned on 2019-02-22
A - Very clear gold with a 1.5-finger white head and decent lace.
S - Pils malt, white grape, honey, floral. Very pleasant.
T - Fresh white bread with a smidgen of white grape jelly. There's some pleasant, noble spice and an appropriate light bitterness in the finish. Very well balanced.
M - Light-medium body and medium carbonation. Refreshing but with some substance going down.
O - Very true to style. A showcase for Pils malt. I'm glad for the little bit of white grape sweetness that I associate with a good Helles. IIt'll be fun to try this side-by-side with some of my other favorites in this style.
Mar 31, 2019

woodchipper from Connecticut
4.21
/5
rDev
+9.6%
look: 4.25 | smell: 4.5 | taste: 4 | feel: 4.25 | overall: 4.25
Poured from a 12oz can packaged 3/1/19 to a Pilz glass.
Nice light gold color, multiple bubbles rise through the entire session. Frothy white head lasts 4-5 minutes fades to lacing.
Sweet bready aroma that follows to taste. Almost borders on too sweet on the tongue. LIght mouthfeel (appropriate) maybe a little oiliness. Carbonation is just right.
Alpine Flow has disappeared from the shelves around me, but this definitely takes its place. A solid Helles.
Mar 16, 2019
Cruise Control from Two Roads Brewing Company
Beer rating:
85
out of
100
with
32
ratings