Burning Bridges
| Spiteful Brewing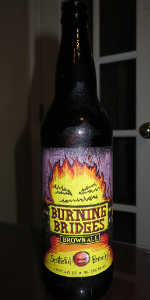 BEER INFO
Brewed by:
Spiteful Brewing
Illinois
,
United States
spitefulbrewing.com
Style:
American Brown Ale
Alcohol by volume (ABV):
7.50%
Availability:
Rotating
Notes / Commercial Description:
Need some fermented anger management? Burning Bridges, a happy American Brown Ale, hits your taste buds with generous portions of Horizon, Falconer's Flight 7C's, and Cascade hops. Amber and chocolate malt provide the moral fortitude to balance these angry hops. However, when you inevitably do burn bridges, at least you still have this beer to help ease the consequences.
Added by TMoney2591 on 01-14-2013
Reviews: 8 | Ratings: 37

3.82
/5
rDev
-7.5%
look: 4 | smell: 3.75 | taste: 3.75 | feel: 3.75 | overall: 4
Served in a Lagunitas mason jar.
I've had it on good authority that the burning of bridges is not the greatest tactic in the world... Anyway, this stuff pours a very dark black-brown topped by over a finger of sandy tan foam. The nose comprises leafy greens, roasted malts, mild Cameroon tobacco, and dark chocolate. The taste brings in more of the same, along with some mild citrus rinds. The body is a light-leaning medium, with a light moderate carbonation and a dry finish. Overall, a pretty nice hoppy brown ale, one that actually seems to showcase a good number of the different hops varietals involved (though others just get drowned out by the malt) and achieves a pleasant balance. Not bad.
702 characters
3.87
/5
rDev
-6.3%
look: 4.25 | smell: 4 | taste: 3.75 | feel: 3.5 | overall: 4
Batch #10
Poured into a tulip glass, there's a dense head of tan foam the forms quickly and lasts for awhile. leaving behind plenty of lace in it's wake. Brownish black color, doesn't reflect much if any light.
Toasty aroma, chocolate malt is present, dry unsweetened bakers chocolate. Not much of a distinctive hop aroma.
Light toasted cereal aftertaste, moderate hop bitterness. Light florals and dried citrus peel hop character ride underneath the primary malty flavors. Fairly dry in the finish, medium bodied with a smooth carb level. Overall it's decent. Aptly named, knowing some of the background.
609 characters
3.94
/5
rDev
-4.6%
look: 4 | smell: 3.75 | taste: 4 | feel: 4 | overall: 4
Bottle is marked Batch 10
A- pours a rich, brown, cola color with a 2 finger beige head. Very low lacing. Head lasts for a good part of the drink
S- slight. A bit of sweet malts and chocolate malts. Some roasted notes as well.
T- nicely complex. Bread, toast and chocolate notes followed by a strong bitter hops presence. Citrus notes mixed in as well.
M- medium with medium finish. The grapefruit hop prevented lingers on the tail
O- a nicely complex brown ale
468 characters
3.94
/5
rDev
-4.6%
look: 4 | smell: 3.75 | taste: 4 | feel: 4 | overall: 4
22oz, 3/13/13,
Batch #10
HF Wine glass
A: Pours deep brown. Not getting any real light through it. Nice layer of two fingers of light tan head. Leaving sticky lacing. Good carbonation.
S: Definitely piney and earthy hops. Chocolate cocoa like note. Roast. More milk Chocolate. Touch of coffee.
T: Nice piney bitterness up front. Sort of more like a BIPA than a brown ale. Then you get some roast and chocolate, like a sessionable porter/stout. Really style bending brew.
M: Big medium. Nice body on this one.
513 characters
4.11
/5
rDev
-0.5%
look: 4 | smell: 4.25 | taste: 4 | feel: 4.5 | overall: 4
1 PINT 6 FL. OZ. bottle
Served in a mug
A - This is about as dark as a brown ale can be. When held to the light I get faint amber highlights. There is about half a mug of tan head.
S - The smell is grain, molasses, and chocolate. There are a few wafts of citrus.
T - The taste has some remnants of a once hoppy beer. I taste some orange and a little citrus. The main flavors are from the malt. I get wonderful roasted grain and chocolate malt.
M - Medium to full
O - This is a flavorful brown ale. Unfortunately, I held on to it past its prime as far as the hops go, but the malt bill is delicious. I am really enjoying this beer. This is my first Spiteful beer, and I will definitely seek out more of their offerings.
726 characters
4.23
/5
rDev
+2.4%
look: 4.5 | smell: 4 | taste: 4.25 | feel: 4.5 | overall: 4.25
Batch 10. Poured from a 22 oz. bomber into my Half Acre snifter.
A - Pours a very dark brown that is pretty much impenetrable by light. A nice one a half finger frothy head. Incredible retention & consistency of bubble size.
S - Hops & nuts. Roasted notes pair well with a grassy hop character. Some nice bitter chocolate.
T - Nice roasted & toasted notes to begin, with a piney hop presence to balance. A bit of a boozy presence at the very end. Reminds me of a nice porter.
M - Great creamy mouthfeel, with superior drinkability.
O - Very impressive job here from a new brewery. A very interesting take on a brown ale. Do not hesitate to pick this up.
658 characters
4.5
/5
rDev
+9%
look: 5 | smell: 4.25 | taste: 4.5 | feel: 4.75 | overall: 4.5
Handwritten batch 10
A: Rich, dark brown with a foamy/pillowy orange tinged beige - great retention and lacing.
S: Super interesting. Rich lightly roasted, heavily toasted creamy caramel/toffee notes. Big grapefruit and slight pineapple astringency - great profile.
T: So damn smooth and delicious. Sweet, toasted caramel and bready malts, some chocolate as well. Substantial hop bitterness - citrus, slight pine, slighter resin. Super delicious
P: Inredibly smooth. Medium to full body. Very soft carbonation, possibly too much so.
O: Fantastic beer. Easily the most interesting brown ale's I've ever had
612 characters

4.68
/5
rDev
+13.3%
look: 4.5 | smell: 4.5 | taste: 4.75 | feel: 4.75 | overall: 4.75
22oz bottle. I've tasted a few ounces of this twice. This will be my first time with a decent pour.
A - Dark and thick for a brown. Fine-bubbled khaki head fades quickly. More reminiscent of a porter than a brown. Bleh, how are you supposed to rate appearance on .25 intervals--this one's great I guess!
S - Hoppy, then roasty, then hoppy. Finally some caramel/toffee. Right up my alley.
T - Whoa, burnt toast, roast, bitter deliciousness. Thinking 3 Floyds' Snow Weasel. Nice dark chocolate in the middle with just a hint of citrus. Something about the lingering coffee and hops make the beer taste fresh--a characteristic that I'd think would hold up to the test of time. A really enjoyable flavor.
M - Medium to thick body for the style. Lots of carbonation, but creamy. I like it. Very hoppy, but still balanced
O - Well, this beer can't get much better for me. Perhaps there are some palates that won't agree, but as a hoppy porter kind of guy I love this. Looking forward to more out of these guys. Thanks Spiteful!
1,026 characters
Burning Bridges from Spiteful Brewing
4.13
out of
5
based on
37
ratings.