Mrs O'Leary's Chocolate Milk Stout
| Spiteful Brewing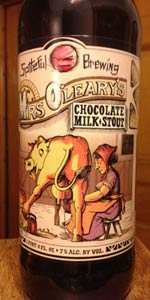 BEER INFO
Brewed by:
Spiteful Brewing
Illinois
,
United States
spitefulbrewing.com
Style:
Milk / Sweet Stout
Alcohol by volume (ABV):
7.00%
Availability:
Rotating
Notes / Commercial Description:
No notes at this time.
Added by TotallyHosed on 05-28-2013
Reviews: 10 | Ratings: 97

4.4
/5
rDev
+10.3%
look: 5 | smell: 4.25 | taste: 4.5 | feel: 4.25 | overall: 4.25
Really nice chocolate milk stout. Pours a very dark body. You get a lot of cocoa in the nose although it is a bit restrained. It doesn't punch you in the nose. The taste is fantastic. Very chocolatey with no acrid bitterness. It has a very creamy mouthfeel with low carbonation. The finish is chocolate and the chocolalte lingers and lasts on the palette. It is a nice dessert beer for sure.
391 characters
4.24
/5
rDev
+6.3%
look: 4.5 | smell: 4.25 | taste: 4.25 | feel: 4 | overall: 4.25
bomber batch 32 into a tulip.
pours a dark black with nice inch thick beige head. attractive pour. smell is very chocolately and malty, just as promised. the taste is extremely chocolatey at first but finishes with a nice lasting bitterness. I dig it a ton. medium bodied, mild carbonation.
overall very impressive. really like this.
335 characters

4.05
/5
rDev
+1.5%
look: 4 | smell: 4 | taste: 4 | feel: 4 | overall: 4.25
Served in a nonic pint glass.
Taking in some fireworks on my buddy's boat with a nice beer in hand. Good times on the Fourth. This stuff pours a deep, dark black-brown topped by a finger of khaki foam. The nose comprises roasted malts, chocolate syrup, and a hint of sweet coffee, similar to Kahlua. The taste brings in more of the same, with the chocolate really taking center stage, as one would expect. The body is a hefty-leaning medium, with a light moderate carbonation and a fairly smooth feel. Overall, a pretty damn tasty beer, one that went rather well with the fireworks and the nautical activities. Good times.
623 characters

4
/5
rDev
+0.3%
look: 4 | smell: 4 | taste: 4 | feel: 4 | overall: 4
22 oz. bottle, with no apparent bottled on date present. My first beer from Spiteful Brewing, out of Chicago. These guys have been creating a buzz and have been putting out lots of new beers at my local beer store. Awesome label art; I can't wait to try it.
Poured into a clear balloon snifter glass.
A - Pours a slick solid opaque black colored body with a finger and a half of luscious dark chocolate mocha head. Head recedes to a fat dark mocha ring. Looks truly mouthwatering.
S - Smell is of milk chocolate, some cold coffee, used coffee grounds, cream, hint of hops, and a strong powdery lactose / milk smell. As it warms, I get a cherry / strawberry jam aroma.
T - Taste follows the nose: some bitter dark chocolate / coffee bean roast, cocoa, cream, and some crisp bitter dark fruit tartness on the finish.
M - Feel is powdery, sticky, and creamy. Dry cocoa and coffee bean roast on the finish. Medium-bodied with maybe just a tad too much carbonation, but otherwise, delicious.
Overall, an awesome chocolate milk stout. Definitely rivals some of the bigger and better know stouts I've had from other breweries. Three Floyds Moloko comes to mind as a comparison, but I couldn't say if it's better or not. Either way, this is a delicious first beer from Spiteful Brewing, and I look forward to trying the rest.
Spiteful Brewing Mrs. O'Leary's Chocolate Milk Stout ---4/5.
1,386 characters
4
/5
rDev
+0.3%
look: 4 | smell: 4 | taste: 4 | feel: 4 | overall: 4
Appearance: Pours a dark chocolate color with an inch of mocha foam capping the liquid; some streaky lacing stays behind
Smell: Milk chocolate, with hints of coffee and hops
Taste: Milk chocolate with a hint of coffee and cream; slight bitterness from the hops, after the swallow
Mouthfeel: Medium body with a creamy texture; moderate carbonation
Overall: Very nice milk chocolate flavors; a fine milk stout
411 characters
3.86
/5
rDev
-3.3%
look: 4.25 | smell: 3.75 | taste: 3.75 | feel: 4.5 | overall: 3.75
This would be much better if it didn't taste like raspberry. It's smooth...creamy..roasty...light buy that fruit flavor is overwhelming. Overall a nice milk stout...almost perfect for a holiday desert.
203 characters
3.82
/5
rDev
-4.3%
look: 3 | smell: 3.5 | taste: 4 | feel: 4 | overall: 4
The brew is black with a mocha head. The head is small and quickly disappears. Nothing above average here.
The nose is very inviting and makes me hungry. The smell is dominated by what can only be described as rich chocolate milk. The aroma is unmistakeably chocolate, however there's something about the aroma that makes me think of chocolate milk. I suppose it's the lacto, but I cannot say for certain. Beyond the chocolate are hints of roasted grains.
The flavor is a little more complex than the nose. I think there is more balance between the chocolate and roast flavors.
The feel is a solid medium. There's lots of creaminess as well which coats the mouth nicely. The coating lets you continue to enjoy the flavors. The finish is dry.
Overall this is a very delicious and rich chocolate milk stout. The flavor deserves the most praise, however it's close to being too much. In other words, if the flavors were turned up a couple notches I would consider this brew to be cloying. This stout has Spiteful's trademark dryness and roast that we've enjoyed in past brews.
1,085 characters
3.81
/5
rDev
-4.5%
look: 4 | smell: 3.5 | taste: 4 | feel: 3.75 | overall: 3.75
poured out thick and dark with a very small rim
hints of chocolate and a touch of anise
smooth entrance on the tongue ,good hints of chocolate, not bitter, and some licorice notes
medium mouth feel with no lingering aftertaste
I thought this spiteful offering was decent, for me tho, perhaps a bit more sweetness .for the price of 9 bucks for 22oz., I would sample again.
375 characters
3.79
/5
rDev
-5%
look: 4 | smell: 3.75 | taste: 3.75 | feel: 4 | overall: 3.75
A - nice dark brown black opaque beer with a mocha head that sticks and leaves nice lacing
S - chocolate, coffee, creamy goodness, slight cherry/dark fruit
T - chocate, cream, coffee, vanilla, dark fruits, mild roasty malts, mild burnt marshmallow
M - pretty thick mouthfeel, alcohol covered, aftertaste is chocolate, roasted malts
O - would be better if it was a higher abv, I can tell spiteful has talen, this beer seems like it's just begging to be an imperial chocolate milk stout
485 characters
3.73
/5
rDev
-6.5%
look: 4 | smell: 4 | taste: 3.5 | feel: 3.75 | overall: 3.75
Pour pretty dark no head not black but dark
smell is heavy chocolate and slight creamy
taste is nice chocolate and decent carbonation
has light dairy type taste which turns to a little chalky on the back end
overall i would say is average glad to have tried but would not get again
285 characters
Mrs O'Leary's Chocolate Milk Stout from Spiteful Brewing
3.99
out of
5
based on
97
ratings.