Corporate Guy Wheat Wine Ale
| Spiteful Brewing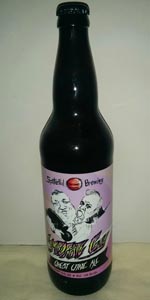 BEER INFO
Brewed by:
Spiteful Brewing
Illinois
,
United States
spitefulbrewing.com
Style:
Wheatwine
Alcohol by volume (ABV):
11.00%
Availability:
Rotating
Notes / Commercial Description:
We all know that guy...
the one who says he's gonna shoot you an email...
the one networking at beer events...
the one who lives five blocks from work but drives...
the one who winks and throws you the finger gun...
so next time this guy tries to hand you a business card, grab our very sophisticated Wheat Wine instead
and have something that actually matters in your hand...
Added by BeerLover99 on 09-25-2013
Reviews: 10 | Ratings: 37
2.18
/5
rDev
-43.2%
look: 4 | smell: 3.5 | taste: 1 | feel: 3 | overall: 2
I don't know how the heck people can like the taste of this. Just too much going on all at once. It's the fusion of two things that isn't a marriage at all. In fact it's more of a sloppy divorce where the kids (drinkers) suffer in the end.
Happy I got to try it but not a fan at all.
287 characters
4.09
/5
rDev
+6.5%
look: 3.75 | smell: 4 | taste: 4.25 | feel: 4 | overall: 4
Batch 56 (age unknown), tasted October 2015. Pours a murky light-brown, with minimal foam and lacing. Give it some time to warm and open up a bit. Resinous and piney, this is relatively bitter and hoppy for a wheatwine. As it warms, some of the more traditional brown sugar, malt, and vanilla comes out, and the bitterness shifts towards more citrusy notes. There remains a bit of astringency that lasts through the long finish, however, that keeps this from being a smooth, easy drinker; I would love to see what would happen if this was aged in port or sherry barrels for a few months.
587 characters
3.9
/5
rDev
+1.6%
look: 4 | smell: 4 | taste: 4 | feel: 4 | overall: 3.5
(Served in a teku)
A- This beer pours a dense deep caramel body with a strong carbonation supporting a butter cream colored head.
S- the sweet toffee and bread dough notes leaves with a green woody hop finish. There is an earthy musty note in the finish as it warms that when mixed with the hops reminds me of old aftershave brands.
T- The dry pale malt and toasted wheat flavors lead to green woody hops and some fusel alcohol in the finish. The fusels blend with sweet malt as it lingers and a note of plastic comes through as it warms.
M- The light mouthfeel leads to a full alcohol warmth
O- Malt is nice but gets over powered by alcohol heat and the plastic flavor seems a bit off aswell.
709 characters

3.86
/5
rDev
+0.5%
look: 4.5 | smell: 4 | taste: 3.75 | feel: 3.75 | overall: 3.75
Poured from a 16 ounce can into a snifter.
I'm impressed by the compact air bubbles that create a pillow of frothy, creamy head 3 fingers thick. There seems to be a lot of bulk within. The body is cloudy and dark amber. 4.5
Sweet citrusy and floral notes reach me from a distance and remind me of a more malt heavy IPA or a red. I think of a semi-boozy orange peel with a caramel coating when trying to describe this smell. 4
Caramelly with a citrus and floral current. It tastes very much like an aged IPA. With warmth, it gets a berry-like flavor, but I'm struggling to identify any wheat. 3.75
It's a tad boozy and harsh and I think that affects the taste a bit. It's dry with medium bitterness that offsets a heavy sweetness. 3.75
I couldn't quite find anything wheaty about this brew but I still found it enjoyable.
826 characters
4.68
/5
rDev
+21.9%
look: 5 | smell: 4.5 | taste: 4.75 | feel: 4.5 | overall: 4.75
Very nice barleywine-like beer that reminds me of Big Foot.
I'm surprised by the low ratings. This smooth sipper packs a punch on the finish and is quite complex.
aroma of pine and citrus. Tastes like malt with marmalade and bitter orange rind. Not much alcohol is detected over the intense hoppy, bitter finish.
317 characters

2.74
/5
rDev
-28.6%
look: 3.25 | smell: 3 | taste: 2.5 | feel: 3.25 | overall: 2.5
Served in an Ohio State shaker pint glass.
Ah, finally having another wheatwine. It's been too long, kids... Anyway, this stuff pours a mostly clear amber topped by a half-finger or so of lightly off-white foam. The nose comprises white bread, orange peel, mild booze, and a hint of cream. The taste ups the booze ante, along with the requisite burn; then there's a sense of off Cointreau being suffocated by wet white bread slathered in Country Crock. Then add a sprig of mint and astringent pine resin. Ooph. The body is a hefty medium, with a very light moderate carbonation, a slightly syrupy feel, and a sorta/kinda drying finish. Overall, this was just an unpleasant wheatwi--make that an unpleasant beer in general. No nuance, no real niceness, this seems rather rough for a wheatwine.
793 characters
4.27
/5
rDev
+11.2%
look: 4.5 | smell: 4.25 | taste: 4.25 | feel: 4.25 | overall: 4.25
Appearance: Pours a clear amber capped by a magnificent head; plenty of lacing and excellent stickage
Smell: Wheat bread, pine and toffee, with a spicy edge of dried citrus peel
Taste: While there is a wheat bread undertone to this beer, the front end is very aggressive with pine, dried citrus peel, tobacco and herbal/medicinal tones adding an earthy, bitter edge; increasingly bitter, almost challengingly so, with residual toffee sweetness building in the finish
Mouthfeel: Full bodied with moderate carbonation
Overall: This is a terrific beer with huge flavor though I don't care for the marketing shtick - focus on making good beer, not denigrating and stereotyping people
683 characters
4.2
/5
rDev
+9.4%
look: 4.25 | smell: 3.5 | taste: 4.5 | feel: 4.5 | overall: 4.25
Pours brown in color with some hints of red and a slight haze. Head is about 1 finger, light tan and has decent retention.
Smell has tons of wheat forward with rye like notes. Rich husky malt is the backbone of this brew. Hops are maybe a little spicy however somewhat hard to detect. Malt is the main showcase.
Taste is a punch in the mouth. Tons wheat is forward, with a little bit of a rye like husk flavor. Rich caramel malt is unbelievably rich. Notes mainly of rich caramel and a nice moderate residual sweetness. There is also a light fig and plum like fruitiness near the end.
Mouthfeel is super thick. mild carbonation along with the rich body make this a big beer.
677 characters
4.27
/5
rDev
+11.2%
look: 4.5 | smell: 4.25 | taste: 4.25 | feel: 4.25 | overall: 4.25
Appearance: Brown color to this brew but ruby red when held to light. Light carbonation active in glass while drinking. About a finger of head on the pour which dissipated quickly. Thin to no head. Light random lacing on the sides of the glass.
Smell: A ton of rounded wheat bursts out of the glass. Sweet tones of toffee and caramel add a ton of depth to this brew. Dark fruit and barley are found on the undertones. A very subtle sweetness dominates this brew and is outstanding.
Taste: Once it hits the palate a bright wheat presence lights up. The body opens up with heavy malt, dark fruit, caramel, butterscotch, and toffee. Sweetness again like the aroma comes through but plenty of mature tones to balance it out. The finish is a slight funkiness with more caramel sweetness. The aftertaste is a dry wheat feeling that lingers on the palate.
Mouthfeel: A nice full body with great balance of sweetness and heavier tones.
Overall: One of the top offerings from Spiteful no doubt. Killed it with this many times overlooked style. A ton of complexity and wonderful flavors. Spiteful continues to assert itself as one of the top breweries in Illinois.
1,162 characters

4.19
/5
rDev
+9.1%
look: 4 | smell: 3.75 | taste: 4.5 | feel: 4 | overall: 4.25
A: tawny cloudy body, finger tan head,
sublime lacing display
S: wheat, ripe berries, biscuit, pine, zest
T: sweet plum, grapefruit, zest, big
wheat malt middle, bit boozy, caramel/toffee
bitter smooth finish
M: med/heavy mouth, oily/creamy
O: POW! This is some mighty fine beer. Spiteful
Brewing continues to impress me and I wish them
well. Nice to see another brewery explore this style;
Barleywine + Wheatwine are very underrated, IMHO.
I must pick up another bottle and lay it down for a cold,
Chicago Winter night by the fire.
DELICIOUS; GRAB A BOTTLE!!
585 characters
Corporate Guy Wheat Wine Ale from Spiteful Brewing
3.84
out of
5
based on
37
ratings.