Riverside Liquors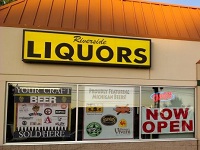 PLACE INFO
Type:
Store
5432 Northland Dr NE
Grand Rapids
,
Michigan
, 49525-1031
United States
(616) 419-4090 |
map
Notes:
No notes at this time.
Added by MichPaul on 12-21-2012
Reviews: 9 | Ratings: 17
4.34
/5
rDev
-3.6%
vibe: 4.5 | quality: 4 | service: 5 | selection: 4
This place is quite frankly awesome. They may be relatively new to town but they carry some weight. My first stop was just for a standard liqour purchase and to check the place out. My next return was during some pre-sales of Founder Bolt Cutter. The guy in front of me reserved a bottle and I asked what he was reserving and was told. I was in the hunt at this point and decided to give a try for Sam Adam's Utopias even though they were a new bottle shop. To my surprise, and delight, 2 weeks later they obtained a bottle from the distributor for me. The staff knows their stuff, i recommend a visit.
602 characters

4.5
/5
rDev 0%
vibe: 4.5 | quality: 4.5 | service: 4.5 | selection: 4.5
Its a quality place to with a nice selection of beers, wines, etc. The store welcomes you with nice wooden wine racks from floor to ceiling when you first walk in. While I didn't spend much time in that section, I am sure there are some great wines to be had. My main focus was along the long wall running the length of the building. Their cooler filled with a good selection of beers, both micro and macro. I have managed to find a few of the specialty releases I've been looking for there. It seems that Riverside gets a good selection of those special beers from the distributor, Bells Black Note for instance was available there. Behind the counter is an extensive selection of liquors! At checkout, I did have a pricing error causing me to be over charged but when I realized, they were very willing to fix it for me.
After starting a new job on the north end of town, I now drive past this place daily and I'm glad to have a quality place along my route that is easy to swing by that I can count on to have some good craft beers to choose from.
1,052 characters

4.64
/5
rDev
+3.1%
vibe: 4.5 | quality: 4.5 | service: 5 | selection: 4.5
A great addition to the NE side of metro Grand Rapids area they focus on service and friendliness above all else. A great selection of beer, wine and spirits and an eagerness to please. They are working hard and it shows. While offering a wide selection of craft beers, no one can carry everything and they are happy to order anything you want that is available in the distribution network and again go out the way to provide excellent service. As a BA I'm happy to have them on my side of town now.
499 characters
4.72
/5
rDev
+4.9%
vibe: 4.5 | quality: 4.75 | service: 5 | selection: 4.5
I live on the NE side of town, and Riverside is definitely becoming my "go to" place when I need a sixer or a bottle of something special. While their beer selection may not be quite as extensive as Siciliano's or D. Schuler's they have nearly everything the Michigan BA member may be looking for. These guys know good beer, they get a lot of special releases, and their selection changes often. When it comes to service, these guys kill it! If they don't carry it, they will happily try and get it for you. I can't stress enough how impressed I am with their dedication toward pleasing their customers. If you live on the NE side of GR, be sure to check it out.
662 characters
4.74
/5
rDev
+5.3%
vibe: 4 | quality: 5 | service: 5 | selection: 4.5
One of the finest stores in the area. They have an outstanding collection of beers and spirits.
The store is neat and tidy, although not as large as some others.
They have a generous collection of singles, which is great for sampling craft beers and creating your own six packs.
The staff is exceptional and makes the extra effort to acquire whatever you ask for.
363 characters

4.86
/5
rDev
+8%
vibe: 5 | quality: 5 | service: 5 | selection: 4.5
I was anxious to what this place had to offer, even before they were open and all I saw was the sign on the side of the road. Once they opened, I went in to find such a wonderful selection of craft beer on the shelf. Very cleanly place with an nice interior full of wood shelving and wood flooring if I'm remembering correctly. Gave it such a cool feeling upon entering.
Came to find out, not only was the selection top notch, but the service was the best I have ever had! The owner loves to chat about craft beer and truly knows what he is talking about. The thing I liked best about the service was the fact that if they said they didn't have something, he called about it and actually called me back about the results! Not what I become accustom to these days... I live a good 30 minutes away and love to swing in there and give them my business.
They have also been able to boast some great tasting events. I just wish I didn't work 2nd shift and could have made it out to some of them.
If you're ever in the Grand Rapids area, this is definitely a worth while place to swing by and grab either a well priced craft beer, or what ever from their other selections of wines and spirits!
1,188 characters
4.86
/5
rDev
+8%
vibe: 5 | quality: 5 | service: 5 | selection: 4.5
Riverside Liquors has an amazing selection of beer, liquor, and wine. On top of that the staff is very friendly and well versed in what they sell. The location on the Northeast side of Grand Rapids is perfect for the Rockford, Comstock Park and Plainfield crowd. The staff at Riverside is always willing to help, and if need be they will special order any beer, liquor, or wine that is not yet on their shelves. If it is available in Michigan odds are Riverside will get it and notify you as soon as it is available. I was one of the first notified with Dogfish head was coming to Michigan, and since then they have always held a few bottles for me in the back. You cannot beat the customer service and quality you find at this store, I highly recommend it to anyone who wants to have an old favorite or try something new!
822 characters

5
/5
rDev
+11.1%
vibe: 4.5 | quality: 4.75 | service: 5 | selection: 4.75
What a great place! This store is perfect from the bud light drinker all the way through rare craft beer advocates. The customer service is amazing and most importantly it's a local business. I make sure to drive out of my way to get all my beer here (plus they will hold beers for you). The liquor and wine selection is very hard to match as well. I'm excited at the possibilities of this place becoming better than sicilianos as a all around beer store...maybe even brew supplies in the future. I suggest this place on a regular basis to everyone I know (even the bud light guys)!
582 characters

5
/5
rDev
+11.1%
vibe: 4.5 | quality: 4.75 | service: 5 | selection: 4.5
Living in Rockford, it's a bit of a pain to try to drive to a place like Siciliano's that's on the other side of Grand Rapids. Fortunately, Riverside Liquors provides the same type of world class customer service, selection, and price. Roger and the rest of the staff are extremely knowledgeable, enthusiastic, friendly, and will bend over backwards to get in some of the best beers in the world for you (they hooked me up with a BCBCS and Cherry Rye). I cannot recommend this place enough.
490 characters
Riverside Liquors in Grand Rapids, MI
4.5
out of
5
based on
17
ratings.