Rosamunde Sausage Grill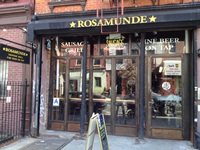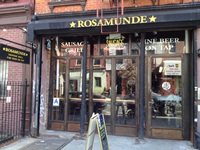 Bar, Eatery
285 Bedford Ave
Brooklyn
,
New York
, 11211-4267
United States
(718) 388-2170 |
map
rosamundesausagegrill.com
Notes:
Recent ratings and reviews.
Ratings by elamb106:

More User Ratings:

Reviewed by Billolick from New York
4.05
/5
rDev
+0.7%
vibe: 4.25 | quality: 4 | service: 4 | selection: 4 | food: 4.25
Ah yes a brief visit to Williamsburg, Brooklyn, and let's see where I can check out and have a tasty bite to eat and a quality brew. I read Slander's review, as I usually do and headed over the Manhatten bridge, just a few quick turns and in I go...Place was near empty, the friendly barkeeper let me know how the $10 lunch special worked (You get your choice of sausages on a bun, a side dish and a half pint) and it was all good from there. Choice of almost 20 different types of sausage and about the same 20 quality taps. Mid sized rectangle of a room with the small, open kitcen in the rear.

Great place, sausages were super tasty, side salad, on point, well chosen variety of quality taps. Friendly and welcoming vibe, at least at lunch time...One of the best things a reviewer can say about a place, is that if they were local they would be be regulars. Yup...
Feb 28, 2013
Reviewed by bklynj from New York
3.15
/5
rDev
-21.6%
vibe: 3 | quality: 3 | service: 3.5 | selection: 2.5 | food: 4.5
Happily drank Rodenbach and Shakespere Stout last Friday night but this place is a bro scene and the dudes slinging the sausage in the back were really unfriendly. They have a concept going that seems to take precedent over customer/food service.

I never complain about corporate (applebee's, chilli's) types of bars, there's a place for an ice cold bud or sam adams when nothing else is around. But this place is no different than TGI Friday's or Wild Wings in terms of beer service and within blocks there are places doing it right.
Jan 20, 2013
Reviewed by slander from New York
4.05
/5
rDev
+0.7%
vibe: 4 | quality: 4 | service: 4 | selection: 4 | food: 4.5
Somebody mentioned 'Roasmunde', anybody been? Not the one hugging Toronado SF; they've got a place now in 'burg, open for 3 weeks already, and no, nobody had. I hit 'cade and Ben went for growl fills, and we'd meet up here. I'll see what I can get scribbled down before he arrives and has to deal with my lack of sociability. Circled and parked leaving my sweet slander spot front row center unattended for the less fortunate of not being me. Grabbed a pint and set up, I've got nothing but time…

Glass candle lit 'L'ish seemingly stainless steel topped bar with a wood lip, shiny base of something, & a foot box; seating for upwards of a dozen and a half on stools. Wood barback unit with lit panels running along the top over a stainless steel countertop. A center vertical mirror lists specials ($1 Anchor OSA from 5-7 PM, oh my), bottle selections shelved to both sides over tiered booze below showing brick wall backing, and on the ends, shelved growlers & glassware fronting mirrored panels, over blue subway tilings. Glassware stacked & shelved below the bar

Up front bar counter seating 6 in the windows over Bedford, 3 tables of the progressively shorterness beyond, and a bar counter space for 4 on the wall adjacent. A single raised roundy hightop across from the bar, a pair of cut tree bar counter tables, and 2 long low communal tables further back.

Sausage counter to the rear with all your options showcased fronting the kitchen (where the magic happens). Wood plank floors, and a cork ceiling with drop gumball lamps tracing the bar with some other sections painted something. Big brick near wall & pieces painted pale blue over wood slat lowers opposite. Black & white prints of the sausage man and old tyme knuckleheads, mirrorings, and a horizontal tap board up front, with a smaller sausage board alongside. Larger framed mirrors along the adjacent bar seating, a single flat mounted on the far end of the bar, tap handles mounted over the rear kitchen & bathroomings, and strung white lighting everywhere.

2 dozen taps on a wood box on the bar; roughly ½ of them American craft beer from East (Kelso Kellerfest, Blue Point Rastafa Rye Ale, Ommegang Hennepin, Victory Festbier, DogFishHead Burton Baton), to West (North Coast Old Rasputin, Greenflash West Coast IPA, Sierra Nevada Tumbler, Speakeasy Big Daddy IPA, Bear Republic Racer 5 IPA, Anchor Steam), and in between (Founders Porter, Stevens Point Oktoberfest). The other ½ is a mix of import; Belgian (Tripel Karmeliet, Maredsous 8, Rodenbach Grand Cru, Houblon Chouffe), Germ (Hacker-Pschorr Oktoberfest, Reissdorf Kolsch, Ayinger Oktober Fest-Marzen, Wurzburger Oktoberfest), beyond the wall (Unibroue Maudite, Dieu Du Ciel Corne Du Diable), and a single cider (Docs Apple Cider). I drank the Houblon Chouffe & Victory Festbier. There's also a set of nondescript handles below the bar to both sides of the tap box with wines & sodaings. Also, roughly a dozen and a half bottles, more than ½ of them Belgian or Belgian style.

Okay, there will be food (isn't that why you come to a place called 'sausage grill'?) You order at the bar and then watch the board over the back. When your number comes up, you go pick up your food and gather condiments & cutlery at the station alongside. They've got 20 or so sausage options to choose from, pretty badass. You can get one on a roll or double down with a plate, which sounds like twice the better. We did plates, which got us 2 sausages, and 2 sides, I opted for German baked beans and a salad. For sausages, I went with the andouille (spicy, but tolerable and tasty) and the chicken habanero (hot as actual fuck). Ben, the duck & fig, and cheddar bratwurst. The German baked beans were of the awesome, and the salad with its (evil) bleu cheese and (stupid) walnuts, was just what I needed to take the bite out of that sausage of pain. I told the sausage guy that the chicken habanero one hurt me and he laughed at me. Like the devil. Have since revisited twice. Last time out I had the sweet Italian chicken sausage (I heart fennel) on a roll. And last night, I had a pair on rolls; the hot Italian (some good heat there) & the chicken merguez (Moroccan spicy spiciness). Food has been very very good.

Comfortable house, chill ambient musicings, good tap selection & happy hour specials, great fricken' foodings.
Dec 23, 2012
Rosamunde Sausage Grill in Brooklyn, NY
Place rating:
4.02
out of
5
with
8
ratings