Uitzet Tripel (1730)
| Brouwerij Paeleman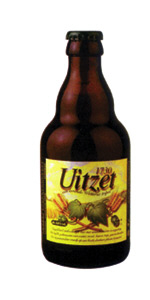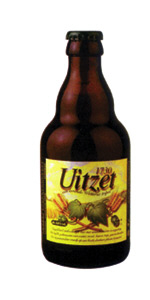 BEER INFO
Brewed by:
Brouwerij Paeleman
Belgium
Style:
Belgian Tripel
Alcohol by volume (ABV):
6.80%
Availability:
Year-round
Notes / Commercial Description:
No notes at this time.
Added by Realale on 06-21-2003
This beer is retired; no longer brewed.
HISTOGRAM
Ratings: 13 | Reviews: 10
Reviews by psinderson:
4.47
/5
rDev
+11.8%
look: 4 | smell: 4.5 | taste: 4.5 | feel: 4.5 | overall: 4.5
Served from a bottle as a sample at a Sharp Edge Creekhouse tasting.
Appearance: Light golden, unfiltered and chunky. Nice creamy white head.
Smell: Complex combination of fruit (raisins?), caramel and brown sugar. Mildly spicy thanks to the yeast.
Taste: Sweet, mostly honey and caramel. Very smooth finish.
Mouthfeel: Medium-heavy body. Perfect carbonation and obviously well crafted.
Drinkability: Exceptionally easy to drink for a tripel style.
This beer was surprising from start to finish. It had a lot more than the appearance would seem to say. Well brewed beer!
577 characters
More User Reviews:
4.15
/5
rDev
+3.8%
look: 4 | smell: 4 | taste: 4 | feel: 4.5 | overall: 4.5
Thanks Papsoe I have been looking for this rare triple. Understated fine taste, though dry. Reminds me of the finest Belgiums. Light colour with lace. Pleasant floral yeast aroma.Fruit in a smooth mouthfeel.
I like tripels, and this one in particular.
254 characters
4.26
/5
rDev
+6.5%
look: 4.5 | smell: 3.5 | taste: 4.5 | feel: 4.5 | overall: 4.5
Carefully poured, this beer delivers a clear yellow-gold body beneath a huge head of rocky bright-white foam that holds extremely well and leaves wide walls of splotchy lace throughout the glass. And until the yeast sediment is disturbed it's body is quite clear, obscured only by the rivers of swirling bubbles that race to the surface, adding to its creamy head. The nose is pleasant but not overwhelming with a touch of fruit nestled down amidst lightly sweet, candyish and honey-like malt that's peppered with a sprinkling of spicy phenolics. The body is medium-full and its very fine, natural carbonation gently caresses the tongue before warming to become airy, creamy, and surpriingly smooth across the palate. In the flavor, an interesting fruitiness appears upfront (similar to prune, raisin, and cherry), followed by a mildly candyish and subtly phenolic, honeyish and lightly grainy malt. Bitterness and some leafy and grassy hops become apparent towards the swallow, and it finishes dry with a wash of dark skinned fruit and a lingering, dull bitterness. This is quite and interesting beer in that it's slightly unique; and it's very drinkable. I'm not exactly sure as to how it might pair with food, seeing as it swings from fruitiness to hoppy flavor and bitterness, but I'd immediately guess that a wide variety of cheeses would work brilliantly. In fact, it might be worth buying a bottle just to try it alongside an English Glouchester or blue-veined Stilton, or even something with peppercorns. Leyden, with it's caraway and cumin perhaps? Regardless, this is certainly a beer of distinction.
1,610 characters
3.63
/5
rDev
-9.3%
look: 4 | smell: 3.5 | taste: 3.5 | feel: 3.5 | overall: 4
Bottle imported from Brussels & generously shared by EehaiCJ, thanks Chris!
The stubby bottle had a bright neon green bottlecap. It poured with a large, fluffy head of foam, coloration was a pale opaque yellow.
Honey, wheat, and a sharp solventy alcohol note in the nose. Mild hop bitterness in the taste, some soft apple, sourdough starter yeast, and light pepper in the end. Alcohol is a little too perceptible to be pleasant. It finishes dry, and slightly chalky. Overall decent, a little boozy, but fortunately not an overly sweet Tripel.
545 characters

4.21
/5
rDev
+5.3%
look: 5 | smell: 4 | taste: 4.5 | feel: 3.5 | overall: 4
Dark sunny golden with a delicate meringous head, mountainous and very rocky. Superb looks. Trust me, for a 6.8% beer, this one is packed with flavors. The aroma is big and full of spices nuances, alcohol feel. Very dry nose, flowery with lemongrass, lime and cookie malt. Flowery fresh dryness in the mouth. Hoppier than most, but the bitterness is far from severe. Vaporous, very citrusy. Spicy mid to end of mouth with various herbs, sage, salt and pepper. Smooth medium body, if a little too carbonated. Truly good. The pilsner malt works very well without being dominated by the big yeast and hoppy spiciness.
614 characters
3.38
/5
rDev
-15.5%
look: 4.5 | smell: 4 | taste: 3 | feel: 3.5 | overall: 3
Full, slightly cloudy, dark gold with a very fine big head that holds at a rocky 1/2" thoughout the beer.
Nose is bready/crackery malt with a touch of citric sourness and brett/baryard. Good yeastiness as well.
Touch on the thin side in the mouth. The maltiness does not live up to the nose, and there is a definite wateriness in the mid-palate. Its lightly citric with great acidity, but a bit hollow. Barnyard more controlled in the mouth than on the nose. Great fine carbonation on this bottle-conditioned beer.
750 ml. bottle.
539 characters
4.6
/5
rDev
+15%
look: 4 | smell: 4 | taste: 5 | feel: 5 | overall: 4.5
served from a 750 caged and corked, tripel underlined and other styles crossed out. one of the coolest initial bottle presentations i've ever seen. passed by this before not really knowing what the deal was... reminded me of the shadyness of crossed out barcodes.
anyway..
poured a perfect gold color. good, serious carbonation and a good head. not too many fluffy pillows, but not disappearing anytime soon either.
scent is superfresh banana and lemon. some biscuit aroma and almost no sourness. berries detected as well. fruity and dynamic nose.
upon tasting, this beer explodes with flavor. explodes. tangy lemon and bread creep up initially, honey and fresh cut grass continue the stimulating ride. extreme buttery mouthfeel and green apple finish. crisp. no alcohol present whatsoever. lowering the abv on this beer from tripel standards makes a world of difference.
beer leaves a candylike aftertaste that makes me smile. after a glass or two, i see some saison characteristics leaking through as well. what an amazing beer. i need to start drinking some shitty stuff to even out my good/bad ratings.
1,122 characters
4.15
/5
rDev
+3.8%
look: 4 | smell: 4 | taste: 4 | feel: 4.5 | overall: 4.5
BB 13-10-06. Pale golden beercolor, some haze and litle head up on top, lasting. Nose is good malted alcoholjuise with some hops and some straw. Litle hoparome there but think I was already fainting away of age ( filled okt 2004). Good and bitter taste make this one highly enjoyable, quiet alcoholic for it's 6.8 ABV. Some maltyness there but aminly hops. Probably higher then the listed 30 EBU on the label. Makes it up and enjoyable too me but to alcoholic to drink much of.
477 characters
4.35
/5
rDev
+8.7%
look: 4.5 | smell: 4.5 | taste: 4 | feel: 4 | overall: 5
Served from a plain-looking, yellow labled 750, this Tripel pours out bright, lightly clouded apricot yellow with a fantastisly dense and chunky white head that has epic retention and tons of stick. Beautiful.
Aroma is so much bigger than I expected from a Tripel that (only) registers at 6.8%. Big, tropical and orchard fruit with funky, yeasty spice and a pepper/coriander bite. Green apple and pear is shadowed by honeyish, Pilsneresque malts, and complex, phenolic undertones featuring banana and buttery croissant.
Flavor registers equally high in my book. So surprising becuase it is relatively low abv% compared to the highest rated Tripels. A complex malt and fruit entry is kicked up by creamy-sweet lemon curd, grated Key lime peel, freshly baked pie crust, grahm cracker, and fluffy cotton candy. The finish is well-hopped with soft nuances of white pepper infused green herbs and Saazy earthyness. Complex and dry, excellent.
943 characters
3.65
/5
rDev
-8.8%
look: 3 | smell: 3 | taste: 4 | feel: 3.5 | overall: 4
Clear gold color with no noticeable sediment until the last pour from the bottle. A low, but tight white head disappears fairly quickly to a ring around the edge of the beer and remains for most of the glass, but leaves no lace. A moderate aroma is of sweet fruity melon with a hint of menthol joining in late. A sugary malt arrives as it warms.
A bold tart citrus initial taste stays strong through midtaste, but lessens before finish. A mild bitter hop and honey malt emerge in midtaste and last to the end. As the beer warms, tastes of nuts, spearmint and berries join in (strawberry or raspberry maybe, I couldn't really tell). Carbonation was just a little too high. Balance was biased toward hops.
The tartness was a bit overpowering at first, but before mid-bottle, it lessened, or the other flavors that came in as the beer wamed balanced it out. A good beer overall, but not great.
892 characters

Uitzet Tripel (1730) from Brouwerij Paeleman
Beer rating:
4
out of
5
with
13
ratings