Grapefruit IPA
| Boneyard Brewing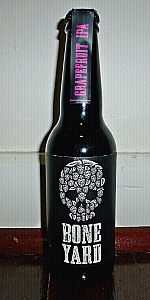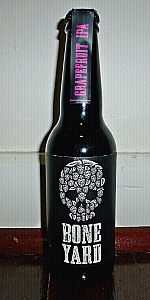 BEER INFO
Brewed by:
Boneyard Brewing
Australia
boneyardbrewing.com.au
Style:
American IPA
Alcohol by volume (ABV):
6.10%
Availability:
Year-round
Notes / Commercial Description:
No notes at this time.
Added by lacqueredmouse on 01-31-2013
This beer is retired; no longer brewed.
HISTOGRAM
Ratings: 15 | Reviews: 8



4
/5
rDev
+7.2%
look: 4 | smell: 4 | taste: 4 | feel: 4 | overall: 4
Pours a similar colour to the Golden Ale (...Golden). Good head/lacing.
Smell and taste are similar to the Golden Ale, just amped up a lot. Malt backbone, grapefruit (from hops rather than the fruit I think, I don't get much of the fruit's contribution here), guava and assorted tropical fruits.
Reminds me slightly of Little Creatures Pale Ale in its more "aggressive" feeling batches. Also has a Coopers yeasty note at times (banana). Interesting.
Often I do get impressions of grapefruit, particularly in the nose and that pronounced sort of bitter sourness it has in the taste. But they are so similar to hop features in IPAs that I honestly can't tell what is what. Perhaps the mouthfeel gives away the grapefruit at times, it kind of has a more fulsome bitterness than hops. But I'm very wary of the power of suggestion when it comes to these reviews, and I wish more people were (*ahem*).
I'm surprised this is rated lower than the Golden Ale as I find it to be simply a markedly more flavoursome version of the same beer. Even then, this could pass for a Pale Ale (hence the LCPA references), and perhaps this is what people are taking issue to when it is labelled as an "IPA". Good concept for a beer though. I'd like to see Boneyard do some more "calculated risks" like this one.
1,293 characters

3.84
/5
rDev
+2.9%
look: 3.75 | smell: 3.5 | taste: 4 | feel: 3.75 | overall: 4
Very nice, easy drinking IPA with great flavour.
aroma: A general aroma of malt mixed with citrus/grapefruit
taste: prominent grapefruit/lemon/citrus with spice/pepper, orange peel and melon. A nice bitter/sweet combination with floral undertones.
really enjoyed this beer - full of flavour and would be great anytime but especially on a hot day.
349 characters
3.82
/5
rDev
+2.4%
look: 3.75 | smell: 3.5 | taste: 4 | feel: 4 | overall: 3.75
Hazy dark amber colour with a small offwhite head. Decent head retention.
Lightly malty aroma that gives way to good citrusy grapefruit aroma. Nice.
I dig the flavour. Slightly malty and biscuity then giving way to a solid grapefruit note that is clearly the fruit rather than the hops.
Medium light body and moderate carbonation. Good.
A solid beer. It isn't spectacular but it is nice and a unique concept.
415 characters
3.77
/5
rDev
+1.1%
look: 3.5 | smell: 4 | taste: 3.75 | feel: 3.5 | overall: 3.75
Pours a cloudy apricot hue with a creamy two finger head that stays and a rim of lacing,smell is grapefruit,orange leaves,dandelions, and lemon sherbet,mouthfeel is medium bodied with high carbonation maybe a little too much carbonation but still get the nice tastes of grapefruit,blood oranges,sunrise limes,tangerine,boiled candy and finished with a bitter hit of grapefruit and lemon sherbet and overall a nice tasty drop thats quite sessionable and well worth a look cheers.
478 characters
3.74
/5
rDev
+0.3%
look: 3.75 | smell: 3.5 | taste: 4 | feel: 3.75 | overall: 3.5
330ml bottle with the pretty distinctive BONE YARD branding. Purchased from Slowbeer in Melbourne.
Uncaps with a very minor hiss, becoming a pale, slightly hazed golden colour in the glass. Head forms eventually, forming a fine white film that lacks persistence. Some large bubbles around the collar. Patchy, sudsy lace. Carbonation looks fine—I remember that was one of the things I loved in the Golden. Looks decent enough.
Nose certainly owes much to the grapefruit, with a sharp and direct citrus giving a bitter overtone to everything (bitter! on the nose, who would have thought?). Some mild sweetness gives it a very faint sherbet colour, but otherwise it's surprisingly weak. There's certainly no abundant fragrance or richness to the aroma, which is a little disappointing.
Taste is also different to what I was expecting, but here perhaps I understand a little better what they were going for. Big grapefruit character gives persistent longitudinal bitterness through the centre of the palate, with a much muted and restrained sweetness: much like what you get with the fruit. Slight, clinging rind finish giving a faint uptilt of tartness and drying out the end, while the bitterness stays attached right to the end of the aftertaste.
Feel is smooth, but even slightly flat: I feel like it's genuinely undercarbonated.
Yeah, this is an interesting beer, but I much prefer their Golden, which took a familiar style and made it exceptional. In some ways this does the opposite: it's an unusual style perhaps not realised to its full potential.
1,559 characters

3.65
/5
rDev
-2.1%
look: 4 | smell: 4 | taste: 3.5 | feel: 3.5 | overall: 3.5
330ml bottle from Slowbeer into a Southern Tier tulip.
Opaque golden look about it with a finger of white foam on top. Some wavy lacing and the smaller than expected foam stayed for longer than expected.
Smells of grapefruit and both lemon and oranges. The grapefruit is quite strong early on and the orange comes in later. Some lemon cleaner aspect to it, but not necessarily in a bad way. More perfumey lemon.
Taste is pretty much the grapefruit and that's about it, built on some solid malt backing.
Lot of initial bitterness that faded away early on. As i progressed through the bitterness at the back built up to what was expected given the amount of grapefruit noticeable.
Decent beer, worth trying. However, it's not an IPA i'd work through a 4 pack or 6 pack in a night of.
786 characters

3.48
/5
rDev
-6.7%
look: 2 | smell: 4 | taste: 3.5 | feel: 3 | overall: 3.5
Pours amber with a small white head.
Nose shows big pine and grapefruit along with some pure hoppy notes and soft malt.
Very aggressive with lots of pine and a big whack of grapefruit along with some light grainy malt.
Carbonation could be higher.
250 characters

3.12
/5
rDev
-16.4%
look: 2.5 | smell: 3 | taste: 3.5 | feel: 2.5 | overall: 3
From Slowbeer. No BB.
High hopes of this... golden out of stock, so got this instead.
Pours, erm, a somewhat flat amber. Head is half finger with aggressive pour. Spots of lace.
Grapefruit mainly on nose.
Taste is also dominated by grapefruit, and whilst one dimensional, does pick up on look n smell. Fair whack of hops on back palate but not a hop driven beer overall. Moderate malt backbone.
Mouthfeel medium bodied, but it is really undercarbonated.
Quite disappointed overall. An average beer in a crowded space. Really, by end of glass 'nothing to report, move on'...
579 characters
Grapefruit IPA from Boneyard Brewing
Beer rating:
3.73
out of
5
with
15
ratings