The Foodery - Roxborough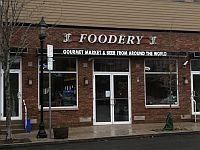 PLACE INFO
Type:
Eatery, Beer-to-go
6148 Ridge Ave
Philadelphia
,
Pennsylvania
, 19128-2626
United States
(215) 482-4500 |
map
fooderybeer.com
Notes:
No notes at this time.
Added by hhkal17 on 12-26-2012
Ratings: 12 | Reviews: 3
Reviews by NeroFiddled:
3.71
/5
rDev
-4.6%
vibe: 3.5 | quality: 4 | service: 3 | selection: 4.25 | food: 3.5
(I've updated this review on 12 June 2014 with all new comments in parenthesis)
I used to like the Foodery when there was nothing else available - please see my review of The Foodery at 10th & Pine. It was a different time, and a different city.
Times changed and craft brew became bigger, and they opened the shop in Northern Liberties. Yuck. Northern Liberties was over-priced, but why did the beer have to be when there were so many other options becoming available?
Move forward in time, and there are many more options to find good beers. There's also a rising demand for them, and a tsunami of new beers released each day upon the growing hordes of initiatives grappling for them.
Ridge Avenue in Roxborough used to be nice. It was working class, but it was in the 5th District, and it was one of the safest places in the city. It was respectable. And then something went wrong. Check-cashing places opened up. Dollar stores moved in alongside them. The post office closed. The library was closed. Even the liquor store closed. Urban blight. Is there a bright side? Is there hope for gentrification? Many thought that Coyle's Cafe would do it, but now they're for sale... as is the huge car dealership that sits empty up the street (now a Planet Fitness!).
I'm hoping that times will change again, and that this new Foodery will help to bring about that change. It's neat, clean, and somewhat classy. The seating area is open, and comfortable. There's lots of wood. It's a pleasant area to relax in. They've got a wall full of good beers although still at higher than need be prices (and they seem to have gotten even pricier recently!), and a good selection of interesting cheese and gourmet food items. They offer better than average sandwiches, hoagies, and panini's in the $5 to 6.50 range. It would be a great place to stop and have lunch, but are there enough business around it to sustain a solid lunch business? And will it go over in the 'new' Roxborough? Or will it turn into a convenience store that sells more BBQ flavored potato chips and mainstream beers than it does Di Bruno brothers cheeses and fancy olives? Will lagging sales of pricy specialty beers and an increased demand for cheaper alcohol lead to the inclusion of 40 oz. malt liquors? Will the corked and caged Belgian beers eventually be replaced by King Cobra? Only time will tell. (So far that has not been the case, nor do I see it happening at any time soon - so good!)
In the meantime, I'm glad to welcome The Foodery to Roxborough, and I hope that everyone will support them, as I will despite the fact that I think they're taking just a little too much of an extra percentage on their beer sales (and now, seemingly even more). If you haven't been there, give it a shot; or at least try their newest venture, their collaboration with The Corner (The Corner Foodery) at 1710 Sansom Street between Chestnut and Walnut.
(One of the things I didn't mention in my earlier review was that they had shelf tags with prices, which was new for them. They still have them but you need to be really careful and review them because quite often the beer above the tag is not the one listed).
3,176 characters
More User Reviews:
3.75
/5
rDev
-3.6%
vibe: 3.75 | quality: 3.75 | service: 3.75 | selection: 3.75 | food: 3.75

4.65
/5
rDev
+19.5%
vibe: 5 | quality: 5 | service: 4 | selection: 5 | food: 4
3.78
/5
rDev
-2.8%
vibe: 4 | quality: 3.75 | service: 3.75 | selection: 3.75
4.9
/5
rDev
+26%
vibe: 4 | quality: 5 | service: 5 | selection: 5 | food: 5

3.87
/5
rDev
-0.5%
vibe: 3.5 | quality: 4 | service: 3.75 | selection: 4
After our visit to Manayunk, we drove a short distance to Roxborough to check out The Foodery. This was the only Foodery I had not yet visited.
The neighborhood and location surprised me- a little rough, a little sad and so different from the fancied-up environs the other Foodery stores are in. But this Foodery is also the biggest (real estate in R'borough is obviously cheaper than Center City, Wash West and NoLib).
They have a large seating area divided by the entrance hall, then the growler bar and register, the sandwich deli on one side and lots and lots of beer everywhere.
I was surprised by the selection here, vast but lacking the rarities other Fooderies have, and the inconsistent pricing. Five Monks for $23.95? I paid $15 elsewhere in Philadelphia. But then Sierra BA Bigfoot is $24.95, five dollars cheaper than the average price in town. And Agave Maria is $27, but I bought it for around $20 at the Foodery in NoLib. They are all over.
I did enjoy the service here, though. Other locations have a certain "I don't care" attitude, but here the folks behind the counter were super nice.
The selection of imports (British, German, lots of Belgians) is noteworthy, as is the choice of PA brews from Free Will, Susquehanna, Wyndridge Farm, Saucony, Erie and more.
Good if you're local, but not worth a trek from the city.
1,346 characters
4.68
/5
rDev
+20.3%
vibe: 4.25 | quality: 4.75 | service: 5 | selection: 4.5 | food: 4.5
4.18
/5
rDev
+7.5%
vibe: 3.75 | quality: 4.75 | service: 3.75 | selection: 4.25 | food: 3.75
4.07
/5
rDev
+4.6%
vibe: 4 | quality: 4 | service: 4 | selection: 4.25
Nice location with probably the largest bottle selection of all the Fooderies. Prices are generally steep, as would be expected. There's a good-sized seating area if you're looking for food, but I've yet to sample any. Any Foodery location is worth stopping in if you're in the area. Just watch the price tags.
310 characters

The Foodery - Roxborough in Philadelphia, PA
3.89
out of
5
based on
12
ratings.