Tyrant Double Red
| Wicked Weed Brewing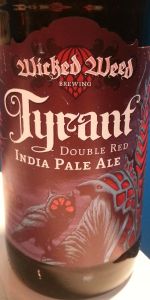 BEER INFO
Brewed by:
Wicked Weed Brewing
North Carolina
,
United States
wickedweedbrewing.com
Style:
American Amber / Red Ale
Alcohol by volume (ABV):
8.50%
Availability:
Rotating
Notes / Commercial Description:
The big brother of our Tyranny Red Ale, this heavily dry-hopped ale is a delicious creation. Tyrant is full of malt rich flavors backed up with deep pine, herb and grapefruit peel aromas, all around a hop heads dream. This is a big, bad beer that drinks a little too easy for the 8.5% abv.
Added by Kegatron on 10-02-2013
Reviews: 14 | Ratings: 114
3.84
/5
rDev
-7.2%
look: 4.25 | smell: 4 | taste: 3.75 | feel: 3.75 | overall: 3.75
2-liter growler poured into a matching wicked weed snifter. The brew appears s clear burnt copper color with yellowish khaki creamy topping. As the cap fades it leaves patchy lacing on the glass.
The smell is herbal, grassy and pine-like. Some pleasant dankness and toasty toffee/biscuit malt to round things out a bit .
The taste is toasty with biscuit and bready malt that abruptly turns herbal, pine-like and dank with a resinous cling and grassiness.
This is a medium bodied brew with a modest amount of carbonation. Overall a solid and very hoppy/bitter red.
★
566 characters

3.87
/5
rDev
-6.5%
look: 4 | smell: 3.75 | taste: 3.75 | feel: 4.25 | overall: 4
500mL bottle from Sprayberry Bottle Shop (Marietta, GA). 6.99. Bottled 10/26/15. Served in a Wicked Weed snifter.
Pours a deep burgundy crimson with almost two fingers beige head. The froth is slow to settle to a thin veneer and full ring, leaving a good bit of splotchy lace behind.
Aroma is earthy, hoppy and a little sweet. Dank overall with notes of citrus, pine and caramel.
Tastes of bitter hops with a substantial malt backbone. Strong, dank, garlicky onion up front followed by grapefruit peel, pine sap, caramel, herbal petals, faint earth, bready malt, vague spice and a little booze. More citrus comes through as it warms. It's bitter with a nice malty sweetness.
Slick, resinous nedium body with moderately soft carbonation. Bittersweet aftertaste with bold dankness, mild citrus and plenty of caramel.
Tyrant may be neither on the better end of imperial reds nor Wicked Weed's brews but is still quite a tasty offering. The malt is right on for the style and the hops are plenty assertive. No regrets trying it but it won't be a repeat purchase for me.
★
1,075 characters
3.98
/5
rDev
-3.9%
look: 4 | smell: 4 | taste: 4 | feel: 3.75 | overall: 4
Consumed 2/28/16
Cheers to Bilco for this bottle
A: Medium amber with some copper and burnt orange around the edges - hazy - pours with a medium sized, off-white head, fades to wisps and a small collar, leaves streaks and spots of lacing
S: Caramel and biscuit with an undercurrent of hops - orange and grapefruit zest, touch of oil - herbal hops, touch of grass, some pine needles - chewy malts - caramel and amber malts, grainy, bready, biscuity - earthy - medium level of sweetness and a hint of alcohol in the nose
T: Caramel and hops, always a nice combination - hoppy, with a lot of citrus, mostly orange and grapefruit zest, feel - touch of citrus oil and pith - flowery and herbal - resinous with some pine - earthy and a touch spicy - nice depth to the malts - mostly caramel, some amber - grains, toasted bread, bread crust, biscuits - some sweetness, but also a dry, earthy finish
M: On the heavy side of medium, smooth except for some rough earthiness, finishes both dry and slightly oily
O: A tyrant you can chill with
Tyrant is a nicely balanced imperial red ale. It's malty without being too malty or sweet, and it's hoppy without completely dominating the malts. It's a nice balance. If you enjoy Troegs Nugget Nectar, add this to your list to try.
★
1,271 characters
4
/5
rDev
-3.4%
look: 4 | smell: 4 | taste: 4 | feel: 4 | overall: 4
The beer has a deep red color. The aroma is citrus, pine, and sweet malt. The taste is medium bitterness and pine that lingers on the palate followed by caramel malt character that blends nicely with the hops. As it warms up you get that classic Wicked Weed yeast profile. Better than the single IPA version, Tyranny. Probably the best red ale that I've had.
★
358 characters
4
/5
rDev
-3.4%
look: 4 | smell: 4 | taste: 4 | feel: 4 | overall: 4
Clear orange-brown body. Aroma/Flavor are nutty malts, with earthy-dank hop with a touch of citrus. Medium+ body with low carb. Probably the least impressive beer I've had from WW.
★
182 characters

4.1
/5
rDev
-1%
look: 4 | smell: 4 | taste: 4.25 | feel: 4 | overall: 4
Pours into an impy nonic a chill hazed deep burnt orange/lighter amber shade with a frothy and sticky off white head atop.A good shot of pine resin in the nose along with caramel malts,a great mix of both components.The left coast big big hops are the big player in the flavor profile that melds into caramel and hard toffee but the hops are the showcase.This is what Ia'm lookin for as far as an old school left coast-style hoppy red,I like this alot more than the "standard" Tyranny.
★
485 characters
4.18
/5
rDev
+1%
look: 4.25 | smell: 4.25 | taste: 4.25 | feel: 4 | overall: 4
500 ml bottle purchased at cooler at the brewery. Dated 10.26.15
pours a clear dark copper color, thick white head. great head retention and lacing. earthy hop aroma. taste is nicely balanced with caramel malt flavor. slightly bitter, lingering hop flavors. medium body, coats the mouth. Overall - I typically prefer darker double IPAs - this one is good, but the Freak was better.
★
390 characters
4.23
/5
rDev
+2.2%
look: 4.25 | smell: 4.25 | taste: 4.25 | feel: 4 | overall: 4.25
on tap at beer study in chapel hill, into a snifter.
pours a dark red with a nice two inch white head. smell is VERY hoppy , but with aromas typical of a red. taste holds true with a ton of hops but not so much that it overwhelms the flavor. really enjoyable. medium bodied, medium carbonation.
overall another winning IPA from wicked weed.
★
342 characters

4.25
/5
rDev
+2.7%
look: 4.25 | smell: 4.25 | taste: 4.25 | feel: 4.25 | overall: 4.25
pours a hazy, ruddy caramel with a fleeting medium head. nose; mild - bread, light sweet citrus pulp, very light cherry & floral hops. taste; big biscuity caramel malts, pine, lemon zest, light cherry & citrus hops, with a lightly vegetal aftertaste. medium carbonation and medium+ mouthfeel. like many reds, the big malt backbone here wears on you with its simplicity and dominating expression. though there are hops and florals here that do a decent balancing act, the malts are the main attraction. a hoppy red DIPA that still must bow to the style's biscuit core. =)
★
577 characters
4.25
/5
rDev
+2.7%
look: 4.25 | smell: 4.25 | taste: 4.25 | feel: 4.25 | overall: 4.25
Appearance: Arrives with a copper color capped by an inch of khaki foam; nice lacing action
Smell: Caramel malt balanced by grapefruit and a hint of pine
Taste: Caramel flavors put a stake in the ground but the hops quickly arrive, bringing grapefruit and pine; a bit of cinnamon spice kicks in after the swallow to add complexity
Mouthfeel: Medium to full body with moderate carbonation
Overall: The terrific balance between the malt and the hops really makes this one stand out; great job on a style that many brewers flub
★
531 characters
4.29
/5
rDev
+3.6%
look: 4.5 | smell: 4.25 | taste: 4.25 | feel: 4.5 | overall: 4.25
A 500ml bottle with a bottled on date of 10.26.15.
L - Burnt Amber red with some slight clarity. 1 finger of head, and sticky lace left all over the glass.
S - Huge dry-hopped aroma. Pine and citrus.
T - Huge caramel malt backbone. Citrus hops are strong, but bitter as well. Toasty and warms your soul. A little spicy at the end.
F - Full body and high in carbonation.
O - An awesome Red DIPA. Well done WW!
★
418 characters

4.48
/5
rDev
+8.2%
look: 5 | smell: 4.5 | taste: 4.5 | feel: 4 | overall: 4.5
Poured into oversized snifter. Deep ruby red and a large sudsy head. Smells very herbal, piny, and a touch of sweet burnt sugar. First taste is caramel sweetness followed by massive palate wrecking herbal, pine, grassy hops. The bitterness is hardcore, so be warned. After a few sips it evens out and you get a bit more malty sweetness. It's aggressive in the palate and the malts really stick. I just had a celebration ale a few days ago and this reminds me of a super charged version. Big massive "C" hops and a large malt payload. It's good but I prefer a more tropical, fruity IPA. Still easily worth the price.
★
615 characters
4.49
/5
rDev
+8.5%
look: 4.5 | smell: 4.25 | taste: 4.75 | feel: 4 | overall: 4.5
Wow, these beers are great. $7.99 in Middle Ga (slightly steep for 500mL though I'm sure it's a store markup) Red colored, fresh (10/26/15) and really has some punch. Two 500mL bottles tonight and grilling white cheese, Vidalia onion burgers on a 65 degree night is hard to beat. These beers pour a nice head and taste great after two hours on ice from the shelf. You can tell it is a stronger ABV beer but it is very smooth and easy to drink. I'm a huge fan of IPAs and stouts centered around the southeast and this beer will not disappoint anyone who loves the same.
★
568 characters
4.51
/5
rDev
+8.9%
look: 4 | smell: 4.75 | taste: 4.5 | feel: 4.25 | overall: 4.5
Pours a dark amber color with a smaller bar pour light tan head. Good lacing from the smaller head though.
Aroma is wonderful caramel and crystal malt hints with a huge west coast hop nose. Huge amount of hops on this one fruity citrus and pine resin.
Taste is sweet caramel malts then bam the hops show up pine but big grapefruit rind appears and lasts through out the finish. Finish is defiantly big C type hops but there are earthy hints and even would almost say pepper notes.
Mouthfeel is a big medium with fairly mellow carbonation suites this beer well.
Overall this is wonderful enjoyed much more then their double IPA that many rave about. Wish I had ordered pint of the Freak and gotten the growler filled with this stuff. Will be getting a growler of this next time if its still on tap. 95 IBU according to the caulk board.
★
839 characters
Tyrant Double Red from Wicked Weed Brewing
4.14
out of
5
based on
114
ratings.