Chocolate Covered Black Angel
| Wicked Weed Brewing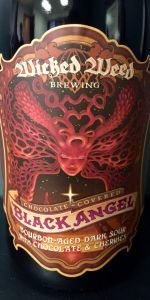 BEER INFO
Brewed by:
Wicked Weed Brewing
North Carolina
,
United States
wickedweedbrewing.com
Style:
American Wild Ale
Alcohol by volume (ABV):
7.20%
Availability:
Rotating
Notes / Commercial Description:
Sour Dark Ale with Cherries and Chocolate
Added by Jason on 12-13-2015
Reviews: 15 | Ratings: 93
4.29
/5
rDev
+0.9%
look: 4.25 | smell: 4.5 | taste: 4.25 | feel: 4 | overall: 4.25
Thanks for the share, Andy.
This one pours a pretty dark brown, nearly black, with a small head, and no lacing.
Smells like sour cherries, dark fruit, cocoa powder, sweet bourbon, and oak.
I was wondering how sour + chocolate would work, and it's surprisingly nice. It's got a nice sweet malty backbone that balances the sourness well. There's some creaminess, a bit of oak, and a nicely integrated bourbon character that doesn't overwhelm the other flavors. The cherries are really nice in this, too.
This is medium bodied, with a good level of carbonation, and a lingering sourness.
This is one of the best Wicked Weed beers that I've had. Really fun stuff.
664 characters

4.24
/5
rDev
-0.2%
look: 4 | smell: 4.25 | taste: 4.25 | feel: 4.25 | overall: 4.25
Appearance - Pours almost a plum colored black with thin mocha colored head that quickly dissipates. No lacing.
Aroma - The tart cherries hit first accompanied by dark chocolate. There is just a touch of bourbon and oak, acrid vinegar aroma as well.
Taste - The beer is tart cherries up front with the chocolate coming in about the middle after it has been in your mouth for a few seconds. There is not much bourbon in the taste just mostly tart cherries, chocolate and a touch of vanilla and oak.
Feel - The beer hits the mouth with a tart bite that goes away somehow replaced by a slightly smoother feel, it has good carbonation and has a pretty dry finish.
Overall - I thought this was really well done, the tart cherries and chocolate really accompany each other. It is not as sour as expected and no bourbon to speak of but the oak is there in the aroma and the flavors.
879 characters

3.8
/5
rDev
-10.6%
look: 3.75 | smell: 4.25 | taste: 3.5 | feel: 4 | overall: 3.75
Pours a medium brown, amber when held to the light. A large foamy head that fades quickly and leaves a ridge around the edge. Aroma has bright tart cherry and lactic acidity, subtle undertones of the sweet bourbon barrel. Easy to drink and very light on the acidity...was expecting much more complexity. Not a lot of pop, but smooth and refreshing. Interesting beer.
366 characters
4.04
/5
rDev
-4.9%
look: 3.75 | smell: 4 | taste: 4 | feel: 4.5 | overall: 4
Review from BeerAdvocate magazine issue #109 (FEB 2016)
STYLE Black Sour Ale | ABV 7.2% | AVAILABILITY Rotating | BEERADVOCATE.COM SCORE NONE
Tart, Fruity, Cocoa, Wood
Well played Wicked Weed, the chocolate covering is picked up right away on the palate with the tart fruitiness that is likened to tart cherry pie filling without the sweetness. Tartness is on target, and the cherry flavor is perfectly placed. Bourbon barrel character complements, but its strongest suit is the wood tannin. Aging and conditioning were paid proper attention, very crisp and clean while letting in the flavors that matter the most. [Jason]
Look 3.75 | Smell 4.00 | Taste 4.00 | Feel 4.50 | Overall 4.00
688 characters
4.14
/5
rDev
-2.6%
look: 3.75 | smell: 4 | taste: 4.25 | feel: 4 | overall: 4.25
Appearance: Pours tea brown with a slim, but frothy, ecru head; a few squiggles and dots drip down the side of the glass
Smell: Graham cracker, tart cherry, oak and a hint of cocoa powder
Taste: Tart cherry forward, with graham cracker and chocolate building underneath; an oaky addition to the flavor parade, after the swallow, with a bitter cherry pit flavor arriving in the finish
Mouthfeel: Medium body with moderate carbonation
Overall: I didn't pick up the Bourbon as much as I did in the base beer, but the chocolate makes for a nice addition; the chocolate flavor is subtle but becomes more apparent as the beer warms
Thanks, tarheels4life23, for the opportunity
680 characters
4.24
/5
rDev
-0.2%
look: 4 | smell: 4.25 | taste: 4.25 | feel: 4.25 | overall: 4.25
With a collection of flavors that can't surely work- cherry, chocolate, sour, bourbon, spice and oak -yet somehow they do, and do so in a chocolate-covered cherry and winey kind of way.
Chocolate Covered Black Angel's rusty mauve austere foreshadows its tart cherry influence within. Glimpses of sour cherry tingle the nose with its racy winey acidity. Nuance of cocoa bean, toast and spice round the scent ahead of the light fruity and malty sweetness with a light steely caramel and graham cracker dry spiciness.
The sourness tightens though the middle but wafts gently above a constant bed of toasted grain, peanut skin, red cherry, and seemingly cranberry. Assertive sourness offers its cidery, rosé wine and light balsamic tang. Final impressions round the palate as much of chocolate covered cherries with a berry medley and toasted grain.
Its refreshingly tart finish renders the beer malty-dry and medium-bodied for sour ale, but its chocolate and toasty support offers the flavor that's remiss of a cidery and winey Flanders red but with the almond and chocolate surprises that the ale promises.
1,108 characters
4.24
/5
rDev
-0.2%
look: 4 | smell: 4.25 | taste: 4.25 | feel: 4.25 | overall: 4.25
Poured into a Saint Somewhere wine-style glass. Label says Date Bottled: 10.30.15.
A- Pours a reddish dark brown color with a 1/4 inch tan head that retains a bit before becoming a thick ring around the edge of the glass. Semi-resilient lacing leaves small clots behind.
S- Vibrant cherry aroma with a moderate amount of funk and lactic acid. Not much chocolate but it's probably due to the cherry being so heavy. Mild bourbon presence.
T- Again, the cherry breaks through more than the chocolate or sourness. Has a tart-sweet dichotomy playing throughout with the chocolate coming through slightly in the aftertaste. Not much bourbon flavor to speak of.
M- Dry with medium carbonation and a body leaning toward the fuller side.
O- I like this treatment way more than the original. The fruit takes center stage and plays so well with the tartness. Reminds me of Maceo, only not as complex and, of course, not quite as delicious.
942 characters
4.15
/5
rDev
-2.4%
look: 4 | smell: 4 | taste: 4.25 | feel: 4 | overall: 4.25
Got this in a trade with @tbryant21 - thanks!
A - Pours a dark cherry color with little or no head.
S - Aroma is tart cherry.
T - The flavor follows the nose. I'm getting no chocolate at all.
M - Low carbonation and somewhat dry.
O - I like this beer. Not too tart and and a really nice muted cherry. I do wish the chocolate had come through.
344 characters

4.54
/5
rDev
+6.8%
look: 4.5 | smell: 4.75 | taste: 4.5 | feel: 4.25 | overall: 4.5
Pours a deep dark reddish brown with a very small film of head.
Smells of Chocolate and Cherry Pop tart
Taste of chocolate notes right up front with a hint of all spice (cinnamon) and faint cherry flavor on the back end. Not overly sour, but finishes with a Cherry tart on the palate with a hint of bourbon oak.
Feel is light body and semi dry.
Very enjoyable and looking forward to see how this beer develops over the years.
430 characters

4.41
/5
rDev
+3.8%
look: 4 | smell: 4.25 | taste: 4.5 | feel: 4.5 | overall: 4.5
Crimson / copper body with a frothy pinkish head. Aromas of chocolate covered cherries, booze, chocolate liqueur. Similar flavor. Really well done. Sweet, but not too. I suspect this would pair well with a rich chocolate dessert. Tasty.
237 characters

4.67
/5
rDev
+9.9%
look: 4 | smell: 4.5 | taste: 4.75 | feel: 4.5 | overall: 5
Pours a muddy reddish brown. The head is off white and clings to the glass throughout the drink. Smells like oak, tart cherries, honey, and a bit like chocolate. On first sip it is quite short but then a wave of chocolate and cherry wash over my tongue. A brief hint of oak and bourbon show up only to be escorted out by the sweetness and flavors of chocolate and cherry. Fantastic beer.
387 characters

4.3
/5
rDev
+1.2%
look: 4 | smell: 4.5 | taste: 4.25 | feel: 4.25 | overall: 4.25
I was intrigued and a little worried(?). A bourbon barrel aged sour. Alas my fears were unfounded.
Pours a very dark, muddy, reddish brown with minimal head and lacing.
Smell is tart cherry and brown sugar. Nice.
Taste is as advertised. Straight dark cherry. Tart but not overly sour. I get some pie spiciness, mainly cinnamon. It's not overly sweet and an easy drinker for the style. I don't get much, if any, bourbon but that's okay, cause it's quite good.
Finishes dry and somewhat refreshing. Which seems odd.
I found this quite unique and very enjoyable.
564 characters
4.49
/5
rDev
+5.6%
look: 4.25 | smell: 4.5 | taste: 4.5 | feel: 4.5 | overall: 4.5
This was a surprise to get on top of Angel of darkness. Beautiful dark cherry blackness for a body. Head is saw dust colored beige. Nose is of chocolate cherry doughnuts and fresh cut wood notes. Nose is very nice as well. Taste is just as wonderful with fresh baked cinnamon roll with a healthy topping of chocolate cream and pie filling like cherries. Really lush in terms of mouthfeel. Very well done.
410 characters
4.72
/5
rDev
+11.1%
look: 4.5 | smell: 5 | taste: 4.75 | feel: 4.5 | overall: 4.5
Chocolate and cherry on the nose. Tart cherry and choolate on the taste followed by a nice sourness. Awesome varient of black angel. Glad to have a few bottles.
160 characters

4.19
/5
rDev
-1.4%
look: 4.25 | smell: 4.5 | taste: 4 | feel: 4 | overall: 4.25
Served on tap at the Funkatorium; Wonderful chocolate notes on the nose, but the cherry is more prevalent on the palate. However, the cherry is muted, and doesn't seem to have a sort of bite you'd expect. Plenty enjoyable, though.
230 characters
Chocolate Covered Black Angel from Wicked Weed Brewing
4.25
out of
5
based on
93
ratings.