Oh My Quad
| Wicked Weed Brewing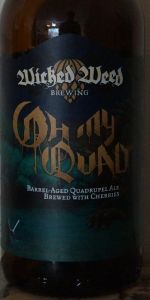 BEER INFO
Brewed by:
Wicked Weed Brewing
North Carolina
,
United States
wickedweedbrewing.com
Style:
Quadrupel (Quad)
Alcohol by volume (ABV):
11.00%
Availability:
Rotating
Notes / Commercial Description:
Belgian quadrupels are a prized beer. They take months to create and are full of rich dried fruit and toffee-like flavors. This ale was aged in Silver Oak Cabernet Barrels for four months leading to a divine beer that is perfect for pairing with fine cheeses, gamey meats, and a fire. Available in 10oz pours only.
Added by Treyliff on 07-30-2013
Reviews: 10 | Ratings: 51
4.31
/5
rDev
+8.8%
look: 3.75 | smell: 4 | taste: 4.5 | feel: 4.75 | overall: 4.25
Nice deep garnet brew, bordering on brown, with a reasonable (for the style) cream-colored head. Brew is nearly transparent, although dark.
On the nose, it's a big Belgian quad with cherries - there's no hint of barrels. Syrup and honey, cherries, dates, prunes, dark bread. Very nice aroma.
Surprisingly lighter than a traditional quad on the palate, with more vinous and tart notes from the cherries and wine barrel. I wouldn't quite call it sour, but it's definitely a touch tart, and the barrel comes through with remarkable strength: oak, must, and dirt. There's a ton going on in this brew, and while it's not a perfectly even blend, everything does come together for an overall wonderful taste.
Smooth and easy on the palate; incredibly easy drinking, feeling closer to 8 or 9% ABV than 11%. This honestly feels less potent than many tripels in the 9-10% range.
This is a unique and worthy brew!
906 characters
4.09
/5
rDev
+3.3%
look: 4 | smell: 4.25 | taste: 4 | feel: 4.25 | overall: 4
Poured from the bottle into a tulip glass. Bottled November 10th 2016.
Deep garnet and slightly brown with a good dark plum and date color. Fleeting creamy khaki head, settled to a simple collar and always re-poplulated. Not much noticeable carbonation, but some slightly transparent ones along the sides.
Aroma hits real nicely. Deep sensing cherries and pitted dark fruits. Slightly fig and raisin but with a brighter quality. Hits with some sharp clove flavors as well, a bit of fruitcake like bread tones as well. Mild oak sensations ride out as well.
Palate is quite big and large. Sharp hits of cherry juice and liquid raisin on first sip. A bit of hot booze quite a bit on the aftertaste, which sort of takes away from the bready qualities. Solid rounded mouthfeel, but not much barrel character coming through in flavors.
Comes off a bit large for it's own good, and crushing the little nuances, but still a tasty quad.
941 characters
4.12
/5
rDev
+4%
look: 4 | smell: 4.5 | taste: 4 | feel: 4 | overall: 4
Look - hazy mahogany with an off-white head that dissipates quickly but has some pretty, but spotty, lacing.
Smell - cherries and other dark fruit, brown sugar, bready malts, spicy yeast, and warm alcohol - very aromatic.
Taste - cherries hit first, yeast, cloves, and a strong foundation of barrel notes and wine.
Feel - medium carbonation, slightly viscous body due to the high ABV and barrel aging, but smooth finish.
Overall, it's a nice example of a big barrel-aged beer, but it lacks the depth and complexity of a quad. The nose hits the mark, but the flavor profile is dominated by barrel notes.
602 characters
3.93
/5
rDev
-0.8%
look: 4 | smell: 4 | taste: 3.75 | feel: 4.25 | overall: 4
I'm only disappointed in this one relative to my usual love for Wicked Weed and appreciation for big quads like Abt 12 that helped me get into beer. In this case, the complexity I was expecting simply wasn't there. Instead, we get a 13.7% booze bomb with good barrel character, but not much richness or sweetness. Mentioning cherries on the label may as well have been a placebo effect, for all that I could detect.
415 characters

3.46
/5
rDev
-12.6%
look: 3.5 | smell: 3.75 | taste: 3.25 | feel: 3.5 | overall: 3.5
L - Poured into snifter, reddish brown, hazy, wirth a thin off-white head that quickly dissapates.
S - Very belgian yeast thing going on, spicy cloves, ripe fruit, alcohol shows as it warms.
T- lots of estery flavors, slightly medicinal, grape, sweet, not much cherry except for a somewhat cough syrupy taste.
F- Thin mouthfeel and body for a quad but that might be due in part to high alcohol
O - Can't really say much good about a beer from a brewery I love. It's not bad, but lacks the refined smoothness and complexities of a really quality quad. To be fair, I got this from a store that has it in the fridge and I drank it cold (letting it warm) and I strongly feel that the belgian dark ales are better around 55. Maybe this is also in that same category as 3 philosphers and just isn't that good fresh. But what I have in front of me is just average (although above average strength!).
893 characters

3.81
/5
rDev
-3.8%
look: 4 | smell: 3.5 | taste: 3.75 | feel: 4.25 | overall: 4
375mL bottle from Sprayberry Bottle Shop (Marietta, GA). 8.99. Bottled 11/10/16. Served in a Wicked Weed snifter.
Pours an opaque orange tinted brown with about a half finger of manilla head. That froth fades to a milky layer and full crown that fails to leave any lacing behind.
Smells of wine, cherries, dark fruits, raisin bread and a little sugar. Pretty nice.
The flavors are estery, fruity and sweet. Belgian yeast character rings out strong and clear. Raisins, overripe cherries, sparkling grape juice, wet oak, apple skins, cooked caramel, some earthy grains, bread and a dollop of booze. The cherry and wine barrel (the label doesn't specify wine barrel but that's what my admittedly fallible senses tell me) blend well with the robust yeast. Surprisingly little alcohol presence given how strong this is.
Creamy, full body with subtle carbonation. Those strong Belgian yeast esters pervade the finish with some complementary notes of cherry and wine soaked oak.
Wicked Weed comes through with another solid entry. Oh My Quad juggles its yeast, barrel and cherries well, making it well worth a try.
1,117 characters

3.99
/5
rDev
+0.8%
look: 3.75 | smell: 4 | taste: 4 | feel: 4 | overall: 4
Appearance - Pours Deep purple color with thin off white head not much lacing.
Aroma - Good bit of yeast, dark fruit, raisins and figs. The alcohol is noticeable there is just a hint of cherries typical Belgian quad aroma.
Taste - The taste is very similar to the aroma, little bit more of the cherries coming through more of the alcohol as well little bit of sweetness.
Feel - Medium body lots of burn from the alcohol and slightly dry.
Overall - A solid quad but could have used a little more cherry flavor.
515 characters
3.99
/5
rDev
+0.8%
look: 3.75 | smell: 4 | taste: 4 | feel: 4 | overall: 4
a pretty unique beer, both the cherry and the red wine are somewhat more subtle than anticipated. the really built this murky caramel colored beer up quite a lot with the malt, its sweet and toffee-like, with a lot of body and residual sugar. oddly less fruity than anticipated, both in terms of the esters from the belgian yeast and from the actual cherries. the yeast is cool though, highly efficient it seems, but maybe fermented a little cooler to keep its flavor profile in check a little bit, not boring, but not over the top belgian either, at least in the traditional sense. brown sugar baking, vanilla, and toffee in the middle here, very sweet and sturdy, reinforced by some pretty assertive booze, seems stronger than its listed as. the cherry comes on late though, which is a nice feature, some tang to it, and a nice layer of flavor on the whole. not readily obvious that this was aged in a fancy wine barrel, i would have liked a little bit more of that quality, but it does come on a bit with the cherry at the end, some other dried fruits in there, but its too sweet overall to be real precise. solid beer, not sure how much of it i could or would want to drink, and a very over the top sort of americanized take on the style, but tasty and well enough done. i much prefer their wild beers though to this kind of strong ale.
1,340 characters
3.95
/5
rDev
-0.3%
look: 3.5 | smell: 3.5 | taste: 4 | feel: 5 | overall: 4
From the side of the label: "Date Bottled: 11.10.16"
The label also lists: "13.4% ALC. by VOL."
Appearance: The body is a medium shade of brown that displays hues of orange, gold, and red-brown when exposed to a little light. The head fizzes up nicely with a white appearance and fades out quickly to a small ring and a few large bubbles.
Aroma: There is a light bit of alcohol with a nice faint brown sugar scent. There is a light bit of raisin.
Taste: There is a nice bit of slightly tart and sweet cherry flavor that carries this overall, light, red wine character. There is a bit of caramel and just a bit of a light mossy earthy character.
Mouthfeel: It is nice and smooth. It is a very easy beer to drink which is great considering it is 13.4% ABV. There is just a light bit of tartness to the beer which elevates the overall presence on the palate. It's just a very wonderful beer to sit and enjoy.
Overall: It's a nice easy drinking beer that has subtle cherry character that simply complements the sweet caramel and brown sugar flavors of the Quad. The alcohol is hidden masterfully and although it does become more apparent as the beer warms up, it never becomes a nuisance. I would drink it again and I recommend it.
1,232 characters

3.86
/5
rDev
-2.5%
look: 3.75 | smell: 4 | taste: 3.75 | feel: 4.25 | overall: 3.75
A- pours a dark copper color with a small white fizzy head that reduces quickly, leaving. Little bit of lace behind
S- oaky vanilla Cabernet aromas with a hint if grape skin, big sweet malty notes to be expected of the style
T- sweet and boozy malt with some dark fruit notes including dark grape, a trace of oaky barrel adds some sweet vanilla flavors, the sweetness continues through to the finish with some booze at the end
M- medium-heavy body with a viscous mouthfeel, thick and foamy finish, the ABV is actually hidden quite well considering how high it is
O- a big malt bomb that suits well to the style with some dark fruity flavors as well. I would have liked a little more barrel flavor to match up with the sweetness, but overall very good
762 characters
Oh My Quad from Wicked Weed Brewing
3.96
out of
5
based on
51
ratings.