Blue Moon Honey Moon Summer Ale
| Coors Brewing Company (Molson-Coors)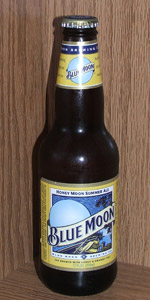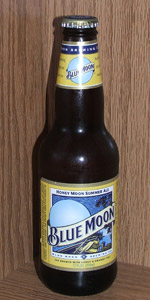 BEER INFO
Brewed by:
Coors Brewing Company (Molson-Coors)
Colorado
,
United States
millercoors.com
Style:
American Pale Wheat Ale
Alcohol by volume (ABV):
5.20%
Availability:
Summer
Notes / Commercial Description:
No notes at this time.
Added by pmcadamis on 05-05-2007
This beer is retired; no longer brewed.
HISTOGRAM
Ratings: 632 | Reviews: 348

2.63
/5
rDev
-14.3%
look: 2.5 | smell: 2 | taste: 2.5 | feel: 3 | overall: 3.5
Light pale yellow, slightly hazy. Decent head and retention, little lace. Lots of slick honey, slightly citric aroma.
Flavor comes with more honey, no rough or raw but finished and smooth. Decently full mouthfeel, some white beer spicing and citric rind, but the honey definitely stars. Fortunately, the flavor is so light that it's not very offensive.
Not recommended, unless you specifically light honey brews. Much better than a Mike's Hard, and preferred to Leinenkugel's summer shandy, but not up to the standards of Dupont's Biere de Miel.
553 characters
2.98
/5
rDev
-2.9%
look: 3 | smell: 2.5 | taste: 3 | feel: 3 | overall: 3.5
12 oz bottle to pint glass.
A: Nice, creamy foam head, 3 finger, but extrememly quick dissipation. Almost no lacing. Nice golden amber, clear - bit of haze but not much.
S: Honey, orange, wheats and a bit of spice, but all pretty weak - the aroma was there, but you had to search for it.
T: Very sugary, honey. Orange and spiciness follows, nice hop balance
M: Moderate carbonation, smooth, spicy, bit sharp at the end.
D: This is a decent, cheap beer from blue moon. Not great, not horrible. Good flavors and goes down easy.
532 characters

2.1
/5
rDev
-31.6%
look: 3 | smell: 3 | taste: 1.5 | feel: 3 | overall: 1.5
Poured from a 12oz bottle with a best by date of Sept 07 into a pint glass. It had a slightly pale yellow color. I gave a hard pour and got a pretty big head that stuck around for a bit. Good carb with slight lacing. The aroma was punch in the face honey with a slight hint of orange peel in the back. The taste was also dominated by honey. I think I would have liked this is it had been a beer with some honey highlights since I love honey but this is basically a glass of honey with a little beer thrown in to make it flow out of the glass better. By the end the honey is just too much to take and I had to choke down the last third just to avoid a drain pour. Avoid this one. (1.5, NA, ML, N)
695 characters
2.72
/5
rDev
-11.4%
look: 2 | smell: 2.5 | taste: 2.5 | feel: 4 | overall: 3
Wait, isn't witbier supposed to be, you know, "wit"? And maybe opaque? This isn't--it's a translucent sickly yellow color with no real head to speak of. Bubbles nicely for a while. Smells vaguely of honey, but I'm not sure I would have picked up on it without being told. Tastes a little more like honey and average pale lager type beer. Has a pretty nice, refreshing mouthfeel--somewhere between spring and summer if you know what I mean. Despite having very little to recommend it, I could actually drink a few of these on a hot day. That's about all it's good for, though.
575 characters
3.6
/5
rDev
+17.3%
look: 3.5 | smell: 3.5 | taste: 3.5 | feel: 3.5 | overall: 4
Appearance is a light orange with a quick fizzy head. smell is clean with light honey and orange. Taste of the honey is prevalent giving it a sweetness with a bit of orange and having a good balance with hops and carbonation. Mouthfeel is light to medium but thick. Overall it's better than what was to be expected, it would make for a good session but the sweetness would prevent me to continue beyond 2-3 beers.
413 characters
3.45
/5
rDev
+12.4%
look: 3.5 | smell: 3.5 | taste: 3.5 | feel: 3 | overall: 3.5
A- It is a golden pale yellow, i would almost consider it blonde with a foamy white head that dissapates rather quickly
S- a honey/sugary aroma is most prevalent. Smells orange peel and wheat follow
T- The wheat and citrus ingredients are tasted first following by the lingering taste of honey. very sweet in taste overall. It has high carbonation and is notable when taking a sip.
M- Feel pretty smooth but thick. The syrup consistency of honey can be felt and can be felt for some time after taking a sip.
D- This beer is tasty, but very sweet. A great adaptation on a wheat beer. I recommend trying this beer if given the chance.
645 characters
3.31
/5
rDev
+7.8%
look: 2 | smell: 3.5 | taste: 3.5 | feel: 2.5 | overall: 3.5
A - Clear and pale golden yellow with a foamy two finger white head that settles to a fizzy haze. Big sheets of foamy white lace coat the glass at first, but as the beer warms less lace is noticable.
S - Sweet honey and sugar on top of a basic Blue Moon wit aroma of orange peel and coriander.
T - Cloyingly sweet honey flavor that totally overpowers any wit flavors that come through in the nose. As it warms, more and more nutmeg and cinnamon come through. Candy-ish and artificial, but with a nice spiced flavor underneath the sugar.
M - Medium bodied with some sugar coating the palate and adding to the feeling of heft in the mouth. Fizzy soda pop carbonation. The finish is a bit dusty, but then cut off by a sugary sweetness that makes me feel like I've had hard candy in my mouth.
D - This is pretty drinkable for those who like sweet flavors. For me this sweetness could be very annoying after one or two. This is worth trying, and I think some people might really like this, but it's not for me.
1,017 characters
Blue Moon Honey Moon Summer Ale from Coors Brewing Company (Molson-Coors)
Beer rating:
3.07
out of
5
with
632
ratings