Blue Moon Spring Blonde Wheat Ale
| Coors Brewing Company
BA SCORE
67
poor
95
Reviews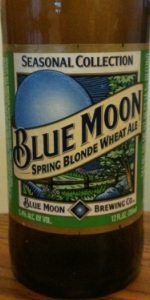 BEER INFO
Brewed by:
Coors Brewing Company
Colorado
,
United States
coors.com
Style:
American Pale Wheat Ale
Alcohol by volume (ABV):
5.40%
Availability:
Spring
Notes / Commercial Description:
No notes at this time.
Added by OBeerMeGreatOne on 01-06-2011
Reviews: 95 | Ratings: 405

2.23
/5
rDev
-19.5%
look: 2.5 | smell: 2 | taste: 2.5 | feel: 2 | overall: 2
Bought this this morning when I came up empty in my small town looking for a hefeweizen.
Crystal clear, tight head settles to nothing, no lace. Citrus and light grain nose. Light crisp lemony taste, with a dry wheat finish. There's something else there I can't quite place, but it doesn't taste good. Thin and fizzy, almost a drain pour.
338 characters

2.17
/5
rDev
-21.7%
look: 2 | smell: 2.5 | taste: 2 | feel: 2.5 | overall: 2
pours out a pale gold colour with a minimal white head and sparse lace. faint malt aroma with hints of orange and lemon. taste is a crisp combination of strained wheaty graininess and malt, with an uninspired dose of citric notes. i think there may be a splattering of bitterness, but it gets lost in the wash. crisp mouthfeel on top of a medium to light body. ok drinkability...it has a somewhat quenchable characteristic to it.
overall this is a dumbed down version of a wheat ale that has very little redeeming virtue to it. quenching, yes. satisfying, no. weak, obvious.
575 characters

2.15
/5
rDev
-22.4%
look: 2.5 | smell: 2.5 | taste: 2 | feel: 2 | overall: 2
Had (NOT enjoyed) on-tap @ the Hardshell Cafe in Soulard- Downtown St. Louis. Beer was tapped from a Bright Green Handle w/ "Seasonal- Spring Ale" under the blue Moon sign & poured into a Pint Glass.
Appearance- Pale, Golden color with 1 finger of head. Huge bubbles of Carbonation and no retention on the head. Lace gradually smears down the sides of the glass.
Smell- You can smell signs of the yeast and grain but nothing else... There is an alcohol scent as well.
Taste- There is a bit of an orange/lemon twist to it now but not good for this type of style (I wish they did give me a lemon with this one to mask the flavor!)
Mouthfeel- Light Bodied, Light Viscosity, Watery, and Dull. Nothing makes this beer anything special...
Overall- They really missed the mark on this one. It does have a strong wheat taste but it is going to be a struggle to finish even a pint of this. Blue Moon isn't a bad beer but anything they try to brew otherwise, Honey Moon, this Spring ale, etc. turns out very rough to drink and missing many qualities of making it a decent ale.
1,072 characters
2.13
/5
rDev
-23.1%
look: 2.5 | smell: 2 | taste: 2 | feel: 3 | overall: 2
12oz brown bottle with a freshness date.
Thin lacing with a golden filtered clarity. Forced orange and lemon nose on a thin graininess. Crisp, easy to get to as the body is pretty thin. Orange and lemon water with an addition of grain, seriously ... it tastes like a glass of cold carbonated water that a fresh wedge of orange and lemon where put in a few hours ago. The grain is too thin to really call out. Hops, sure something could be there but the beer does not even need to be balanced ... not much to take care of. Dry finish with some citric remains.
Weak sauce ... I expected a bit more out of this one. Not much to it at all and the addition of citrus fails IMO. They would have been better off sticking to their Rising Moon Spring Ale and simply tweaking as I said.
778 characters

2.13
/5
rDev
-23.1%
look: 2.5 | smell: 2 | taste: 2 | feel: 3 | overall: 2
This company should stop. They should stop making new kinds of beer and they should stop creating attractive names and label art for their crap product. This beer smells like corn and 7up. It taste like soupy adjuncts. Loads of creamed corn and artificial lime flavor. Nothing resembling a wheat beer. If they hadn't filtered it, had some hop character, or tasted like anything besideds coors light with skittles it would be an improvement.
440 characters

2.11
/5
rDev
-23.8%
look: 2.5 | smell: 4 | taste: 1 | feel: 2 | overall: 2
I've seen this in stores, and being a huge fan of weissbiers, I had to give this thing a try. Idiots gave me a frozen glass that I had to warm up at the bar.
Appearance - Straw color, Light color for a wheat beer, even when compared to a Kristalweizen. 2 inch head that disappeared rather quickly.
Smell - Probably the best part of the beer. Smelled of a good wheat beer (clove, bready-wheat, banana, and sweetness). Halfway through the beer, I got this strange aroma that smelled of an astringent adujnct lager.
Taste - OK wow, not what I was expecting. After reading the label and smelling it, I was expecting a good wheat beer reminiscent of Franziskaner. But what I got was an astringent adjunct lager flavored beer. It took all I had to finish this thing. No hops present at all. Reminiscent of UFO Hefeweizen. Not good.
Mouthfeel - Once the initial flavors leave, a slightly sweet adjunct lager aftertaste lingers, that is preferable when compared to the likes of BMC beers. No real aftertaste to speak of.
This thing shouldn't carry the Blue Moon name. It should carry it's father's name (Coor's). This is what i pictured BL Wheat would taste like.
1,160 characters
2.03
/5
rDev
-26.7%
look: 2.5 | smell: 2 | taste: 2 | feel: 2 | overall: 2
Blue Moon Spring Blonde Wheat Ale....in a bottle
Appearance-pale gold color, muddled color, one finger head that leaves quickly.
Smell-light traces of alcohol, fruit juice and grain'
Taste/Mouthfeel-weak, watery, light mouthfeel. Touches of fruit juice flavor mixed with cooked veggie adjunct notes, weak taste finishes clean. Not very enjoyable, actually seems like normal Blue Moon doused in orange juice.
Drinkability-not enjoyable, not memorable.
Overall-so much for that Orange Peel, seems like imitation craft gimmickry, again Blue Moon drowned in OJ to me. Not many beers I despise, this seems to be one of them.
625 characters
2.03
/5
rDev
-26.7%
look: 2.5 | smell: 2 | taste: 2 | feel: 2 | overall: 2
A- Golden in color with a thin white, not a great start
S- Light wheat and faint citrus, its not improving any.
T- Watered down wheat and lemon cough drops, no hops present.Ok it got worse
M- Thin and highly carbonated.
D- Bad taste and it's a waste of money
263 characters
2.02
/5
rDev
-27.1%
look: 2 | smell: 2.5 | taste: 2 | feel: 2 | overall: 1.5
Extremely disappointing beer. Idk why it is priced at where it is especially since this tastes kind of like a miller light with a hint of lemon and orange. Overall really disappointed and needs more flavor like their other seasonal fall and winter beers.
254 characters

1.95
/5
rDev
-29.6%
look: 2.5 | smell: 2.5 | taste: 1.5 | feel: 2 | overall: 2
12oz bottle poured into a New Belgium globe glass
It pours a nearly clear almost light amber color, white head, minimal lacing and not lasting head. Just a unappealing wheat beer.
Aroma of very faint wheat and some citrus. That's about it. Its a very faint aroma.
The taste just is even more boring. The citrus goes away and you are left with a wheat flavored beginning and then finishes oddly crisp like a light lager. It's even more boring than regular Blue Moon.
I handed this to my wife blindly and her evaluation was 'It tastes like wheat and Coors light.' I could not have said it better myself
604 characters
1.92
/5
rDev
-30.7%
look: 1.5 | smell: 2 | taste: 2 | feel: 1.5 | overall: 2
Let me first start off this review saying that i am a fan of Coors banquet beer in relativity to other "big domestics". That being said, i am not a fan of their blue moon products. Especially this particular ale.
Appearance- Poured from a bottle, it presented a pale color with a thin soapy head that dissipated almost instantly. Heavily carbonated with little head was the first red flag..
Smell- Stale. Overwhelming notes of barley and malt. Miniscule notes of "orange and lemon" as advertised.
Taste- Sour. Malty with an artificially citrusy aftertaste. Bearable, but not enjoyable.
Mouthfeel- Could barely feel my mouth due to excessive carbonation. I felt like i was drinking a talking rain tainted with malt liquor.
725 characters
1.86
/5
rDev
-32.9%
look: 2.5 | smell: 1.5 | taste: 1.5 | feel: 3.5 | overall: 2
Appears a very clear golden yellow with a disappearing soda head, which is sort of the exact opposite of what I expect on top of a wheat ale. Texture is very thin and watery, at least the carbonation is lively, but again that reinforces the soda notion in my head. Smells very much like the lemon-orange medicinal oily aroma from a Wet-Nap that has been soaking in a glass of diluted tonic water. Seriously, it actually does smell like that. Flavor is thankfully(?) a lot blander than the nose would have you believe, coming across as a sort of generic ghost of a wheat malt mixed with mushy stale oyster crackers and a twist of citrus. I'll be avoiding this one in the future.
677 characters

1.8
/5
rDev
-35%
look: 2 | smell: 2 | taste: 1.5 | feel: 2 | overall: 2
Bought this for my girlfriend when she asked me to pick her up some Blue Moon. I decided to give this a try and write up a review for it.
I've originally tasted the Rising Moon that was out before this and I thought that beer was pretty terrible from memory. This beer however... might even be worse, or the exact same beer for all I can really tell.
Pours a clear pale yellow color with almost no head to speak of.
Aroma is grainy, grassy, slightly wheaty and some odd citrus lemon/lime peel.
I know the previous Rising Moon was brewed with limes and this one is supposed to be orange and lemon but all I keep tasting is lime lime lime!!! There is a slight wheat and plastic aftertaste that just sticks in your mouth for too long. I suppose I wouldn't mind it but it's such a horrible taste. The only reason I'm giving it any points is because it at least tastes like something!
Light body and somewhat flat. Not at all crisp or refreshing or anything it aims to be. All around horrible.
994 characters

1.79
/5
rDev
-35.4%
look: 3 | smell: 1.5 | taste: 1.5 | feel: 2.5 | overall: 2
Poured from a 12oz bottle into a wheat beer glass.
This? This is a wheat beer of some sort? There's nothing appearance-wise to seperate this from macro lager 52. Clear golden color, three fingers of white dense head that quickly fades, all that stuff. The aroma? Ugh. No. How does this smell so awful? It's basically just a super-cheap aroma. Hints of wheat, Pledge, and something that might have once passed for hops. The taste on this? Corn. Honey. Sticky-sweetness. It's passable, but just barely. I wouldn't really like another. The mouthfeel is thankfully thin, and the drinkability is alright. This is not a good beer. This is not a good beer at all. I'm fairly fond of the base Blue Moon, and Pale Moon is alright, but their seasonals aren't really all that great.
772 characters
1.7
/5
rDev
-38.6%
look: 2 | smell: 2 | taste: 1.5 | feel: 2 | overall: 1.5
Pours a transparent straw color with negligble head in spite of the vigorous carbonation. Aroma is bare and unappealing. Mouthfeel is perky on account of the carbonation, but the flavor is thin and watery, tasting of dilute, mass-produced wheat flavoring and mild cleaning solvent. This tastes almost like a Coors Light but with less purpose or identity. One of the most watered down beers I've tasted, and utterly forgetable if not for its inadequacy.
452 characters
Blue Moon Spring Blonde Wheat Ale from Coors Brewing Company
2.77
out of
5
based on
405
ratings.