Blue Moon Spring Blonde Wheat Ale
| Coors Brewing Company
BA SCORE
67
poor
95
Reviews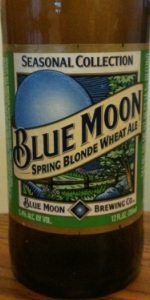 BEER INFO
Brewed by:
Coors Brewing Company
Colorado
,
United States
coors.com
Style:
American Pale Wheat Ale
Alcohol by volume (ABV):
5.40%
Availability:
Spring
Notes / Commercial Description:
No notes at this time.
Added by OBeerMeGreatOne on 01-06-2011
Reviews: 95 | Ratings: 405
2.58
/5
rDev
-6.9%
look: 1.5 | smell: 1 | taste: 3.5 | feel: 1.5 | overall: 3.5
Appearance - Pours with one finger of head and a dull caramel brown. Looks like a regular American adjunct lager.
Smell - Not much going on here at all. I smell water with a slight hint of grass.
Taste - A very bready taste with a very strong floral afterteaste. A grainy strong orange and lime kick.
Mouthfeel - Nothing too special here, quite disappointing actually. Average carbonation.
Drinkability - Easy to gulp down but I would only drink one of these in an evening or afternoon.
Verdict - Slightly disappointed in terms of Spring beers after having Samuel Adams Noble Pils and then having this follow it up. I really enjoy the heavy floral and lime taste, but there isn't too much else going on for the beer.
721 characters
2.63
/5
rDev
-5.1%
look: 3.5 | smell: 3 | taste: 2 | feel: 3 | overall: 3
A new Blue Moon... Let's see how this one does.
Pours good in the way of a Kristalweizen: About two fingers of off white fluffy head that retains decently from a vigorous pour, and has a clear dark golden color.
In the aroma I can get the citrus qualities, and maybe a hint of floral hops.
The taste... Well not a whole lot of that. Take what I got from the aroma and add a little corn to the mix.
Clean and crisp. This makes for a good warm weather beer. Not too much to ponder here when it's said all and done.
516 characters

2.76
/5
rDev
-0.4%
look: 4 | smell: 3 | taste: 2.5 | feel: 3 | overall: 2.5
A - Pours with one and a half fingers of white foam on top of a clear, dark golden body. The head settles at a moderate pace and leaves little lace.
S - Grainy malt with some light, musty hops.
T - Light, sweet malt up front with a hint of creamy wheat. A bit of grassy hop flavor comes out in the middle with some vague spicy notes. Sugary grain in the finish (tastes oddly like cornflakes) with light bitterness and a bit more grassy hop character.
M - Medium body, moderate carbonation, and a somewhat sweet finish.
D - Not bad, it is certainly quaffable but I have a hard time coming up with a reason why I would want to drink more than one of these. There is nothing particularly offensive here, but aside from some bland coriander character there isn't any real character at all. Not really worth the effort of twisting off the cap.
842 characters
3.17
/5
rDev
+14.4%
look: 2.5 | smell: 3 | taste: 3.5 | feel: 3 | overall: 3
Poured from a 12 oz. bottle into a standard pint.
A: Golden hue, decent amount of carbonation clings to the sides of the glass and metriculates to the surface. Pours about a quarter finger, bubbly, white head which dissipates completely pretty quickly. No lacing to speak of.
S: A little grain and a little lime citrus.
T: Bready grain, lime, and just a slight sweet hint of honey and orange.
M: Light body, refreshing quality. Kind of steely finish.
D: Power drink.
Atmosphere is okay. Appearance is not much to speak of. Nose is not bad...grain and lime. Flavor is a fair combination of grain, citrus, and sweetness. Overall, this is a decent quaff.
657 characters
2.55
/5
rDev
-7.9%
look: 2.5 | smell: 2.5 | taste: 2.5 | feel: 3 | overall: 2.5
Bottle from Vons Market
A - Poured a clear golden color with a white head
S - Is of wheat with citrus fruit scents
T - Follows the nose wheat upfront then some citrus fruit flavors come out in the finish
M - This beer has a light body with high carbonation to it
D - Even for the style this isn't a very enjoyable beer Coors filtered out any good flavors that could have been there the only reason to get this is if like me are currently in a beer waste land and want to try something new
494 characters

3.04
/5
rDev
+9.7%
look: 2.5 | smell: 3.5 | taste: 3 | feel: 2.5 | overall: 3
Twist off bottle poured into a pint glass, this Spring seasonal offers a change of pace from a mixed pack of Blue Moon brews. Pours a clear straw in color with a thin white cap after noticing a complete lack of pressure change from the inside of the bottle to the outside, and yes, at sea level or so. Retention is subsequently rather brief. Not a great start.
Nose is strongly citric in nature with orange and lemon and a bit of yeast sourness. Perhaps a touch of wheat but not in a bready sense.
Flavor follows the nose with lemon again, a light grainy texture and on the finish a return of citrus; again more lemon than orange though more in an additive sense than from hops.
Smooth but light feel and drink and drinks more like, and viewed as, an American Blonde Ale rather than an APWA as the contribution of the wheat malt is minor for this brew. But then the body is light as well. Pretty generic.
908 characters

2.6
/5
rDev
-6.1%
look: 2 | smell: 2 | taste: 2.5 | feel: 3 | overall: 3.5
ok well i feel a little jipped by this beer. wheat beer typically is cloudy and this beer was as crystal clear as a mountain stream. that was a little odd. the smell was nothing special. and then when i tasted it, it was like a regular american light beer. normally i like bluemoon as a go-to beer cause most places have it if you go out to eat- and it makes for a good replacement for a boring old coors light with a meal. the blonde wheat however tasted just like a run of the mill boring american style beer. not a thing to get excited about.
545 characters
3.4
/5
rDev
+22.7%
look: 3 | smell: 3 | taste: 3.5 | feel: 3 | overall: 4
My brother-in-law came back with this from the store while we were visiting him. We were kind of weirded out to see a spring seasonal beer when it was snowing outside in January, but whatever. Here we go.
A: Pretty average for Blue Moon, yellow/gold with a small white head.
S: Very fruity, with a lot of lemon and hints of orange.
T: Almost tastes like normal Blue Moon. In fact, most of the beer was like a normal Blue Moon with subtle differences.
M: Typical Blue Moon.
D: Very drinkable, had 2 within 30 minutes and it didn't phase me at all.
This was okay. As with all Blue Moon products, they're what I go to when there's no really good microbrewery option available. Nothing too impressive, but not awful either. I'd call the beer average.
753 characters
2.9
/5
rDev
+4.7%
look: 3 | smell: 3 | taste: 3 | feel: 3 | overall: 2.5
Was weirded out at seeing some spring beers out in January, so I snagged a 12-pack of this.
Pretty basic yellow-y appearance with a quickly dissipating head.
A lightly pleasant smell. Pretty fruity and what you would expect from a wheat ale.
Mouthfeel is decent. Carbonation isn't too overbearing, but it's pretty evident.
Taste is okay. Not bad, but nothing to write home about. Basic wheat elements with some fruity notes, mostly lemon.
Pretty drinkable, but I think it's really caused by the lack of a bold flavor or something to that extent. Sessionable, but I usually go for bolder, richer drinks, so I'm probably not going to be quick on buying more.
661 characters

3.35
/5
rDev
+20.9%
look: 3 | smell: 3 | taste: 3.5 | feel: 3.5 | overall: 3.5
picked this up at a 7-11 today. BM was my first beer after 10 years of being devoutly straight edge, so it holds a special place in my heart...
A - same ol' same ol' bottle with slight adjustments. poured a massive, thick head that I was excited about, but dissipated somewhat quickly. leaves some lacing as you drink. color is pale crystal clear off-yellow, not exactly what I have in mind in Blue Moon, or a good wheat ale of any kind for that matter.
S - a sharp lemon juice tone is evident, almost like a bag of fruit chews. below it is a good warm wheat malt. orange flavor is hidden but singing backup
T - just as expected from the smell, warming wheat, citrus twinges, big wheat finish. a pretty good payoff for average initial impressions.
M - same as any Blue Moon, light, crisp, etc.
D - won't have too much trouble finishing a 6er, but won't be rushing out for another. I hope Coors is smart enough to produce this into the early summer where it belongs. until then you'd be better off with regular ol' Blue Moon
1,029 characters
2.48
/5
rDev
-10.5%
look: 3.5 | smell: 3 | taste: 2 | feel: 2.5 | overall: 2.5
Appears bright clear golden body with a bright white head, forms thin speckled lacing scattered around the sides of my glass. Aroma has some sharp wheat notes with hints of sweet fruit notes. A touch of citrus peels and grassiness going on as well. Flavor hits with a marshmallow like cremay sweetness with hints of citrus peel bitterness in the finish, seems like a wheat infused cream ale really. Mouthfeel is light bodied, carbonation is moderate, overall drinkability isn't anything to write home about. It's actually hard to drink more so than any golden beer should ever be.
580 characters

2.57
/5
rDev
-7.2%
look: 2.5 | smell: 3 | taste: 2.5 | feel: 3 | overall: 2
12oz bottle in pint glass
date = June 2011 (I assume best by)
A: Pale golden/yellow color with a thin white head, no lace at all.
S: Slight lemon/indeterminate citrus and a little bit of wheat.
T: Definite wheat "tang" combined with some citrus way in the background.
M: Crisp, medium carbonation
D: I am note usually a fan of the style and this is not a good example of the style. It is easy to drink, but so is water. Doesn't come across as refreshing or pleasant. Not something I would reach for again. I haven't had a regular Blue Moon in many years, but my recollection is that is a better beer. The 2nd one that was left in the fridge will be served to someone who doesn't like beer. Not worth trying, waste of calories.
727 characters

2.44
/5
rDev
-11.9%
look: 3.5 | smell: 2 | taste: 2 | feel: 2.5 | overall: 3.5
Blue Moon Brewing Company--Adolph J. Coors Brewing Company Spring Blonde Wheat Ale--Seasonal Collection--A delicious wheat ale brewed with orange and lemon peel for a refreshing taste and a crisp citrus finish--2011 12 oz. Bottle. 5.40% ABV. 10 IBU's? (2.0 / 5.0) Wit? Thin foamy mild lace pillowy big white head. Fizzy bright thin straw wheat gold color. Mild wheat ester no hop front. Thin dry sweet bland light wheat ale body. Mild citrus no hop refreshing end. Where is orange and lemon? Sampled 1/5/2011. 6-Pack purchased for $6.99 at Fred Meyer--Ballard, Seattle on 12/31/2010.
583 characters
2.78
/5
rDev
+0.4%
look: 3 | smell: 2.5 | taste: 3 | feel: 4 | overall: 2
A: Crystal clear yellow fizz with a finger's width white foam that dies down to a thin layer.
S: Honey malts, wheat, grain, and a touch of floral hop.
T: Extremely sweet with honey, malt and grain flavors. There are fruit flavors, green apple, peach and citrus, in the background with a floral hop flavor that kicks in and provides a little bit of bitterness in the finish which is still very sweet and syrupy.
M: The beer is smooth and velvety and has a good body to it.
D: Much, much too sweet for my tastes. The flavors are pretty good, but the overbearing sweetness of the beer kills it for me.
602 characters
3.84
/5
rDev
+38.6%
look: 3 | smell: 4 | taste: 3.5 | feel: 4 | overall: 4.5
Pours a translucent gold with a moderate head, tiny bits of lace.
Smell:The wheat malt is very up front with heavy citrus to follow. A little adjuncty but what else can you expect from Coors. Still, a pretty inviting smell.
Taste: Goddammit, I hate to say it... its not bad. Wheat malt with balanced citrus. Would be a better summer beer. Not complex, but decent.
Drink: I grew up in Colorado and admit to having peed in the tubing river that Coors uses for their beer. That said, I very much dislike the company, but thought that this was a very good session beer. Sorry for peeing in your river Coors...NOT.
612 characters
Blue Moon Spring Blonde Wheat Ale from Coors Brewing Company
2.77
out of
5
based on
405
ratings.