Blue Moon Sunshine Citrus Blonde
| Coors Brewing Company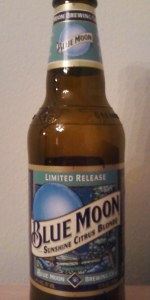 BEER INFO
Brewed by:
Coors Brewing Company
Colorado
,
United States
coors.com
Style:
American Blonde Ale
Alcohol by volume (ABV):
5.40%
Availability:
Limited (brewed once)
Notes / Commercial Description:
No notes at this time.
Added by Stinkypuss on 01-27-2013
This beer is retired; no longer brewed.
Reviews: 9 | Ratings: 51

3.08
/5
rDev
+6.6%
look: 2.5 | smell: 3.25 | taste: 3 | feel: 3.5 | overall: 3
"Our wheat ale is the perfect way to celebrate the season. A blonde-colored ale brewed with orange and lemon peel for a smooth and refreshing beer with a crisp citrus finish. It goes great with those first warm patio days of spring". Brewed in the style of an American Blonde Ale. Available exclusively within the Blue Moon Spring Sampler Variety Pack.
Poured from a 12 oz. bottle to a Blue Moon pint glass. Served north of 57º Fahrenheit.
(Appearance) Pours a fizzy, sudsy head of a gold-tinged white complexion over a golden amber body with ample busy carbonation and high clarity. Retention is average at best and there is no lacing to mention. Appearance isn't noteworthy, but pretty much expected across the Blue Moon lineup. 2.5
(Smell) Aromas of cracker pilsner and musty wheat provide a mellow sweetness and a light body. Some mellow orange juice sweetness and tart tangerine rind combined and a pinch of grassy hop oil grants a subtle bitterness to balance. Rather clean, expectedly simple. I do enjoy the simplicity of the citrus add-ins, they're not overdone. Potency is shy of medium. 3.25
(Taste) Heavy wheat malt base with a trailing pale and pilsner malt backbone, collectively very sweet. Citrus notes come through in a mildly tart juice blend, some zesty rind peeks through in the soft wheat finish. Hop presence is pretty tough to find, it could benefit from some hop bitterness and even some hop flavor. Found the sweetness to be a touch high without enough bitterness to appropriately round it out. 3
(Mouthfeel) Texture is soft, mildly slick with a touch of zesty rind. Carbonation adds a bit of smoothness and a mild crisp finish. Body is medium+ for a Blonde Ale, a notch above where it should be in malt sweetness, although the body is ok. Alcohol presence is low, shrouded by the sharper citrus notes of rind and peel. 3.5
(Overall) A decidedly ho-hum limited release beer. While I enjoyed the citrus additions in this beer, I found the hop flavors and bitterness lacking, which were desperately needed to soften the moderate sweetness that dominated the flavor palate. While I may be enhancing the severity of the sweetness this beer has, it is clearly noticeable and certainly puts a damper on the drinkability that an average Blonde Ale should be notable for. I couldn't have more than one to two before getting sick of this. Don't go out of your way to buy a variety pack for this beer alone. 3
Coors Brewing Company's
Blue Moon Sunshine Citrus Blonde
3.08/5.00
2,499 characters

2.62
/5
rDev
-9.3%
look: 2.75 | smell: 2.5 | taste: 2.75 | feel: 2.5 | overall: 2.5
Light amber in the tall glass with a coarse carbonation. Is that supposed to be a citrus flavor? It's a peculiar gummy taste with something like orange peel that's been soaked in 7-Up and vodka. I'm having trouble getting any aroma. I am having trouble describing this taste. Maybe really diluted rum and apple juice.
This is the least drinkable of the recent rash of flavored Blue Moon blondes. I didn't mind the agave or the blackberry, but this has all the industrial-tasting flaws without the crisp guzzle-ability of the better ones. There is something oily and icky in the mouthfeel. From the 12 oz bottle out of the supermarket.
636 characters
2.14
/5
rDev
-26%
look: 3 | smell: 2 | taste: 1.75 | feel: 2.75 | overall: 2.5
Bottle. Pours a very clear amber color with a moderate white head on it. Nose is very light - I can get faint whiffs of citrus and wheat off of it, but there isn't much to it. Taste is a little sweet with the taste and feel of a wheat beer, but not much flavor to it. Whatever...
279 characters

2.35
/5
rDev
-18.7%
look: 3.5 | smell: 2.25 | taste: 2 | feel: 3 | overall: 2.5
Man, the Coors marketing machine never fails to amaze me. You couldn't see a name focus tested at pseudo-craft drinkers better than Sunshine Citrus Blonde. The beer looks good, with a golden color and a large head. The aroma is citrusy, for sure, with a bit of that Blue Moon orange twang. In fact, it smells like normal Blue Moon, but worse. The taste is the same - it's got the traditional strong citrus taste of a Blue Moon, but loses any of the depth for a terrible adjunct-laden backend. The mouthfeel is light and crisp, with a bit of stickiness on the end, and the drinkability is alright. Overall, Blue Moon Sunshine Citrus Blonde is another seasonal stinker from Blue Moon.
682 characters
3.42
/5
rDev
+18.3%
look: 3.75 | smell: 3.5 | taste: 3.25 | feel: 3.5 | overall: 3.5
Pours out to a frothy white head that falls to a thin layer. Color is brilliant gold-copper. Aroma is orangey and wheaty as one would expect. Flavor presents with citrus tang and wheat bite. Finishes dry and clean with residual citrus aftertaste. Mouthfeel is light and refreshing. Overall a decent summertime brew.
315 characters

2.95
/5
rDev
+2.1%
look: 3.5 | smell: 3.5 | taste: 2.5 | feel: 3.5 | overall: 2.75
Looks above average. It has a nice golden, orange color with average head and bubbles. Nothing wrong here.
Smells like pale malt and some slight citrus notes. Very typical but it smells very nostalgic. I'd say it's nice.
A nice balance between malt and citrus. It carries a strange metalic taste afterwards, which is not too pleasant.
Overall, very bland. Worth it if you are chugging some beers looking a for a tasty buzz without breaking the bank, but not worth a dime, in my opinion.
492 characters

3.1
/5
rDev
+7.3%
look: 3 | smell: 3 | taste: 3 | feel: 3 | overall: 3.5
12 oz. twistoff bottle from a mixed 12 pack, best by June 17, 2013 on the neck of the bottle and served into a pint glass. A 'wheat ale' noted on the neck wrapper, yet this one pours quite clear and deep straw in color. A finger of white foam doesn't linger, shrinking to a light cap rather swiftly. Shows a light apparent carbonation though does support a cap with a spin now and then.
Neutral grain on the nose with a hint of semi-sweet lemon though not hoppy by any means. Hint of light caramel and orange. Aroma is a non-factor given that this beer is most often consumed from the bottle in my estimation, yet with some warming does offer a touch of earthiness.
Taste is clean yet neutral with a viscous finish, somewhat sweet and orangy on the close. Surely not the advertised 'crisp' finish. Somewhat grainy on the aftertaste at times and with a touch of spice. Overall not a bad brew but not defining either. Surely benefits from some warming from fridge temp...
971 characters

3.44
/5
rDev
+19%
look: 3.75 | smell: 3.5 | taste: 3.25 | feel: 3.75 | overall: 3.5
Poured from bottle into a pint glass
Appearance- Pours a nice clear golden amber color with hints of orange within and tons of carbonation bubbles rushing up through the body of the brew. Upon pouring there is a one finger white head that fades relatively quickly leaving only a tiny amount of lacing.
Smell- The aroma is quite sweet in nature consisting largely of a caramel smell. Beyond this aroma there is a very light corn smell as well as some light notes of orange.
Taste – The taste begins bready and sweet with flavors of citrus mixed within. The bready flavors are a mix of wheat bread and malt with the sweet being a blend of orange and caramel. The flavors of the brew remain relatively consistent throughout the taste with the caramel fading a bit and more citrus taking its place. In the end a sweeter malty and citrus flavor are left to linger on the tongue.
Mouthfeel – The body of the beer is quite light in its creaminess with a carbonation level that is average to just above. The carbonation and thinner body are quite nice for the largely sweeter flavors of the brew and suit it quite well to make for an easy drinking beer.
Overall –A rather refreshing, but maybe a little too sweet brew. If you are looking for something rather smooth and crisp with a moderate citrus and malt taste and a good deal of sweetness then this is a good choice.
1,373 characters
2.82
/5
rDev
-2.4%
look: 3.25 | smell: 3 | taste: 2.5 | feel: 3 | overall: 3
Blue Moon Sunshine Citrus Blonde
Bottle states this is a limited release brewed with orange and lemon peel.
LOOK: Clear pale orange color with a short lived foam cap. Appears ultra filtered.
SMELL: Wheat and some lemony citrus.
TASTE: Grainy with lemon rind and orange juice flavors. There is a hint of bitterness to balance the sweet grain and tangy rinds. Finishes a bit sweet.
FEEL: Light bodied, well carbonated, somewhat crisp. Comes across watery.
OVERALL: Geared toward warm weather consumption, this is a light bodied citrus ale. Kind of reminds me of Sprite soda, and has a weird artificial sweetness in the finish. Perhaps this is a relabeled version of their spring blonde wheat ale. Whatever it is, it's average.
732 characters
Blue Moon Sunshine Citrus Blonde from Coors Brewing Company
2.89
out of
5
based on
51
ratings.