Blue Moon Tongue Thai-Ed
| Coors Brewing Company
BA SCORE
78
okay
11
Reviews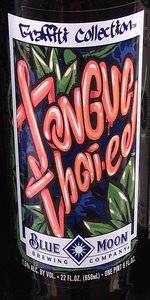 BEER INFO
Brewed by:
Coors Brewing Company
Colorado
,
United States
coors.com
Style:
Herbed / Spiced Beer
Alcohol by volume (ABV):
7.50%
Availability:
Spring
Notes / Commercial Description:
No notes at this time.
Added by Zorro on 03-30-2013
Reviews: 11 | Ratings: 94

2.68
/5
rDev
-13.3%
look: 3.5 | smell: 3 | taste: 2.5 | feel: 3.5 | overall: 2
This is so powerfully spiced I have to call it undrinkable. This would be a good frat-party joke. You don't even have to lift the glass to smell the stuff. Very intense smell of lemongrass. Very sweet and unrelieved by hop aromatics or any bitterness.
The appearance is nice, there is plenty of foam, and it's well-made from the brewing standpoint. It's just too, too much of what might be a good thing. Fortunately it was just six bucks at Liticker's in San Diego. But maybe it would make a decent marinade for pork steaks.
526 characters

3.36
/5
rDev
+8.7%
look: 4 | smell: 3.5 | taste: 3.25 | feel: 3.25 | overall: 3.25
A clear dark amber colored beer with a tall tan colored head.
The label says Belgian-Style special ale brewed with lemongrass & Basil.
Smells strongly of basil, lemon and pepper. Little bit of malt but those three scents dominate the smell.
Starts out mildly sweet with a strong basil and lemon flavor. That is about it tastes of Lemon and Basil, strong enough maybe this can be used for cooking. Little bit of malt and faint taste of pepper and that is about it.
Mouthfeel is OK.
Overall sort of a gimmick beer, tastes of what is says on the bottle.
565 characters

2.61
/5
rDev
-15.5%
look: 3.5 | smell: 2.5 | taste: 2.5 | feel: 3 | overall: 2.5
22 oz. bottle, with best by date of December 30, 2013 printed on the bottleneck. My second of Blue Moon's "Graffiti collection" beers. Expectations are relatively low, but I'm going in unbiased. I love basil in cooking, but I'm not entirely sure how well it will go with beer.
Poured into a clear balloon snifter glass.
A - Pours a bright orange colored body with about a finger of khaki head that dissipates to some suds quickly. Doesn't look like much, but it looks alright.
S - Appearances can be deceiving I suppose, because this thing smells like straight-up basil and hardly anything else. Dried lemon peel spice, herbal grass, pepper, and intense overpowering in your face basil.
T - This is pretty difficult to handle. The beer at it's core isn't entirely bad, but the overwhelming spicy grassy basil makes it almost unbearable. Once you get past the harsh basil, you can actually taste some of the bubblegum and sticky sweet malt buried in there. Hint of clove, white pepper, assorted herbal spice rack flavors, this beer is just not good.
M - Feel ends sticky, sugary, malty, and mildy bitter. Not much basil on the aftertaste, to my relief. Bit of lemon peel on the finish.
Overall, this beer doesn't really have anything going for it other than the initial gimmick of what it is. I suspect many who try this will drain-pour it or pass it off to a friend. This beer is truly foul, the worst thing I've ever drank from Coors's Blue Moon Brewing Company. If you see this beer, buy Blue Moon Pine In The Neck instead. I agree with some of the other users, I would rather cook with this beer than drink it.
Blue Moon Tongue Thai-ed ---2.5/5
1,654 characters
3.34
/5
rDev
+8.1%
look: 3.75 | smell: 3.5 | taste: 3.25 | feel: 3.25 | overall: 3.25
Blue Moon Tongue Thai-ed has a medium, slightly off-white head of foam, a hazy, quite bubbly, gold-orange appearance, and heavy lacing left behind. The aroma catches the nose right at the pour, with an overriding and strong basil and lemon grass smell. There is a back-note of breadiness. Taste is of basil, lemon-grass, sweet, white bread, and no real noticeable bitterness or alcohol. Mouthfeel is medium and a bit slick, and Blue Moon Tongue Thai-ed finishes semi-dry, spicy, and sip-able. Overall, if you enjoy drinking beer that tastes like chicken marinade, you should like this one, otherwise, you will probably find it off-putting.
RJT
647 characters

4.02
/5
rDev
+30.1%
look: 3.5 | smell: 4 | taste: 4.25 | feel: 3.5 | overall: 4
Poured into a balloon glass.
Look: Clear caramel with a coppery shine. Cream head recedes to a wisp with little or no lacing.
Aroma: Lemongrass and peppermint. All about the herbs, little else.
Taste: Slightly tangy at first, then a smooth sweetness for the remainder. The lemongrass is apparent at first, then it really starts to taste like ribbon candy from Christmas.
Mouthfeel: Light on body for a 7.5% ABV beer.
Overall: I inflated the score a bit, because this just tastes outrageously weird, I'm a good way. It really does remind me of ribbon Christmas candy.
572 characters
3
/5
rDev
-2.9%
look: 3 | smell: 3 | taste: 3 | feel: 3 | overall: 3
Poured from a 650 ml bottle into a standard pint.
A: Amber hue. Pours a 2 finger, foamy, brown-white head. Quickly settles. No real lacing.
S: Ginger, basil, and black licorice dominate.
T: Black licorice kicks you in the face initially. The soft basil finishes though.
M: Bitter and biting.
D: The character will dictate a sipping experience.
Atmosphere is okay. Nice hue, foamy head, no lacing. Nose is ginger, basil, and dominated by licorice. Tastes like it smells. Biting pungent licorice, but finishes with the delicate savory basil. Overall, this is an okay...albeit interesting...quaff.
Honestly, I don't really know how to rate this. I think it does what it intends, but I don't think it's meant to really sit through a whole bottle.
750 characters
3.75
/5
rDev
+21.4%
look: 3.75 | smell: 3.75 | taste: 3.75 | feel: 3.75 | overall: 3.75
Purchased at Safeway.
Appearance: Copper bronze color, decent white head with average retention.
Smell: Strong basil scent. Peppery spice notes too and light citrus.
Taste: Lemongrass and basil are at the forefront and as weird as it sounds, I think this works.
Mouthfeel: Velvety and creamy. Nice amount of carbonation.
Overall: Never had anything quite like it. This could grow on me fast.
393 characters

2.95
/5
rDev
-4.5%
look: 3.25 | smell: 3.25 | taste: 2.75 | feel: 3.25 | overall: 2.75
Bought a bomber of this for $1 on sale or closeout at Beverage Baron in Barre Vermont on April 21st, not realizing it was a Coors product. I could not even read the last hyphenated word "Thai-ed" until I saw the name on the Blue Moon list here.
Poured from the 22 oz. bomber into an Innis & Gunn flute.
a: Dark amber with a finger thick white head which receded quickly to thin surface foam and no lacing.
s: Ginger ale and sausage. I'm not kidding.
t: Licorice and sausage, or maybe a grilled hot dog. Bitterness lingers all over the tongue but mellows somewhat later, along with the sausage/hotdog aspect in favor of licorice.
m: Light without being watery. Some carbonation tingle.
o: As Pedro of that place just over the Carolina border on I-95 might say, I never sausage a beer. Or tasted one like it. I'll drink it, but will have to resist the desire to put mustard on the rim of the glass.
Still not understanding the purpose of the "Thai" wordplay in the title.
977 characters

3.06
/5
rDev
-1%
look: 4 | smell: 3 | taste: 3 | feel: 3 | overall: 3
Poured from a 22 oz bottle into a snifter.
A- Pours a golden orange, clear body with a decent head that reduces slowly.
S- Anise, strong basil, lemon-pepper, strong spices. Doesn't smell like beer.
T- This beer tastes like straight pizza sauce. The basil and spices are so heavy that it is indistinguishable as a beer.. you might as well dump some italian spices in a normal beer and mix it up. Some mint in there.
M- Medium carbonation and body
If you're into a beer that tastes like basil and pizza, this is the beer for you. It just doesn't jive for me. Maybe it pairs well with thai food.
599 characters

2.94
/5
rDev
-4.9%
look: 3.5 | smell: 3.25 | taste: 2.75 | feel: 3 | overall: 2.75
I barely tasted any basil. All I got was a mouthful of lemongrass flavor - not awful, but I wanted to taste basil. The mouth-feel was OK, but overall the flavors came off malty and a bit harsh.
195 characters
3.04
/5
rDev
-1.6%
look: 3 | smell: 3.25 | taste: 3 | feel: 2.75 | overall: 3
No evidence of belgian ale style, despite the claim. Too much basil. Nice try but no cigar. Tradewinds by The Bruery in Orange County, CA is a belgian trippel with thai spices, good balance of flavors and works much better with spicy foods. Sells in the OC for $8 or $9 for a 22 oz bottle.
289 characters
Blue Moon Tongue Thai-Ed from Coors Brewing Company
3.09
out of
5
based on
94
ratings.