Coors Brewing Company (Molson-Coors)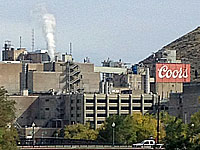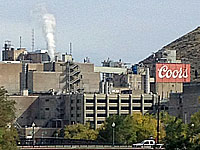 PLACE INFO
Type:
Brewery, Bar
13th and Ford St
Golden
,
Colorado
, 80401
United States
(800) 642-6116 |
map
millercoors.com
Notes:
None provided.
Reviews: 12 | Ratings: 96

3.39
/5
rDev
+0.9%
vibe: 3.75 | quality: 3.5 | service: 3.5 | selection: 3
Worth taking the tour at Coors in the Golden facility. The set up is a little clunky, what with the shuttles from the parking lot. You need to get there early because the line builds quickly. It is a brewery on a massive scale, so interesting to see up close how they do it. The Banquet beer (all of which is brewed on premise) is cold and fresh. Loved the gift shop too.
371 characters
3.1
/5
rDev
-7.7%
vibe: 3.25 | quality: 3 | service: 3.25 | selection: 3
Have toured Coors several times while in Colorado for vacation or business. As this was before I really got into beer, I would learn lots more now. The tour showed the entire process of a moderately large brewery, and ends in their taproom. The first time I visited in the 80's I don't recall much of a limit on how many you could sample, but later visits seemed like they were much more responsible in ensuring you don't leave drunk. At the time I went on these tours, I was into Killian's and was excited to see where it was made. On my last visit I'm not even sure it was made there anymore.
599 characters

4.39
/5
rDev
+30.7%
vibe: 4.5 | quality: 5 | service: 4.5 | selection: 3.5
Only 5 I've ever given. Can't beat a free tour of an iconic, legendary facility with free samples; all you pay is your time (which some can make a joke about even that not being worth it, but those people are idiots). Extremely transparent tour of how beer is made, with some impressive sights along the way, culminating in three free good-proportioned samples of whatever beers you want (and more along the way).
Of course this page is going to be character assassinated just because it's a macrobrew factory, but don't believe it. Just as we say don't review a beer if you can't be fair to they style, don't review a place if you can't be objective. Reading about people looking down their noses at the free, well thought out tour and free beerSSS, when they know that's what this place makes? It's insulting and ugly. Seriously, no one forced you to diminish this beer beacon with your lowly presence, and you didn't even have to pay a cent.
Value can't be beat. Legendary brewery. Service was fantastic. Highly informative, both about beer in general and Coors in particular. If you have an afternoon to kill, this is a must. Did I mention it's all FREE??
1,159 characters
4.13
/5
rDev
+22.9%
vibe: 4.25 | quality: 4.5 | service: 3.75 | selection: 4
don't know why this is such a lowly rated place....one of the most iconic brewing locations in the United States, with a gorgeous brewhouse....the tour leaves a LOT to be desired though...
188 characters

2.63
/5
rDev
-21.7%
vibe: 3 | quality: 2.5 | service: 2.75 | selection: 2.5
So its been a few years since I visited this place. It was my first large-scale brew tour and I was impressed at the size of the establishment. Say what you will about Coors, but the tour did get me pretty buzzed for free, so no complaints here.
245 characters

3
/5
rDev
-10.7%
vibe: 3 | quality: 3 | service: 3 | selection: 3
This refers to the factory tour. A walk that was done a few years ago, but worth mentioning today in case anyone wanted to add it to any travel plans.
You can't help but marvel while seeing the bottles flying by like precise centipede segments as they zoom around on their alcoholic rollercoaster around the factory. It is almost like a mash up of Sesame Street and Willie Wonka ( but for adults ) where you see a factory convert raw materials into a recognizable finished form. The tour is rather short, but you get an idea as to the gargantuan scale they operate on. And the smell of mash is amazing, especially at this scale. A well organized, mechanized giant robot for making beer. Capitalism, not Craft, but well run never-the-less.
Though they did give me a quizzical look when I refused a sample at the end ( Hey, I only wanted to witness the industrialization and machinery, not kill my taste buds ). Probably because every other person on the tour wanted to race to the end and get their sample. Me? I wish they let me wander around a bit on my own.
Don't care for the beer, but would do the tour anytime I'm in Colorado. And it was FREE.
1,154 characters

2.38
/5
rDev
-29.2%
vibe: 2 | quality: 3 | service: 2 | selection: 2.5 | food: 1.5
Since I live in Ft. Collins and have several friends attending Mine's in Golden, I suppose it was an inevitability that I would end up here. I've been on big brewery tours before (AB's flagship in St. Louis, Sam Adams in Boston) and was expecting something similar.
First off, let me say the brewery campus is very, very large and industrial. Blank, vertical concrete walls outside and a low ceiling, labyrinthine feel inside. The tour itself was probably the worst tour I've ever been on. MillerCoors don't even bother with the overly exuberant college kid cracking dad jokes the whole time. Nope, what you get is a prerecorded voice coming out of what looks like an early 90's cellphone that you're supposed to listen to along the tour. There were human beings posted along the tour route, but none of them seemed particularly interested in beer or those taking the tour. Highlight was their older mash room, which had some really impressive copper-topped and tiled tuns/cereal cookers. But that's it...really.
After that you go down stairs to the draft lounge where you get three 6oz pours of whatever beer you'd like from their lineup. I had Bluemoon, Batch 19, and Colorado Native. Batch 19 is pretty good, but all their beers are so sweet it's hard to decide what they're actually supposed to taste like. Tap house personnel were nice enough, but definitely not beer nerds. The only food they had available were over-priced snacks from a bank of vending machines.
If you're in Golden and looking to catch a free buzz before hitting some of the other breweries within walking distance, why not stop here? Since it's self guided you could run through the whole thing in 10 minutes and grab a free beer after. I guess I was expecting more corporate pageantry and aggrandizing, but this tour felt totally impersonal.
1,823 characters

3.73
/5
rDev
+11%
vibe: 4 | quality: 4 | service: 4 | selection: 3
For any lover of beer(especially if you're over 40 and remember drinking good ol' Coors), this brewery has got to be on your list. Such a beautiful location in a quaint little mountain town. So much history with this brewery and the area. Just get over the fact that it's merged with Molson and gone global and enjoy it for what it was. Plus it always helps when you have complimentary samples at the end of the tour.
417 characters

3.79
/5
rDev
+12.8%
vibe: 4 | quality: 4 | service: 4.25 | selection: 3
I grew up in this area and remembered getting 3 small pitchers per person...how things have changed. More responsible now with a couple flutes instead.
As far as the service and atmosphere goes, this facility is one of the cleanest and most welcoming/hospitable breweries I have visited. It is a legend and should be visited if you get the opportunity.
If you have purchased Coors in the past and did not care for it, try it at the brewery and you may change your mind.
Enjoy!
479 characters

3.83
/5
rDev
+14%
vibe: 4.5 | quality: 3.5 | service: 4.5 | selection: 3.25
We drove up to Golden from Denver yesterday. It's not hard to find because this place is huge. The lot attendant told us where the visitor lot for the tour was in the most friendly manner. We waited about 15 minutes to actually get on a tour bus that goes to the brewery. On the way, a small tour of Golden with history and places of interest was provided and we liked it very much. Did you know the brewery is over 5 miles long? The tour isn't, though.
The tour is self-paced and recorded audio. Along the way, there are employees at every stop that can answer any questions you might have about that area of the brewery that is discussed in the audio. Test them with a question. These college students know a lot! We could go at our own pace and get more info if we wanted it. Coors brews more types of beers than I knew including Leinenkugles and Colorado Native (which I had at the Breckenridge Beer fest earlier in the week).
At the end of the tour, we could enjoy three complimentary beers in a comfortable area with plenty of tables and seating. I had a Colorado Native, Batch 19, and Blue Moon. My friend had Blue Moon with an orange garnish. You have to go up to the taps to get your beers but plenty of employees come around to get glasses and to keep it clean. Many people from all over the world come here. I think Coors was generous and I did expect them only serve Coors products but not all were available. Leinenkugles Summer Shady is popular in AZ and I would have tried it. That being said, the beers I had were good and quenched my thirst.
I would recommend this tour to anyone, even my beer snob friends. They were very friendly and this is a factory that produces more beer in one day than most breweries can produce in a year. I found it impressive.They were more than gracious.
1,803 characters
4
/5
rDev
+19%
vibe: 4 | quality: 4 | service: 4 | selection: 4
Surprised there was but a single review of this major brewery. A self-guided tour, my first time touring a mega-brewery last September (2012). Incredible operation, very enjoyable.
Discovered that the "Rocky Mountain Spring Water" is actually shipped (at great expense) from the Charles River. Who woulda thunkit. Generous with the samples, I had a coupla fine beers here: Colorado Native featured all-local ingredients, and Batch 19 which was a pre-prohibition recipe. I've had this locally recently, and it is a fine lager. Proves that, when they want to Coors can produce flavorful beer.
And afterwards, head up the road to the funky Golden City Brewery. Billed as the 2nd largest brewery in Golden!
705 characters
2.99
/5
rDev
-11%
vibe: 2.75 | quality: 2 | service: 1.75 | selection: 3.75
First one to review Coors? Ok. Looked it up b/c we did a tour for friends last weekend. Sad to say that the automated tour is crap. So much for service. Although the people at the bar at the end were nice.
The only way to get to this bar part, as far as I know, is through the tour. And it's an impressive place. I mean, the whole facility stretches, like, 5 miles. And I do love the smell of brew day.
But, really, this is a corporate machine. Personality has been trampled to death. Amazing piece of manufacturing, and that's basically what they do: manufacture. They don't really brew.
The small AC Golden section is interesting, but we weren't told anything about it.
Worth a tour just to check it out
709 characters
Coors Brewing Company (Molson-Coors) in Golden, CO
Brewery rating:
3.13
out of
5
with
37,107
ratings