Wiedemann's Special Lager
| Geo. Wiedemann Brewing Company, LLC
BA SCORE
79
okay
12
Reviews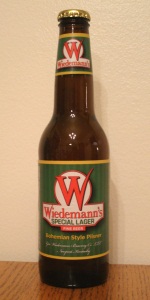 BEER INFO
Brewed by:
Geo. Wiedemann Brewing Company, LLC
Kentucky
,
United States
wiedemannbeer.com
Style:
Czech Pilsener
Alcohol by volume (ABV):
4.30%
Availability:
Year-round
Notes / Commercial Description:
A refreshing Bohemian-style lager, brewed with a proprietary blend of malted barley and aromatic hops. Made famous by George Wiedemann's original Bohemian Special that was brewed in Newport Kentucky for more than 100 years. Served cold and crisp, our new Wiedemann's Special Lager pays tribute to that local brewing tradition
Added by jibjib513 on 01-08-2013
Reviews: 12 | Ratings: 32
2.68
/5
rDev
-17%
look: 2.75 | smell: 2.75 | taste: 2.75 | feel: 2.5 | overall: 2.5
Poured at a good temperature with little head or lace. Color is a clear yellow with a lot of large bubble trails. Aroma is grain, malt, beer. Flavor is similar to nose, bittersweet, carbonic tang, relatively simple. Body is ok, tho carbonation seems aggressive. Finish is like flavor - alternate between bitter and sweet. Guess it's not too bad for a budget brew. Better than some I can think of for sure.
405 characters

2.87
/5
rDev
-11.1%
look: 2.75 | smell: 2.5 | taste: 3 | feel: 3.5 | overall: 2.75
12oz bottle into a pint glass. A piece of Cincinnati brewing history.
Pours a clear pale yellow with a smallish half finger white head. Very minimal head retention with just a little bit of lacing.
Aroma is bready malt mixed with corn and wet hay. A little metallic with some DMS showing through as well.
Bread mixed with grassy hops on the taste along with an assertive bitterness that lasts all the way through. No metallic taste and the hops shine through more than they do in the aroma. Less DMS too.
Overall, this is not bad at all for a budget beer. I'd like to think this is similar to a Classic American Pilsner and what might have been enjoyed by the masses 50 years ago. A lot better than today's fizzy yellow beer.
729 characters
2.98
/5
rDev
-7.7%
look: 3.25 | smell: 2.75 | taste: 3 | feel: 3.25 | overall: 3
A: Nice light gold, but vary short lasting and soapy, loose fitting head.
S: Sweet malts, restrained Saaz hops. Slight apple/fruity note.
M: Medium-full body and medium carbonation. A little soft, and lacks crispness.
T: Corn malt and caramel sweet and lots of floral nectar. No bitterness from Saaz hops. Vegetal diacetyl flavor. Not too complex, sweet and buttery. Goes down way to easy though.
400 characters
3
/5
rDev
-7.1%
look: 3 | smell: 3 | taste: 3 | feel: 3 | overall: 3
12 ounce bottle. Served in a pilsner glass, the beer pours a clear gold color with almost an inch white head. Head retention is decent, and there's a small amount of lacing. The brew smells like sweet malt and corn. It tastes like bready malt/grain/corn, it's a mostly sweet tasting brew. Mouthfeel/body is light/medium, it's easy to drink and is well carbonated. It's not a bad beer, but not great either. I might be rating this too high, but there really isn't anything offensive or bad about this. It's just an average pilsner overall. Worth a try if you can get a single bottle like I did. $1.58 a single at Party Source.
625 characters

3.18
/5
rDev
-1.5%
look: 3.25 | smell: 3.25 | taste: 3.25 | feel: 3 | overall: 3
12 oz bottle. Bottle and 6 pack carrier indicate Newport KY brewing.
No dates anywhere and cery cheap, so I was relieved that this is a decent beer ... an unremarkable 'lawnmower' beer, but plenty drinkable. Actually, the aroma is reasonably appealing for style, albeit sweet and light in hops. Light bodied with medium carbonation that would be better if increased than if decreased.
385 characters
3.28
/5
rDev
+1.5%
look: 3.25 | smell: 2.75 | taste: 3.5 | feel: 3.75 | overall: 3.25
12 FL. OZ. bottle
Served in a pilsner glass
This beer pours pale yellow in color. It is capped with an inch of white head that doesn't stick around long, but it leaves some lacing.
I get grain and stewed vegetables.
It tastes like your typical regional, rust belt lager from the days of yore. It has a grainy flavor with virtually no hops.
Moderate. It's not water thin like something from BMC.
I'm a sucker for nostalgic beers. I didn't even know this beer was still made. I had it almost 20 years ago in my early 20's when we used to have "Shit Beer Sundays." I believe it came in stubby bottles then. It's not as bad as I remember. It's in the same vein as PBR for all you hipster types.
698 characters
3.41
/5
rDev
+5.6%
look: 3.25 | smell: 3.5 | taste: 3.5 | feel: 3.25 | overall: 3.25
Appearance: Pale straw gold. Bright white head fades to some white lacing on the rim.
Aroma: Vague fruitiness. Clean, bitter Euro hops.
Taste: Rich, clean, dry arrival, dry and bittering across mid-palate.
Mouthfeel: Mid-to-light. Solid, bitter finish.
Overall: Decent, inoffensive pale lager. Very refreshing, though not among my favorites for the style.
360 characters
3.42
/5
rDev
+5.9%
look: 3.5 | smell: 3.25 | taste: 3.5 | feel: 3.25 | overall: 3.5
Fuller in taste and in body than the typical lager, this bohemian cool-fermented beer provides much of the rusticity that was captured by the original Czech lager brewers. Its bright and appetizing golden hue and cottony cap also gives it a boost in the "looks" department.
Yet as the aromas and flavors release, the common barley-sweeten beer is alive with light bread, straw and starchy creaminess. Its tepid floral character links up with a note of butterscotch and honeysuckle as the initial flavors take hold.
The middle is full compared to lager standards and has a juicy grain character that makes it somewhat fat and satisfying. Its floral character fades but its bready taste and structure continue to firm. Its slow developing bitterness adds a calming bitterness to a lightly buttered toast and honey as it links up with tomato-like acidity.
And then the bitterness rises in finish to provide a spicy balance, also as the malts dissolve and the creaminess recedes slightly. Its finish is semi-crisp, semi-clean as a light coat of olive oil remains, reinforcing the beer's fuller and fatty tone. Its hop spice, light apple-like sulfur and short vegetative acidity give the palate a lot to think about in the beer's quick exit.
1,239 characters

3.46
/5
rDev
+7.1%
look: 3.25 | smell: 3.5 | taste: 3.5 | feel: 3.25 | overall: 3.5
Served from a bottle into a Sam hybrid glass.
A: Pale straw with a head that dissipated quickly and left virtually no lacing.
S: A modest pilsner sweetness.
T: Pilsner malt balanced with a unspecific bitterness.
M: Medium carbonation and thin.
O: Not a bad pilsner. Light, but more bitter than I expected, which is a good thing. I don't remember what I paid for this, but I could see this being an attractive budget sessioner. My only gripe is that this represents yet another Cincinnati-area vintage brand is being contracted out.
536 characters

3.47
/5
rDev
+7.4%
look: 4.25 | smell: 3.5 | taste: 3.25 | feel: 3.75 | overall: 3.5
Pours a brilliant deep golden with a foamy half inch ivory head that dissipates somewhat quickly, leaving spotty lacing.
Grain and minerally notes form the initial aroma, with light corny sweetness and cracker-like malt adding intrigue. Floral hops are subtle.
Flavor reveals more minerally character at the base, accompanied by grain, becoming fairly bready and malty toward the slightly dry finish. There's a metallic note that is somewhat offputting.
Body is on the light side, with fairly high carbonation.
The metallic character detracts from the typically clean flavor of the style. Graininess is a little much. More malt breadiness than expected.
657 characters

3.7
/5
rDev
+14.6%
look: 4 | smell: 4 | taste: 3.5 | feel: 4 | overall: 3.5
Serving Type: Bottle to glass mug.
Appearance (4.0): Very light, pale, golden color. Moderate, even carbonation. Head retention is somewhat lacking.
Smell (4.0): No defects are present in the aroma. Slight hint of white wine.
Taste (3.5): Sweet up front with a bitter aftertaste. The first couple of sips this was a bit more pronounced but as I finished the beer harshness of the aftertaste faded quite nicely.
Mouthfeel (4.0): Nothing to complain about here, very similar to Pilsner Urquell.
Overall (3.5): The Wiedemann name will always have a special place in my heart. Most around the Cincinnati area have a hard time believing that I used to drink the original Wiedemann before it discontinued in 2007. I was excited to hear that it was coming back, but this time as a craft beer. This rendition seems to be more true to the bohemian pilsner style and it is appreciated. I do wonder if they might tweak the recipe/method a little bit because I do feel like there is a little room for improvement. The $7.99 a six pack is not bad though.
1,057 characters
4.42
/5
rDev
+36.8%
look: 4 | smell: 4.5 | taste: 4.5 | feel: 4 | overall: 4.5
Tried the new Wiedemann's Special Lager at JerZee's in downtown Newport. I drank lots of the old Wiedemann Bohemian Special over the years before it was discontinued, but this new beer is more expensive at $3.50 a pint, and it's also much improved.
It's a light golden color with a solid head of foam. Smells like beer used to smell like -- which is a good thing -- more so than you would expect from such a light-colored beer. Highly carbonated with a good balance of malt and hops. Surprisingly flavorful and quite refreshing, so my friends and I had a few. It's the perfect complement for one of JerZee's tasty hamburgers.
Wiedemann's Special Lager is billed as a Bohemiam-style pilsner and in my opinion really hits its target. One of the best craft-quality pilsners I've had, much more flavorful than you'd expect. I will definitely be drinking a lot more of this new Wiedemann beer this summer.
903 characters
Wiedemann's Special Lager from Geo. Wiedemann Brewing Company, LLC
3.23
out of
5
based on
32
ratings.