Julöl
| Jämtlands Bryggeri AB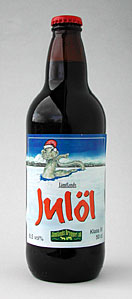 BEER INFO
Brewed by:
Jämtlands Bryggeri AB
Sweden
jamtlandsbryggeri.se
Style:
English Strong Ale
Alcohol by volume (ABV):
6.50%
Availability:
Winter
Notes / Commercial Description:
No notes at this time.
Added by rastaman on 03-04-2003
Reviews: 15 | Ratings: 21

4.29
/5
rDev
+6.5%
look: 4.25 | smell: 4.5 | taste: 4.25 | feel: 4 | overall: 4.25
Pours a dark amber color with a moderately sized head. Quite a pleasant looking brew.
Smells of figs, desert bread, and some general floral sweetness. Modest nose, yet enjoyable.
Tastes of caramel, a tad bit of coffee, sweet pie crust. There is also a solid balance between sweetness and bitterness as the malt offer a nice contrast to the initial sweetness that lingers. Carbonation is moderate with a fairly full body.
People keep talking about this as Jamtlands flagship beer, and I would very much second that. This is excellent and even though I'm early in the getting into the Swedish winter selection of 2016, this is my favorite seasonal beer thus far.
666 characters

3.83
/5
rDev
-5%
look: 4 | smell: 3.5 | taste: 4 | feel: 3.5 | overall: 4
Shared by MasterSki at a BA gathering.
A - A caramel colored beer with some off-white head that left some decent lace on the sides.
S - Not a ton of spice on this one, which is probably a good thing considering how Winter Warmers (although this isn't classified as one here) seem to be bad beers killed with spice to make them sellable.. Some floral and buttery notes with sweet honey.
T - Buttery taste along with a slight bit of spice and a little bit of fruit cake. It's only slightly sweet, and actually not bad.
M - Medium bodied, lower carbonation.
O - Actually not horrible, for a Winter Warmer this seems about as good as it gets and I relatively enjoyed this one.
678 characters

3.78
/5
rDev
-6.2%
look: 4.5 | smell: 4 | taste: 3.5 | feel: 3.5 | overall: 4
Thanks to bosse for getting me a bottle of this one - it's been on my wants for a long time. This bottle was best before April, 2010. Whoops. Served in a taster pint glass.
A - Pours with two fingers of light tan foam that eventually settle to a thick cap, leaving behind splotchy lace. The body is a transparent dark caramel brown.
S - Biscuit, honey, a hint of chocolate orange, and faint floral and spruce hops. The combination of flavors is fairly compelling and evocative of Christmas, but this is thankfully low in things like nutmeg and cinnamon.
T - The taste is a little less interesting, and has perhaps smoothed out due to age. Very heavy in biscuit and shortbread, with a faint note of herbal bitterness in the finish. Alcohol is well-hidden, although I suppose that isn't "to style"?
M - Medium-light body, perhaps a touch watery. Smooth, with lower carbonation.
D - Among the best Winter Warmers I've had, although I suppose that isn't saying much. I'd have this again if I were in Sweden during Christmas season.
1,032 characters
4.3
/5
rDev
+6.7%
look: 4 | smell: 4 | taste: 4.5 | feel: 4 | overall: 4.5
This beer pours with a light tan compact foam that leaves some lace. It is very dark with a ruby red tone.
The smell has a mixture of sweet, honey, tones and fruit, like grapefruit, with a malty, grass-like, stamina.
The taste is very pleasantly balanced, leaving a good long bitterness. The sweetness reminds you of dried dates and figs, acid from citric fruits like Seville oranges.
A good refreshing carbonation makes the beer high-scoring in all aspects.
461 characters

4.38
/5
rDev
+8.7%
look: 4.5 | smell: 4 | taste: 4.5 | feel: 4.5 | overall: 4.5
A: This Jämtland-beer pours deep amber with a massive off-white, long-lasting creamy head, that leaves lot of lace.
S: Sweet light roasted caramell malt, nice balance between bitter and floral hops.
T: First there's dry malt together with a well balanced bitterness. Then there's floral hops, with citric notes together witn some faint pine - it feels like something in the middle of american and english pale ale, with a little brittish dominance.
M: Full body and light carbonation. The aftertaste is a nice mix between sweet and bitter, but gladly holds a fruity tone till the bitter end (a little hoppy joke, if I may...).
D: A very nice beer. I hate winter, but this beer makes me wish for a long winter, a REALLY long winter...
740 characters
3.96
/5
rDev
-1.7%
look: 4.5 | smell: 3.5 | taste: 4 | feel: 3.5 | overall: 4.5
Appearance: Jämtlands Julöl pours a maroon-to-ruby colour along with a marvellously foamy crown of approximately 3 inches and light ochre colour which remains for quite some time and leaves a sporadic amount of lacing. Not all too many bubbles looks as if to be active.
Smell: Surprisingly sweet, yet the hops are quick to kick in, they bring a sour and fresh note (actually somewhat similar to that of resin) whilst the malts gives the whole experience a burnt backdrop.
Taste: The typical presence burnt malts (which almost tar-like at times) and sour-bitter hops of a Jämtlands is what strikes the taste-buds at first but then we get this seemingly unorthodox break with a cocoa-like sweetness pushing through this solid wall of burnt 'n' bitter -- very interesting indeed! The aftertaste is obviously dominated by the lingering zesty feel of the hops bitterness.
Mouthfeel: Very round, smooth in texture the carbonation is a lot more vivid than on would expect from simply gazing onto the glass.
Drinkability: Simple but solid as a diamond-clad rock-drill, maybe a bit too anonymous in the smell, yet Jämtlands Bryggery rarely -- if ever -- fails to deliver, truly one of Sweden's finest breweries -- SKÅL!
1,219 characters
4.45
/5
rDev
+10.4%
look: 4.5 | smell: 4.5 | taste: 4.5 | feel: 4 | overall: 4.5
Jämtlands Julöl is my favourite beer among the Swedish Christmas beers. The taste has a nice balance between sweetness and bitterness. This is an ale which also makes it stand out among the swedish christmas beers which usually are dark lagers. The beer is popular and tend to be sold out early so I always buy 15 bottles as soon as they become available in the end of November. Most of the beers from Jämtlands brewery are good. They also have an Easter Ale in similar style as this Christmas beer which is very good.
521 characters
4.4
/5
rDev
+9.2%
look: 4 | smell: 4 | taste: 5 | feel: 4 | overall: 4
The Jämtland Brewers always (almost anyway) make beer of great taste and quality. Their christmas beers is one of their best beers.
Pours a deep amber color with a nice big white/beige head, some lacing on the glass. Looks nice!
Smells nicely of pine needles, caramel and lots rosted malts. Really nice smell, a bit anonymous though.
The taste though, is excellent! Lots of pine needles, rosted malts and a slight note of citrus, just to balance it all. Notes of caramel and some special Jämtlands taste that I can't really put my finger on.
All and all, a great beer. Will do nicely with all the christmas dishes.
620 characters
4.1
/5
rDev
+1.7%
look: 4 | smell: 4 | taste: 4 | feel: 4 | overall: 4.5
Pours a dark red/brown color in my Jämtlands glass. It has a nice foamy head. A bit of lacing.
Aroma is interesting of caramel, very malty, some toffee notes along with a typical fruitiness.
Taste is malty, caramely (very caramely actually) with a good bitterness. Notes of citrus, some aromatic hops, toffee and dried fruits, it also got a slightly burnt note with a bit of nuttiness. Overall very balanced and tasty. There's also some special Jämtland note, which I tend too find in moast of there beer. Here it makes it very well with the other flavours, so nothing negative about that.
Mouthfeel is quite smooth and filling with a certain "bite" in it.
A very drinkable and nice Christmas beer, I'm glad I finally tried it.
733 characters
4.05
/5
rDev
+0.5%
look: 4 | smell: 4 | taste: 4 | feel: 4.5 | overall: 4
50 cl bottle courtesy of Marsiblursi. It pours a ruddy chestnut with a two finger thick tan head that is very fluffy, clingy and lasting. Has a muted hop aroma along with sweet malts, some yeast, light caramel and a lot of baking bread.
Has a lot of fruity esters in the fore then gets very light toasty with a medium hop presence, caramel and caramelized bread notes through the middle and into the finish. This is pretty damn good. It has a definite English feel to it and a dry finish that gets ever so slightly spicy. This is a damn nice beer. The flavor isn't exactly amazing, but the overall feel of the beer is satisfying, making it an enjoyable quaff.
663 characters

4.25
/5
rDev
+5.5%
look: 4 | smell: 4 | taste: 4.5 | feel: 4.5 | overall: 4
One of those rare Swedish beer of excellent quality! It was a really positive surprise to drink this year's Julöl from Jämtlands Bryggeri. After last Christmas' high demand the brewer learned his lesson and made sure we have a good supply this year. It poured in a nice dark red-brown color and with a finger of foam. The smell was of chocolate, roasted malts, licorice and some dark bread spices. The taste was full and multiples with chocolate, licorice, some sweetness and a kind of herby (or perhaps herb-ish) touch. The mouthfeel was dry and without any empty spaces. Get it before it's sold out!
603 characters
4.6
/5
rDev
+14.1%
look: 4.5 | smell: 4.5 | taste: 5 | feel: 4.5 | overall: 4
The colour is very dark amber. The large airy head pale brown head is very firm (like many other Jämtlands beers). Lacing occurs.
The smell is soft with roasted malt, citric notes, lots and lots of hops and bitterness. It is balanced and complex, yet very natural (uhm, yeah…).
The taste starts off with dry roasted malts. Then a generous bitterness emerges with lots of hoppy flavours; sour citric notes, lime, grape fruit, margarine, apricot candy, tea… The long aftertaste is also very bitter with fruity, chemical and hoppy notes dried apricots.
The carbonation is soft with minimal bubbles, but it is far from staled.
A great ale for the cold winter nights!
680 characters
4.62
/5
rDev
+14.6%
look: 4.5 | smell: 5 | taste: 4.5 | feel: 4.5 | overall: 4.5
Litle head and beautifull darkdarkbrown beercolor; perfectly clear. Greatest nose of best (US) hops and best malt and dark candy used a probably lots of carramellicmalts! Overal ultra fresh nose of the very, very best! Taste is refreshing also and highly enjoyable giving good maltyness with dark carracter without any form of roastyness, sweetcandy before going in that citrussy( must be dryhopped) fine but litle hanging bitterness. Great can compete with best US hopbeers. Mouthfeel is also great and perfectly balanced with good bitter edge. Drinkability is that that if I would have more I wouldn't stop till I fell. Wonderfull beer and lots of thanks to Joris who gave it to me!
684 characters
4.15
/5
rDev
+3%
look: 4 | smell: 4 | taste: 4 | feel: 4.5 | overall: 4.5
Pours a dark brown beer with reddish tones. its all clear with an unnoticable carbonation a some foam that quickly dissolves.
Smell is malty, some alcohol and citric tones. Fruits take their place together with malt and a trace of spices?
Taste is roasted barley, bitter and some lightly burned tones. After this there is a nice sweetness and a delicious bitterness together with a somewhat oily taste of spices and chocolate. It all blends together to a nice, smooth and round finish.
A nice beer, especially to some nice christmas food. Powerful, still at the same time smooth.
588 characters
3.1
/5
rDev
-23.1%
look: 3 | smell: 3 | taste: 3 | feel: 3 | overall: 3.5
I don't really know why i didn't like it so much. Its very well made. Deep red colour, spicy bitterness, a bit sugary and gassy on the tongue. Sticky hops in the finish, quite warming, but not quite my style i guess, could do with less sweetness and stickyness. Still not bad though.
283 characters
Julöl from Jämtlands Bryggeri AB
4.03
out of
5
based on
21
ratings.