Congress Street IPA
| Trillium Brewing Company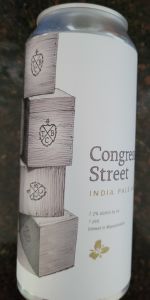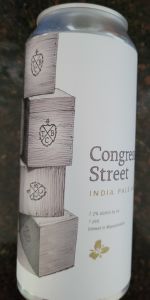 BEER INFO
Brewed by:
Trillium Brewing Company
Massachusetts
,
United States
trilliumbrewing.com
Style:
New England IPA
Alcohol by volume (ABV):
7.20%
Availability:
Rotating
Notes / Commercial Description:
Our flagship American IPA highlights the distinctively aromatic Australian Galaxy hop. The nose bursts with pine, citrus rind, melon and pineapple. Pronounced flavors of peach, clementine, and tropical fruits are accentuated with moderate bitterness and balanced by a light, biscuity malt character.
MALT: American 2-row Barley, White Wheat, C-15, Dextrine, Dextrose
HOPS: Galaxy, Columbus
Reviews: 288 | Ratings: 2,338
4.21
/5
rDev
-6.4%
look: 4 | smell: 4.25 | taste: 4.25 | feel: 4 | overall: 4.25
Good bar-pour head. Settles to a thin layer of bubbles. Leaves some patchy, blanketing lace. Very cloudy. Gold color with a tinge of green.
Attractive spruce and grapefruit aromas. Smells fresh and prickly.
Starts off with a wonderful pale malt base. The strong pepper hop kicks in at the swallow. The grapefruit even comes through in the taste. Long, long bitter aftertaste. Full bodied and lowly carbonated. Overall, this is a very bitter beer.
450 characters

4.42
/5
rDev
-1.8%
look: 4.25 | smell: 4.75 | taste: 4.25 | feel: 4.25 | overall: 4.5
Drank from a 32 fl. oz. growler purchased at Trillium Brewing Company, Boston, MA
Served in a pint glass
The super hazy, yellow ochre colored beer was topped by a tight, creamy, one-finger crop of off-white foam. Solid retention. Streaks of lacing trickled down the glass.
The aroma was bursting with hops. Incredibly dank, weed-like hop notes dominated. Amazingly fruity and semi-sweet. Tons of peach and nectarine notes. Lots of orange zest as well. There was also a noticeable tropical fruit presence. Hints of mango were detectible.
The flavor profile was really solid as well but, compared to the nose, it was definitely more dry and pithy. A pale malt backbone anchored the beer on the front end before the hops took over. Super intense citrus notes. Loads of bitter orange peel and juicy tangerine notes. Good dose of peach and apricot. Some earthy hops came through as well. The finish was crisp, dry and bitter and contained a strong grapefruit rind-like pithiness. The bitterness lingered on my palate long after each sip.
The mouthfeel was surprisingly light and highly effervescent for the style. Once the liquid settled, it turned creamy, supple and smooth.
Congress Street IPA is another fantastic offering from my favorite Boston brewery. Although this beer was definitely not as complex or as drinkable as their stellar Fort Point Pale Ale, it was super tasty and enjoyable nonetheless.
1,407 characters

4.45
/5
rDev
-1.1%
look: 4 | smell: 4.5 | taste: 4.5 | feel: 4.25 | overall: 4.5
32oz growler poured into a Trillium pint glass. Growler filled today, 1/9/14.
Pours a cloudy golden-orange with a frothy but disappointingly thin one-finger white head. Head retention is fairly poor, lingering for only half a minute or so before vanishing completely. On the plus side, lacing is thick and plentiful, and a persistent collar and film sit atop the beer long after the head itself has vanished. On the whole, looks good but not great.
In the nose, though...oh man, this stuff is rich! Grapefruit, peach, tangerine, orange rind, and floral hops mingle potently with subtler notes of tropical fruit--notably pineapple and mango--and a light, sweet bready malt note. Beautiful, inviting, complex.
Taste follows the nose almost to the letter, and that is by no means a bad thing. Fruit-forward on the front of the palate, with lemon zest, grapefruit, bitter orange rind as well as a sweeter tangerine note, and floral hops all leading the charge. Mid-palate the focus shifts to pine oil and light bready malt, while on the back of the palate a bitter citric oil note joins the lingering pine. An almost rye-like spiciness is present on the very back of the palate and into the finish. Finishes dry and fairly clean, the aforementioned slight lingering pine oil and rye spice notwithstanding.
Medium-bodied while feeling lush and slick. Zippy carbonation balances a fairly creamy and resinous mouthful. Alarmingly drinkable, I could finish this whole growler easily if I wasn't being gently coerced into sharing it.
On the whole, this was everything I'd heard it was and more. Trillium has just leapt to the very top of my regional radar on the strength of the four beers I've had from them so far, and I can't wait to try more of their offerings in the future.
1,776 characters

4.74
/5
rDev
+5.3%
look: 4.5 | smell: 4.75 | taste: 4.75 | feel: 4.75 | overall: 4.75
The beer comes in a light golden orange with a fluffy white head.
The aroma is very hop forward. Citrus, lemon, pineapple, tropical notes.
The flavor follows with that citrus and tropical flavor and then onto a lingering piney bitterness. This is more substantial than Fort Port. There's a bit of a bready malt backbone, but dominated by fruit hoppy notes.
A very clean and easy drinking IPA. Incredible beer.
412 characters

4.5
/5
rDev 0%
look: 4.5 | smell: 4.5 | taste: 4.5 | feel: 4.5 | overall: 4.5
Beer that's been in a growler for a week
The beer pours a very nice and creamy white that lasts a bit but dissipates quicker than what I would have liked. The head does not dissipate completely and still leaves a film after it has dissipated from the middle. The beer itself is a very clear orange amber.
The beer has a nice citrus and sweet smell to it. The orange rind and citrus hops dominate the smell but is lightly balanced with sweet malts.
The taste is similar to the smell but hoppier and with different types of hops. The hops taste is closer to a grapefruit rind with hints of citrus and a slight sweet malty backbone. Despite all the hops, the beer still seems to have a hint of sweetness to balance out the flowery hops.
The beer is very smooth and medium bodied but feels lighter. The carbonation is biting. The IPA has a surprisingly clean feel to it with some light carbonation.
Overall, an extremely impressive IPA and one to be proud of. I would say that this IPA should rank among the best and will as soon as the brewery grows a little bit more.
1,070 characters

4.73
/5
rDev
+5.1%
look: 4.75 | smell: 4.75 | taste: 4.75 | feel: 4.5 | overall: 4.75
Filled a growler today at the brewery.
A - Poured into a tulip glass. Beautiful looking pour which leaves a light orange color with a one finger head that dissipates fairly soon with a nice lace.
S - Very fruit forward! Grapefruits, peaches, oranges. Very inviting.
T - Awesome. Follows the nose. Fruit forward taste followed by some bready biscuit details and finishes fairly dry but not overly bitter. Hops are somewhat muted for me but it rounds out really nicely.
M - Really a pleasure here. Crisp, clean and smooth. Almost perfect.
O - Wow, this is fantastic. One of the best IPAs out there. Blends together so so well. Trillium is flying under the radar right now and they are consistently pumping out excellent offerings.
733 characters
4.58
/5
rDev
+1.8%
look: 4.75 | smell: 4.25 | taste: 4.75 | feel: 4.75 | overall: 4.5
Enjoyed at the Dive Bar.
A - Poured into a standard pint glass a wonderful slightly hazy hidden hue with s dense, creamy white one finger head that fades slowly to leave a creamy sudsy blanket.
S - Aromas of nice citrus and grapefruit rind, not much malts at all this is all aromatic hops.
T - Taste is very fun, almost a combo of floral hops and tangerine/Clementine citrus notes. Just delicious, great grapefruit notes, light light biscuit finish. This is primarily citrus oil, wonderful bitter finish that while not oppressive is still prominent. Very good.
M - Mouthfeel is just what I'd want from a higher ABV ipa, crisp and clean with enough carbonation that makes this jump off the tongue.
O - Overall this beer is freaking excellent. Very well executed. Exceptional.
779 characters

4.49
/5
rDev
-0.2%
look: 4.25 | smell: 4.5 | taste: 4.5 | feel: 4.5 | overall: 4.5
Growler > Pint glass
A - Pours a cloudy orange cold 2 fingers of really some thick white head with thick lacing.
S - Big juicy hop aroma, lots of white grape, mango, and some nice dankness, a little rye.
T - You get those big juicy fruit flavors front and on the end, but a nice pine dankness in the middle, fresh bread malt, and some spicy rye and peppery on the end.
M - No trace of the 7.2, more on the full side, love the lush feeling of this beer though.
O - Outstanding IPA, lots of fresh flavor in it, with just a touch of rye and spice bite. Great work Trillium!
574 characters

4.44
/5
rDev
-1.3%
look: 4 | smell: 4.25 | taste: 4.5 | feel: 4.75 | overall: 4.5
Pours hazy light yellow color with some amber hues. Dense white foam crowns the top. Aroma of hop resins with citrus and melon. Some malt sweetness on the nose as well.
Well-hopped flavor is bright and and substantial, citrusy hop bitterness mingles with tangy wine-like notes, thick but drinkable body of ale. Has a bit of rye like spice on the edges. Finishes smooth with lingering tang from the hops. Serious dose of juicy hops finishes off this tasty american ipa.
469 characters

4.36
/5
rDev
-3.1%
look: 5 | smell: 4.5 | taste: 4.25 | feel: 4.25 | overall: 4.25
A-Pours murky and milky. So much haze! The head is a mushroom cap of doughy and froth. The head is damn persistent as well. This looks like it'll be right in my wheelhouse, the murkier the better.
S-A liquified orgy of tropical hop aromatics. One of the most pineapple-stressed aromas I have sniffed. You name the exotic fruit, it's here. Then, behind that there is a healthy dose of herby/piney/earthy hops. A really satisfying, malty totem of sweet popover dough.
T- Trop-hop explosion again. It's all there, trust me.
M-Drinks with sinister ease. Great bitterness with purpose. Slight creamy feel. A bit resiny.
O/D-Another Trillium gem. I must say that the aroma is a tad bit more delectable than the flavor but either way, this is a show pony. Bring this beer back, Trillium! Very reminiscent of their Fort Point Pale Ale with a bit more brawn but a tad less finesse.
876 characters
4.7
/5
rDev
+4.4%
look: 5 | smell: 5 | taste: 4.5 | feel: 4.5 | overall: 4.75
Growler poured into a CBS snifter.
A: Hazy deep gold, with two fingers of billowing white head that linger for a long time. Just the perfect image of what an IPA is supposed to look like.
S: Wow. HUGE tropical notes. Pineapple and mango really pop. Grapefruit citrus notes follow. This creamy, malt character lingers. Perfect.
T: Huge, juicy citrus just abounds. Tropical fruits and this wave of peach just wash over my palate. Creamy, bready malt and the perfect twinge of bitterness. I love Galaxy hops.
M: Creamy, smooth and nicely carbonated. Just a hint more body and this would be my dream beer.
O: This is just spectacular. Fort Point Pale Ale put Trillium on my radar. That beer is excellent. This beer is another level. It's just phenomenal. Easily the best single IPA I've ever had. Sits behind Ephraim, Double Galaxy and maybe Abner as my favorite hoppy beer of all-time. I though Julius was good, this is even better. Massachusetts is making waves with their IPAs. An absolute must try.
1,004 characters
4.95
/5
rDev
+10%
look: 5 | smell: 5 | taste: 5 | feel: 4.5 | overall: 5
64 oz growler to the dome - call it the cure for the common government shutdown
Not really sure what to say here... This beer is incredibly delicious. I think a slightly thicker mouthfeel would make this perfect. Epic combo of tropical fruitiness and piney resinous characters. On par with most of the great Vermont IPA's that people are so crazy about. Go get some! Cheers!
375 characters
4.35
/5
rDev
-3.3%
look: 4.5 | smell: 4.5 | taste: 4.25 | feel: 4.5 | overall: 4.25
Fantastic easy drinking IPA. Local so have only experienced through refillables within 3 days of purchase. Bright and has an earthly funk to the hop profile that doesn't impeded it's ease. Continually impressed by Trilliums hop forward stuff and Congress is no exception. This is one of their better creations and should be a constant.
335 characters
Congress Street IPA from Trillium Brewing Company
Beer rating:
4.5
out of
5
with
2,338
ratings