Sinister Kid
| Trillium Brewing Company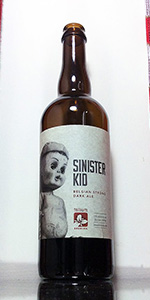 BEER INFO
Brewed by:
Trillium Brewing Company
Massachusetts
,
United States
trilliumbrewing.com
Style:
Belgian Strong Dark Ale
Alcohol by volume (ABV):
10.00%
Availability:
Rotating
Notes / Commercial Description:
Malevolently dark in color, yet indulgently complex in character. This Belgian strong ale pours copper-brown with a delicate nose of spicy pepper, toasted malt, fig, raisons, and light earth. Peppery farmhouse yeast qualities continue on the palate with nuanced complementary flavors of semi-sweet caramel and dark fruit. The finish is deceptively smooth and moderately dry with a pleasantly warming hint of alcohol.
MALT: Pilsner, Abbey, Carafa III
HOPS: US Goldings
Added by JCTetreault on 03-06-2014
Reviews: 15 | Ratings: 117
3.83
/5
rDev
-1.8%
look: 4 | smell: 4 | taste: 3.75 | feel: 3.75 | overall: 3.75
Small head that leaves a couple of streaks on the glass. Near black in color but light passes on the edge.
Strong near-black malt aroma. Some black patent grainy aroma but not too the point of "coffee". Think nearly burnt toast. It seems like there's a bit of smokiness to this beer.
Starts with some burnt grain but then a strong kick of licorice shows up. This lasts through the aftertaste. Low carbonation makes this seem creamy but the body is on the thin side.
469 characters
3.08
/5
rDev
-21%
look: 3.25 | smell: 3.25 | taste: 3 | feel: 3 | overall: 3
Bottle share at Steve's. A bit too much licorice/anise. Flavor distracts, medicinal cough drops . A bit too much on the flavor spectrum, was expecting better after hearing so much about this brewery.
201 characters
4.02
/5
rDev
+3.1%
look: 4.25 | smell: 4 | taste: 4 | feel: 4 | overall: 4
32 oz mini growler was poured into a Chimay goblet.
Appearance: A one finger off white head was poured that reduced to a thin layer. It is a dark amber brown color with no vision of anything. Spotty lacing down the glass as the beer was drank.
Smell: Belgian yeast, spicy, roasted, chocolate, raisins, dark fruits, banana, caramel, and warm alcohol.
Taste: Pretty much everything mentioned above. Spicy, warm alcohol, chewy, sweet, dark fruits, and delicious.
Mouthfeel: Smooth, a little chewy, medium to full bodied, spicy yeast, warm boozy alcohol, a little dry, and medium to high carbonation.
Overall: I enjoyed this one quite a bit. Will look forward to this one again when in the mood for a BSDA.
717 characters

4.06
/5
rDev
+4.1%
look: 3.75 | smell: 4 | taste: 4.25 | feel: 3.75 | overall: 4
The beer pours a nice and creamy light tan head that dissipates a little quickly but still leaves a ring around the inside of the glass. The beer itself is an opaque black with dark purple notes. The beer leaves quite a bit of lacing behind. The beer has a nice roasted sugary smell. The smell has dark fruit notes and burnt sugar. There are also slightly syrupy notes as well as roasted malts. The earthy hops also make an appearance but get lost in the other notes. The taste is fairly different than the smell. In addition to the dark fruit smell, the beer's strongest notes are the raw sugar and the cherry syrup is strong as well. The syrup doesn't taste like cough medicine but adds a distinct funk to the taste that isn't in the smell. The sugar and malts taste roasted while the earthy hops make an appearance in the end and in the aftertaste. The beer' feel is fairly smooth and very carbonated but a tad light for this kind of ale.
941 characters

4.03
/5
rDev
+3.3%
look: 3.75 | smell: 3.75 | taste: 4.25 | feel: 4 | overall: 4
Sweet dark fruit flavors of plum and raisin are followed by bubblegum, rye and clove. Medium body and sticky feel. Mild aroma of dark fruit and spice. Dark ruby color with a small tan head. Overall a delicious beer with complex flavors.
236 characters

4.11
/5
rDev
+5.4%
look: 4 | smell: 4.25 | taste: 4 | feel: 4 | overall: 4.25
Appearance: It has a nice jet black color to it. It has a nice beige head that dies down moderately and leaves lacing.
Smell: The aromas definitely give out hints of Belgian yeast, some dark fruit (berries, cherries) and some rich roasted malts.
Taste: Like the aromas, it has a bready Belgian yeast, dark fruit (berries, raisins), roasted malts and some earthy hops.
Mouthfeel: It has a medium carbonation with a nice overall balance and feel.
Drinkability: It's a very smooth drinkable beer accompanied with good flavors and aromas.
541 characters

3.26
/5
rDev
-16.4%
look: 2 | smell: 2.75 | taste: 4 | feel: 1.75 | overall: 3.5
Flavor is pretty good; rummy raisin and molasses are most prominent...expected a bit more candied sugar for some reason. Aroma is muted because there's almost no head on the beer, and that speaks to my complaint with just about all domestic made belgian styles (mostly dubbels, tripels, quads), that they never have that great, fluffy mouthfeel that the real stuff from Belgium has. So, although the flavor is decent, overall it's a miss and not worth the $. I'm picky with my Belgian styles though.
500 characters

4.11
/5
rDev
+5.4%
look: 4.5 | smell: 4 | taste: 4 | feel: 4.25 | overall: 4.25
Notes from 1/15/15
A - 3 fingers of fluffy, fizzy light brown head. Dark brown body with reddish hues when held to the light. Light just barely seeps through. Head dissipates to about 1 finger. Good lacing.
S - Musty. LEather. Dried dark fruit. Earth. Brown sugar.
T - Nice mellow dark fruit. Brown sugar. Pepper. Leather in the back. Sweet finish balanced out by light roasted coffee-like bitterness (citrusy). Some booze.
M - Medium-high carb. Tingling sweetness.
O - As it warms, the M becomes velvety and pillowy but the booze is a little heavier. Depth of the fruit truly comes out as it warms.
617 characters

4.01
/5
rDev
+2.8%
look: 4.25 | smell: 3.75 | taste: 4 | feel: 4 | overall: 4.25
A crazy clean attenuation. This comes of drier and lighter then you'd expect. Clean flavor, subtle brown sugar and hearty toasty notes. This swings and connects, but not how you'd think.
186 characters

4.04
/5
rDev
+3.6%
look: 4 | smell: 4.25 | taste: 4 | feel: 3.75 | overall: 4
Growler poured into an antique German pilsener glass
Dark mahogany, taupe foam cap quickly settles to a layer of bubbles
Aroma of dark fruits, raises and plums.sweet malt, brown sugar, caramel . Whiff of alcohol
Taste of dark fruits, brown sugar sweetness
Full, rich body , sudsing, alcohol on the aftertaste
Good beer
327 characters

3.83
/5
rDev
-1.8%
look: 3.75 | smell: 3.75 | taste: 3.75 | feel: 4 | overall: 4
Serving: Bottle
Bottled on: Oct-???-2015
A:
Pours a rusty brown that might as well be black in the glass with a finger or so of fluffy/soda-y head that quickly drops to an even coat. Meh retention; concentric rings/arcs of lacing. (3.75)
S:
Woody dark fruits. Cherries, sawdust, hard water, maple wood, brown sugar, rum. (3.75)
T:
Rich, layered yeasty sweetness. Dark bread, candi sugar, syrup, blackberries. (3.75)
M:
Rough velvet with medium carbonation, full body and lingering boozy finish. (4)
O:
Pretty good BSDA fromt Trillium.
Simple, straightforward, sweet, filling. Looks alright and the rest of the beer follows suit. Simple, tasty, very sweet, little boozy. Might have again, but I like their hoppy stuff better and feel like there are better examples of this style to be had. Regardless, a long ways from bad. (4)
845 characters

4
/5
rDev
+2.6%
look: 3.75 | smell: 3.75 | taste: 4.25 | feel: 3.75 | overall: 4
32 oz. Growler poured into a tulip.
Pours a dark reddish-copper to brown in color. Appears a bit hazy with hints of red when held to the light. Very light tan colored head which quickly dissipates to nothing. Aroma is pleasant but subdued, dark malts with caramel and bready notes and of good amount of dark fruits. Taste is like the aroma but has a bit more intensity to it, that's not to say its overwhelming, its actually more in line with what I would expect from the style. Malts give off caramel and bread. Fruity esters are most prominent with raisin and dried cherry in the forefront. Overall, the beer is definitely malty sweet, not overwhelming so, bitterness is moderate-low and helps bring some semblance of balance. Mouthfeel is just OK, carbonation is definitely lacking but alcohol is very well masked, it presents as only a very subtle warming, I'd say that flaw and bright spot offset each other. Overall I still feel this is a good, solid beer. The lack of carbonation negativity impacts the look, aroma, and mouthfeel but the taste helps make up for it. I definitely enjoyed drinking it and if I weren't looking at this through the critical lens of a review I might actually have enjoyed this a bit more.
1,224 characters

4
/5
rDev
+2.6%
look: 4 | smell: 4 | taste: 4 | feel: 4 | overall: 4
Pours a deep maroon with a light head. Aroma of dark (sinister) fruit - plums, raisins, cherries and figs. The slight sweetness of the malt is accentuated by the brown sugar and light, hoppy spice. Nice, fruit and malt profile without a hint of ABV.
249 characters
4.19
/5
rDev
+7.4%
look: 3.75 | smell: 4 | taste: 4.25 | feel: 4.5 | overall: 4.25
750 ml bottle dated 10/29/15, served in my Trillium tulip. Dark, nearly opaque, with plum highlights. A fairly vigorous pour yields a finger of bubbly, creamy foam which fades off quickly. Smell: Oily, yeasty, earthy, sharp and fruity. Taste: Brown sugar caramel, raisins and plums, orange pith, with rum and spicy earth booziness lingering. Feel: Full and chewy, moderate-to-low carbonation puts the robust fruit notes front and center. Overall, super enjoyment of a style I don't have a lot of experience with. Not knowing what I was getting, I only picked up 3 bottles - I won't make that mistake again.
606 characters
4.06
/5
rDev
+4.1%
look: 4 | smell: 4.25 | taste: 4 | feel: 4 | overall: 4
750 ml - picked up from brewery one week ago. Excellent nose of dark fruit, bready yeast and some sweet malts. Good mouth feel (medium), flavors follow the nose - dark sweet fruit and bready yeast, with a touch of funk (pleasant). Alcohol well integrated, given the ABV. The nose is the best part; overall very good Belgian style dark ale.
346 characters
Sinister Kid from Trillium Brewing Company
3.9
out of
5
based on
117
ratings.