Wild Trillium
| Trillium Brewing Company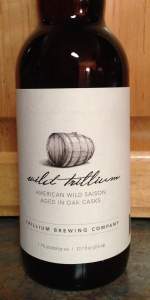 BEER INFO
Brewed by:
Trillium Brewing Company
Massachusetts
,
United States
trilliumbrewing.com
Style:
Saison / Farmhouse Ale
Alcohol by volume (ABV):
10.00%
Availability:
Rotating
Notes / Commercial Description:
For this wild offering, we rack our flagship farmhouse ale, Trillium, to age in neutral oak casks with a house Bug Blend of yeasts. Appearance is bright yellow-golden with light, gentle carbonation. Moderately funky and slightly tart, but not sour, Wild Trillium expresses subtle tannic structure with delicate notes of light citrus, pepper, and hay. Mouthfeel is soft and the finish is dry, crisp and tannic.
MALT: Pilsner, Wheat, Flaked Wheat
HOPS: US Goldings, Columbus
Added by JCTetreault on 03-19-2014
Reviews: 9 | Ratings: 58

3.96
/5
rDev
-1.2%
look: 4.25 | smell: 3.75 | taste: 4 | feel: 4 | overall: 4
A - Nice light haze on a bright gold body. Pours with 2 fingers of white head. Ok retention and low lace. Nice carbonation in the glass.
S - Tart kiwi, lemon rind, fresh cut grass, and bready yeast.
T - Waxy. Lightly tart with bitter herbs and lemon pith. Raw dandilion and tannin finish.
M - Soft medium-light frame with nice carbonation.
O - A nice summer beer, but a shade too waxy.
★
397 characters

4.18
/5
rDev
+4.2%
look: 4.25 | smell: 4.25 | taste: 4.25 | feel: 4 | overall: 4
The beer pours a nice white and foamy head that dissipates moderately quickly but leaves quite a bit of lacing behind. The beer itself is a clear copper and has interesting metallic sheen. The beer smell is funky but not too funky. The tart smell is the central note that all of the other notes circle around. Besides the funk, the beer has very strong notes of vanilla and a little bit of oak that takes some of the vanilla edge off. The hops give off a light lemon and earthy note but are hard to detect. Rye notes are there as well. The taste is surprisingly different from the smell. The funk is not as prominent and much weaker than the smell. Technically, the rye and oak notes are stronger. There also appear to be chamomile notes as well. The mouthfeel is interesting. The carbonation is light with a very silky feel to the beer. Overall, a pretty good beer and worth getting if you can. The notes mix very well and the difference between the smell and taste is interesting.
★
982 characters

4.13
/5
rDev
+3%
look: 4 | smell: 4 | taste: 4.25 | feel: 4.25 | overall: 4
Poured from 375 ml bottle into snifter.
A: Pours a slightly cloudy pale lemon yellow with two finger frothy white head that settles fairly rapidly to a ring around the edge. A little lacing, but not significant.
S: Lemon, white grapes, and yeast esters. A bit of a grassy funk and maybe a hint of oak.
T: Wow. From the first sip, this really surprised me. There is a nice peppery bite combined with some slight citrus and funky yeast. Reminds me a bit of a very nice white wine. Getting a little pineapple and subtle oak flavor at the end.
M: Medium body and lightly carbonation for the style. Finish is crisp and a little dry.
O: An amazing saison / wild ale. This drinks more like a traditional saison than a wild ale so it's definitely more in my wheelhouse. I wish I had been able to get more bottles while
★
815 characters
4.04
/5
rDev
+0.7%
look: 4.25 | smell: 4 | taste: 4 | feel: 4.25 | overall: 4
Super dry. Fruity esters and flowery. Brett developed well. Thin body allows too much of the alcohol to come through. Really impressive first BA wild from Trillium.
★
164 characters

3.69
/5
rDev
-8%
look: 3.75 | smell: 3.5 | taste: 3.75 | feel: 3.75 | overall: 3.75
375ml bottle poured into HF wine glass. Consumed right after Lineage Rye.
A- Pours a very clear straw-color golden with very minimal head that fizzles very fast to a flat top, fizzy carbonation especially when agitated. Similar color as Lineage Rye (maybe a little bit clearer), doesn't have as good of a head as Lineage, and the carbonation appears to be not as consistent a little bit more on the fizzy side.
S- Subtle white grape, oak, light yeast profile, light oats in the background. Not overly aromatic or complex, definitely not as tart as lineage.
T- White grapes, just a hint of lemon acidity, oak, clean yest profile, can tell this has some bugs in it but not overly funky. Has some subtle complexity but lacks the tartness, light funkiness, and complexity of Lineage.
M- A little bit on the lighter side, fizzy carbonation, finishes fairly dry, pretty easy drinking especially considering it's approaching almost 8%.
O- This was a decent "wild" saison however it lacked the complexity and flavor profile that I was looking for. After drinking this with Lineage, that beer has significantly more flavor and Wild Trillium seems almost watered down with hardly any funk and a mild tartness. This was a nice first batch that I'd definitely like to see improved down the line.
★
1,288 characters
4.1
/5
rDev
+2.2%
Served from a 375ml bottle into a Fantome tulip.
Pours a clear gold color with very quick white head with no lacing. Smell, is lemon, peach, citrus, brett funk, oak, vanilla. Taste is Citrus rind, vanilla, oak, brett, light alcohol. Mouthfeel is perfect with carb and body.
A very nice sour saison with a lot of oak going on here. Trillium is doing a lot of good stuff these days.
★
385 characters

4.3
/5
rDev
+7.2%
look: 3.75 | smell: 4.25 | taste: 4.5 | feel: 4 | overall: 4.25
The beer pours a rich, light golden color, bordering on the color of aged hay. The beer forms a small head of large and rocky bubbles, which quickly fall way to a scrim around my glass. In body, the beer is quite clear and clean, with a subtle but definite haze making the other side of the glass slightly murky on the eyes. On the nose, the beer blasts delightful funk, touting big fruity pineapple alongside aging hay notes, definite subtle horse blanket, lemon, and even a ghost of cherry leather. The oak is subtle in the nose, but does seem to lurk in the background, tickling the nostrils with its oaky structure and soft vanilla scents. On the tongue, the beer is fruity, yet dry. Soft acidity carries the fruit through the start of the sip, but mellows into soft oak tannin, soft grass bitters, and mellow bitter funk. Salinity is very subtle in this beer, but definitely there in the finish and aftertaste. This beer is superbly balanced, especially for a wild ale, and definitely speaks to the skill and precision of the barrel keeper and brewer. In flavor, the beer begins as tart lemons, soft leather, softer horse blanket, pineapple, and orange pith. This moves to grassy and hay-like bitters with a nice earthy funk and a touch of subtle salt, and then moves more in the barnyard vicinity with a tannic structure of subtle oaken flavors that develop further in the finish and aftertaste. The finish is a bit quick and short lived, giving me bright lemon citrus, oak, pineapple, grass, and horse blanket that I wish lasted a tad longer. The aftertaste is of hay and oak. In the mouth, the beer feels light in body, a touch below medium, with a prickly carbonation that never quite becomes fierce in the mouth, and an overall mouthfeel of crispness. After the beer leaves, the mouth is left dry except for the tongue and cheek pouches, which are wetted due to the beer's acidity. Overall, this beer is surprisingly subtle (I think I used that word fifty or more times in this review…) which I love. The beer is crisp and clean, yet funky and salty, with wonderful soft flavors. The scent and taste don't quite add up, but both are superb on their own, so it's alright with me. This beer is the epitome of balance in wild ales. I almost wish it was a little more aggressive in its flavoring, but I think it will become just that if you let it age. I grabbed two bottles and have already drank them both, though, I should have saved one! This is yet another phenomenal and crisp beer from Trillium, who are really doing something special in Boston. I can't wait to try more of what they have to offer.
★
2,621 characters

4.13
/5
rDev
+3%
look: 4.25 | smell: 3.75 | taste: 4.25 | feel: 4.25 | overall: 4.25
This beer pours a slightly hazy, yellowish-orange hue with a one finger egg white foam head that slowly dissipates. It smells of cracked pepper, light horse blanket funk, wet dog, unripened pineapple, and aging hay bales. The taste is at first of that unripened pineapple and green papaya, followed by a light pepperyness and cardoman, finishing with mild barnyard, horse blanket funk and buttered popcorn. After a few sips you get a slight tartness and then a quite bitter taste that lingers on the tongue. I'm also getting some of the farmhouse yeast that is so distinct in the regular Trillium. The beer is light, with some lacto creaminess and a very dry quality.
Overall I enjoyed this beer a lot and waiting in line for my two bottles was well worth it. I only wish I had procured a few more as I believe time will do wonders for this beer. I'd suggest drinking one now and laying the other down for at least a year to compare. Currently it is somewhat subdued but the funkiness and complexity should build with age. I'm a huge fan of Trillium's wild/sour beers, and this one did not disappoint!
★
1,102 characters
3.57
/5
rDev
-11%
look: 4 | smell: 3.75 | taste: 3.5 | feel: 3.25 | overall: 3.5
I am not a huge fan of the base saison to begin with. This is considerably better. It has an aggressive white wine alcohol pressence. The oak shines through. Not too much overall complexity. The brett developed nicely but I really didn't get many sour notes. Overall, not bad. I guess I expected more.
★
301 characters
Wild Trillium from Trillium Brewing Company
4.01
out of
5
based on
58
ratings.