Red Broken Angel

Trillium Brewing Company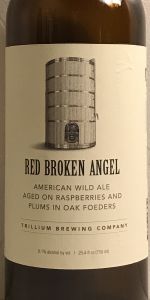 Rate It
Beer Geek Stats
| Print Shelf Talker
Style:

ABV:

8.1%

Score:

Avg:

4.27

| pDev:

7.03%

Reviews:

15

Ratings:

From:

Avail:

Rotating/Seasonal

Wants

Gots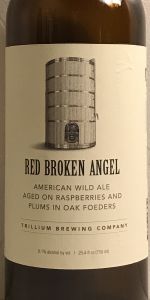 Notes: This iteration of Broken Angel was fermented with our Native New England mixed-culture and aged in new American oak foeders for one year before re-fermenting atop Plums and Raspberries. Red Broken Angel has a hazy deep red color with aromas of raspberry preserves, candied fruits and kiwi. The palate contains a lemony tartness, an intense overripe plum flavor, and light oak that adds structure. Immensely drinkable and the perfect beverage as warmer weather approaches!

MALT: Pilsner, Dextrose

HOPS: Sterling

Victory_Sabre1973 from Minnesota
4.49
/5
rDev
+5.2%
look: 4.25 | smell: 4.5 | taste: 4.5 | feel: 4.5 | overall: 4.5
Pours a murky, dirty, orangish color. Quite pleasing 1 finger white head. The head retention is decent, and I like how it dissipates to a creamy foam ring around the edge of the glass.
FUNKY! Damn, the aroma is wild and funky, and that's just from pouring the beer. Up close is quite a complex funk. Very floral, and then the raspberries come out. More of a wild, sour raspberry, than a sweet raspberry. Quite pleasing.
Taste - The raspberry started off slightly sweet, maybe from the plums. The raspberry then turned quite sour, wild, and funky. That sweetness up front and the wild, funky sour on the backside really pack a powerful one/two punch.
The tart, wild, funky just clings in my throat, and doesn't let go at all. This beer is also quite full bodied, and thick.
You want a wild, funky beer - this is a good choice for you. Trillium is known for their NEIPAs. They produce amazing stouts also. Now add wild ales to the mix of beers they just knock out of the park.
Mar 22, 2019

Sabtos from Ohio
4.05
/5
rDev
-5.2%
look: 3 | smell: 4.25 | taste: 4 | feel: 4 | overall: 4.25
Dark salmon with a loud fizzy carbonation that settles to a soft pink ring. It clouds up substantially towards the end of the bottle.
Smell readily delivers plum and raspberry with a toasty charred oak accent and hints of rhubarb pie.
Taste immediately brings a juicy splash of fresh plum before transitioning to pear, apple and raspberry with a hint of toasted pie crust. A sharp wine oak twang comes with a super tangy grapefruit sourness that is cushioned by a softening carbonation as it goes down semi-dry.
May 04, 2018

larryi86 from Delaware
4.34
/5
rDev
+1.6%
look: 4 | smell: 4.25 | taste: 4.5 | feel: 4.25 | overall: 4.25
Big thanks to smanson56 for this!
750 ml bottle poured into a tulip
A- A hazy orangish red with a two finger off white head.
S- Tart, pulms, raspberries, oak, fruit skins, touch of funk, very different than Broken Angel.
T- Sour, pulms, raspberries, fruit skins, oak, mild funk, touch of sweet pale malts.
M- Smooth, light to medium body.
O- A solid sour, worth seeking out. It is like night and day compraring this to regular Broken Angel, seems like the different yeast and the fruit turned this into a completely different beer.
Jan 01, 2018
Alieniloquium from Florida
3.19
/5
rDev
-25.3%
look: 4 | smell: 2.5 | taste: 3.5 | feel: 3 | overall: 3.25
750 mL bottle. Pours a reddish pink body. No real head. Smells of raspberries, plums, strong yeast. Almost plastic aroma. Tastes pretty tart. Plum sourness is most prominent. Raspberry tartness behind it. Yeast comes through a little in the finish and aftertaste with a bit of oak. Aftertaste has some of that yeast plastic flavor. Medium heavy. Well carbonated. Fruity and drinkable, but not anything I need to have much of.
Nov 03, 2017

smanson56 from New Hampshire
4.23
/5
rDev
-0.9%
look: 4.25 | smell: 4.25 | taste: 4.25 | feel: 4 | overall: 4.25
This beer poured a darker golden orange color into my tulip glass. Perhaps a little less red than i figured for color for a beer with raspberries and plums.
The nose is acidic but not overly so to me with more raspberry than plum coming through.
The taste is to me is tart but not overly with a taste of sweet fruit coming through. To me the raspberry is first with the plum in the back. The sweetness to me comes from the raspberries.
The mouthfeel is crisp with a nice amount of carbonation.
This to me is a well done wild ale with the flavors of the fruit coming through. From the earlier reviews I read from when this beer was released I think some cellar time has allowed this beer to age for the better.
Oct 29, 2017

Phineasco from Massachusetts
4.34
/5
rDev
+1.6%
look: 4.75 | smell: 4.5 | taste: 4.25 | feel: 4.25 | overall: 4.25
Look: Pink with 2 inch white head.
Smell: Raspberries, plum, and jam.
Taste: Tart, raspberries, jammy, and oak.
Mouthfeel: Medium.
Overall: Another great sour from trillium. I wish I got more plum flavor, though.
Sep 02, 2017
PHBoiler from Illinois
4.44
/5
rDev
+4%
look: 4.5 | smell: 4.25 | taste: 4.5 | feel: 4.5 | overall: 4.5
Really soft and balanced tartness to this beer. The fruit blends seamlessly with a hint of fresh berry bite that complements the base beer. Really interesting flavors. Beautiful color.
Aug 21, 2017

M_chav from New Mexico
3.66
/5
rDev
-14.3%
look: 4.25 | smell: 3.75 | taste: 3.75 | feel: 3 | overall: 3.5
acidic to the max, I want my enamel back. Good taste overall, some ripe plum and subtle raspberry flavor but the intense sour mouthfeel made this hard to drink.
Aug 10, 2017

WesMantooth from Ohio
3.89
/5
rDev
-8.9%
look: 4 | smell: 4.25 | taste: 3.75 | feel: 3.25 | overall: 4
Bottled March 10, 2017 in a 750ml with a cap.
It is a very murky beer with some floaties. Hard to describe the color. Sort of a purplish apricot. Moderate amount of head, but pretty good retention.
It smells pretty sour with an apricot sourness and musty aroma. Some sweet/sour berries, and a little bit of funky yeast and vinegar.
It is mostly raspberry flavored with a ton of sourness. This goes way beyond tart to me. A very acidic flavor and feel. Gave me terrible heartburn halfway through my 16oz glass. There is a little bit of red grape/plum flavor too along with some wild yeast. I don't get any oak. Mostly just sour fruit. It is a real sipper. Far from what I would call easy drinking.
Jul 25, 2017

Resuin from Massachusetts
4.31
/5
rDev
+0.9%
look: 4.25 | smell: 4.5 | taste: 4.25 | feel: 4.25 | overall: 4.25
Poured from a 750 mL bottle into a stemmed glass. This was bottled on March 10, 2017.
A: Pours an amber color with a reddish hue and leaves a finger of off-white head that fades quickly to a rim around the glass.
S: Leather, tart raspberries, sweet plums, a bit grassy. Pleasant and fruity, but balanced.
T: Jammy rasberries, tart lemon, vanilla, medium acidity, grape skins, figs, hints of leather, plum and green apple.
M: Medium carb with a spritzy feel along with a thin to medium body. Dry finish.
O: This is more well balanced than I was guessing. The fruit is there, as is some acidity, but it is balanced with some sweetness and woodiness/leather. A real nice outdoor sipper.
Jul 13, 2017

edthehead from New York
4.38
/5
rDev
+2.6%
look: 4.25 | smell: 4.25 | taste: 4.5 | feel: 4.5 | overall: 4.25
Pale red in color, with a fast fading head and moderate lacing. The plum, raspberry, and barrel really come out in this highly drinkable and refreshing wild ale. Moderate tart and mouthfeel.
May 14, 2017
GreesyFizeek from New York
3.77
/5
rDev
-11.7%
look: 4.25 | smell: 3.5 | taste: 3.75 | feel: 4.25 | overall: 3.75
This one pours a dark bubbly pink-ish red, with a one inch head, and a good bit of lacing.
This smells nicely of plums and raspberries, but it also has an odd smell that was initially tough to pin down. I eventually pinned it down as pencil shavings from a pencil sharpener, and woodchips.
The fruit flavor in this one is really nice. There's only a little bit of plum, and way more raspberry flavors. The sourness is moderate, nothing crazy. However, that weird aroma does translate to the flavors- it's really like old pencil shavings, and it's not the best thing for this beer. You don't really get any clue that the base to this beer is a tripel.
This is medium bodied, fairly crisp, with a good level of carbonation.
This has potential that wasn't quite achieved.
May 14, 2017

SebastianOwl from Massachusetts
4.25
/5
rDev
-0.5%
look: 4.25 | smell: 4.25 | taste: 4.25 | feel: 4.25 | overall: 4.25
Not quite sure how a beer with 14 ratings between 5 and 4.1 can have an 88 rating on BA; as a novice with wild ale that has been trying to enjoy them more lately, I have appreciated how Trillium manages to balance the funkiness that often turned me off from other wild ales
May 13, 2017
tigg924 from Massachusetts
4.35
/5
rDev
+1.9%
look: 4.25 | smell: 4.25 | taste: 4.5 | feel: 4.25 | overall: 4.25
Had on tap at Canton. Pours hazy, reddish brown in color with minimal head. Taste is big raspberries, strawberry, sour mix and light banana and plum as the beer warms. Very tart but with underlying sweetness and a medium light body. Very tasty, complex sour ale. Much better than regular Broken Angel. Nice sipper, one that I will look for again.
May 10, 2017
StoutElk_92 from Massachusetts
4.74
/5
rDev
+11%
look: 4.5 | smell: 4.75 | taste: 4.75 | feel: 4.75 | overall: 4.75
750ml bottle dated 03/10/17
Pours cloudy opaque garnet red with a quickly receding frothy white foam head. Smells like tart plums, candied raspberry, kiwi, vanilla, oak, bready malt, Belgian yeast, peppercorn spice, with floral earthy herbal grassy pine. Tastes like tart plums, sour raspberries, Belgian yeast, peppercorn spice, some clove, vanilla, oak, bready malt, with floral earthy herbal grassy pine. Feels full bodied, creamy and smooth with moderate carbonation. Overall a really nice Belgian style wild ale with plums and raspberries.
Apr 30, 2017
Red Broken Angel from Trillium Brewing Company
Beer rating:
94
out of
100
with
97
ratings