Pilsner

Trillium Brewing Company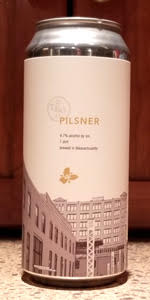 Write a Review
Beer Geek Stats:
| Print Shelf Talker
Style:

ABV:

4.7%

Score:

Avg:

3.93

| pDev:

8.4%

Reviews:

12

Ratings:

From:

Avail:

Rotating

Wants

Gots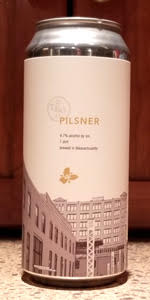 Notes: Our traditional Pilsner is the result of a continued, iterative focus on lager brewing. This fine-tuned, German-influenced recipe features classic lager yeast, a grain bill of primarily Bohemian floor-malted pilsner malt, plus Hallertau Magnum and Saaz hops and extended lagering in our horizontal tanks.

Pilsner pours a glimmering straw color with a fluffy white head. Aromas of whole grain bread crust and a touch of satisfying malt character hit the nose. These flavors follow on the palate, with a balanced sweetness and subtle, noble hop bite. A crisp finish keeps this medium bodied beer refreshing and easy to drink.

MALT: Pilsner, Melanoidin, Acid Malt

HOPS: Hallertau Magnum, Saaz
Reviews: 12 | Ratings: 52

4.67
/5
rDev
+18.8%
look: 5 | smell: 4.25 | taste: 4.75 | feel: 5 | overall: 4.75
L - quite a sticky head for a pils. Immediately floofs out of the can and tries desperately to cling to any glass it can before the flood of crystal clear, golden maple syrup comes pouring in. If I didn't know any better, I'd say I'm drinking out of a Sam Adams laser-etched glass with the way all these teeny tiny bubbles keep on a-nucleatin'. This is a seriously good-looking beer.
S - ripe banana and doughy spices. Coriander, lemon candy, and white bread.
T - german malts, rye bread, and a touch of grapefruit peel spiciness. Thick, saturated white bread heaviness and spring water. Subtle sweetness that doesn't last long, as it is sandwiched between peppery prickles and nutty heartiness. Finishes with light florality and vanilla sweetness.
F - what even is this. A pilsner? Not an oat-filled DIPA? Such heft, such creaminess, such full juiciness... 4.7%? Color me fooled. One of Trillium's best mouthfeels I've felt in a long time. Deceptively rich and fluffy, but still manages superb drinkability.
O - crisp and clean, but at the same time layered in damp, doughy saturation. Wonderfully executed pilsner. Bravo.
1,128 characters
4.42
/5
rDev
+12.5%
look: 4.5 | smell: 4.25 | taste: 4.5 | feel: 4.25 | overall: 4.5
This German style pilsner is truly one of the most deeply flavored,balanced and nuanced pilsners I've had the pleasure to taste. Beautiful white foamy head sits atop a straw-colored pour. Deep grains fill the taste, with a nice Euro hop finish. Exquisite!
255 characters
3.51
/5
rDev
-10.7%
look: 4.25 | smell: 3.25 | taste: 3.5 | feel: 3.75 | overall: 3.5
Superb head which settles in a dome fashion eventually becoming frothy rim foam. Infrequent streaks of three-dimensional lace. The liquid is light gold with a mild chill haze.
A predominance of raw barley graininess to the nose on the initial whiff. The pilsner malt and noble hop smell is present but very much in the background.
The flavor has the hop bitterness come in quickly and finishes far more bitter than most (perhaps all) other pilsners. The malt tastes watered down, even though the body is appropriate. The carbonation runs high and has a "big bubble" feel, not the usual refined, smoother mouthfeel. The aftertaste is harsh for the style.
660 characters
4.11
/5
rDev
+4.6%
look: 4.25 | smell: 3.75 | taste: 4.25 | feel: 4 | overall: 4.25
A: Deep gold/yellow with fluffy white foamy head and sticky lacing.
N: Light biscuit, malt, and oats.
T: Crisp and clean cracker flavors with a very light malt hit, some grainy flavors.
M: Light and crisp with some soft dryness.
O: A very nice pils!
252 characters

4.01
/5
rDev
+2%
look: 3.75 | smell: 4 | taste: 4 | feel: 4.25 | overall: 4
16 oz can, willi becher glass. Clear golden body, two finger white head, good retention. Had to wait for it to calm down a little before I could pour the last 3-4 ounces out of the can. Plenty of lacing. Smell is biscuit, touch of honey, sweet grain, mild floral notes, a fair bit of pilsner malt. Mild floral and slightly herbal, fruity notes. Flavour follows, fairly clean but full flavoured malt and hop balance. Pilsner malt, a bit of crackery grain, floral, biscuit, mild herbal notes. Smooth flavours. Mouthfeel is medium lighter bodied, very drinkable. A bit more carbonation than expected, not as soft as I'd like- surprising given that their IPAs are on the softer side- and has a bit of a prickly carbonation to it. Overall solid pilsner, reasonably clean. Could do with a bit of softer carbonation.
809 characters

3.73
/5
rDev
-5.1%
look: 4 | smell: 4 | taste: 3.5 | feel: 3.75 | overall: 3.75
Dated 6/6/19 on the bottom of the can, 3 weeks since brewing.
Pours a clear golden with three fingers of pillowy slightly off-white head. Nose of slightly spicy, deeply nutty bread, earthiness, florals and an ever so slight sour pear. Taste follows the nose with a focus of the deep nuttiness of this brew and more of a tart green apple than the pear I got in the aroma. Classic, old school hop bite, medium sweetness, light+ drying, medium- bitterness and a light++ body, close to medium. Great to see Trillium swinging at a classic style, perfect for the end of a hot summers day outdoors.
592 characters
4.07
/5
rDev
+3.6%
look: 4.5 | smell: 4.25 | taste: 4 | feel: 3.75 | overall: 4
It is a pretty beer, golden and clear, with a persistent cap and lots of small bubble lacing forming a full coat on the glass. Nose is lovely Pilsner funk, a floral hop hit with a touch of spiciness. Flavor opens with honey malt, closes with harsh bitterness. Feel is over-carbonated, but the finish is pretty clean. Overall, interesting but not completely successful.
372 characters
3.63
/5
rDev
-7.6%
look: 4 | smell: 3.5 | taste: 3.5 | feel: 4 | overall: 3.75
16 oz. can. Clear golden body. Smells of herbal hops and bread. Small amounts of green apple. Tastes pretty aggressively hopped, but traditionally, as well. Grass and herbal notes. Some bready malts with a tinge of caramel, but no sweetness. Heftily bittered. Lingering hop bitterness. Medium bodied and quite flavorful. It's not shy on the hops, aromatic or bittering. Its malt profile is pretty dry with a tinge of a harshness in its finish. Enjoyable overall.
473 characters
3.81
/5
rDev
-3.1%
look: 4.25 | smell: 3.75 | taste: 3.75 | feel: 4 | overall: 3.75
16 oz can dated 3/15/19 from egrandfield poured into K Zildjian Glass.
Hazy straw color, with a stark white head of 3 fingers, receding to 2, and finally 1. Lots of lace left behind in webs.
Sharp, grassy, saaz-like aromas with hints of hay and flowers, slight manure.
Flavor opens fruity with some light apple, pear, and green grape notes, but quickly fade to soft white bread and then a wave of sharp grassy pine. Some green bean. Definite vegetal flavors. The last note lingers well beyond the finish.
Feel is crisp and creamy with good carbonation but leaves a bothersome resiny coating on the palate.
Overall, a good example of the style, but not personally what I look for in an approachable Pilsner. Maybe do some dry-hopping with it to bring more hop flavor and less grassiness.
796 characters
3.5
/5
rDev
-10.9%
look: 3.5 | smell: 3.5 | taste: 3.5 | feel: 3.5 | overall: 3.5
Despite the very reasonable price tag, this is definitely one of my least favorite offerings from Trillium thus far. It's drinkable, sure, but doesn't capture the same spirit of inventiveness that many of their offerings do. At the same time, it doesn't really evoke a classic German pilsner either
70/100
306 characters

3.65
/5
rDev
-7.1%
look: 4 | smell: 3.25 | taste: 3.75 | feel: 3.75 | overall: 3.75
Pours a foggy golden-straw with a finger of dense, white foam. Head retention is good, as is lacing. Aroma is spicy, herbal, medicinal hops with nutty, bready malts behind. The is a little lactic twinge alongside dewy cardboard. Flavor profile is spicy, medicinal, herbal hops with bready, nutty, earthy malts. It maintains a flavorful, but slim dynamic. Mouth feel is effervescent and crisp with a medium-thin consistency. Overall, an okay lager. It tastes a little off via bitter malts.
Served in a red wine glass. Reviewed on phone.
537 characters
3.68
/5
rDev
-6.4%
look: 4.25 | smell: 3.75 | taste: 3.75 | feel: 3.25 | overall: 3.5
Pours clear gold in color with one inch head. Taste is white bread, grain, and earthy hops on the finish. Bitter, light bodied, dry, with high carbonation. Solid, but I do not like the really bitter finish. Is a bit sharper than I prefer in the style. Above average, but I prefer several others in the style.
312 characters
Pilsner from Trillium Brewing Company
Beer rating:
86
out of
100
with
52
ratings