Just Add Noodles
| Trillium Brewing Company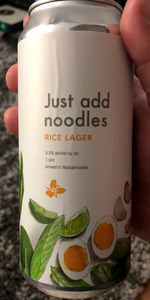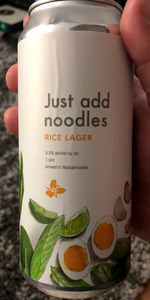 BEER INFO
Brewed by:
Trillium Brewing Company
Massachusetts
,
United States
trilliumbrewing.com
Style:
Japanese Rice Lager
Alcohol by volume (ABV):
5.20%
Availability:
Limited (brewed once)
Notes / Commercial Description:
Just Add Noodles is a brand new recipe brewed in celebration of all that is Ivan Ramen. We took inspiration from their culinary expertise, integrating both rye and rice into the mash as an interpretation of their noodles. Working with the Ivan Ramen crew has inspired us in all areas of food and beer - we're excited to share this singular moment with them.
Just Add Noodles pours a golden straw and slight sheen and pillowy white head. A crisp and clean lager fermentation profile marries with the nose of light biscuit, honeyed bread dough and toasted grains underpinned by a delicate, floral hoppiness. The palate closely follows with a soft, rounded mouthfeel and a balancing bitterness. Just Add Noodles drinks clean and seamlessly with the satisfyingly pleasure that marries with any of the Ivan Ramen dishes planned for this special night or as a singularly beautiful experience unto itself.
MALT: Pilsner, Rice, Rye
HOPS: Sterling
COLLABORATION: Ivan Ramen
Reviews: 5 | Ratings: 16

4.17
/5
rDev
+4.5%
look: 3.75 | smell: 4.25 | taste: 4.25 | feel: 3.75 | overall: 4.25
Dated 3/27/19 on the bottom of the can, just under 2 months old.
Pours almost clear with a the faintest hint of haze and two + half fingers of puffy white head. Nose of yeasty bread, sweet grains, fresh hop cones, slight corn and a distinct rye background. Taste is very pleasant and crisp, following the nose with sweet yet spicy rye, a sprinkling of pilsner grain notes + faint resinous hoppiness. I can also pick out the rice in this one due to it's few but impactful aspects, great addition! I could crush a 4 pack of these tall boys and be on the lookout for more. Take this with a grain of salt as I am BIG lover of using rye in brews. Probably my favorite lager in recent memory due to it's addition. I'm going back tomorrow to grab a few more before they sell out!
773 characters
4.22
/5
rDev
+5.8%
look: 4.5 | smell: 3.75 | taste: 4.5 | feel: 4 | overall: 4.25
This is basically Trillium's Pilsner with rye grains added to the malt bill - typical Trillium - make a slight change to a base beer and slap a new label on it and let the marketing machine do the rest. In this case, the hype-up was some chef who joined them for some event, maybe who specializes in noodles.
While I'm not a big Pilsner fan - I really like this one, but only when really cold. I haven't tried the Pilsner but the rye really added a nice twang to the crispness of the Pilsner, but when it warmed, it became much less optimal. I'd gladly grab it again as a warm weather coiffer to drink cold and fast. Great job! Cheers!
643 characters

4
/5
rDev
+0.3%
look: 4 | smell: 4 | taste: 4 | feel: 4 | overall: 4
On draft. Clear golden yellow color.
Light, crisp, clean, refreshing, but flavorful. Easy drinking and something different for a change from trillium. Grassy and zesty.
169 characters

3.88
/5
rDev
-2.8%
look: 4 | smell: 3.5 | taste: 4 | feel: 4 | overall: 4
Pours fuzzy yellow with a nice white head.
Spells of crisp malt and a little grass
Flavor is clean and a little lemony grass and small malt.
Super crushable. Pretty good rice beer
183 characters

4.06
/5
rDev
+1.8%
look: 4 | smell: 4.25 | taste: 4 | feel: 4 | overall: 4
Is that rye in there? Not sure but it tastes and smells like there's a small spicy kick going on in aroma and taste. Well, maybe not a full on kick to the body, more like a snappy leg kick that flicks out of nowhere, makes contact and is pulled back in as quick as it came.
Cloudier that clear golden pour. Aroma and taste (see above) has a nice grainy, grassy, cereal taste with a light spicy something.
Clean and crisp and well made - easy drinker with a touch of complexity. Nice to see Tril showing of their range and working hard on their lager game. Keep it up.
EDIT - I'm a moron. It says rye right there in the description.
635 characters
Just Add Noodles from Trillium Brewing Company
Beer rating:
3.99
out of
5
with
16
ratings