Lineage Wheat
| Trillium Brewing Company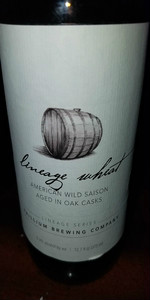 BEER INFO
Brewed by:
Trillium Brewing Company
Massachusetts
,
United States
trilliumbrewing.com
Style:
Saison / Farmhouse Ale
Alcohol by volume (ABV):
6.90%
Availability:
Rotating
Notes / Commercial Description:
The first edition in our Lineage series of farmhouse ales features local wheat from Valley Malt in Hadley, Massachusetts. Bright, clear, and straw-yellow in appearance, Lineage Wheat invites with a complex nose of grassy funk, crisp citrus rind, pepper, and floral white wine. Starting mildy tart, yet not sour, this approachable saison follows through with flavors of earth, musky funk, woody-oak, light wheat, and some balancing, tangy, citrus character. Lineage Wheat is beautifully light in body and dry on the palate.
MALT: Pilsner, Valley Wheat, Flaked Wheat
HOPS: US Goldings
Added by Jason on 08-22-2013
This beer is retired; no longer brewed.
Reviews: 12 | Ratings: 89
3.31
/5
rDev
-14.2%
look: 2.75 | smell: 3.5 | taste: 3.5 | feel: 2.5 | overall: 3.25
Look: Light yellow in color; completely transparent with lots of tiny bubbles. Pours with a 1+ finger creamy white head that dies down leaving a minor trace on the surface on the beer and eventually disappears completely. Very commercial looking.
Smell: Quite funky with a slight sour aroma. Interesting and somewhat enticing.
Taste: Tastes like it smells; quite funky and a little bit sour - yet smooth and drinkable.
Feel: Thin and kind of watery. Nice light carbonation though.
Overall: This is an labeled "American Wild Saison". Personally "wild" ales are not my preference, as generally I find them "too funky" for my tastes. But not this one. I found it very drinkable, though I would not purchase it again as this is not a style that I prefer.
767 characters
3.45
/5
rDev
-10.6%
look: 3.25 | smell: 3.75 | taste: 3.5 | feel: 3 | overall: 3.25
Appearance: Very slight chill haze on a glowing pale golden-yellow color. Head is small and bright-white. Clumpy and loose. Ok retention leaves a small wisp of a cap with a bubbly loose collar. Small splotches of lacing. Moderate carbonation on the pour.
Smell: Funky and fruity wheat. Solid wheat backbone with some slightly bready pale malts. Undercooked biscuit. Hits with peach, pineapple, fresh lime juice and zest. A touch of musty basement and grass. Lightly lactic. Lemon and lime. Soft yeast. Oak rounds out the back adding some welcome woody and mild dirt elements. Sweet and tart in good measure. Some pear as well. Perhaps green apple.
Taste: Vague spiciness coupled with an almost nutty finish. Oak shines through adding the aforementioned nuttiness. Deeply woody, like fresh green wood. A touch of pear and apple skin. Mango and some peach as well. Yeast is fluffy and light throwing some vague fruity esters. A touch of banana and a soft peppery spice on the back as well. Malts are a nice compliment, offering up a touch of sweetness with some solid cracker and toasted malt notes. A bit funky with a lactic finish. Hay and grass with a slightly damp earthiness thrown in the mix as well. Warming keeps up the nutty element (chestnuts) and pushes the oak a bit harder. Lactic tart edge smooths it out a bit.
Mouthfeel: Light to medium body with a slightly below average (medium leaning to light) carbonation. A touch of astringency on the sip and slightly dry on the finish. Juicy initial sip.
Overall: You could claim worse descent.
A solid saison. The oak adds some really unique flavors that don't quite jive with the base beer. It's good, but a little muddled in the long run.
1,701 characters
3.75
/5
rDev
-2.8%
look: 4 | smell: 4 | taste: 3.75 | feel: 3.5 | overall: 3.5
8/19/14, shared with rudzud
A very forced pour yields light foamy fizzy 1/2 finger head that fades fairly quickly, some lacing, crystal clear pale color.
Nose a mix of tart funk and little banana ester wit and creamy wheat, tons of cream of wheat, lemony funk, sour earthy farmhouse funk.
Taste super tart sour, some earthy Brett farmhouse funk, cheesy funk but a weird bitter rind thing and bready yeast like they used bakers yeast, back into creamy wheat and banana like esters, lemony, lemon rind bitterness especially on the bitter icky finish.
Mouth is lighter bod, lighter carb, not flemmy
Overall ok, funk was decent but weird blend of flavors.
656 characters
3.8
/5
rDev
-1.6%
Sort of a round buttery brett presence to this one. Begging for a bit more acidity and dryness from the wheat. Bit of a mess but Trillium's amazing work w hops may have led me to too high of an expectation here.
211 characters

3.8
/5
rDev
-1.6%
Bottle. Pours a bright, cloudy yellow with a thinner, white head that bubbles down to a thin seam. Not a lot of lacing. Aroma is still Saison-esque but it has a funky quality to it. Some oak and Saison spice. Flavor is funkier than I initially remembered it being (tried at Belgian Beer Fest last year). Somewhat tart. Still has Saison flavors. Slightly spicy. Wheat presence is detectable. Some oak. Fruity. Body is pretty light but it has texture. Medium carbonation. Better than I remember it being. Always down for a Trillium.
530 characters

3.83
/5
rDev
-0.8%
look: 4 | smell: 4 | taste: 3.75 | feel: 3.75 | overall: 3.75
The beer comes in a golden light straw color, almost like white wine.
The aroma hits of lemon juice, zest, some stone fruit, almost a white wine quality. Some wet hay and bleu cheese funk.
The flavor has a light tart up front, a bit of tangelo and lemon type flavor. This falls away quite quickly as the beer dries out with almost a copper rust flavor. This is surrounded by a light wheat and funk quality.
Crisp and clean, but a light mouthfeel. It also slightly lacks in depth and tartness.
495 characters
3.89
/5
rDev
+0.8%
look: 4.25 | smell: 4 | taste: 3.75 | feel: 3.75 | overall: 4
Thanks to JLindros for sharing this bottle.
A - Poured into a Kate the Great tulip a nice crystal clear straw hue with a one finger white head that fades to leave light wisps and thin lacing.
S - Aromas of nice funk, nice light stone fruit. Very light tartness, faint barrels, soft wheat.
T - Taste is similar to the nose, nice funk and tartness, faint barrels. There was some almost harsh hefe like notes that kind of get in the way of most of the beers funk and flavours
M - Mouthfeel is lightly carbonated, relatively thin.
O - Overall this was a rather decent beer, good funk and saison yeast
Serving Type: bottle
626 characters

3.96
/5
rDev
+2.6%
look: 4.25 | smell: 3.75 | taste: 4 | feel: 4 | overall: 4
08/19/14 bottling date. Geez, have I really been hanging onto this bottle for almost a year?
A: Pours a clear pale straw. Tall, frothy white head. Decent head retention with a nice island of foam. Heavy lacing all over the glass to boot.
S: Lightly tart and funky when swirled. Lots of wheat in general. Lightly grassy.
T: Huh, interesting tartness. Barely tart, reminiscent of lemon peels but a really mild form. Loads of grainy wheat gives it a light and mildly sweet backbone. A quick hit of tartness in the finish and then a nice clean break with just a tiny tiny bit of that lemon peel floating around.
M: Pretty light bodied. Clean finish.
O: Pretty straightforward. Lightly tart saison with a heavy wheat backbone. Smooth and simple and drinkable. Nice.
766 characters

4
/5
rDev
+3.6%
look: 4 | smell: 4 | taste: 4 | feel: 4 | overall: 4
had this side by side with lineage rye. enjoyed from mini sniffer transparent golden straw yellow. nose is soft golden wheat ale. flavor is fairly woody with big wheat. nice beer I dug the rye more
198 characters

4.03
/5
rDev
+4.4%
From 10/02/14 notes. Side by side with Lenage Rye, 12 oz. bottle into a snifter.
Pours a murky yellow color with one finger of white head and moderate to high carbonation. Nose is sour and funky and has some fruity citrus and light fruity pebbles to it. Taste is way more funky, has some wheat, oats, grains, and earthy notes. Medium body and low to moderate carbonation.
Overall I thought this had a great nose, and the taste was good, but funkier and not as great as the nose. An interesting and good beer, but I prefer the Lineage Rye.
540 characters

4.25
/5
rDev
+10.1%
A - One finger of white, bubbly head. OK lacing. Pale, slightly hazy yellow body.
S - Oak and slight funk. Cooking sherry, tart cherry, and breadiness.
T - Mellow grain. Tart and sweet cherry. Tons of raw oak in the finish with slight grassy hoppiness and funk.
M - Light body. Very dry finish which I'm attributing to the oak.
O - Personally, I would have enjoyed a little more age on this in the hopes of mellowing out the oak, but it's a really interesting saison with a lot of depth of flavor.
512 characters

4.4
/5
rDev
+14%
look: 4.5 | smell: 4.5 | taste: 4.25 | feel: 4.5 | overall: 4.5
Poured from a 375 mL bottle into a stemmed glass. This was bottled 08/19/14 so is pretty fresh.
Appearance: Pours a hazy lemon-yellow/translucent light amber and gives a fluffy head of a couple fingers which fades slowly to a white layer atop the beer, leaving lacing. (4.5)
Smell: Nice funky lemons, grapes, green apples, citrus rinds, pepper, oak, a dash of cloves. Nice balanced, refreshing aroma. (4.5)
Taste: Interesting - different than the aroma. Some light lemon/citrus up front, followed by oak, a different type of funk, wheat, citrus rinds, grapes. Really mellowed out taste - very smooth but misses out on some of the best parts of the aroma. Not sour in the taste which is interesting. (4.25)
Mouth-feel: Medium to well carbonated with a medium, creamy body. Super smooth, especially in the finish. (4.5)
Overall: This one really warmed up to me. The aroma was wonderful right up front - but the flavor surprised me but got better and better - just so mild, drinkable and refreshing. A bit of nice funk and plenty of citrus. A delicious summer beer for sure. (4.5)
1,082 characters
Lineage Wheat from Trillium Brewing Company
3.86
out of
5
based on
89
ratings.