Dusters Restaurant and The Gottberg Brew Pub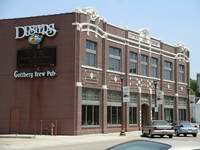 PLACE INFO
Type:
Brewery, Bar, Eatery, Beer-to-go
2804 13th St
Columbus
,
Nebraska
, 68601-4919
United States
(402) 562-6488 |
map
dustersrestaurant.com
Notes:
No notes at this time.
Added by bditty187
Ratings: 11 | Reviews: 10
Reviews by bditty187:

4.05
/5
rDev
+3.3%
vibe: 4.5 | quality: 4 | service: 4 | selection: 4 | food: 4
Time for an update as I've been to Gottberg a "few" time since. From the time of my original review Gottberg has seen three different brewers with the current making a varied, well done, but "small town Nebraska safe" (which is not a knock) selection of beers. A solid core of year-round offerings are spiced up with seasonal and special release beers. Outside Beerfests Gottberg beers are not currently available in Omaha, which makes the trip to Columbus worthwhile.
As mentioned in the previous review the food at Gottberg is very good, the menu is varied enough to please most palates.
Scores for quality and selection have been improved. The beers are more consistent and the selection seems better.
Overall, it is a nice little gem of a brewpub.
2003 Review:
Scores: 4.5 / 3 / 4 / 3 / 4
Columbus, Nebraska has a population around twenty thousand. It is hours away from both major metropolitan areas (yeah, we only have two) in state. Yet, Columbus has a damn nifty little brewpub. It is located in the "downtown" area. The building is huge, bricked, and cool-looking (poor description I know). The brewpub is on the eastern side and the restaurant Dusters, fine dinning type of place, is on the southern side. There are also banquet/conference facilities, which seemed nice.
I visited the Gottberg brewpub on a Saturday afternoon. The brewpub only had a few people in it. The room is smallish round; it is meant to look like a silo. Very cool. The ambiance is quaint and homey. The barter/waiter was pretty nice and helpful. The lunch menu (I assume they have a different dinner menu) had standard fair. I had the buffalo burger and it was very good. The prices are low.
The bathrooms are big and clean.
The beers are $2.00 a pint. All six available at the time were just slightly above average. Drinkable but not really memorable. But we did like the overall experience enough to come back when the next seasonal beers are in.
1,955 characters
More User Reviews:

3.71
/5
rDev
-5.4%
vibe: 4 | quality: 3.5 | service: 4 | selection: 3.75 | food: 3.25
The only place in Columbus to visit. They brew on site. The brews are a average, although there pale ale stands out as the best. Nothing spectacular, but worth a visit if your in the area.
The food is not good. I do not recommend eating here. Nothing local, creative, or made from scratch. Stop in for beers and visit the cafe down the street.
344 characters

3.81
/5
rDev
-2.8%
vibe: 3.5 | quality: 3.75 | service: 4 | selection: 3.75 | food: 4
Visited the Gottberg Brew pub on 12/09/2013 and 13/09/2013 on holiday from the UK. Brew pub in very nicely refurbished building. Nice interior with a good view into the brewing area.
Good selection of beer surprised to find an English Mild on tap very nice.All in all 10 beers on tap with a good selection in styles. Locals very friendly, brew pub staff very helpful and reasonably knowledgeable about the beers on sale. Food very good the pulled pork and brisket sandwich was excellent. All round a great little brew pub in a relative beer desert if back in the area well return.
580 characters

3.95
/5
rDev
+0.8%
vibe: 4 | quality: 4 | service: 4.5 | selection: 3.5 | food: 3.5
I was in Columbus on a recent business trip, just so happen that my company decided to treat us to dinner at Dusters which is the restaurant part of Gottberg. Seemed like a nice upscale place, we were stuck in a boring room in the back of the restaurant but as I walked past the bar/brewpub area it looked nice and intentionally rustic. The bar stools are made up of old style tractor seats. The wait staff was very attentive, they have the typical listing of beers you might expect from your average micro, they did have a maibock that was pretty good. Their food selection sounds pretty good on the menu, I ordered a peppercorn ribeye which was not as good as I had hoped, their deserts looked phenomenal but I was too full to try any. I can't comment on the value since I didn't pay for any of it, but it definitely seemed a little on the higher side but not outlandishly so. I would definitely make a point to stop again, even if it was on my own tab next time!
965 characters
4.38
/5
rDev
+11.7%
vibe: 4.5 | quality: 4.5 | service: 4.5 | selection: 4 | food: 4.5
Business had me in central Nebraska (an AT&T wasteland) going to Norfolk to Grand Island with a stop in Columbus for lunch at Gottberg.
For sake of comparison, I've been to hundreds of brewpubs/breweries and this review is in comparison to what one would find in a rural community in a state like....Nebraska.
GPS set me up in the parking lot adjacent to Gottberg. It's a large, historic building that used to create aftermarket parts for (old) Ford cars.
I entered through the restaurant and the brewpub is a bar within the facility which has an entrance from the restaurant and from outside.
The dining area of the restaurant is classic/formal with an open kitchen. The brewpub is circular and fashioned out of grain silo metal with a number of fans run off of a the Ford radiator behind the bar.
My visit was for lunch and the crowd was a cross between retirement home and local (agri) business types. I felt a bit out of place but no big deal. I sat at a bar high-top. I prefer a back rest but couldn't resist the saddle-style seats that can catch your crotch in a painful manner if you're not careful.
On to the beer. They had a light, Bombay Blast IPA, Amber, Pale Ale, English Brown, Hefe, Stout, and seasonal Weizenbock.
Finding a brewpub in a rural town like this is a bonus, so it's not offensive when I say the servers were what you might find working the lunch room at the local K12. What they lacked in beer knowledge, they made up in being friendly. I asked if they had samplers and when my server said yes, I began to rattle off the four beers I wanted (hopefully 4 oz samples) and she turned and walked away to get the first sample she heard me say. It comes in a 2 oz wide-mouth plastic cup. No hard feelings, it comes with the territory and she was a total sweetheart.
I had the amber, pale and Bombay IPA. Pints were $2.50 ($1.50 during happy hour) and I very much enjoyed the IPA. I had a greek lamb sandwhich which was very good.
The bar has a view of the fermentation tanks and my server told me if the brewer was there, he would have loved to talk brewing with me (they host the local homebrew club).
I really enjoyed my visit and if you happen to be in the area, it's well worth stopping in for the food, atmosphere, and the beer is very good for what you'll find in the area.
2,318 characters
3.75
/5
rDev
-4.3%
vibe: 3.5 | quality: 4 | service: 4 | selection: 3 | food: 4.5
I wander in with a co-worker and we sat in the Duster's part of the establishment. It was semi-upscale (for the area), but the prices were less than I an used to.
The drafts were only $2.50 a pint, regular price! I tried the Bugeater Brown Ale and a few Impromptu Pale Ales. I was pleasantly surprised at how well dome the Impromptu was presented. Hoppy, citrus notes, very complex and quite drinkable! I am usually a fan of the stouts and porters when the temperatures are negative, but no heavyweights were on display here. I was quite satisfied with the Impromptu though - cool name too!
I had the endless spaghetti for dinner. The homemade meat sauce is excellent. Two dishes and I was kicked. I dare you to go for a third serving!
Our server was very friendly, attentive and knowledgable about everything from the food to the beer.
We caught one last beer in the unique brewpub area. Did I just walk into a corn silo or something? Very well thought out and executed space.
If you are anywhere near here do yourself a favor and stop in for a good meal and a good beer.
1,080 characters

4.18
/5
rDev
+6.6%
vibe: 4.5 | quality: 4 | service: 4 | selection: 4.5 | food: 4
Updated Sept. '06.
Gottberg Brewpub is a smallish brewpub that is, in combination with Duster's restaurant, a unique dining/drinking experrience in the town of Columbus, NE. Duster's is more of an upscale fine dining establishment, with the Gottberg Brewpub handling more of the beer/burgers and sandwich crowd. Duster's and the Gottberg brewpub are housed within the same building, with direct access to the brewpub through a set of doors in the Northeast corner of the building.
The interior of the building is made to look like the interior of a grain bin, which for the most part it does. I especially like the belt driven ceiling fans. There is seating for only 40-50 people, which makes it seem nice and quaint, but has the feel of being just the right size. If you are out to have a few beers and catch some sports on TV, go somewhere else. This place had just one TV that I noticed, next to a window showing off some of there brewing equipment. This I really like. You can go anywhere to watch sports on TV, but here the focus is more on having some good beers and conversing with friends, rather than yelling over the din of some sports on TV or loud music.
UPDATE: I recently visited Gottberg's and was presently surprised by the beer selection. Now the taps housed 9 of the Gottberg beers and two sodas. Gone was the Bud Light tap (YES!). Amoug those on tap where the previously available Bugeater Brown, Improptu Pale Ale, Tin Lizzie Wheat, and All-American Lager which had been there previously, along with many limited and sesonal offerings such as the beer commemorating Columbus' 150 years of existence (I hope I spell this right) - Sesquicentennial Ale. I sampled a few, but will not review, and for the most part was happy with them (I don't review from sample sizes). I will have to try to return for full pints. Growlers are also available for take out. Revised by selection score to 4.5, because for a brewpub in this area this is great.
Be forewarned, the barstools are actually old metal tractor seats, and after a period of time become very uncomfortable. Quick side note, my dad was telling me that All American beer was the name of the beer that was brewed in Columbus at the brewery in town. This brewery still stands, occupying a block located near St. Anthony's Church between 5th & 6th streets (sorry, forget the avenues), although production ceased in the 50's or early 60's.
The food is a step above typical, especially for Columbus, and the prices somewhat are reflective of that. The beer is great, and inexpensive for what I would expect to pay for a brewpub. Service has always been good, from the bartenders to the wait staff. While I grew up in Columbus and go back often to visit friends and family, I unfortunately do not make enough trips here. Recently, I have only had the lager and wheat (and the Root Beer, which is worth a try). While I have not had a bad beer, I don't think I have had enough to fully judge the quality and consistency.
Overall, the Gottbeg bewpub is a true gem of a place, in an area where better beer is hard to find. I highly recommend it if you are in the area. Just a short drive from the major metropolitan cities in NE (read Lincoln, Omaha, Grand Island) this is a nice day trip.
3,270 characters

4.4
/5
rDev
+12.2%
vibe: 4.5 | quality: 4.5 | service: 4 | selection: 5 | food: 3.5
I just got back from a trip to Columbus, NE where I was working, ironically, in a corn processing plant; and a coworker asked around and found out about a local brewpub. I was initially surprised just at the sound of such an oasis in a sea of the bland Midwest, but not as surprised as I was when I walked into this place that, as others have mentioned, looks like the inside of a grain bin and saw a selection of not 4 or 5 different beers, but 10! And every single beer that I had (I tried 6 in 2 days) was exceptionally good.
Here is a list of all the beers I tried:
Tin Lizzie Hefeweizen -- a decent Hefeweizen -- 3.5
Charles Bremer's Sesquicentennial -- their description of this beer was, "A beer like your great-grandfather might have enjoyed 150 years ago." I thought it was pretty good... an amber lager I'd say -- 3.5
Abskelder Tripel -- a really good Belgian Tripel. This beer claims 8.4%, and I could feel it but not taste it.-- 4.0
Wilsteraner Alt Bier -- "A brown, well hopped German ale." -- also a very good altbier. -- 4.0
Uncle Ivan's Dunkelweizen -- one of my favorites -- 4.5
Moll Dubh Irish Ale -- "A medium-bodied, malty,red ale." -- again, a very good Irish Red -- 4.0
I did not try the All-American Lager, the Bugeater Brown Ale, the Impromptu Pale Ale, or the 1916 Irish Stout, but I'm sure they're all as good as the rest.
As for the food, it was pretty good, especially considering where I was; but I'm from New Orleans, and I'm spoiled as hell when it comes to good food, so I had to give it a 3.5. Try the Flat Iron Steak...best thing I had.
If you're ever 50 miles or less away from this place, look it up and find it. It's that good.
1,694 characters

4.08
/5
rDev
+4.1%
vibe: 4.5 | quality: 4.5 | service: 4 | selection: 3.5 | food: 4
Columbus, NE is only 30 minutes from my hometown of St. Edward, and although I've been to Columbus more times than I can count, I had never been to Gottberg/Dusters until today. Shame on me for waiting this long to visit.
Gottberg (the brewpub)/Dusters (the restaurant) is very tastefully and elegantly designed; it's probably the best-designed restaurant I've been to in Nebraska outside of Lincoln and Omaha. The brewpub section uses curved, pressed steel and a mesh/copper ceiling to give the impression of sitting inside a grain bin. There's a couple of murals, and the place is very clean. Food prices are on the high side for outstate Nebraska, but in line with what one would expect in Lincoln or Omaha.
The beers at Gottberg are brewed by Thunderhead's brewer (he splits time between Columbus and Kearney); about half the beers available at Gottberg are Thunderhead beers (amber ale, espresso stout, honey wheat, and IPA), and he also brews seasonal beers in Columbus that are not available in Kearney. There are 10 beers, a root beer, and a cream soda on tap.
Gottberg is one of Nebraska's classiest brewpubs, and with Trevor working his magic here, the quality of the beer matches their setting. Highly recommended.
--
August 2005 Update: Tap lineup has changed significantly since my February visit. No beers from Thunderhead; only 4 Gottberg beers (All-American, Tin Lizzie, Impromptu Pale Ale, and Bugeater Brown Ale), along with the root beer, cream soda, and Bud Light(!). It's unfortunate, but sometimes you simple do what ya gotta do to pay the bills...
1,585 characters

3.75
/5
rDev
-4.3%
vibe: 4 | quality: 4 | service: 3.5 | selection: 3.5 | food: 4
An island in the sea of bad beer, the Gottberg brewpub is in Columbus, not Gottberg, as you woud expect. That aside, this is quite a nice little place. The beer is good, people are pretty friendly and the food is pub-perfect. As an added bonus, the brewpub is connected to a fancier, upscale resturaunt, called Dusters. So depending on your mood, or means, you can dine it up or down and still enjoy craft brewery beer.
I believe that the pintes are alwasy 2 bucks and on wednsdays they are a doller from 4 to six.
You can get a good look at the brewery through a few windows. the bathrooms are large and clean.
If you are in the area, this is the place to go...the only place to go.
692 characters
Dusters Restaurant and The Gottberg Brew Pub in Columbus, NE
3.33
out of
5
based on
11
ratings.