Biere De Garde

Oast House Brewers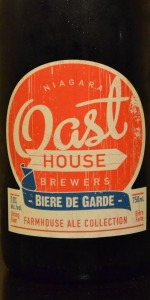 Write a Review
Beer Geek Stats:
| Print Shelf Talker
Style:

ABV:

7%

Score:

Avg:

3.82

| pDev:

12.3%

Reviews:

11

Ratings:

From:

Avail:

Year-round

Wants

Gots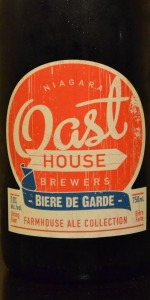 Notes:
Cramshawbar from Canada (ON)
3.12
/5
rDev
-18.3%
look: 4 | smell: 2 | taste: 3.5 | feel: 3 | overall: 3.5
I don't really know what to think of this beer. It's okay but only okay. Way too sweet and boozy tasting with a downright stinky nose, it is redeemed somewhat by the malt and Belgian yeast, with additional sour notes.
I really would not recommend it, when you have so many others to choose from this or any other style. Drink it if you must and move on.
Jul 16, 2017
biboergosum from Canada (AB)
3.78
/5
rDev
-1%
look: 3.75 | smell: 3.75 | taste: 3.75 | feel: 3.5 | overall: 4
750ml, caged and corked bottle (which 'began aging on March 11, 2015'), a nice introduction, and some new collegial competition around here for Alberta's own Old's College brewing program, eh?
This beer pours a clear, rather dark red-brick amber colour, with a rising tower of puffy, aggressively foamy, and fizzy tan head, which leaves some thick promontory lace around the glass as it quickly and evenly subsides.
It smells of gritty, yet indistinct red wine must, grainy pale malt, a further dark Mediterranean fruitiness, old-school Euro-yeast, muddled earthy spice, some ethereal earthy funk, and wan leafy, weedy, and musty hop bitters. The taste is semi-sweet, weirdly fruity (like in a Christmas cake sense) caramel malt, middling Belgian yeast, thin black licorice notes, a still hard to pin down red vinous character, and more unheralded leafy, earthy, and grassy hoppiness.
The bubbles are quite active in their swirling and prickly frothiness, the body a generic medium weight, and not particularly smooth, but not otherwise, y'know? It finishes trending sweet, but with an adequate bittering offset, from yeast, hop, and fruit alike.
Well, I'm not all that adept at analyzing this exact style, but I can call a spade a spade when I see 'em, and ladies and germs, I see one right freakin' now. Maybe a bit hard to chew on, what with that challenging mouthfeel, but otherwise this seems to be the real deal - if a year and minor change of aging is enough to validate it as such.
Mar 26, 2016
sherillc from Canada (ON)
3.39
/5
rDev
-11.3%
look: 3.5 | smell: 3.75 | taste: 3.25 | feel: 3.25 | overall: 3.25
Tried this beer and some others at Oast House's tasting room recently and loved it there. Less impressed when we got it home. Aroma is the highlight - like christmas cake and chocolate. Flavour is reflective of the aroma but a bit on the sour side and I felt there was just too much carbonation. Didn't notice that in the tasting room, so maybe they over-carbonate for bottling. A decent beer but they have others that are better. We will definitely visit again when we're back in Niagara and I'll bring something else home next time.
Jan 31, 2016
kevinlater from Canada (ON)
4.1
/5
rDev
+7.3%
look: 4.5 | smell: 4.5 | taste: 4 | feel: 3.5 | overall: 4
750ml corked & caged bottle into snifter. began aging on nov 26 2014, consumed nov 10 2015
a: somewhat opaque brownish ruby topped with brown head
s: vinous grapes, cherry, prune, burnt brown sugar, toasted malt, plum, fig. a little bit vinous. really fruity and malty!
t: very sweet. toasted bread, toffee, brown sugar, chocolate, and caramel flavours woven in and out of the fruity characteristics from the nose
m: medium-minus feel with prickly, distracting carbonation. low drying feeling at the end
o: an interesting beer, my first of the style. i really like the toasty malt profile. however, it's really sweet so i can understand why some people may not like it
Nov 10, 2015

neenerzig from Ohio
4.33
/5
rDev
+13.4%
look: 4 | smell: 4 | taste: 4.5 | feel: 4.25 | overall: 4.5
I've had a 750 ml bottle of this sitting in my cellar for awhile ever since my wife and I visited the brewery when we went to Niagra On The Lake, Ontario about 10 1/2 months ago now. I wanted to crack it open finally. Poured into one of my tulip glasses, this beer pours a clear, dark amber color with lots of little streams of bubbles rising to the top of the glass and an off-white head that is about 1/2 to 2/3 of an inch or so thick when first poured. Good head retention and good lacing too. Aromas of biscuity, caramel malt along with some yeasty esters of clove, a hint of peppercorn, followed by figs and plums. Starts out with a sweet, caramel and molasses malt flavor upfront that gives way to some clove and a hint of peppercorn that is followed by the fruity esters of figs and plum. Perhaps a big of grapes as well. Not really any discernible hop presence here, but that is not really out of the ordinary for this style of beer I suppose. The flavors blend together so wonderfully here. It really is quite delicious! Has a nice crisp, smooth and frothy, somewhat prickly, mild to medium bodied mouthfeel with moderate to heavy carbonation. Has a dry finish in its aftertaste. This really is one beer that you just want to keep drinking the hell out of and you find yourself wishing your bottle and glass were never ending. If you are ever in that area of Canada a stop at this brewery is well worth your time, as you can try the 6 or 8 or so beers they have on-tap at their tasting room and take a bottle or two of this beer, or of their saison, home with you.
Eric
Mar 07, 2015

TheHammer from Canada (ON)
3.8
/5
rDev
-0.5%
look: 4 | smell: 4 | taste: 3.75 | feel: 4 | overall: 3.5
Appearance: Poured with a massive three fingers of head into my Duvel tulip with carbonation that simply would not quit, with average lacing. The body is a dark near opaque brown with red highlights that has a very high carbonation.
Smell: Fruity yeast with notes of berries, figs and raisins lightly veiled behind with a heavy molasses and caramel malt presence. Warming doesn't seem to really help it either way.
Taste: Plenty of molasses and caramel malt throughout the entire beer that holds dominance through the entire experience. Starts with the Fig and raisin notes, with dark cherries and currants and ending with cloves and touches of grassy hops.
Mouthfeel: Carbonation helps out the entire beer, but it's really aggressive. The light malt makes for a nice aftertaste. The transistioning is a little rough which is odd because of the consistent malt taste.
Drinkability: Really high carbonation which doesn't quit, even when it's in your stomach, so it's gassy. Heavier end of medium body which isn't quite what I expected. It has a slight dryness but it's not overwhelming.
Final Thoughts: There's so much malt and carbonation, that it actually starts to hurt the beer. It's a great beer, but it's really rich. This drinks more like a quad. If you love malt, this is up your alley. Give it a shot.
Dec 12, 2014
Phyl21ca from Canada (QC)
2
/5
rDev
-47.6%
Bottle: Poured a clear brown color ale with a medium size off-white foamy head with medium retention. Aroma of caramel malt is dominating which is not what I was expecting considering the style. Taste is dominated by loads of caramel malt with some light grainy notes and a dry finish. Body is light with good carbonation. Big time disappointment as this is not close to the style guideline which I would have expected considering the labels plus I really don't care to drink this much caramel malt.
Sep 15, 2014
leaddog from Canada (AB)
4.25
/5
rDev
+11.3%
600th review!
Appearance - Pours a deep copper brown with two fingers of cream coloured head.
Smell - belgian yeast, clove, peppery spicy hops, bready caramalts, touch of fruity esters
Taste - Starts off with the belgian yeast, clove, and goes into the spicy hops, bready caramalts, and touch of fruity esters.
Mouthfeel - Medium bodied with moderate carbonation. Finishes clean with a light spiciness as it warms.
Overall - Oast House delivers an excellent representation of the Bière de Garde style. This is by far the best example of the style I have had to date. A must try if you are down in the Niagara area or to take a bottle or two with you back home.
Aug 23, 2014

Cylinsier from Pennsylvania
4.24
/5
rDev
+11%
look: 4 | smell: 4.25 | taste: 4.25 | feel: 4.25 | overall: 4.25
75 cl pour
Pours a slightly hazy brown, red tint, with a fine off-white head that retains well.
Smells of biscuit malt with a bretty tartness and some grape sweetness.
Flavor is of molasses, fig, wine grapes, esters, and grassy malts.
Full body with a stinging carbonation on the tongue.
A very good Belgian style ale with a lot of complex flavor and a great aroma. Probably the best of my samples at Oast and worth seeking out for my money.
Feb 07, 2014
Sammy from Canada (ON)
3.8
/5
rDev
-0.5%
look: 3.75 | smell: 3.75 | taste: 3.75 | feel: 3.75 | overall: 4
Bottle at Tequilla Bookworm. Cherry brown coloured body with lace and some head. Above average carbonation. Aroma of malts and mild spice. Belgian yeast, coriander,licorice, chocolate. Only a hint of hops, which is why it was true to style from the sample I have had from the style.
Jun 09, 2013

ecoastman from Canada (ON)
4.43
/5
rDev
+16%
look: 4.25 | smell: 4.25 | taste: 4.5 | feel: 4.5 | overall: 4.5
Well done Oast... well done. I've been waiting for a local Ontario brewery to give a Belgian style beer a try and you've done us proud.
Pours a dark chestnut brown with a decent head and some lacing as the beer goes down.
Aroma is sweet and malty with banana bread and cherries. Tastes of sweet Belgian candy malts, cherry, light rum soaked fruits... great stuff. Easily competes with some of my other favourite Unibroue and Belgian-style beers.
Refreshing considering the 9% abv. Mouthfeel is smooth...Some light bitterness in the dry-like aftertaste.
An excellent beer... I just wish the price also competed with some of my other favourite beers... at $11 for a 750mL bottle, I won't make this my go-to beer, but I'll keep a couple of bottles for special occasions.
Jun 02, 2013
Biere De Garde from Oast House Brewers
Beer rating:
86
out of
100
with
43
ratings