Scarlet Fever
| The Wild Beer Co.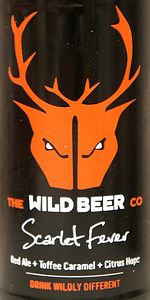 BEER INFO
Brewed by:
The Wild Beer Co.
England
,
United Kingdom
wildbeerco.com
Style:
American Amber / Red Ale
Alcohol by volume (ABV):
4.80%
Availability:
Rotating
Notes / Commercial Description:
No notes at this time.
Added by CwrwAmByth on 02-15-2013
Ratings: 10 | Reviews: 5
Reviews by jazzyjeff13:

3.28
/5
rDev
-6%
look: 3.75 | smell: 3.25 | taste: 3.25 | feel: 3.25 | overall: 3.25
A 330ml bottle with a BB of May 2014. Picked up a while back from Trembling Madness in York. Described on the label as a red ale combining New World hops with classic English malts.
Poured into a Duvel tulip. Bottle conditioned. A dark reddish-brown hue with considerable fine sediment and plentiful carbonation. Lively - produces a vast head of creamy off-white foam that lasts for a while before reducing to a persistent surface layer. Nice lacing. Aroma of caramel malt with hints of toasted grain, subtle ginger, grass/hay, earthy yeast and stewed leaves. A touch of harsh cardboard in the background. Faintly sweet, but little in the way of hop character.
Tastes of mild roasted malt and earthy yeast, with a bitter finish. Notes of caramel, roasted grain, earthy yeast, faint molasses, grass/hay, stewed leaves and cardboard. A twinge of sweetnees, but nonetheless very dry. A leafy bitterness upon swallowing. Mouthfeel is smooth, tingly and dry, with prickly carbonation and a rather insubstantial body. Pretty astringent, followed by an aftertaste of harsh stewed leaves, earthy yeast and caramel malt.
Meh - not particularly impressive. A pity, as I've enjoyed most of this brewery's output so far. Looks OK, with a nice big head, but the aroma and flavour are heavily slanted toward malt and dry yeast. The aromatic hops mentioned on the label seem to have gone AWOL. So-so body - overcarbonated. Doesn't live up to it's promises. Perhaps this was just a bad batch, but I'd hesitate before grabbing another in the future.
1,535 characters
More User Reviews:



3.71
/5
rDev
+6.3%
look: 3.25 | smell: 3.5 | taste: 3.75 | feel: 4.75 | overall: 3.5
Pours a vibrant red colour, slight dull brown tinge. Head is stupid, fills most of the glass. Nice tightly packed beige foam at the top and lacing is sticky. Would look amazing if there were more beer and less foam.
Smells somewhat chocolatey, with some mild radical hop notes giving pungent spice from the refuge of the head. Bit heavy, but decent blend for a nice aroma.
Taste is sweeter, really quite pleasant. Caramel malt notes with rye giving some sweet spice with a touch of dryness. Slight fruit notes on the back, touch of peppery spice and resin as well. Quite a nice sweet darkish drop, well-mingled with some light piquant spice.
Smooth desserty feel, creamy and delicious.
Yeah, nice. Maybe a little heavy, could use something more to cut through.
764 characters
3.78
/5
rDev
+8.3%
look: 4.25 | smell: 3.75 | taste: 3.75 | feel: 3.75 | overall: 3.75
Poured from a 330ml bottle into a Fullers snifter glass.
Pours a very dark red colour with an off-white head.
Smells very sweet, burnt sugar and malts.
Taste reflects the smell but with more spices, and a yeasty tang.
Overall quite a nice beer, not great and with a bit too much spice.
300 characters

2.45
/5
rDev
-29.8%
look: 2 | smell: 2 | taste: 2.75 | feel: 2.5 | overall: 2.5
From Leura Cellars. No BB.
A - massive sudsy three finger head over deep red body. Colour good, bathtub look bad.
S - ok, it's not often I smell nothing in a beer. Vague malts, vague hops, but dear dear. Vanilla though after it warms a lot....
T - earthy hops, moderate malts. Hint of caramel/toffee, and vanilla at the end but that's it. Bland taste with an astringent aftertaste to make things less appealing.
M - overcarbonated really for style, but you could tell that by looking.
O - good to get a variety of beers on these shores, but this has to be one of the blandest beers I have drunk in along while. Importers please think... Or re- think....
658 characters

4
/5
rDev
+14.6%
look: 4 | smell: 4 | taste: 4 | feel: 4 | overall: 4
Bottle-conditioned in a 330ml slim brown bottle, no BB date is printed on the bottle; served mildly chilled in a straight pint glass.
A: pours a dark reddish russet brown colour coming with light haze and abundant carbonation, in support of a thick, reddish beige frothy head that lasts only too well.
S: through the thick froth, the aroma detected is a rich mixture of toffee-ish malts, nuts and perfumy citric hops, while zingy and white grape-ish aroma also stays in the background. All in all, wonderfully balanced and fairly rich but not heavy on the malt bill.
T: a juicy, medium-bodied malty foretaste suggesting dark fruits, dried berries (even raisins), bitter roast malts and burned nuts along with faint toffee-ish aroma is balanced by earthy bitterness, a touch of bitter roasted teas or herbs, and a rather mildly aromatic citric hoppiness to linger in the long, dry-ish roasted-nutty and well-attenuated finish. Citric hops make themselves felt as a supplementary layer to the malt bill, just like what the back label describes, making this beer staunchly in the tradition of a rich dark malty bitter with a New World zingy citric twist.
M&O: creamy on the palate due to a very soft but abundant input of carbonation, medium-bodied, balanced and all in all a superbly drinkable hoppy Best Bitter that Wild Beer has proudly created.
1,346 characters
Scarlet Fever from The Wild Beer Co.
3.49
out of
5
based on
10
ratings.