Put It In Your Pipe
| The Wild Beer Co.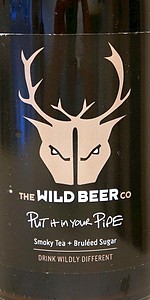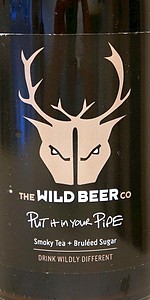 BEER INFO
Brewed by:
The Wild Beer Co.
England
,
United Kingdom
wildbeerco.com
Style:
Smoked Beer
Alcohol by volume (ABV):
5.10%
Availability:
Rotating
Notes / Commercial Description:
No notes at this time.
Added by wl0307 on 09-07-2013
HISTOGRAM
Ratings: 6 | Reviews: 4
Reviews by mdagnew:
More User Reviews:

3.76
/5
rDev
-2.8%
look: 4.25 | smell: 3.75 | taste: 3.75 | feel: 3.5 | overall: 3.75
A 750ml bottle with a BB of Feb 2014, so it's a little out of date. Picked up a while back from Trembling Madness in York. The label describes it as stout brewed with vast amounts of smoked malt.
Poured into a Duvel tulip. Bottle conditioned. A very dark brown that appears pitch black in the glass. Yields an enormous head of creamy light-brown foam with good retention; this slowly reduces to a thick surface layer. Nice lacing. Aroma of smoky roasted malt with hints of dark malt, woodsmoke, faint burnt notes, subtle molasses, earthy yeast, a twinge of black tea and stewed leaves. No sweetness to round it out, but pretty good.
Tastes of rich smoked malt with a dry, bitter finish. Notes of roasted malt, burnt notes, woodsmoke, coffee grounds, earthy yeast, subtle molasses, a twinge of cocoa and stewed leaves. Faintly ashy with just a whisper of sourness. Highly attenuated, followed by a dry, malt-driven bitterness upon swallowing. Mouthfeel is smooth, tingly and dry, with effervescent carbonation and a slightly insubstantial body for the style. Quite astringent, accompanied by an aftertaste of smoky roasted malt, burnt grain, earthy yeast and stewed leaves.
A decent smoked stout, though very dry. Looks great, with a vast foamy head that sticks around. The aroma and flavour are intensely smoky and roasty, with plenty of dry yeast and mild stewed leaves. I can't help feeling that a slight caramel sweetness would have smoothed off the edges a little. Body is alright but could be a tad thicker. A powerful but tasty brew - perfect for those who like their smoke in liquid form. Worth sampling if you have the chance.
1,637 characters
3.68
/5
rDev
-4.9%
look: 3.5 | smell: 3.5 | taste: 3.75 | feel: 3.75 | overall: 3.75
750ml brown bottle purchased by my brother Sam from Slowbeer in Melbourne and gifted to me for Christmas.
Pours a very pleasant deep brown colour, solidly hazed and opaque, but with fluidity to it. Head forms a huge, chunky crest of beige to begin with, but settles out to a faint film pretty quickly as the carbonation crackles it out to nothingness. Body is pretty light. Looks okay.
Nose is pleasant enough, moderate smoke characters giving a strange lilt to the predominantly dark, malty body. Slight green vegetative or herbal notes are alive underneath this, and everything is laced with a rather potent overcarbonation. Some sweetness comes through as well, but a generic malt character more than the "brûléed sugar" mentioned on the label. Not bad.
Taste is pleasant, because it's a little bit lighter: clean entry lets the smoke and dark malt wrap around each other to provide a dry basis that does indeed remind me a little of Lapsang Souchong. Husky finish has a vague touch of nuttiness, but stays mostly dry and crisp—I like that dryness in a stout in any case, but with the smoke it works particularly well.
Feel is light and dry for the most part. It works well with the flavours on the body.
Overall, I'm pretty happy with this for a 5.1% ABV beer. Its smoke character is pretty well integrated, and it has some nice flavours overall. It's not as complex as it might have been, but it's well-crafted. I'm perfectly happy with it.
1,454 characters
3.75
/5
rDev
-3.1%
look: 3.5 | smell: 4 | taste: 3.75 | feel: 3.25 | overall: 3.75
Another unique drop from these guys and it pours a dark kola hue with a tanned two finger head that doesn't hang around the longest but the lacing is tight and clingy just like an insecure girlfriend,the smell just like these guys is different good different just imagine creme brûlée mixed with bacon,smoke and dark malts,the mouthfeel is light bodied and a touch overcarbonated but the tastes don't let down which starts off with dark chocolate,creme brûlée,smokey tea and I mean smokey,the mid end palette feels just like I'm drinking a nice black coffee but finished with a smokey heat and overall it's definitely different,unique and totally drinkable just wish had a thicker feel cheers.
697 characters
4.03
/5
rDev
+4.1%
look: 4 | smell: 4 | taste: 4 | feel: 4.25 | overall: 4
Bottle-conditioned in a 750ml brown bottle, no BB information found on the bottle/label, served mildly chilled in Hapkin's short-stemmed tulip-shaped sniffer. Notes: the back label has the full description of the concept of this brew – "A beautiful black stout with an enormous amount of smoked malt to produce a delicious flavour reminiscent of Lapsang Souchong tea. A staggeringly smooth and smokey sweetness radiates through the beer, evocative of being warmed around the campfire on an autumnal evening. The malt is smoked over open beech log fires giving a distinctive yet mellow smokey character. We love to drink this beer whilst eating slow-cooked pork or barbecue dishes, where the smokey flavours play alongside each other and the body of the beer matches nicely to the rich meat. Or, for something more unusual, try it alongside a creme brulee where it will be a winning partner to the burnt sugar."
A: pours a near-black colour with a well-lasting creamy dark khaki head, coming with fine carbonation.
S: harmoniously smoky, roasty, chocolaty and peary-plummy estery at the same time, where the chocolaty sweetness is balanced with the moderately smoked malt's savoury-sweetness and more deeper notes of roast malts; given a good swirl, a mild dried dark fruitiness comes to the fore, with a hint of musky grapes even. All in all, the aroma is fulsome, rounded, but not too thick or overwhelming.
T: the foretaste is wonderfully dry-ish roasty, and medium- to full-bodied bitter chocolaty, underlined by a savoury-sweet edge of smoked malts, Chinese smoked prunes, and slightly smoked tea (yes, a bit like Lapsang Souchong actually!) going hand in hand with Chinese herbal and roasty bitterness from both roast malts and hops; the aftertaste delivers more smoky aroma and texture on top of deep undertones of plummy esters, subtly spicy hops, and a suitable dose of lingering acidity.
M&O: the mouthfeel remains smooth and softly-refreshing, the body remains medium-plus, and the flavour profile is generally fairly balanced, where the smokiness from the malts adds to the nice composition b/w sweetness and acidity typical to a good quality stout. Highly drinkable and well-crafted in my opinion.
2,225 characters
Put It In Your Pipe from The Wild Beer Co.
Beer rating:
3.87
out of
5
with
6
ratings