Shnoodlepip
| The Wild Beer Co.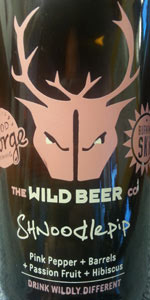 BEER INFO
Brewed by:
The Wild Beer Co.
England
,
United Kingdom
wildbeerco.com
Style:
American Wild Ale
Alcohol by volume (ABV):
6.50%
Availability:
Rotating
Notes / Commercial Description:
A collaboration of three brewers, three nationalities and six ideas brought together to learn, experiment and enjoy. Made by Kelly Ryan from Good George Beer in NZ, Brett Ellis (originally from the US) from the Wild Beer Co, and Mark Tranter from Burning Sky Brewery. This beer explores new ideas, techniques, ingredients, combinations and processes.
Using all three brewers combined knowledge and experiences to create an incredibly unusual and complex beer, this utilises every opportunity to take advantage of amazing ingredients and try alternative techniques.
Full body, gentle-sweet spiciness, a dry depth with oak undertones, and tropical fruit character, all finished off with tangy Hibiscus flowers – this is one shnoodlepippin beer!
Added by soulgrowl on 09-10-2013
Reviews: 14 | Ratings: 48

3.65
/5
rDev
-11%
look: 3.5 | smell: 3.5 | taste: 3.75 | feel: 4 | overall: 3.5
On tap at Brasserie V in Madison, Wisconsin.
Pours a dark reddish-brown body, one finger white head, short retention, not much lacing. Smells like a gose would, floral notes, tart passion fruit, lactic acid, a bit of sulfur and leather. It's weird, I like it, but it's quite weird. I'm not sure what the pink pepper is contributing, it is a bit spicy but nothing like black pepper shows up. Flavour works better with these adjuncts; a bit of wheaty, mild rubberiness, spices, passion fruit, floral notes, leather, touch of salt. Mouthfeel is medium bodied, creamy with good carbonation, very drinkable. All that aside, this just tasted strange and didn't come together as I was hoping for, but it's certainly an unique beer.
725 characters
3.9
/5
rDev
-4.9%
look: 4 | smell: 4 | taste: 4 | feel: 4 | overall: 3.5
330 ml bottle into tulip glass, no bottle dating. Pours lightly hazy deep orange/amber color with a 1 finger fairly dense white head with good retention, that reduces to a spotty lace cap that lingers. Light spotty lacing clings on the glass. The pour looked a bit syrupy, oddly. Aromas of lightly tart lemon, pineapple, passion fruit, berry, pear, red wine, peppercorn, wheat, cracker, hay, straw, floral, oak, light funk, and herbal/yeast earthiness. Very nice aromas with good balance and complexity of fruity/earthy yeast, spice/fruit, wine barrel, and moderate bready malt notes; with good strength. Taste of lightly tart lemon, pineapple, passion fruit, berry, pear, red wine, peppercorn, wheat, cracker, hay, straw, floral, oak, light funk, and herbal/yeast earthiness. Light-moderate herbal/yeast spiciness and light fruity/acidic tartness on the finish; with lingering notes of lemon, pineapple, passion fruit, berry, pear, red wine, peppercorn, wheat, cracker, hay, straw, floral, oak, and herbal/yeast earthiness on the finish for a while. Very nice complexity, robustness, and balance of fruity/earthy yeast, spice/fruit, wine barrel, and moderate bready malt flavors; with a great malt/yeast/spiciness balance and zero cloying flavors after the finish. Medium carbonation and body; with a very smooth, moderately creamy/bready, and lightly sticky/acidic balanced mouthfeel that is nice. Alcohol is very well hidden with minimal warming present after the finish. Overall this is a very nice fruit/spiced wild ale style. All around good complexity, robustness, and balance of fruity/earthy yeast, spice/fruit, wine barrel, and moderate bready malt flavors; and very smooth and easy to drink. A very enjoyable offering.
1,729 characters

3.9
/5
rDev
-4.9%
look: 4.25 | smell: 3.5 | taste: 4 | feel: 4 | overall: 4
On tap.servedin a Small brandy snifter. Almost No carbonation very orange color looks murky mild on the sour taste with a good body. Oaky finish. Unique taste that's worth a try if you see it. I will be looking or a few bottles
228 characters
3.96
/5
rDev
-3.4%
look: 3.75 | smell: 4 | taste: 4 | feel: 3.75 | overall: 4
On-tap at Mugs Alehouse, Brooklyn, NY
A: The beer is very hazy pale ruby red in color. it poured with a short white head that died down, leaving a collar around the edge of the glass and a small patch of bubbles on the surface.
S: Moderate aromas of hibiscus and passionfruit are present in the nose.
T: The taste follows the smell, having flavors of passionfruit and hibiscus along with notes of red wine from the barrel aging.
M: It feels light- to medium-bodied on the palate and has a moderate amount of carbonation.
O: This beer ash an interesting mix of fruit and wine flavors, although I didn't get any of the Brett or peppercorns in the taste.
Serving type: on-tap
675 characters

4.02
/5
rDev
-2%
look: 3.75 | smell: 4.25 | taste: 4 | feel: 3.75 | overall: 4
A 330ml bottle with a BB of July 2015. Acquired a little while back from Trembling Madness in York. A collaboration between three brewers - this crazy brew contains pink peppercorns and passion fruit with saison yeast and Brett to ferment. This is followed by aging in French red wine barrels and a final addition of hibiscus flowers. Outlandish but potentially amazing.
Poured into a Duvel tulip. Bottle conditioned. A rich, hazy pinkish-orange hue with fine sediment and light carbonation. Yields a small head of frothy white foam that lasts for a few minutes before reducing to a patchy surface layer. Slight lacing. Aroma of intense, fruity sourness with hints of red fruits, subtle passionfruit, light funk, earthy yeast and faint lactic acid. Dry, vinous and juicy - reminds me of a fruit lambic.
Tastes of tart fruit and mild funk, with a dry, lingering finish. Notes of red fruit, mild passionfruit, putative hibiscus, light barnyard funk, earthy yeast, sourness, subtle grass/hay and a faint wine-like hint. Highly attenuated and dry, though the fruit notes lend a degree of balancing sweetness. A prolongued, yeasty acidity upon swallowing. Mouthfeel is smooth, dry and lightly tingly, with soft carbonation and good body. The sourness abrades and cleanses the palate. Pretty astringent, followed by an aftertaste of acidity, earthy yeast and a vague fruitiness.
Intriguing and well-crafted, though challenging. Looks alright - pity the head doesn't stick around. The aroma and flavour are decidedly sour and fruity, with an indistinct character that I suppose to be the hibiscus. Subtle funk lurks in the background. Good body; very dry. The overall impression is similar to a lambic in fruitiness and acidity - who knows what microorganisms may have been contributed by the barrel-aging. Possesses a balanced complexity and a sourness that is significant but not overbearing. Excellent, though I wouldn't want to drink it every day. One for sour lovers - don't pass it up if you come across it.
2,009 characters

4.03
/5
rDev
-1.7%
look: 3.75 | smell: 4.5 | taste: 4 | feel: 3.25 | overall: 4
When you pour this beer, it's a very colourful Orange with a medium head which dissipates very quickly. I'd also say it's as fizzy as Champagne. On the nose there's lots of Brett Yeast aromas, Spelt which is similar to Wheat in the aroma, Passion fruit and some peppery notes with hints of Honey and Summer Berries. On the Palate it's a little less complicated, but still delicious with a lot of Sour Brett Notes with Passion Fruit and a light Peppery note in the background, malty sour mash flavours carry throughout. It's quite a thin feeling beer in the mouth but, as I said the beer is very fizzy and the bubbles more than make up for the body and bulk it up a little. I often find that Sours that have a little more bubbles always go down very well. It finishes dry.
771 characters
4.06
/5
rDev
-1%
look: 4 | smell: 4.25 | taste: 4 | feel: 4 | overall: 4
Bottle: Poured a cloudy peachy/pinkish color ale with a medium size foamy head with limited retention and not much lacing. Aroma of light passion fruit notes with hibiscus and oak is pretty unique and refreshing. Taste is a nice mix of passion fruit with light hibiscus and some oak with light funky barnyard notes. Body is full with limited filtration and some light carbonation. Nice refreshing drink with nice use of passion fruit with some good level of complexity.
469 characters

4.1
/5
rDev 0%
look: 4 | smell: 4 | taste: 4.25 | feel: 4 | overall: 4
33cl bottle. Pours a bright pinkish orange with a thin white head that disappears quite quickly. Smells of hibiscus, gooseberries, peppers, citrus. The taste is bitter and sour, with notes of pickles, dark fruit, wine, grapes, lemonade. Light bodied and refreshing.
265 characters
4.2
/5
rDev
+2.4%
look: 3.75 | smell: 4.25 | taste: 4.25 | feel: 4 | overall: 4.25
these guys are so hit or miss with me, but this is a hit for sure. pink peppercorns, hibiscus, and passion fruit are all very forward in this puckery wild ale. i think its aged in red wine barrels too, some kind of wine anyway, lots of oak and fruity tang too. pinky in color, the hibiscus has obviously done its thing here. the passion fruit is the most obvious in the nose though, that and the wild yeasts, which are as funky as they are sour in the aroma, but quite a bit more acidic than weird in the flavor, a little cleaner tasting than it smells. the pink peppercorn is floral like roses here, delicate but in balance with the others, tartness is aided by the passion fruit too. more body than anticipated, this is almost full and almost filling. a real mixed bag to say the least. as odd as all the constituent parts are though, the end result is surprisingly cohesive and clear cut, i like it a whole lot, and it really has no peers out there from a flavor standpoint. hard one to really nail down because its constantly in flux, each sip i notice new nuance, and then the glass is empty. one of the more intriguing beers from a brewery that already has my attention. well worth trying if you find it, something very distinct and original, although maybe not as refined as a more perfect version might be. i hope it keeps evolving...
1,342 characters

4.21
/5
rDev
+2.7%
look: 4 | smell: 4.25 | taste: 4.25 | feel: 4 | overall: 4.25
From 12/13/15 notes. 12 oz. pour on tap in a snifter at Mug's Alehouse in Brooklyn.
Pours a hazy reddish orange with a few off white bubbles and low carbonation evident. Tart fruits, citrus, vinegar, tropical notes, pineapple, oak, light tannic notes, and sour red wine.. Medium body and moderate carbonation.
Overall very sour but good; if you like fruity vinegar sours definitely check this one out. Didn't get a lot of brett but maybe the citrus was it...the vinegar and sourness dominated here.
500 characters
4.25
/5
rDev
+3.7%
330ml bottle bought from Lighthouse Wines, Jordanstown
Poured a hazy light coppery pink... off white head with a hint of pink poured quite foamy and disappeared slowly to thin coating... fair amount of carbonation bubbles to the surface... no real lacing at all..
Aroma - Tart fruits (light sour apples and pears, cherries, lemons), champagne notes, some light almond hints, light mustiness, some wet hay notes, light red wine hints, hint of pepper, grassy, faint candy sugar, light oak
Taste - Again tart fruits (strong lemon notes, light cherries, grapefruits, passionfruit), some vinegary notes, earthy yeast, brett notes, faint red wine, light nutty hints, farmhouse cider traces, floral.... the faintest sweetness emerges after a few sips...
Feel - Quite sharp and dry... light bodied... suprisingly drinkable and refreshing though..
Overall - An excellent Wild Ale and as good as some of the Belgians i've had... probably not for everyone but definitely recommended...
980 characters
4.36
/5
rDev
+6.3%
look: 3.75 | smell: 4.5 | taste: 4.5 | feel: 4 | overall: 4.25
Tart, Tangy, Peppery, Oaky
Brewed with pink pepper, passion fruit and hibiscus, and dropped into barrels. Bottle was a major foamer, but no beer was wasted. A light honey color with pink hues and a thin bubbly lace sets the stage, opening with a strong nose of peppercorn, wine and wood. Puckering follows with layers of tart, vinous and a tangy hibiscus tea that's backed by oak notes. Light citrus and soft tropical fruit flavors provide balance with an interesting suggestion of young tomatoes. Pink peppercorns hang in the back, but come forward in the linger with a pleasant spiciness that ties everything together as the beer dries. Liquid awesomesauce here.
As reviewed in BeerAdvocate magazine #109 (February 2016).
725 characters
4.46
/5
rDev
+8.8%
look: 4.25 | smell: 4.5 | taste: 4.5 | feel: 4.25 | overall: 4.5
This is a brilliant sour ale. Rather than copy a gueuze, it is all over the place. Passion fruit, pink peppercorns, and hibiscus flowers ? Never thought it would be a good idea and yet it works. I thought it'd be sweet, but it's rather herbal, with a nice spicy kick, with a huge sour ale backbone, but not too sour. It's just like their own version of a kriek with weird stuff. Very exciting, reminding me of what Prairie does. Even the color is different with this nice orange/pink hue.
488 characters
4.91
/5
rDev
+19.8%
look: 4.5 | smell: 4.75 | taste: 5 | feel: 5 | overall: 5
This looks like a really good vintage sparkling rose, pinkish rouge with a barely pink (think white peach) head. The smell is extraordinarily vinous as well, but also very similar to a Flemish red. Oak and acidic funk are surprisingly forward, with passion fruit also articulated with great precision. Concord grapes, wisteria, and pink peppercorns appear as well. There's also a cranberry-citric note that reminds me of a well made cosmopolitan. Must be the hibiscus.
At the first sip, I can't help but utter 'wow.' Woody pink peppercorn, floral hibiscus, tart passion fruit, red wine – it does everything it says on the tin, and then some. It's perfectly balanced, tart and bubbly but not too sharp. The acidity is juicy and mouthwatering, drawing me back for more. The flavours have a smoothness and marriage to them that makes me surprised that this is only 4 months aged. The more I drink, the more nuances I discover - pink grapefruit, rose, medicinal phenols. This is incredible.
991 characters
Shnoodlepip from The Wild Beer Co.
4.1
out of
5
based on
48
ratings.