Humperdinks Texas LLC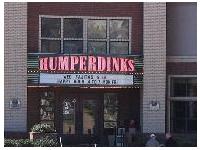 PLACE INFO
Type:
Brewery, Eatery
6050 Greenville Ave
Dallas
,
Texas
, 75206-1909
United States
(214) 368-1203 |
map
humperdinks.com
Notes:
No notes at this time.
Added by Morris729
Ratings: 10 | Reviews: 6
Reviews by DuqTroops:
3.78
/5
rDev
+1.6%
vibe: 3.5 | quality: 4 | service: 4 | selection: 3.5 | food: 3.5
I came here at the advice of some of the hotel patrons and to reading some of these notes. I was looking for a good beer after a long day of work in town, well, I found it.
There are a lot of tv's all around the area and you can watch any sport / game in close proximity to your table. I sat at the bar, enjoyed it a lot because you cannot smoke in Texas and there were no problems in tasting my beer and food.
The food was good, not great. I had a steak and shrimp meal as well as some chips and queso dip. The steak was ok and the shrimp was incredible - tiger prawns wrapped in bacon - can never do wrong with this choice.
The beer was decent, I had better, but it will work out. Their flagship beer is their Amber ale. Not great, but okay. I decided to have the IPA - very hoppy and had a great citrus smell to it. Definitely worth another drink.
I am planning on coming the next time I come to DFW.
916 characters
More User Reviews:
2.7
/5
rDev
-27.4%
vibe: 2 | quality: 2.5 | service: 4 | selection: 2 | food: 2.5
This place looks tired and worn out. Beer selection is poor and what you get is stale. Waitresses are nice but have seen better days.
133 characters


3.4
/5
rDev
-8.6%
vibe: 3.5 | quality: 3 | service: 3.5 | selection: 3.5 | food: 4
Decent brewpub that has a nice bottle list in addition to their own beers on tap. The food is nothing special, but is at least average and is standard restaurant fair: burgers, chicken fried steak, wings, etc... The beer ranges from not good at all to slightly above average and there are cheap growlers and samplers available. A nice place to watch a game or meet up with some friends. The waiters aren't real knowledgeable about beer, but they are usually relatively fast which is a plus. The bartenders usually know a little about each of their beers, but don't expect too much.
581 characters

3.68
/5
rDev
-1.1%
vibe: 4 | quality: 3.5 | service: 4 | selection: 3.5 | food: 3.5
I came here with 8 other co-workers... we were in Dallas, from CA, for business and i suggested this place since i figured they'd like it, and they did... (i'd already been to the G-man and Old Monk so had to hit another place before i went back home, heh heh)
You walk in to a well lit, festive, and rather warm sports bar. Dark wood, wooden tables, TV's, a pool table and bar towards he back. Mainly a college crowd and reminded of Chili's but with more of sporty/brewery feel to it. There was a nice hum in the atmosphere with music, laughter and sports in the background. Mainly college kids, but well mannered,... you could bring your family here.
There was about 6 or 7 brews on tap with the major styles represented ie 5 regular taps and a seasonal i think. (it wouldnt hurt to have a few more taps with maybe more brewers specials or some good craft guess beers). I had the porter and the IPA. Both were nice and drinkable. For dinner i had the jack daniels burger and it was quite juicey and full of flavor. I ate it all and wished i ate less so i could drink another beer. (oh and before i forget, had the hottest and cool ass waitress. Fun, flirty, dished it out, and a short ass skirt with killer legs... may not appeal to all but damn nice to look at )
Overall, this is a fun place with a good vibe, fun people and good food that you can wash down with a craft brew while you're watching some sports.
1,423 characters
3.95
/5
rDev
+6.2%
vibe: 4 | quality: 4 | service: 4 | selection: 4 | food: 3.5
Atmosphere is a cross between sports bar and a Chili's/Bennigan's/etc-type restaurant. That combination works well here and makes Humperdink's feel like a good location to watch sports, drink beer, and eat food. There are plenty of TVs around making it almost impossible for me to ignore World Cup Soccer and the Astros baseball game. Service was very good, our waitress was prompt and know more about the beer than the average brewpub server.
Selection of beers was very good, with 6 standards and two seasonals. Standards included a light lager, a blond ale, an IPA, an amber ale, a hefeweizen, and a porter. The seasonals during my visit were a dark wheat and a steam beer. I sampled five beers ranging from good to great in quality. The porter, IPA, and steam beer were highlights.
The menu consisted of burgers, sandwiches, steaks, and other standard entree choices. Overall, the amount of choices of food was fairly high, but nothing jumped out off the menu. The buffalo chicken sandwich I had was very good, not great, with a nice side of onion rings. The person I went with felt about the same about their sandwich.
Overall: I enjoyed my trip to Humperdink's and will definitely return next time I'm in Dallas. This was my best experience of the four brewpubs I sampled in the DFW area.
1,306 characters
3.93
/5
rDev
+5.6%
vibe: 4 | quality: 4 | service: 4 | selection: 3.5 | food: 4.5
Honestly, I wanted to like this place more than I did. Don't get me wrong, it's not *bad*, I just wouldn't list it as my hangout of choice. One thing I liked about it were the really good burgers (haven't tried anything else). The decor is nice-looking but somewhat "typical" - nothing special, basically. And of course, anywhere that brews their own beer is cool in my book. I liked the fact that they have a variety of styles to choose from (blonde, red, porter, amber, etc), but to be honest, there were no beers that really stood out as exceptional. Though, the first time we went there they had an IPA (which doesn't seem to be around now - maybe it's seasonal?), which we all thought stood above the rest, so we ended up getting a growler of that to enjoy at home.
While I would take Humperdinks over Chilis anyday, it was just missing something that would keep me from coming back often (I've been back only once or twice after that first visit).
[EDITING MY REVIEW]
Well I went to Humperdinks last night, and I just realized that I reviewed the wrong location. I meant to review the Addison one, not the Dallas one. Anyways, I ended up liking the Dallas location more for some reason (and upped my marks a bit). Somehow it just felt less...pretentious, more bar/pub-like, less...commercial, if that makes any sense.
They also had their IPA, which my brother said was as good as we remembered. I had the Total Disorder Porter, cool name, but a little disappointing as far as Porters go...but I'm glad they at least offer one, so I can't fault them too much. We also had a seasonal called the "Joe Mild" (I think), I guess it was supposed to be in the English Mild style...but I don't recall ever having one before, so I can't compare it to anything. Good brown ale, frankly not much in the way of flavor, but very drinkable.
Anyways, if you have the choice, go to the Dallas location, rather than the Addison or Richardson ones...
1,950 characters
4.05
/5
rDev
+8.9%
vibe: 4 | quality: 4 | service: 4 | selection: 4 | food: 4.5
This is my favorite place in Dallas to watch football. They have a large open bar area with over ten TVs (a few big screens) and lots of seating. They also have a couple of pool tables in the bar area, but during any big sports night (or day) they cover them up and turn them into big tables. The restaurant area is separated from the bar area by large glass windows, so you can still see several of the TVs from there. They also have three or four TVs in the restaurant area. There is no patio area, but they are cigar friendly and have their own bookcase-sized humidor, though I have never bought a cigar there, so I can't speak on the price or quality of their cigars. They have six standard microbrews and the occasional seasonal brew, all of which are very good. The food here is also very good, especially for a sports bar. I have tried most of the appetizers on the menu, as well as several of the pizzas and sandwiches and liked them all. However, the best thing on the menu is the ½ pound gourmet beef or chicken burgers. These are some of the best burgers in Dallas. I highly recommend the Bourbon Blackjack Burger – "cracked black pepper, char-grilled and topped with pepperjack cheese and Jack Daniel's mustard." It's outstanding!
1,249 characters
Humperdinks Texas LLC in Dallas, TX
3.37
out of
5
based on
44
ratings.