H.L. Rex
| Monocacy Brewing Co.
BA SCORE
81
good
15
Reviews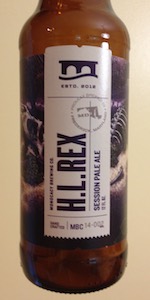 BEER INFO
Brewed by:
Monocacy Brewing Co.
Maryland
,
United States
monocacybrewing.com
Style:
American Pale Ale (APA)
Alcohol by volume (ABV):
3.60%
Availability:
Rotating
Notes / Commercial Description:
No notes at this time.
Added by nmann08 on 06-21-2014
Reviews: 15 | Ratings: 69

4.2
/5
rDev
+22.4%
One of my local Fredneck brewers so I'll try best to avoid any homerism. For session ales (pale or IPA), I found this one to be one of the more enjoyable and truly sessionable ones. Very sessionable,flavorful but far from the "hop water" types that seemed to have flooded the market. I will try to buy a lot more of this one whenever possible.
346 characters
3.97
/5
rDev
+15.7%
look: 4 | smell: 3.75 | taste: 4 | feel: 4.25 | overall: 4
A - Dark gold. Darker than a typical session APA.
S - Light malty sweetness with light floral hops. Well-balanced, but not strong or overwhelming.
T - Follows knows. A very nicely balanced beer. Based on taste, would guess a higher ABV
F - A definite strong-suit of this beer. Very creamy and heavy relative to ABV.
O - Tasty low ABV beers are difficult to make. Obviously, this is not going to blow you out of the water like a traditional 6+ABV APA/IPA might. But it is a tremendous accomplishment to pack the flavor, balance, and mouth feel into such a low ABV beer. Great work!
593 characters
3.8
/5
rDev
+10.8%
look: 3 | smell: 3.5 | taste: 4 | feel: 3.75 | overall: 4
As far as Session Pales go...this is excellent. Monocacy is quickly becoming my favorite Maryland brewery. Hard to make an ale with this refreshing, slightly citrusy, well balanced flavor below 4% ABV. Impressive. I could stand for some more hop punch though. If this was in 15 packs of cans like Founders All Day I would singlehandedly make it worth their while.
363 characters
3.53
/5
rDev
+2.9%
look: 4 | smell: 3.5 | taste: 3.5 | feel: 3.5 | overall: 3.5
Poured from the bottle into a nonic pint glass.
A solid white two finger cap. Very foamy but settles to a good fit, and hanging around nicely. Body color is very crystal clear, but just a little hint of haze. Ample carbonation but not excessive, rising through a brass to very light bronze orange body.
Aroma is a bit grainy, but expectedly light. Mild senses of pine and orange in a hop angle, mild of course, but a little bit of that bile smell hides as well. Not bad.
Palate sort of surprises. Mid palate has virtually next to nothing going on even for a mild character. All the flavor really comes out on the finish. Melding small malt bill, with some faint sugars but also showcasing more hop flavors. Hints of mild tea and orange, light biscuit and slightly crackery as well. Some mild tropical senses seem to be lurking but are just to weak to show up. Nice crisp carbonation as well too, with some depth a bit.
Overall a simple American mild, and fairly fruity. Just needs a bit more mid palate push and flavors to round out.
1,049 characters
3.53
/5
rDev
+2.9%
look: 4 | smell: 3.5 | taste: 3.5 | feel: 3.5 | overall: 3.5
Pours an orangey-gold with a thick foamy off-white head with great retention. Small soapy lacing slips around the glass. It has a very mild aroma but what little is there has some pine and some floral qualities. The taste is about the same. The body is thinner but it is pretty smooth given the steady carbonation. With a little more oomph in the flavor, this one could be a great session Pale Ale.
398 characters

3.52
/5
rDev
+2.6%
look: 4 | smell: 3.75 | taste: 3.25 | feel: 3.75 | overall: 3.5
12 oz. bottle purchased at Whole Foods - Foggy Bottom; unknown brewing/bottling date; poured into my NEBCO Gandhi-Bot large bottom snifter glass; drank over 30 minutes
167 characters
3.45
/5
rDev
+0.6%
look: 4 | smell: 3.25 | taste: 3.5 | feel: 3.25 | overall: 3.5
Poured from a brown 12 oz. bottle. Has a dark golden color with a 1/2 inch head. Smell is of malts, a bit of hops. Taste is well balanced hops and malts, citrus, very easy drinking. Feels light in the mouth and overall is a mild but refreshing beer.
249 characters
3.4
/5
rDev
-0.9%
look: 3 | smell: 3.5 | taste: 3.25 | feel: 3.75 | overall: 3.5
12 oz bottle into a teku.
Appearance: Pours a clear amber color. The head is a finger high and off-white in shade. It looks really ragged and unattractive, and retention is poor. There isn't much lacing sticking around, either. (3)
Smell: A spicy brew, I seemingly pick up rye spice (even though this ISN'T a rye beer). I also get some caramel, bread, grass, and faint citrus. It's a faint nose - that's forgivable given the gravity, however. (3.5)
Taste: This has a different flavor profile - not just for a light pale ale, but pale ales in general. It opens up with spicy bread character (not quite the rye notes I picked up on the nose, though), and ends with some pine and sweet malt. The mid-palate is fairly empty, though; again, forgivable enough for the low gravity. All told, it's a solid low gravity brew. I'd love to see some esters in the vein of a proper English bitter, but that's just nitpicking on my end. (3.25)
Mouthfeel: Light, airy, and well carbonated. This is naturally an easy drinker, yet the malt backbone makes it feel somewhat substantial, and gives it a long finish. I can even savor this one to an extent! (3.75)
Overall: ANY brewer who commercially releases a sub 4% beer instantly gains my respect. And when they're quite good, as is this one? Gravy. It's small in all the right places, and big in the others - it isn't a world beater by any stretch, but I could definitely drink this one all day. (3.5)
3.4/5: More good local beer
1,468 characters
3.37
/5
rDev
-1.7%
look: 3.5 | smell: 3.25 | taste: 3.5 | feel: 3.25 | overall: 3.25
For an East Coast IPA, one of the better ones I've tried. Still seems closer to an IPA, in body and hoppiness. Pale golden with medium frothy head. Very citrusy, grapefruit notes in aroma and taste.
200 characters
3.27
/5
rDev
-4.7%
look: 3.75 | smell: 3.5 | taste: 3 | feel: 3.5 | overall: 3.25
Very pale golden body with a fizzy off-white head. Aroma is faint citrus and a dash of bready toast. Flavor is very thin and watery, very little flavor. Feel is watery, but refreshing.
Not a great take on the style.
215 characters
3.12
/5
rDev
-9%
look: 3 | smell: 3.5 | taste: 3 | feel: 3 | overall: 3
This was poured into a pint glass.
The appearance was a golden orange color with a quickly thinning white foamy to bubbly head. There wasn't any lacing.
The smell started off with some orange, orange zest, pine and some bitter citrus rind.
The taste was semi-sweet with the bitter side of the hops running in to make a decent effort to balance, but however, doesn't necessarily succeed. This beer tends to be sweeter than I had hoped.
The mouthfeel was about a light on the body with a super sessionable feel to it. One would think with that ABV, well a teenager could drink this and would be okay.
Overall, the aroma is better than the taste. It's alright, but can't see myself to come back to this.
700 characters
3.09
/5
rDev
-9.9%
look: 3.75 | smell: 4.75 | taste: 2.25 | feel: 2.25 | overall: 3
Pours a nice golden orange with a decent white soapy head. Smell is outstanding: tangerine, orange peel, a little citric acidity, pine needles, some sweetness, and a hint of bitterness. Great!! Taste could not be more disappointing - there's literally nothing there but a slight soapiness and the faintest bit of orange. Feel is weak and watery. Have to give it credit for an outstanding nose, but just no flavor at all.
420 characters
3
/5
rDev
-12.5%
look: 3.75 | smell: 3.75 | taste: 2.5 | feel: 2.75 | overall: 3
Unknown bottle date.
Pours honey golden with some copper hue. One finger head leaves a soapy film.
Smell is promising. Has a nice citrus hop aroma with decent bready malt. Maybe a touch catty.
Taste falls short. I know it's a session IPA, but flavors are extremely muted. It's faintly bitter and almost none of the citrus follows thru. Some of the cracker malt makes it's way thru more so than any hop notes.
Extremely watery. Again, I know it's low gravity, but the lack of flavor coupled with thinness really gives it a water like quality. Medium carbonation.
It looks and smells pretty good but I don't think I've ever had a beer this thin. if it had just a bit more bite, it might be ok. As it is, it works well to finish off a session of more flavorful, hefty IPA's when your palate has already been torched.
828 characters
2.99
/5
rDev
-12.8%
look: 3.25 | smell: 3 | taste: 3 | feel: 2.75 | overall: 3
very little nose/ very malty instead of hoppy but not unpleasant. bittering is adiquite and the thin body and mpi\uth feel lends itself to be believed that it is truly sessionable.
181 characters
2.87
/5
rDev
-16.3%
look: 3.25 | smell: 3 | taste: 2.5 | feel: 3.5 | overall: 3
Pours a great light golden color with great fizzy head and nice lacing. Aroma is light and soapy. Taste has potential but seems subdued by a watery flavor that takes away from the hops and citrus that is begging to be known. Balance is ok, just not enough flavor and watered down...
282 characters
H.L. Rex from Monocacy Brewing Co.
3.43
out of
5
based on
69
ratings.