Double Hop
| Frederic Robinson Limited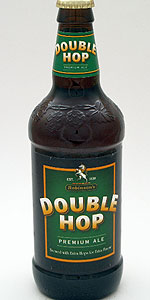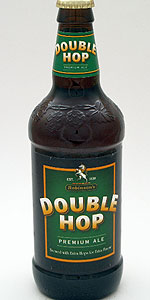 BEER INFO
Brewed by:
Frederic Robinson Limited
England
,
United Kingdom
robinsonsbrewery.com
Style:
Extra Special / Strong Bitter (ESB)
Alcohol by volume (ABV):
5.00%
Availability:
Year-round
Notes / Commercial Description:
No notes at this time.
Added by cokes on 12-04-2002
HISTOGRAM
Ratings: 11 | Reviews: 10
Reviews by MJR:
2.64
/5
rDev
-21.9%
look: 4 | smell: 2.5 | taste: 2.5 | feel: 3 | overall: 2.5
Appearance: Pours a glowing copper with perfect clarity. What begins as a thick tan head, sticks around at a small cap.
Smell: Extremely faint aroma of Goldings-variety hops, with a small touch of cardboard-like oxidation. Tiny suggestion of caramelly malt.
Taste: The flavor begins with a slighty sweet, caramelly malt flavor. It opens up with a bit of hop flavor, then goes south when the oxidation takes over. It tastes stale and dull.
Mouthfeel: Fairly light in body, with a dry, somewhat astrigent mouthfeel.
Drinkability: Not worth my time... I would place all of the blame on the oxidation, but I find it hard to believe that this one is that interesting when fresh.
The bottle states: " Brewed with Extra Hops for Extra Flavor." Yeah right...
765 characters
More User Reviews:
3.88
/5
rDev
+14.8%
look: 4 | smell: 3.5 | taste: 4 | feel: 4 | overall: 4
(accidentally listed this as an english brown ale....should be a special best bitter...I put in a request for correction)
I expected an IPA here...didn't get it. Still a nice little bitter. However "double hop" might be stretching things a bit.
Clear golden-amber with a sizable off-white head.
Nose is pretty faint, but opens up with some toasted caramel and Kent hoppiness as it warms.
Taste starts with a quick burst of grains which segues into a toffee-like sweetness. Hints of fruit. An vague apple-like tartness lingers all the way through. It is a welcome flavor. A slight dollop of butter enter just prior to the hops. The hops themselves are far from assertive in a beer so boldly name, but they do provide a likeable floral bitterness. Lingering tea-like notes.
Nice and consumable. This screams session.
819 characters
3.42
/5
rDev
+1.2%
look: 3 | smell: 3.5 | taste: 3.5 | feel: 3 | overall: 3.5
Bottled. Very light in color and taste, at least for the style. Other tasters at my homebrew club where I tried this mentioned Goldings and Fuggles in the hop nose. This also has more caramel taste than expected. A good session beer with a clean finish.
253 characters

2.56
/5
rDev
-24.3%
look: 3.5 | smell: 2.5 | taste: 2.5 | feel: 2.5 | overall: 2.5
Double Hop: a dirty brown color, although the beer itself is absolutely clear, without a whole lot of visible carbonation. Head is a creamy thick white, somewhat rocky, and it does not hang on that long. Aroma is somewhat malty, and cleaning supplies. Very uninspiring taste, to say the least. Flat hops, and a murky malt taste. Not much to drink, pass it by.
359 characters

2.79
/5
rDev
-17.5%
look: 4.5 | smell: 3 | taste: 2.5 | feel: 2 | overall: 3
Auburn hue with brilliant clarity. Dense, mountainous, dogged, ivory white head leaves attractive, web like lace. Mildly floral, damp earth Goldings hop nose is accompanied by faint, watery toffee and butterscotch. Vague fruitiness of a fig and sweet red apple character. Clean, understated in aroma. Medium lovibond caramel malt sweetness incipient in flavor is superceded by a drying combination of hop, burnt biscuit and baker's chocolate bitterness. A floral and fruity contrast to the dark malt presence is provided by a pronounced Goldings hop flavor and underripe plum like esters, respectively. Diacetyl emerges after a deliberation, adding token depth to the overall simply toasty malt character. A slight, tannic astringency creeps in slowly and unfortunately detracts from the otherwise clean overall flavor profile. Very well attenuated, overly dry and thinnish in mouthfeel. Lacks any noteable viscosity. Finishes with an impression of browned butter on lightly sweetened grainy cracker. Double Hop has the elements of a good brown, but falls apart in the end. Although light on the palate and passably drinkable, it possesses no outstanding qualities overall. Don't let the name entice you-- this beer is entirely skippable.
1,238 characters

3.25
/5
rDev
-3.8%
look: 4 | smell: 4 | taste: 3 | feel: 2.5 | overall: 3
The name sure had me fooled - Color is a clear amber brown with a large cream colored styrofoam head that recedes slowly to a thick skim and lace in every form, from sheet to spots. Smell has a solid woodish aroma, lots of dried wood and leaves. A dulled fruit of somewhat citrusy notions plays behind with starfruit, apple, and hints of banana, all taken in, its a bit strange and uncomfortable to wiff, but at the same time pleasantly appealing and intreguing. An interesting nose thats weird. Taste has lots of drying fruitish qualities close to pear and apple skin in feel and flavor with a fluffy dried hoppiness thats cottony, malts are light and toasty laying some ground work but leaving lots of potholes. Smooth quick start in the feel then goes velvety with that pear/apple skin texture which is a little unpleasant with hard drying qualities that I didn't like. This English style Dbl. Hop is a weird one, not sure what it wants to do besides dry the hell out of your mouth. It took a while getting use to...a long while.
1,032 characters
3.41
/5
rDev
+0.9%
look: 4 | smell: 3 | taste: 3.5 | feel: 3.5 | overall: 3.5
A decent English ale that's very ESB like. It is a dark,golden color with white head. The aroma is butterscotch with earthy hops and the flavor is also malt with butterscotch and earthy hops. NOt very bitter for something called a double hop but the bitterness does show in the finish. For the ESB lover.
304 characters
4.22
/5
rDev
+24.9%
look: 3.5 | smell: 4 | taste: 4 | feel: 4.5 | overall: 5
I enjoyed this dark-amber brew fresh from the brewery's own tap. The head was generous and tasted of something I could only describe as pitch or sap. I for some reason found that fascinating. Otherwise, it was smooth and had a wonderful taste.
Recommended, though I am unable to find it in Northern California.
311 characters
3.73
/5
rDev
+10.4%
look: 4 | smell: 3.5 | taste: 3.5 | feel: 3.5 | overall: 4.5
Light copper colour (it's not a brown ale, like stated in the style). Beautiful head. Appearance clear and clean.
Smell of hop, tea leaf, honey.
At the taste: honey again, vanilla, just an hint of hop, but the hop rises up with strongness in the aftertaste.
Lightly toasted, caramel (maybe even at the nose, if you let the glass rest for a minute).
In the aftertaste even chestnut honey, and orange peel.
Medium body.
Good ale, warm and winding. Good pub beer.
466 characters
3.23
/5
rDev
-4.4%
look: 3.5 | smell: 3 | taste: 3.5 | feel: 3 | overall: 3
Tasted this beer by half-pint at the Head of Steam, Euston Station London, recently. To start with, it does not taste like English Brown Ale to me. It pours a pretty, clear dark-amber hue, with minimum carbonation and almost no beerhead at all from the first second. A sign that it's not fresh? On nose, comice-pear like juicy note approaches; later I reckon this juicy note smells rather like some fresh pear juice poured for more than one hour(?)... On palate, a bit tangy at first, followed by quite soft, tea-like texture of hops and finished with some taste of floral hops gradually fading in. Overall, the mouthfeel is quite round and smooth but the flavour a bit overly one-dimensional. This time round it tastes just o.k. and simply has lost some of its flavours, I suspect. Will like to try it when it's fresher next time I see it.
840 characters
Double Hop from Frederic Robinson Limited
Beer rating:
3.38
out of
5
with
11
ratings