Appalachian Mountain Brewery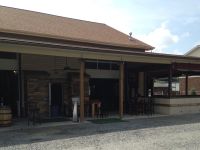 PLACE INFO
Type:
Brewery, Bar
163 Boone Creek Dr
Boone
,
North Carolina
, 28607-7911
United States
(828) 263-1111 |
map
appalachianmountainbrewery.com
Notes:
Opened on February 14, 2013.
Added by anjah on 02-16-2013
Reviews: 10 | Ratings: 36

4.93
/5
rDev
+22.9%
vibe: 5 | quality: 5 | service: 5 | selection: 4.75
Definitely my favorite brewery in North Carolina, my only complaint is that I don't get to spend more time there. The building is a renovated house and the interior is mainly exposed framing and wood which gives the place a very cool vibe. Plenty of seating although the place can fill up on weekends when local bands play everything from original music to covers, they are really great at picking bands as I have never been and not enjoyed the music accompanying the beer. AMB has a pretty good selection of brews, they are all good but some standout in particular, my personal favorite is the Crooked Common when it is being served. The bartenders are great and very knowledgeable about their selection as well. The brewery is also actively involved in the local community which is really great and are heavily focused on sustainability, AMB really is the gold standard for local breweries in this sense as they were founded by local students and give back. They are heavily focused on sustainability as well having installed solar panels, restored nearby parts of Boone Creek which run past the brewery, and they donate spent grain to local farmers which is really invaluable in an area like the High Country.
Additionally, they have a food truck outside that is just about permanently parked outside called Farm to Flame. The beer-infused pizza is the absolute best that you can get in Boone, I really have to resist having an entire pizza every time I go there because of how great it is. Don't worry if you are a vegetarian, the veggie options are really some of their best pizzas. Additionally, the brewery's focus on sustainability extends to their food truck. When at the brewery it runs off their solar panels, and they use bio-diesel when they do drive, and they use bio-degradable utensils and containers to reduce the impact of their waste.
Overall a really great place to drink good beer and that I am going to miss dearly when I graduate!
1,955 characters
5
/5
rDev
+24.7%
vibe: 5 | quality: 5 | service: 5 | selection: 5
Great people, excellent beer. My favorite place in town. I've never had a beer I didn't like here, my favorites are the Good Deal and Daniel's Double.
150 characters
4.86
/5
rDev
+21.2%
vibe: 4.5 | quality: 4.75 | service: 5 | selection: 5
Get the Italian pizza and a pitcher of coffee IPA and enjoy life. I travel a decent amount and this brewery is the best one I have been to. Your not blitzed with an over abundance of beer choices or a food selection with ingredients only a culinary arts student understands. You get incredible pizza and beer.
309 characters

4
/5
rDev
-0.2%
vibe: 4 | quality: 4 | service: 4.25 | selection: 3.75
Here in Boone for the month, and this was on the top of my list to visit. Cool little place not far off the main drag. Some decent seating inside, with good bar seating. There's been local live music there each time I have been there. A couple of areas designated for outside seating, albeit covered which was nice. Cornhole set up in the lawn area, and a food truck continually parked out front serving food. On my first visit I got a paddle of samples of all 7 of their offerings at that time. There were hits and there were a couple misses. I really dug their Rye'd That Pale Ale. Prices for pints are reasonable, but the price for the sampler was actually high for what it was. A cool joint with a typical Boone laid-back vibe. I have been back many times, and plan to continue that throughout the month.
808 characters

4.8
/5
rDev
+19.7%
vibe: 5 | quality: 5 | service: 5 | selection: 5 | food: 3
An awesome place. The bartenders were both extremely knowledgeable and happy to talk. I tried a flight of all eleven beers they have on tap (they max out at 10 but the bartender was kind enough to slide me the eleventh, much appreciated) and there were some gems. The swag for sale is all very good (my original choice of t-shirt was sold out, plenty of people in the bar were already wearing it) and the decor on the walls was pretty cool. My only complaint was a lack of food. They don't have their own food menu and the food trucks hadn't started serving yet. Fortunately they were hosting a Habitat for Humanity fundraiser that was selling chili. I'll be back plenty of times in the future.
694 characters
3.78
/5
rDev
-5.7%
vibe: 4.5 | quality: 3.75 | service: 3.75 | selection: 3.5
Awesome vibe as soon as you walk in. Huge, thick wooden slab bar, ton of table seating, and a huge garage door on one wall that is usually open, as long as the weather permits. Plenty of bar games just outside of the garage door to play, with outdoor seating, also. Eight to ten beers on tap, and it sounds like they rotate fairly regularly. Plenty of swag for purchase, growlers to go, and a ton of events throughout the week, including live music and trivia nights. Bartenders were friendly and attentive. Looks like an awesome hangout in a pretty cool college mountain town.
577 characters

4.5
/5
rDev
+12.2%
vibe: 4.5 | quality: 4.5 | service: 4.5 | selection: 4.5
A nice little brewery with a great atmosphere, great service and a nice selection of quality beers. The staff are attentive and friendly. The place is usually busy but I have never had to wait long before a pint was in my hand. I've tried a handful of their beers - Honey Badger (Blond Ale), Good Deal (Pale Ale), Unaka (East Coast style IPA) but the standouts were Black Gold (Porter), Say Hops Again (Black Ale IPA) and Long Leaf (American IPA) which used to be called 71IPA. Those 3 beers were really good and I make a point to grab a growler (or 3) the moment I pull into Boone take take with me for the weekend. Extremely happy this place has opened in Boone and nice that a portion of their profits are put back into the community.
**UPDATED** Daniels Double IPA is a thing of beauty with a wonderful aroma and a very well balanced taste. They now have a food truck Farm2Flame which has a brick oven. The pizzas produced in this thing are mind blowing !!!!!!
964 characters
4.49
/5
rDev
+12%
vibe: 5 | quality: 4.5 | service: 4.75 | selection: 4
Glad to have a brewery back in Boone. Cool layout (a little worried about the bathroom facilities because I think this place is going to be packed) Great Starting Selection and the vibe is awesome!
For now bring your own edibles and enjoy! Try the 163 Pale and the Porter. More beers to come ( I believe 10) Check out this place as it continues to evolve.
355 characters
4.51
/5
rDev
+12.5%
vibe: 5 | quality: 4.75 | service: 4.5 | selection: 4
Visited the brewery twice on 02/16/13.
The brewery is situated right off highway 321 in Boone. The serving area is quite large and well proportioned, tables aren't crowded together and the bar is easily approachable even when all seats are filled. The atmosphere is cozy, due largely to the wood paneling which gives a cabin-like feel, appropriate to the locale (Appalachian mountains).
During both visits, around noon and evening, the brewery was pretty crowded, but all the customers were friendly and pretty much happy to have a local brewery finally up and running.
The staff was friendly, and willing to answer numerous questions about both the beers on tap and plans for the future. Additionally, several staff were constantly walking around making sure customers were satisfied with the service and beers.
Only four beers were on tap, the Kings Kolsch, Black Gold Porter, 163 Pale Ale, and the Long Leaf IPA - the Porter was absolutely outstanding, but the IPA (more East coast. stylistically), Pale, and Kolsch were fine examples of their respective styles. In spite of the limited variety, these are the flagship beers and if AMB continues to produce beers of this quality they should be relatively successful.
No food was available. Something to nibble on - chips, nuts, crackers - would have been welcome, but certainly did not detract from the overall experience.
As far as prices go, pints (16oz) ranged from $4.00 to $5.00, reasonable for the quality.
I'll be returning as often as my wallet allows. Or a bit more.
*I see that growlers became available for purchase today. I do not yet know what method of fill AMB employs or the prices, but I will update this review accordingly.
1,704 characters

5
/5
rDev
+24.7%
vibe: 5 | quality: 5 | service: 5 | selection: 5
The owners and employees are awesome! The crowd is awesome and the prices are very reasonable for the quality of beer, at only about $4 a pint and $14 a pitcher, you can't beat the it! Also, with their pints for non-profit, you get to give back to the community along with enjoying a nice local brew. Not to mention the green initiative that they strive for by using solar power and hand making all the interior decorations including the tap handles and bar top. In the summer AMB will definitely be the place to be in Boone. There's talk of outdoor games and events and food truck to come soon. Growlers and wine are in the future, also!!
639 characters
Appalachian Mountain Brewery in Boone, NC
3.88
out of
5
based on
549
ratings.