Hoppy Hoppy Night IPA

Belching Beaver Brewery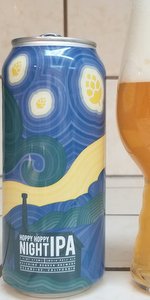 Write a Review
Beer Geek Stats:
| Print Shelf Talker
Style:

ABV:

7%

Score:

88

Avg:

4.01

| pDev:

4.74%

Reviews:

10

Ratings:

From:

Avail:

Retired (no longer brewed)

Wants

Gots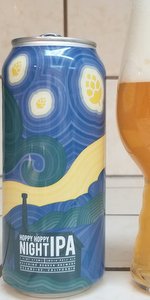 Notes: 5th Anniversary Hazy IPA.
stevoj from Idaho
3.3
/5
rDev
-17.7%
look: 3.5 | smell: 3.5 | taste: 3.25 | feel: 3 | overall: 3.25
Can from Brewers Haven. Trying to like this. Hazy golden pour. Aroma is peaches and mangoes. More of the fruitiness in the taste, candy sweetness. Mild yeasty funkiness too. At first seems like a normal NEIPA, but then goes funky.
Mar 15, 2018
biboergosum from Canada (AB)
4.1
/5
rDev
+2.2%
look: 4.25 | smell: 4.25 | taste: 4 | feel: 4.25 | overall: 4
16oz can - why is this thing called a 'night IPA'? I don't associate hazy with nighttime.
This beer pours a murky, pale golden yellow colour, with four fingers of puffy, loosely foamy, and bubbly off-white head, which leaves some sudsy flock of birds pattern lace around the glass as it rather lazily subsides.
It smells of fresh-squeezed orange juice, bready and doughy caramel malt, a hard water flintiness, further indistinct tropical fruity notes, and some plain leafy, weedy, and piney green hop bitters. The taste is gritty and grainy caramel malt, orange, red grapefruit, and lemon citrus rind, a wet minerality, some muddled exotic fruitiness, and more weedy, piney, and gently perfumed floral verdant hoppiness.
The carbonation is fairly low-key in its innocuous frothiness, the body a solid medium weight, and generally smooth, with a nice airy creaminess evolving as things warm up a tad around here. It finishes off-dry, the citrus and malt in a sexy lingering pas de deux.
Overall - this is a pretty bang-on interpretation of the sub-style, with all the robust fruity and lesser forest floor hops flitting about. Quite tasty, and certainly easy to put back for anyone of the hophead persuasion, even if they are drinking this one in the afternoon - ah well.
Jan 22, 2018
arizcards from Arizona
4.15
/5
rDev
+3.5%
look: 4.25 | smell: 4.25 | taste: 4 | feel: 4.25 | overall: 4.25
Picked up a single from the Craft Beer Hop Stop cooler on 11-11-17. Canned on i believe 11-4-17 (smudged) and stored in my beer fridge since purchase.
Beer poured a hazy golden orange with a nice white head.
Nose was citrus forward, very nice.
Taste was oranges forward with some grapefruit and mango. Finish was an orange peel light bitterness.
Mouthfeel was light to medium bodied and very refreshing.
Overall a solid NEIPA that i would have again!
Jan 09, 2018
hoptheology from South Dakota
4.14
/5
rDev
+3.2%
look: 4.25 | smell: 4 | taste: 4.25 | feel: 4.25 | overall: 4
Canned 11/2/17.
Nice hazy gold appearance with lots of sediment floating around. Nice creamy head of 1 finger.
Very soft aromas. Apricots mostly. Some light melon and mango.
Flavor is fantastic. Lots of bright sharp citrus, melon rind, light resins, then heavy resins, and an aftertaste of apricots.
Feel is crisp, creamy, carbonated. Nice resiny, semi-dry finish.
Overall, it competes with many east coast style IPA's. Highly recommended.
Dec 21, 2017

dertyd from California
4.09
/5
rDev
+2%
look: 4 | smell: 5 | taste: 3.75 | feel: 4 | overall: 3.75
The beer pours out a medium hazy golden orange color, with 2 fingers of white head and lots of sediment------------ the aromas are of over ripe fruit, bready malt, citrus, guava and over ripe pineapple, the aroma is amazing------------- the flavor is mostly one sided with orange and grapefruit, the beer has a medium to full mouthfeel with a pithy bitter dry finish------------ overall this beer was nice, it had a great aroma and mouthfeel but the flavor was
Dec 21, 2017

EMV from Pennsylvania
4.25
/5
rDev
+6%
look: 4.25 | smell: 4.25 | taste: 4.25 | feel: 4.25 | overall: 4.25
Poured from a tallboy can into a Dogfish Head tulip
L: Cloudy golden pour. 2 fingers of foamy white head. Solid rim of lacing.
S: Citrus and fruit juice... NEIPA.
T/F: Follows the nose. Grainy malts give way to a dank grapefruit/tropical hop profile. Bitterness is subdued... great fruit character and juice. Medium to light in body... well carbonated.
O: A top notch NEIPA. Great aroma and flavor... if you like the style you'll love this beer.
Dec 19, 2017

jakecattleco from California
3.65
/5
rDev
-9%
look: 2.5 | smell: 4.25 | taste: 3.5 | feel: 3.75 | overall: 3.5
Can into a Spiegelau IPA glass.
L: Pours hazy light golden with LOTS of suspended solids/floaties and 3 fingers of frothy variable density white head with great retention and left plenty of mixed lacing.
S: Potent citrus, grapefruit, orange peel, lemon zest, with some underlying tropical fruit, mango, guava.
T: Follows the nose to some degree but much more one-dimensional in the citrus dominance. Finishes with limited bitterness and moderate astringency, astringency lingers awhile.
F: Thinner bodied with moderate carbonation, some tongue tingling from the astringency and carbonation.
O: Loved the can art. A decent beer, but between the very unappealing visual and the fairly one dimensional taste. It's one I'm glad I don't have another can in my fridge.
Dec 17, 2017

andrewh995 from Arizona
4.06
/5
rDev
+1.2%
look: 4.5 | smell: 4 | taste: 4 | feel: 4.25 | overall: 4
Pours an insanely hazy yellow with a large white head and some floaties. Smells of tropical fruits, melons, citrus, and hops. Tastes of fresh hops, light malt, melons, papaya, orange zest, grapefruit zest, mango, and juice. Medium in body and carbonation. Overall an incredible NEIPA.
Nov 27, 2017
BucannonXC5 from California
4
/5
rDev
-0.2%
look: 4.5 | smell: 3.75 | taste: 4 | feel: 4.25 | overall: 4
Type: 16-oz. can
Glass: Clear 16.5-oz. Belgian ale tulip
From: Bine & Vine Bottle Shop in Normal Heights (San Diego), Calif.
Price: $3.60 with 10 percent off for a variety 6-pack
Purchased: Nov. 2, 2017
Consumed: Nov. 6, 2017
Reviewed as: New England IPA
Misc.: No canned on date (est. Oct. 18, 2017)
Picked this up on my monthly visit to Bine & Vine, along with a bunch of other stuff. Had heard this was coming out, I believe Belching Beaver's first hazy IPA. Generally not a fan of Belching Beaver's IPAs, then I had their Deftones one, which was outstanding. Was looking forward to this. Some digging and it looked like it was brewed with Galaxy, Citra, Nelson and Mosaic.
Poured a golden hazy color with 2-to-3 fingers of frothy off-white head. Lots of bubbles coming up along the sides of the glass. World-class foamy layered lacing. Excellent retention. (Sight - 4.50)
Smelled a nice balanced mix of hops and tropical fruit. Specifically got trashy Galaxy, Nelson and Southern Hemisphere-like hops up front. Got hints of Citra, but no Mosaic, although I sometimes associate that with trash (like Galaxy). Also melon, cantaloupe, pineapple, spoiled grapefruit peel, stone fruit and peach skin. As usual, more flavorful in the nose with orange blossom and guava. (Smell - 3.75)
Taste was interesting. Had a lot going on, but it didn't quite gel initially. Got better as it went down though. Got orange juice, Galaxy, Nelson, melon, cantaloupe, pineapple, grapefruit, passion fruit, orange blossom, stone fruit, Mosaic, Amarillo (not mentioned) and Citra. Each sip was better than the last. (Taste - 4.00)
Medium body. Creamy texture. Average carbonation. Long, juicy finish. (Feel - 4.25)
Just a solid New England Style beer that got better as it went down. May have even slightly underrated this a tad. (Overall - 4.00)
4.00 | 90 | A-
Nov 25, 2017

wasatchback from Tajikistan
3.85
/5
rDev
-4%
look: 4 | smell: 4 | taste: 3.75 | feel: 4 | overall: 3.75
A 7% IPA with 35 IBUs? Come on! A breweries rendition of a style they clearly don't know much about. Mouthfeel is pretty good, has the haze everyone thinks is necessary. For a shelf beer at a grocery store it's decent. Needs a better nose and more expressive flavor. Lots of grass to finish. Not bad but not great.
Nov 19, 2017
Hoppy Hoppy Night IPA from Belching Beaver Brewery
Beer rating:
88
out of
100
with
30
ratings