Rabid Beaver Bite Rye IPA
| Belching Beaver Brewery
BA SCORE
83
good
15
Reviews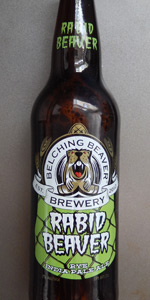 BEER INFO
Brewed by:
Belching Beaver Brewery
California
,
United States
belchingbeaver.com
Style:
Rye Beer
Alcohol by volume (ABV):
7.00%
Availability:
Year-round
Notes / Commercial Description:
No notes at this time.
Added by Jason on 03-05-2013
Reviews: 15 | Ratings: 81
3.79
/5
rDev
+3.8%
look: 3.75 | smell: 4 | taste: 3.75 | feel: 3.5 | overall: 3.75
Pours a murky orange with a foamy orange-white head that settles to a partial film on top of the beer. Foamy swaths of lace form around the glass on the drink down. Smell is of malt, citrus fruit, citrus zest, and spicy hop aromas. Taste is much the same with rye and citrus zest flavors on the finish. There is a mild amount of hop bitterness on the palate with each sip. This beer has a lower level of carbonation with a slightly crisp mouthfeel. Overall, this is a pretty good beer with nice citrus forward hop qualities that seem to overpower any rye characteristics.
571 characters

3.71
/5
rDev
+1.6%
look: 4 | smell: 3.5 | taste: 3.75 | feel: 3.75 | overall: 3.75
A: Pours from a bomber bottle a hazed sunburst orange under a pillowy, 1.5-finger thick slightly off-white head which lingers long and yields clumps of lace.
N: Rye and grainy malts, bready, spice and slight honey/earthy notes.
T: Follows nose with malt forward and spicy rye, some faint citrus hops, ABV noticed.
M: Moderate body and medium carbonation. Bitter and spicy malty finish.
O: Decent and straight forward, but not overwhelming.
443 characters

3.93
/5
rDev
+7.7%
look: 3.75 | smell: 3.75 | taste: 4 | feel: 3.5 | overall: 4.25
Handsome amber color with a nice enough head in the pint shaker. On tap at Toma Sol in Hillcrest. Robust, hoppy aroma.
Warm and rich malty flavors. Fruity hops with a pleasant bite. Brewer says the hops include Simcoe. The rye adds that appealing scratchy tang that seems to go well with spicy hops. Just enough sweetness. Not overly bitter for all the hop flavor.
Altogether this has my vote for the most drinkable San Diego IPA of 2013. Great mouthful of aromatic hops with a spicy, grainy flavor. Just a touch more carbonation would have raised the stakes.
563 characters
4.03
/5
rDev
+10.4%
look: 4.5 | smell: 4 | taste: 4 | feel: 4 | overall: 4
Back to the Belching Beaver, this time with a RyePA. I hope I have been properly vaccinated, because that beaver's teeth remind me of Dracula who's looking to suck our blood! From a 22 ounce bottle, on to the beer:
The light orange color with yellow hues forms the body of the beer, while on top rests a thick creamy head with excellent head retention. The hops are aromatic, but seem to have a softer character versus the common San Diego IPA. Soft hops, with notes of cantaloupe, pine, grapefruit, honeydew, and the backbone of dry crackery grain.
With rye as one of the grains used, it comes to no surprise that this beer has a spicy kick. Gentle rye spiciness help create the canvas to the mélange of orange, cantaloupe, and sweet grapefruit. Yet it doesn't taste bitter, and in fact is on the relaxed side of the IPA scale, though it still has the genes of a West Coast IPA. By San Diego standards, the Rabid Beaver is a softer kick to the gut where it comes to the hops.
980 characters
3.82
/5
rDev
+4.7%
look: 4 | smell: 3.75 | taste: 3.75 | feel: 3.75 | overall: 4
Bottle labeled "Rabid Beaver" due to a mistake during trademarking they left out the bite.
Pours hazy amber-copper with a thick dollop of cream colored head, reaches two fingers with remarkable retention and pretty swaths of lacing.
A bit silent but very juicy with a full tangerine, Texas orange and pine hop scent. Underlyaing sweet malt is balancing with a bit of vinous fruit, grape-nuts cereal huskiness and rye spice.
Malt is clingy with the caramel sweetness constantly hanging on through the drink. Hops are stock west coast bold orange citrus with pine secondary. Fairly bitter that is enhanced by a drying/sticky mouth coating that features the pine hops, caramel malt and alcohol. Rye spice saunters in lazily near the finish and stays with you through the rest of the beer.
Adequate carbonation for this beer of medium body. The malt is sticky on the palate but so are the hops leaving a constant bitterness and drying feel. Really my mouth feels like it's velcro right now and malt sugars, bitterness, hop flavor, alcohol and rye spice are all there, just chilling out, and won't go home, quite interesting.
Mission accomplished but overall meh. I can't bash this beer too much, this rye IPA ticks every check box of what it should be and what I had envisioned. It was another stock West Coast IPA in a long line of competitors but with rye. The rye is present but not the featured player in this beer, maybe one to try when you are in a rye mood. The way every flavor in this beer sticks around far after the finish is what will make this one memorable.
1,575 characters

3.42
/5
rDev
-6.3%
look: 3 | smell: 3.5 | taste: 3.5 | feel: 3.5 | overall: 3.25
Poured into a pint glass.
3.0 A: Nearly clear medium yellow color. Two fingers of foamy white head. Retention is about average and a few wisps of lacing are left.
3.5 S: Spicy earthy rye. Floral and citrusy hops with an emphasis on orange and grapefruit. Touch of caramel maltiness with a strong yeasty breadiness.
3.5 T: Tastes like it smells. Spicy earthy rye. Floral and citrus hops per above. Moderate bitterness. Lots of yeasty bread.
3.5 M: Heavier medium body. Good moderate carbonation. Moderately creamy and chewy.
3.25 D: Decent beer overall. No real problems, but doesn't stand out either.
621 characters
3.29
/5
rDev
-9.9%
look: 3.5 | smell: 3.75 | taste: 3 | feel: 3.25 | overall: 3.25
Code is 15/22N/19/13/03:51. Best I can figure is bottled on November 22nd, 2015?
Appearance - Pours hazy and sunset orange in color with an off-white, foamy finger width head. Decent retention, then breaks down to a near barren surface. Lacing consists of fair-sized isolated chunks and small spots here and there.
Smell - Rye spice, a touch of citrus and noticeable malt that's part grain, part caramel.
Taste - Mild rye spice bite met with a huge amount of grainy malt and a touch of caramel sweetness. Mild citrus undertone that comes to the forefront in the finish, leaving a citrusy, grainy aftertaste with a touch of cardboard.
Mouthfeel - Medium in body with low to moderate carbonation.
Overall - Not very good. Very uninspiring.
743 characters

3.04
/5
rDev
-16.7%
look: 4 | smell: 3.75 | taste: 2.75 | feel: 2.5 | overall: 2.75
Excellent looking brew out of the gate, big two finger off-white head that leaves in its wake a hefty amount of lace. Smells of pine, pineapple, grass, malt, rye and drywall.
Taste is a heavy mixture of rye grain, pine resin, caramel, grass and something I can't quite put my finger on. Feels quite harsh and almost soapy, overly dry and bitter. There's just not that balance of hop and rye that other offerings of this style have and left me disappointed, as it starts out well enough. Has the potential to be a good brew but is severely lacking in the finish.
562 characters

3.65
/5
rDev 0%
A: Pours a fairly opaque orange. Finger of head with moderate lacing. Nice retention. Carbonation is difficult to discern due to the cloudiness of the beer.
S: Definitely pricks the nostrils. Citrus, some dankness, spicy rye characteristic. Getting a lot of orange peel and pith on the finish, almost like unsweetened marmalade.
T: Big hit of fairly fresh orange up front. This dries out a bit and the rye spiciness becomes more evident in the finish. Exhibits some sugared citrus rind characteristics. Bit of spice cake. Slightly toasty on the very end of the finish.
M: Medium to medium/heavy. The malt is fairly heavy here, and the carbonation doesn't do much to uplift it. Drinks a little viscous.
O: The absolute lack of carbonation on this one makes the flavors feel a bit heavy and inundated. While I enjoyed the experience, it was most definitely a "heavy" IPA at 7.0%
906 characters

3.37
/5
rDev
-7.7%
look: 3.75 | smell: 3 | taste: 3.5 | feel: 3.25 | overall: 3.5
22 oz. bomber poured into tulip glass.
A: Dark, opaque orange-ish brown, with a significant, thick foam head that never truly dissipates completely and leaves a ton of film.
S: Malty and fruity, with a grainy finish.
T: Lives up to its aroma -- malt is very forward, with citrus and rye hanging in the background (though still apparent).
M: Warm and thick, with mild carbonation.
O: The rye part of this beer doesn't necessarily come through a ton, but still an enjoyable IPA that's warm and pleasant to drink.
516 characters

4.24
/5
rDev
+16.2%
look: 4.25 | smell: 4 | taste: 4.5 | feel: 4.25 | overall: 4
Very light for A rye IPA, but very solid. I enjoyed this beer it was very good but for a better Rye IPA try Liberation Rye IPA from Black Market Brewery, Temecula, CA
166 characters
3.2
/5
rDev
-12.3%
look: 3.5 | smell: 3.5 | taste: 3 | feel: 3 | overall: 3.25
Pours a nice looking hazy pale/orange color with a fizzy head that reminds me of a homebrew. Head remains for a long time. Smell is pale malt and light pine/citrus. Flavor is pale ale. Not much going on here. Very little hop flavor and very little rye spice. Where is the "bite"? Mouth feel is thin.
306 characters
3.28
/5
rDev
-10.1%
look: 3 | smell: 3.75 | taste: 3.25 | feel: 2.5 | overall: 3.25
November 13th, 2013 - I'm seeing Rye IPAs here and there, and I like what they do. The rusty, dry touch hugs the hop bitterness well, but balance is still key. That means quality varies. Belching Beaver's interpretation of the style, however, is quite lovely. The aroma is traditionally hoppy, but circled by fruity scents like sweet, ripe pineapple, orange, and flowers. The flavor is similarly on the sweeter side. Meanwhile, the palate is smooth, almost flat, delivering a slow, serpentine brew. The touch of rye doesn't manifest as rye, though it might be playing with the other flavors in subtler ways. Even so, this is a lovely drink, even though the unctuous mouthfeel is, at first, somewhat unexpected.
710 characters

3.47
/5
rDev
-4.9%
look: 3.75 | smell: 3.5 | taste: 3.5 | feel: 3 | overall: 3.5
Vintage: 2014
Appearance: Cloudy amber with brown tinge; fluffy, off-white, quickly-dissipating head; good lace
Smell: Pineapple; Mango; Rye spice
Taste: Pine; Apricot; Rye; Lingering Bitterness
Mouth-feel: Low carbonation; Medium body; One note
Overall: Really good, but not great RIPA. Lacks in complexity. One note, a good note, but one note doesn't make a song.
367 characters
4.05
/5
rDev
+11%
look: 4 | smell: 4 | taste: 4 | feel: 4.5 | overall: 4
Smell: got a light pine sweet smell
Pour: white medium foam head. The color Dark brown. Good carbonation.
Taste: Took the first drink Not too hoppy just has a hoppy bite. Has a Bitter aftertaste. Heavy malt and sweetness. This is a well balanced ipa a nice balance of hops rye and malts. Putting rye in a ipa just diminishes the hops. The carbonation makes this beer crisp and nice to drink
Overall: just a great complexed double and being only 7% this was a smooth brew all the way through.
496 characters
Rabid Beaver Bite Rye IPA from Belching Beaver Brewery
3.65
out of
5
based on
81
ratings.