Dammed!
| Belching Beaver Brewery
BA SCORE
83
good
15
Reviews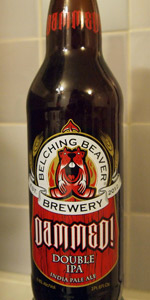 BEER INFO
Brewed by:
Belching Beaver Brewery
California
,
United States
belchingbeaver.com
Style:
American Double / Imperial IPA
Alcohol by volume (ABV):
8.80%
Availability:
Year-round
Notes / Commercial Description:
No notes at this time.
Added by Jason on 03-05-2013
Reviews: 15 | Ratings: 137
3.52
/5
rDev
-2.5%
look: 3.75 | smell: 3.5 | taste: 3.5 | feel: 3.5 | overall: 3.5
Pours a murky honey orange with a foamy orange-white head that settles to a partial film on top of the beer. Small streaks of lace form around the glass on the drink down. Smell is of malt, earth, onion, garlic, and herbal hop aromas. Taste is much the same with herbal hop and slight onion and garlic flavors on the finish. There is a mild amount of hop bitterness on the palate with each sip. This beer has a lower level of carbonation with a slightly crisp mouthfeel. Overall, this is a pretty good beer with an herbal and somewhat vegetal hop presence all around.
567 characters

4.03
/5
rDev
+11.6%
look: 4 | smell: 4 | taste: 4 | feel: 3.75 | overall: 4.25
As you can see from the photo, they call this "Dammed!" now. Attractive dark coppery amber. Lots of bubbles and swirls of foam. Quite spritzy on the tongue. Lucious aroma of ripe pears and citrus.
This is almost a holiday brew, though one with a hop problem. Rich and tangy with an underlying dark roasted malt flavor. Hot with alcohol and sharp with hoppy acidity. some fresh fruity flavors followed by plenty of bitterness. Peppery green mango flavor.
Lemon peel finish. One of the more drinkable DIPAs I've had this year, and this along with the Rabid Beaver Bite is more evidence that these guys know what they're doing in spite of the silly names. From the 22 oz bottle bought at Belching Beaver's tasting room on 30th Street.
733 characters

3.08
/5
rDev
-14.7%
look: 2.75 | smell: 3.5 | taste: 3 | feel: 2.75 | overall: 3
Not really sure this is an ipa lol it taste kind of like a slightly hoppy doppelbock. I'm not sure what they were going for... not bad, but they really missed the style mark.
174 characters

3.53
/5
rDev
-2.2%
look: 3.75 | smell: 3.75 | taste: 3.5 | feel: 3.5 | overall: 3.25
Poured into a pint glass.
3.75 A: Moderately hazed amber orange color. Three fingers of pillowy beige head. Retention is about average and lots of lacing is left.
3.75 S: Big citrusy component in this - tons of mango, orange, papaya. Rich caramel and toffee maltiness. Grapefruit and some pine.
3.5 T: Like the nose, big citrus with a strong malt backbone. Fruit trio mentioned above, caramel and toffee. Unfortunately this has some cooked vegetables in there, which their IPA also had.
3.5 M: Heavier medium body. Good moderate carbonation. Slightly creamy and smooth enough.
3.25 D: It tastes pretty good overall, but I have to dock it some points due to the off flavors.
692 characters
3.52
/5
rDev
-2.5%
look: 4 | smell: 3.75 | taste: 3.25 | feel: 3.75 | overall: 3.5
Picked up a bomber from Holiday Wine Cellar in early September for $6.99. No freshness date but refrigerated since the purchase.
Beer poured golden orange with a nice white head that is lingering.
Nose is ripe citrus.
Taste is overripe grapefruit with lemon peel and an oily hop presence that is present from start to finish.
Mouthfeel is medium bodied and decently carbonated.
Overall this is a serviceable brew that has an OK flavor but nothing special. Nothing against the fellas from Belching Beaver (love the PB Stout) but there are many better alternatives in the San Diego market.
594 characters
3.59
/5
rDev
-0.6%
look: 4 | smell: 3.75 | taste: 3.5 | feel: 3.5 | overall: 3.5
Type: 8 oz. draft
Glass: ½ pint glass
From: Belching Beaver Taste Room in North Park (San Diego), Calif.
Price: $4.00
Purchased: Aug. 4, 2013
Consumed: Aug. 4, 2013
Misc.: N/A
Poured a drake reddish color with four fingers of khaki-tan head when I got it. Lots of uneven foamy lacing on the sides. Decent retention on the top of the glass all the way down.
Smelled dark red hops, interrupted by a roasty and toasty malt. Chocolate, toffee, slight floral hops, earthy malts and cocoa.
The first thing I thought in the taste was this a IIPA? Earthy, rye hops, toasty, roasty, caramel, toffee and bitter. Reminded me more of a Vienna lager.
Medium body. Creamy texture. Average carbonation. Long, slightly bitter finish.
This beer was just OK in my opinion. Probably wouldn't try it again.
796 characters

3.19
/5
rDev
-11.6%
look: 3.5 | smell: 3.25 | taste: 3 | feel: 3.5 | overall: 3.25
Undated bottle at 45 degrees into SA glass
Aroma of less aromatic conifers
Head average (4 cm standard pour), off white, frothy, diminishing to 4 mm ring and layer
Lacing good – complete ring which rapidly breaks down to large islands and archipelagos
Body medium orange, slight haze, constant effervescence
Flavor unremarkable – begins and ends with an oily terpene taste; no malt, no alcohol, no diacetyl
Palate medium, oily, soft carbonation
Appearance 3.5, Aroma 3.25, Flavor 3, Palate 3.5, Overall 3.25
512 characters

4
/5
rDev
+10.8%
look: 3.75 | smell: 4.25 | taste: 4 | feel: 3.5 | overall: 4
Now coined "Dammed" - 22oz bottle with my FW Snifter glass
Notes taken on 01/30/14
A: Dark amber with some orange and reddish hues. Considerable hop haze lessens the visibility of some lightly streaming carbonation. Thin layer of khaki tan suds forms over top with some minimal retention. Light dots and ribbons of lace stiock to the glass after every sip.
S: Smells of pungent pine hops with spiced grapefruit, gooseberry, and some musky white wine grapes. Sweetened bread and some sugary malts lend a candied citrus note. Alcohol is rather apparent. Pretty solid nose overall. Like fresh hop pellets soaked in alcohol.
T: Tastes a bit more malt forward than the nose leads on with some lightly toasted breads and a soft caramel-honeyed sweetness. Touch of dried stone fruit there even. Remains light and dry however with a big and resinous hoppy bitterness. Great combo of gooseberry, white grape, citrus, and some dank herbal weed. Less pine than the nose but it is not really missed. The alcohol is not very shy here and mixes in a touch of earthy spice. Minimally sweet which is a saving grace. Pretty big DIPA and nicely hopped.
M: A touch on the heavier side with the filling malt body and some sappy oils that really coat the palate. Moderately high level of constricting bitterness and some warming alcohol. Lightly dry on the finish with a long lasting linger affect.
D: A pretty decent DIPA. Firm malt bill with a nice dank tropical and resinous hop schedule. Would have again.
1,496 characters

3.7
/5
rDev
+2.5%
look: 4 | smell: 4 | taste: 3.75 | feel: 3 | overall: 3.5
Pours a slightly cloudy, orange/honey hue. Some sticky lace left behind by the near two-finger width, fluffy off-white head that holds retention well. Pretty tropical fruit and hop forward up front on smell: grapefruit, guava, pineapple, along with pine and caramel from the malt.
I actually pick up the Nelson hops pretty heavy in this one, with a clovy, tobacco chewiness and strong pine resin presence. Overripe grapefruit, orange peel, guava as well. A slight earthiness followed by a wave of heavy malt backbone. Slightly creamy with a lingering bitterness on the tongue. Alcohol covered well.
Overall this was a decent DIPA. A little one-note but this was more hop-forward than malt-forward in my eyes despite prior reviews. Maybe I was just graced with a good batch? Who knows. But I feel this is deserving of a better rating.
835 characters
1.8
/5
rDev
-50.1%
I just picked up a bottle at Whole Foods...from the ripe, boozy aromas and treacly flavors I'd guess it might be 6 months old or more. From reading some reviews, though, It might be that this IPA is just poorly executed. All of the citrusy, piny, tropical aspects you expect from a tasty IPA have given way to a cloying, syrupy, malt-explosion. If this IS in fact old (and it really tastes like it), Belching Beaver needs to have a serious conversation with their distributor - with the success of their surprisingly quaffable Peanut Butter Stout, they have no excuse to let substandard product to be sold at a craft-retail giant like Whole Foods.
Drain pour.
667 characters
4.25
/5
rDev
+17.7%
I was hoping this lived up to Belching Beavers Peanut Butter Milk Stout. It was an overall good Double/Imperial IPA, but it lacked the overall hop flavor that I desire. I got the tropical fruit, but it was overpowered by the malts. I got too much toffee.
254 characters
3.65
/5
rDev
+1.1%
look: 3.75 | smell: 3.75 | taste: 3.75 | feel: 3.25 | overall: 3.5
Aside from the malt overpowering hops a bit for being a double IPA, it is overall it a pleasant beer and might serve as a good entry level beer into the double IPA style.
170 characters
3.77
/5
rDev
+4.4%
look: 4 | smell: 3.75 | taste: 3.75 | feel: 3.75 | overall: 3.75
Pours a deep amber color. Not very well balanced. Very malt forward but still a decent beer. The Nelson hops were what caught my attention, so I was disappointed when I couldn't distinguish them over the malt
208 characters

3.86
/5
rDev
+6.9%
look: 4.25 | smell: 3.75 | taste: 3.75 | feel: 4 | overall: 4
750 into imperial pint. A dark orange, copper with a quick fade light beige head. The aromas were of some tropicals, but mainly floral with pine undertones. The bottle spoke of crushed grapes and citrus. I did not get that. Shortly after my first sip my wife leaned in for a kiss and said "you taste like grape juice." Girl's got a stellar palate.
Taste varied only slightly from the aromas. Floral, pine hops up front (and plenty tasty mind you, not a critique) with some sweet maltiness across the palate. Finish had the advertised grapefruit. This was interesting as DIPAs go. It had the "balance" of big hop and malt, but the flavor left your tongue pretty quickly and did not linger as long as expected with the medium-plus mouth feel.. Still, a good DIPA but tough luck being from a part of the country where great DIPA's flow. Still worth a taste.
856 characters

4.29
/5
rDev
+18.8%
look: 3.5 | smell: 4.5 | taste: 4.25 | feel: 4.5 | overall: 4.25
I'm clearly an outlier compared to the community, but I thought this was a fantastic beer. Cutting to my biggest complaint, which is just stylistic, is that this was too dark and the malt character/flavor was too noticeable on the finish for a DIPA. IMHO :-) Other than that, this was a winner. Nice, resin-y notes, quite rich, good balance. I would drink this one again in a heartbeat.
386 characters
Dammed! from Belching Beaver Brewery
3.61
out of
5
based on
137
ratings.