The Epicurean Restaurant & Bar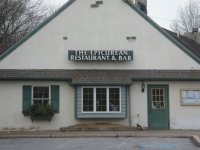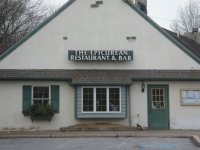 Bar, Eatery
902 Village at Eland
Phoenixville
,
Pennsylvania
, 19460-2286
United States
// CLOSED //
Notes:
Reviews by DrJay:
DrJay from Texas
4.18
/5
rDev
+2.5%
vibe: 4 | quality: 4 | service: 4.5 | selection: 4 | food: 4.5
My wife and I finally tried this place out, stopping in for dinner a few weeks ago. The dining room was a little more upscale than the brewpubs and most of the beer bars we've been frequenting lately. Not stuffy, but appropriate for the kind of dining experience they're trying to provide. There was a sizable beer menu that was immediately handed to us with our food menus, lots of US craft, Belgian, and good quality imports. I certainly had no problem choosing a beer that would go with my dinner. Our food was quite good. The scallop appetizer was delicious, the scallops were immense, and it tasted great. I had fish & chips (not sure why, given the menu, but that's what I had a hankering for), which were good, and my wife had the mac 'n' cheese entree, which was excellent. Prices for food and beer were within reason, but a little more pricey than I've seen elsewhere. Still, certainly not a bad deal. A good experience overall and I wouldn't hesitate to come here again. My ratings are based on the dining room.
Now on to the take-out room where you can grab singles to go. Compared to other places that you can grab singles in the area, the selection was anemic and the prices were very high. It would be worth the drive to go somewhere like Capone's where the selection is much better. I thought I might grab something to bring home after we finished dinner, but after looking around for a few minutes I turned around and headed out the door empty handed.
Dec 29, 2008
More User Reviews:
boelker62 from Pennsylvania
4.22
/5
rDev
+3.4%
vibe: 3 | quality: 4.5 | service: 4.5 | selection: 4 | food: 4.5
The Epicurean has been a mainstay in Phoenixville, well before it's resurgence. Many of us got our introductio tho The Ep with their now defunct Sunday Brunch. I do miss that...
A - a little stuffy in the dining room, but it matches the level of service, and it does feel nice to be handed a comprehensive beer list as large as the wine list, if not more. Very appropriately appopinted room for the level of dining. Proper spacing for a semi-formal dinner. If I wore jeans, it would be with nice black shoes, collared shirt and a jacket. You get the picture, for better or worse. The bar is a different story. It's usually full of people who do gardening work in that same clothing. So i have frequently felt the bar crowd there as off-putting, but I have had limited experience.
Q - great food offerings, every single time. Great specials and a solid menu. This is not a beer bar. Actually it is how a restaurant should be, a beer list equalling the wine list.
S - very helpful, attentive servers whenever there. Even the young man a the take out beer area really seems to know his stuff, and is learning all the time.
S - best you will find around that is offered at table service. (DISCLAIMER: I have not made it to Capone's in Norristown yet)
F - wonderful, every bite, from soups to appetizers and main courses, they are imaginative and almost daring in some offerings.
Overall, it's a bit pricey here, and aI prefer the pub atmosphere to this anyway. If I want fine dining, I will find a BYOB somewhere an bring my own bombers. But, you can't go wrong to try it here. It's just not my crowd.
Jun 05, 2007
Boto from Connecticut
4.58
/5
rDev
+12.3%
vibe: 4 | quality: 4.5 | service: 4.5 | selection: 5 | food: 4.5
This is a wonderful place to eat if you like upscale dining. I have eaten there on many occasions. The jerk chicken wings are among the best out there. The crab cakes are superb. Other favorites are the Lobster Ravioli, Duck and Lamb Chops. They even have a children's menu, which keeps my little one happy. And of course, the beer selection is great. 200+ bottles, and at least another half dozen on tap. I remember having Flying Fish Grand Cru one visit. The entree prices reflect that they are a bit upscale, but are reasonable for what you get.
Nov 28, 2006
NeroFiddled from Pennsylvania
4.05
/5
rDev
-0.7%
vibe: 4 | quality: 4 | service: 4 | selection: 4 | food: 4.5
The Epicurean is a comfortable, white tablecloth restaurant that straddles the fence into more of a family place. It has a kind of lodge-like feel, and the dining room is cozy, but larger than you might think from looking at it at the outside. The food is very good, and reasonably priced. Soups and salads are around $5-6, appetivers in the $8-9 range, burgers are $6, and entrees run in the $16 to $20 range with home-style foods (meatloaf, pot pie, ravioli) alongside more adventurous dishes (veal & shrimp sautee, roast duckling).
The bar is small and comfortable with about 12 - 14 seats and some tables on the side; and it has even more of a ski-lodge feel with a vaulted ceiling and lots of wood. The draft selection is decent, as is the bottle menu, but the prices are kind of high... $4.95 for a bottle of Flying Fish Extra Pale Ale? Regardless, it's a nice little bar and they do have happy hour. There's music on Friday and Saturday nights from 9 to 1 (although I've never been there for that), and the late night menu goes until midnight.
There's a take-out area around back with a pretty good selection; and since it's right down the street from the Sly Fox and Iron Hill, it might be worth it to stop in for a beer and see if you'd like to have dinner one night.
Oct 09, 2006
bmills1608 from Pennsylvania
3.35
/5
rDev
-17.9%
vibe: 3.5 | quality: 3 | service: 3.5 | selection: 3.5 | food: 3.5
Nice restaurant, nice bar. Very warm interior with a lot of soft light colored wood in the bar. The restaurant was bit dim and modern in appearance. Basically one of your typical, somewhat upscale eateries that dot the Philly suburbs.
Food was good, but call me uncultured (i.e. cheap), I felt bang for buck was a bit lacking. The beer menu was very nice. Plenty of micros, macros and Imports. Not an astonishing list, but fairly good and definitely better then most "upscale" places would have. For me any place that has a separate beer menu is at least on the right track.
I had a Victory Prima Pils and got a Rogue Dead Guy to go. The "to go" part of this place is what a Pa BA would call a descent find, which means they sell singles and have an above average selection. Singles are hard to come by in the Keystone state with it's wonderfully frustrating case laws. Don't make a special trip here for sure, but if your in the area, maybe pull in and at least check out the singles.
May 19, 2003
The Epicurean Restaurant & Bar in Phoenixville, PA
Place rating:
4.08
out of
5
with
5
ratings