Fünk Weisse
| BlueTarp Brewing Co.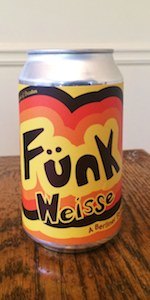 BEER INFO
Brewed by:
BlueTarp Brewing Co.
Georgia
,
United States
bluetarpbrew.com
Style:
Berliner Weissbier
Alcohol by volume (ABV):
3.00%
Availability:
Rotating
Notes / Commercial Description:
No notes at this time.
Added by Zach136 on 08-15-2013
Reviews: 10 | Ratings: 38

3.14
/5
rDev
-16.5%
look: 2.75 | smell: 3 | taste: 3 | feel: 4 | overall: 3.25
12oz Can
A — Pours a lemony and hazy yellowish hue into the glass. There is somewhat of a white head initially, but it of course fades to a thin layer of nothingness.
S — Smell is lightly tart and acidic, with an oddly acrid nuttiness as well, almost notes of Amaretto on top of some limey and tart sour notes.
T — Much like the nose, very mild overall with just hints of lemon and lemon, and an overtone of nuttiness and semi-sweet malts.
M — Thin and light bodied, easy going enough.
O — Fine overall, a nice light sour, funky indeed.
555 characters
3.61
/5
rDev
-4%
look: 3.5 | smell: 3.75 | taste: 3.5 | feel: 3.5 | overall: 3.75
I am no expert by any means. Basically, if I like the taste then I'm sold so that being said I tend to like ales better. This beer had a smooth taste, not too overpowering. It was my favorite of the beers we tried there. That being said, it was good on tap. I don't know how I'd feel if they started canning or bottling. Some beers are great on tap but bad in bottle so there ya go!
382 characters
3.67
/5
rDev
-2.4%
look: 3.75 | smell: 3.5 | taste: 3.5 | feel: 4 | overall: 4
16 ounce pint - $5.00 at Taco Mac in Kennesaw, Georgia.
Appearance: Hazy, golden body underneath a sturdy, white head. Enthusiastic lace coating on the descent.
Smell: A snappy sourness with a strong sense of lemon juice atop the rather subtle wheat characteristics.
Taste: Instant crackling ripple of salty lactic sourness, again, with a wallop of juiced lemons that really gets the saliva glands a-goin'. Slight, mildly creamy wheat presense. Remains as such until the finish.
Mouthfeel: Medium-bodied. Medium-plus carbonation.
Overall: A bit more sour, a bit more fuller than most traditional BW's. So, I guess this makes Funk Weisse a BBW.
648 characters

3.74
/5
rDev
-0.5%
look: 4 | smell: 3 | taste: 4 | feel: 3.75 | overall: 4
This Berliner Weisse pours clear, straw colored, with a white head.
Aroma of slightly funky baked bread.
Flavor: this is quite tart and flavorful. Lemony with a touch of apple.
Feel: medium body with just right medium carbonation.
O: Wow, very flavorful, especially at only 3%!
283 characters

3.74
/5
rDev
-0.5%
look: 4 | smell: 3.75 | taste: 3.75 | feel: 3.5 | overall: 3.75
An interesting Berliner Weisse. Immediate lemon on the nose, tart lemon taste with a strong sourdough bread flavor. A very interesting brew, low alcohol so it's sessionable. Refreshing as well. Kind of had a gritty mouthfeel at times, but nonetheless a solid offering.
268 characters

3.89
/5
rDev
+3.5%
look: 3.75 | smell: 3.5 | taste: 4 | feel: 4.25 | overall: 4
Pours a white fizzy head. Color is a clear gold. Active carbonation.
Flavor profile: tart, sour, and citrusy. Lemon and acidic flavors. Has a fairly large wheat pressence. Fairly fruity and very funky. Vinegar. Has a grape flavor mixed in.
Mouthfeel: crisp and tart. Light bodied with a good amount of carbonation. Ends clean.
Overall, this was a fantastic beer. Awesome take on the style. Very drinkable.
408 characters

3.9
/5
rDev
+3.7%
look: 4 | smell: 4 | taste: 3.75 | feel: 4 | overall: 4
12oz can poured into a pint glass
A: Yellow with a one-finger head that quickly settles
S: A nice tartness, lemon, a bit of stone fruit
T: Lemon, lemonade (a bit sweet), sweet bread, apple and grapes/vinegar
M: Light-bodied, crisp, a bit of an acidic bite
O: Tone the sweetness down and this would be awesome. As is it's crisp, refreshing and would be a great session beer on a hot day
385 characters

4.11
/5
rDev
+9.3%
look: 3.75 | smell: 4 | taste: 4.25 | feel: 4.25 | overall: 4
This beer is as fun as its label. The aroma is slightly acetic on top of more pleasant things. The taste is a mix of Sweet Tarts candy, a hint of honey, and more beerlike things I can't find the right words for. Normally beers that taste like candy are offputting, but this one does it well, presumably because of the tart component. If this were an image in Photoshop, someone would have cranked up the saturation slider. The flavors are very rich and magnified. I like the post-tart feeling it leaves on my tongue. I was surprised to learn that this was only 3%. It feels more substantial and robust than that. Where is that viscosity coming from? I don't know but it adds to the nice mix of things.
702 characters
4.2
/5
rDev
+11.7%
look: 4.25 | smell: 4.25 | taste: 4.25 | feel: 3.75 | overall: 4.25
$4.74 for a 32oz counter pressure filled growler from Barrel and Barley in Woodstock, GA -- quick notes.
A - Cloudy deep straw, pure white fluffy pillow of a head with excellent lacing.
S - Subtle funk with a sourkraut backbone, touch of wheat sweetness in there as well.
T - Pungent sourkraut tartness, backbone like a bowl of Chex cereal. Some green apple present as well.
M - Some gulps were a hare on the sticky side for my liking, but still a very crisp and refreshing finish.
O - An awesome Berliner, much more tart than most young Berliners. I'm very impressed and even more so with the price. Will be a mainstay in the fridge!
640 characters
4.3
/5
rDev
+14.4%
look: 4.25 | smell: 4.25 | taste: 4.5 | feel: 3.75 | overall: 4.25
Had a few times before, but first time trying it out of the can. Smells of intensely lemon sourdough. Feels very fizzing in mouth with absolutely no booziness. Very light beer. Could drink a case and still go out of dinner. First taste of extreme sourness, then transitions into that good bready finish. Leaves one of the best aftertastes of any sour I've tried. Has to be one of the most refreshing beers to drink. I've been waiting Blue Tarp to can this beer for some time now, and very pleased to be able to drink it whenever I please.
538 characters
Fünk Weisse from BlueTarp Brewing Co.
3.76
out of
5
based on
38
ratings.