The Wayward Son
| Radical Road Brewing Co.
BA SCORE
80
good
11
Reviews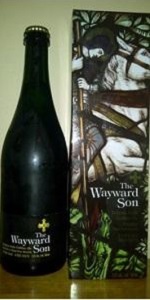 BEER INFO
Brewed by:
Radical Road Brewing Co.
Ontario
,
Canada
Style:
Belgian Strong Pale Ale
Alcohol by volume (ABV):
7.50%
Availability:
Limited (brewed once)
Notes / Commercial Description:
Belgian-style golden ale aged in Pinot Noir barrels
Added by korguy123 on 07-28-2013
This beer is retired; no longer brewed.
Reviews: 11 | Ratings: 31

3.3
/5
rDev
-1.5%
look: 4 | smell: 3.25 | taste: 3.25 | feel: 3.25 | overall: 3.25
750 ml bottle served fairly cold into a pint glassy comes in an artistic looking box. Purchased for $11 CDN.
Appearance - dull hazy golden color. Three fingers of dense creamy white head and good retention. Significant bubbles are present, and while not completely hazy, it's not clear either.
Smell - spicy and a bit of musty aroma, certainly some grapes from being aged in wine barrels. A little bit yeasty smelling too. Interesting, but doesn't all come together.
Taste - mildly bitter, with a bit of the Belgian yeasty flavor. Also a bit musty. Some sweet fruit juiciness up front but it fades away pretty quick. It's not bad but just seems a bit all over the place. The aging in wine barrels doesn't seem to have too big of an impact here.
Mouthfeel - light, smooth and moderately carbonated. Soft feel in the mouth and slightly dry finish.
Overall - not necessarily a bad Belgian pale ale, it just doesn't jump of the tongue as being something that is absolutely delicious. Worth a try, but the price is fairly steep and the end result is middling. Unless you have a real thing for beer aged in wine barrels, it's probably safe to give this a pass.
★
1,160 characters
3.75
/5
rDev
+11.9%
look: 3.75 | smell: 3.75 | taste: 3.75 | feel: 3.75 | overall: 3.75
Bottle: Poured a golden color ale with a large foamy head with quite good retention and some good lacing. Aroma of vinous notes with lightly sweet malt notes with some residual grapes notes also identifiable. Taste is also dominated by light sweet notes with remarkable vinous notes which are well balance against some residual sugar notes. Grapes notes are also noticeable. Body is about average for style with good carbonation. Enjoyable overall with very solid balanced of all the flavours.
★
493 characters

3.47
/5
rDev
+3.6%
look: 3.25 | smell: 3.75 | taste: 3.5 | feel: 3.25 | overall: 3.25
The Wayward Son started off pure - a clear, golden beer of angelic brightness and virgin white head - but the second half of the bottle defiles that; it ultimately becomes dull, turbid, and its pearls crumble almost entirely. Appearance wise, the ale doesn't live up to its packaging.
The nose is splendid but lacks any mark of the pinot noir barrels in which the beer was aged. It is a classic Belgian Strong Golden Ale bouquet: strong, spicy, savory, and fruity. It has the air of an orchard (lots of apple, pear) but not a vineyard. The oak, however, is mildly perceptible.
Any red wine characteristics that may have leaked out of the barrels remain concealed on the palate. There's still no sour cherry, berries, currants or any other kind of taste or texture I'd associate with the grape. Once again, this flavour is more orchard and citrus fruit focused, notes of apple and orange peel prevailing alongside the soft, sweet, ultra-bready maltiness.
True to its style, the mouthfeel has zesty, spicy, and herbal qualities. A pepper and coriander-like piquancy, fueled in part by the 7.5% alcohol, stings the tongue on some sips while an earthy, dried herb-like savoriness and barnyard-like yeastiness pull the reins in the aftertaste.
'Wayward' is an adjective meaning "difficult to control or predict". It's a very fair word to describe the challenging and inexact science of barrel-aging; envisaging the combination of flavours and textures between the beer, the oak, and the wine is no easy task. But given the success of Radical Road's Canny Man, this follow-up offering was surprisingly disappointing.
★
1,618 characters

3.18
/5
rDev
-5.1%
look: 3 | smell: 3 | taste: 3.25 | feel: 3.25 | overall: 3.25
Appearance: wildly effervescent at first, generating a sizzling, frothy white head that burns out quick; peach coloured, juicy
Aroma: tinny; lightly of stone fruit (peach) and banana, floral
Taste & Mouthfeel: apple & pear, light and juicy; definitely doesn't feel like a 7% beer, swear you could feed this to a toddler - it's simple enough for one, with only a fleeting memory on the tongue and little depth of flavour; can get a bit of honey and orange as per the description, but other than that it's oversold; could use something to balance out the sweetness and make it more crisp
Overall: nothing exciting here, a one dimensional brew that is somewhat reminiscent of cider; worth it if only for the packaging
★
717 characters
3.31
/5
rDev
-1.2%
look: 3.75 | smell: 3.25 | taste: 3.25 | feel: 3.5 | overall: 3.25
Huge thanks to TheSevenDuffs for including this brew in our 2013 fall canbif.
A: Exceptionally clear pour with a golden apricot hue. 2 fingers of bone white head which settles to a light covering with minimal lacing.
S: Traditional Belgian yeast profile with yeasty bread and white pepper together with light notes of buttery caramel.
T: The French oak is noticeable with a buttery, caramel profile. The Belgian yeast is mild and there are background notes of light spices and coriander.
M: Medium bodied with moderate levels of carbonation.
O: The French oak is prominent in the taste lending a buttery, caramel profile. The Belgian ale aspects remain in the background with an overal mild profile. A good tasting beer but there are more exciting ones out there.
★
773 characters
2.38
/5
rDev
-29%
look: 3 | smell: 2.5 | taste: 2.25 | feel: 2.5 | overall: 2.25
Bottled poured in to snifter.
A - Poured a translucent pale orange colour with two fingers of thick cream coloured head.
S - Very sweet with some Belgian yeast and clove aromas coming through and a very light citrus aroma. No barrel notes come through on the nose at all. Some noticeable alcohol.
T - Sweet bread and candy notes dominate. Lighter Belgian yeast and clove notes with a hint of lemon. No barrel notes come through at all, as the nose indicated. Very sweet and generally bland.
M - Medium body. Somewhat dry. Moderate to high carbonation.
O - This was very disappointing. That makes two VERY disappointing beers so far from Radical Road. Interestingly enough first one (Canny Man) was ALL barrel and this one had no barrel whatsoever. I think these guys should focus less on their packaging and more on the beer.
★
833 characters
2.07
/5
rDev
-38.2%
look: 1.5 | smell: 2 | taste: 2 | feel: 3 | overall: 2
Poured vertically into glass elevating to 6-12 inches but only generated a centimeter of head that dissipated quickly. Very little aroma, mostly cider sweetness. Flavour is light with cider notes, some barrel, no real malt or yeast. Strangely full mouthfeel paired with flatness. Really needs some carbonation and malt presence, no good.
★
337 characters
3.67
/5
rDev
+9.6%
look: 4 | smell: 3.75 | taste: 3.5 | feel: 3.75 | overall: 3.75
A - Pours a nice golden orange colour, thumb of head with solid retention and some sporadic lacing.
S - Nose is fruity with cloves, orange rind, musty grains, wheat, and some faint grassy hop notes.
T - Much like the nose, cloves and fruity notes, hints of orange rind and citrus, grassy hop notes linger alongside a sour bitterness.
M - Medium bodied, a tad prickly and a touch of dryness on the finish.
O - Tasty Belgian ale, but nothing over the top and the barrel aging is largely unnoticeable. I supposed there's some sour grape notes and faint woody notes, but that could all just be in my head. Certainly not worth the extra cost, but the box is worth hanging on to.
★
677 characters

3.67
/5
rDev
+9.6%
look: 4.25 | smell: 3.5 | taste: 3.75 | feel: 3.75 | overall: 3.5
Golden orange colour, 1.5 fingers white head with some lace as well. Smell is yeasty and fruity, moderate spicy notes, green apple and lemon sweet tarts, the barrel influence is very subtle with just a mild oak to it. Taste is yeasty, fruity, lightly tart green apple skin, cherry pit, a bit of oaky-vanilla and spice in the finish, neither too sweet or dry. Medium carbonation, medium bodied. Not bad, the serving size gets tedious though, much better than Canny Man but that was pretty terrible.
★
497 characters
3.07
/5
rDev
-8.4%
look: 4.25 | smell: 2.75 | taste: 3 | feel: 3.5 | overall: 3
The artwork on the box for this bottle is really beautiful. Too bad it probably added a buck or two to the price tag. From notes.
A - Golden blonde pour with strong carbonation. Bright at first with some definite cloudiness with the yeast added. One finger of fluffy white head on top. Good lace rings and good retention.
S - Yeasty, some spice. Pretty boring.
T - Orange, yeast, spice, light crackery malt.
M - Good carbonation, creamy medium body, and a slightly dry finish.
O/D - Aged in wine barrels? Coulda fooled me! A decent Belgian pale, but certainly nothing to think twice about. No barrel character at all that I could pick up on, and the base beer isn't all that interesting.
★
692 characters
3.5
/5
rDev
+4.5%
look: 4 | smell: 4 | taste: 3.25 | feel: 3.5 | overall: 3.25
Second release from Radical Road.
Standard Belgian Strong Pale but aged in Ontario Vineyard Pinot Noir Barrels.
Nice box instead of the paper wrapped bottles of Canny Man.
Pours a hazy, light orange colour. Two plus finger of tight bubbled, soapy, off white head.
Lacing is very good.
The candied sugar really sticks out. Slight lemon with a sweet orange presence. Fresh cut grass and some sugar cookies.
Sweet malts, a light grassy hop presence followed by lemon peel and some peaches. Light grape presence with a touch of oak.
Light body, good carbonation with a dry quick finish.
Good second attempt. I enjoyed it, would love to have seen more wine character in the beer though. Really just a BSPA in a nice box.
★
735 characters
The Wayward Son from Radical Road Brewing Co.
3.35
out of
5
based on
31
ratings.