Heroine India Pale Ale
| 101 North Brewing Company
BA SCORE
83
good
14
Reviews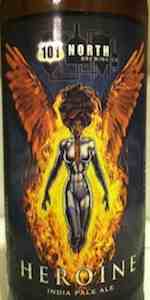 BEER INFO
Brewed by:
101 North Brewing Company
California
,
United States
101northbeer.com
Style:
American IPA
Alcohol by volume (ABV):
7.20%
Availability:
Year-round
Notes / Commercial Description:
Immodest hop additions throughout the brewing process characterize this distinctive, amber colored NorCal fashioned India Pale Ale. With an ABV of 7.2% galvanized by a total of 64 IBU's, we were obliged to create an IPA that would distinguish itself as immortal amongst the common, and with an unforgettable name. We believe we have done just that. Heroine India Pale Ale. A pint of help is on her way.
Added by elNopalero on 02-28-2013
Reviews: 14 | Ratings: 118

3.54
/5
rDev 0%
look: 3.75 | smell: 3.5 | taste: 3.5 | feel: 3.75 | overall: 3.5
Golden pour with a packed fluffy head. Aroma of pine, crackery malt, melon. Taste is pine, spruce, mint, herbal tea, melon. Slightly sweet and bitter follow through. Solid beer.
177 characters

3.15
/5
rDev
-11%
look: 3 | smell: 3 | taste: 3.25 | feel: 3 | overall: 3.25
Pours a thin head on a clear straw body.
The aroma is mild grain and lemon.
The taste is more malty sweet with a balanced hop profile. Lemon bitterness.
The texture is medium and softer.
An enjoyable malty IPA.
210 characters
3.53
/5
rDev
-0.3%
look: 3.5 | smell: 3.5 | taste: 3.5 | feel: 3.75 | overall: 3.5
A: The beer is hazy yellowish amber in color and has a slight amount of visible carbonation. It poured with some lacing on the surface and a collar around the edge of the glass.
S: Moderate aromas of herbal and spicy hops are present in the nose.
T: The taste follows the smell, having lots of flavors of herbal hops along with notes of spicy hops and hints of underlying caramel malts. There is a light to moderate amount of bitterness.
M: It feels medium-bodied and a little crisp on the palate with a moderate amount of carbonation.
O: This IPA does a good job at hiding its alcohol from the taste, but I didn't find the combination of herbal and spicy flavors to be rather pleasant.
Serving type: bottle
709 characters
3.7
/5
rDev
+4.5%
look: 4.5 | smell: 2 | taste: 4.25 | feel: 4.5 | overall: 4
At first sniff didn't expect much, hardly any aroma (more caramel than hops) . The taste was definitely better. Hops and barley well balanced with lingering finish. Many of the great IPA's finish a bit too crisp for my taste. The hops are a nice blend of pine, light citrus and earth. If the brewery added some aroma hops this could be a very good beer.
353 characters
3.75
/5
rDev
+5.9%
look: 3.75 | smell: 3.75 | taste: 3.75 | feel: 3.75 | overall: 3.75
Pours a deep copper amber.
The malt is at the forefront here with a graham cracker amber ale flare. The hop profile is more centered around a clean bitter finish. Not a juicy aromatic hop explosion we've grown used to. 10 years ago this would have been considered a hoppy take on an English IPA. Now I don't know what it is, but it's a good IPA that's not trying to rock worlds.
380 characters
3.5
/5
rDev
-1.1%
an apparently widely distributed but largely underwhelming ipa in the northern california area. its got a little more red caramel type malts to it, beefing it up a bit in body and alcohol, but the hops are irrelevant here. its not floral or aromatic, and it doesnt finish bitter or juicy, it just sort of wallows in mediocrity on the hop front. the beer is well made though, has no immediately apparent flaws, but comes across as a fine execution of an unimpressive recipe. i liked the other beers i had from these guys a lot better, and think this one fails to distinguish itself in a crowded west coast ipa scene, its big without being dank and resinous, not one i would choose again. also a bit filling for summer, but i can see the appeal for some.
752 characters

3.73
/5
rDev
+5.4%
look: 3.75 | smell: 3.75 | taste: 3.75 | feel: 3.5 | overall: 3.75
22oz bottle into my FW snifter glass
Notes from 06/22/14
A: Lightly hazed burnt sienna color. Has that orangey amber look to it with a half finger width of khaki suds frothing over top. Modest hang time with just a few choppy dots and swaths of lace left behind.
S: Heavy spiced hops with grassy herbals and a light tropical fruit note. It has this passion fruit and guava thing going on which is nice. Very spiced up however. I get some ephemeral biscuit malt underneath. Fairly nice and hoppy aromas.
T: Taste has a firm bready malt biscuit there but with equal parts hops to balance. I get a good mix of grass with spice as well as some grapefruit and tropical spiced guava fruit. There is a low amount of actual bitterness with a touch of astringent pucker at the finish. The alcohol is really well masked making this nicely balanced and rather tasty.
M: The mouth feel is creamy on the tongue with a moderate to lighter body. Some light astringency constricts the palate a touch. Good drying at the finish which is rather clean overall.
D: This IPA won't blow minds with its hefty toasted malt bill but it has some nice hoppy notes with a bit of spiced tropical flare to it. All in all some good balance across the boards. Would definitely have another but probably not something I will be searching out when in NorCal.
1,334 characters
2.31
/5
rDev
-34.7%
look: 3 | smell: 2 | taste: 2 | feel: 3 | overall: 2.75
Appearance: A clear pale ale color, foamy khaki head that is thick with decent lacing.
Nose: Not much going on, simple hops. Not impressive.
taste: Coppery, metallic, smooth hop oils, well balanced with a malty finish. Medicinal all of the way through and watery, but clean.
Notes: Malt too unbalanced to be good, or to stand out. Mouthfeel is weak and unoriginal.
375 characters
4.82
/5
rDev
+36.2%
look: 4.5 | smell: 5 | taste: 4.75 | feel: 5 | overall: 4.75
I love this beer, it is not too hoppy.I am into lighter styles but enjoy a IPA that is drinkable and doesn't feel like its weighing me down, this is just that. It is easy to drink and has a light feel yet still has all the characteristics of a well rounded IPA. A break from the norm this brewery is one to keep an eye on.
322 characters
3.72
/5
rDev
+5.1%
look: 3.25 | smell: 3.75 | taste: 3.75 | feel: 3.75 | overall: 3.75
The body is a deep, ruddy-brown color. Not much of a head forms, just a trace of tan, bubbly foam. It does leave some pretty nice looking lacing on the sides of the glass.
The nose is very malty, with aromas of caramel, brown sugar, and some molasses. Piney hop notes, with some floral tones as well. A little touch of grapefruit sweetness is also there.
Malt forward again, with flavors of caramel and toasted bread. There is also some vague, apple fruit flavors. Light citrus hops, with a floral essence. Piney hops with some juicy grapefruit come up towards the end, and the finish has a dry and bitter finish, with a red ale essence.
The finish has some of the qualities of a red ale that I don't like (a weird mixture of malt sweetness and pine bitterness), but that is easily forgiven. An IPA to try out if you're looking for something different, as this is kind of a Red Ale/Amber/IPA hybrid. Pretty easy drinking, and satisfying.
940 characters
3.31
/5
rDev
-6.5%
look: 3.5 | smell: 3 | taste: 3.5 | feel: 3.25 | overall: 3.25
Copper color, darker than most IPAs. Frothy cream colored head.
Smells bordering on a red/amber ale with hints of wet paper.
The hops are strong up front, but fairly easy drinking for a higher alcohol IPA.
Smooth enough, but pretty flat. Somewhat astringent. Giving me some lingering hop breath.
With an abundance of good IPAs these days, it's tough to be noticeable in a good way and this one doesn't really stand out from the pack for me.
446 characters

4.16
/5
rDev
+17.5%
look: 3.75 | smell: 4 | taste: 4.25 | feel: 4.25 | overall: 4.25
Tasty flagship from a worthy new brewery - combining the coppery-malty East Coast style of IPA with the hoppy character of the West Coast. This beer reminds me somewhat of Victory's Hop Devil, but with the creamier feel favored by West Coast brewers.
Pours a clear coppery with a moderate head that falls quickly, leaving decent lacing. The aroma is sticky hoppy with a citrusy edge over a somewhat milky character, like a creamcicle. The flavor is rich and hoppy - resiny and sticky, bitter like a blood orange, with a firm but not assertive malt backbone and an icecream feel on the tongue. The bitterness is confined mostly to the attack, with only a little prickle on the top of the throat on the finish.
709 characters
3.89
/5
rDev
+9.9%
look: 3.75 | smell: 4 | taste: 4 | feel: 3.5 | overall: 3.75
Pours out amber with orange around the edges. The head is off white and smaller than expected, there is plenty of visible carbonation. Lace retention is nice, sticks around for a while.
Pale and caramel malts start the smell. Some spice and citrus follow with a hint of pine. Not really West Coast, or NorCal as described, but still smell like a pretty good IPA.
Interesting, almost roasted caramel start, quickly followed by citrus. It's more of an orange peel than a fruit citrus. Some grassy hops and pine aftertaste show up. There is a spicy note to this, the good gentleman at Healthy Spirits thought it might be Rye. I think he might be right. Whatever it is that adds that spicy kick, it's a nice addition. Carbonation is a little heavy for the thickness of the beer, but not terrible.
No real complaints. I may grab one again, wouldn't be bummed if I saw it on tap. But also not going to make the list of favorites. Sad I missed their brewery night during SF Beer Week. They got the time wrong online and I chose another meet the brewer night.
4/28/13. I actually got a reply on my Instagram post of the beer from the brewer. No rye, the spice comes from the hop blend. Love how many brewery's are on Instagram, beerporn everywhere!
1,244 characters

3.66
/5
rDev
+3.4%
look: 4 | smell: 3.5 | taste: 3.75 | feel: 3.75 | overall: 3.5
This pours a light tan straw color. Light hop aroma which just doesn't excite me. Dial up the hops—or at least give me more of a hop presence. Curiously, I picked up a spiced curry note on the flavor. Turmeric in particular. It has a pleasing bitterness with a piney finish. Perfectly decent IPA but it's going to get lost in a sea of excellent IPAs out here.
365 characters
Heroine India Pale Ale from 101 North Brewing Company
3.54
out of
5
based on
118
ratings.