Kvass

Scratch Brewing Company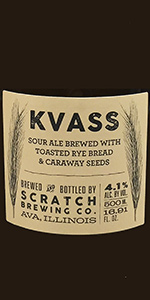 Rate It
Beer Geek Stats
| Print Shelf Talker
Style:

ABV:

4.1%

Score:

Avg:

4.21

| pDev:

6.18%

Reviews:

7

Ratings:

From:

Avail:

Rotating/Seasonal

Wants

Gots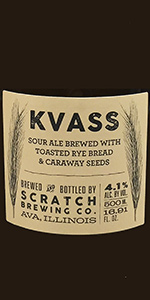 Notes:
Formerly known as Rye Kvass
Brewed with rye bread and caraway seeds.

REVZEB from Illinois
4.31
/5
rDev
+2.4%
look: 4.25 | smell: 4.5 | taste: 4.25 | feel: 4.25 | overall: 4.25
Murky orangey amber with no head. Rye bread, lemon juice, more bready grains, and very light caraway make up the nose, not macro smelling like most kvass I have come across. Taste introduces a touch of sour to the lemon that compliments the grains, rye and caraway nicely, has some salt and dry earth in there too. Honestly the caraway is what is holding this back for me, pulls away from the rest of the flavors. Feel works for me for the style because it is true to the grainy and bready texture, rye certainly hits this home, with lingering playful sourness. Might be the best kvass I have ever had!
Apr 29, 2020
dbrauneis from North Carolina
4.28
/5
rDev
+1.7%
look: 4.25 | smell: 4.25 | taste: 4.25 | feel: 4 | overall: 4.5
A: Pours a medium burnt orange in color with moderate amounts of active visible carbonation rising quickly from the bottom of the glass and faint medium golden yellow + honey colored highlights. The beer has a finger tall sudsy foamy light beige head that quickly reduces to a small patch of very thin film and a very thin ring at the edges of the glass. Minimal amounts of lacing are observed.
S: Moderate to strong aromas of toasted rye bread + caraway seeds with minimal amounts of sweetness. Light to moderate aromas of lemon citrus tartness and hints of brininess. The overall smell is fairly tart.
T: Upfront there are moderate flavors of toasted + rye malts with light to moderate flavors of caraway seeds and minimal amounts of sweetness. That is followed by moderate flavors of lemon citrus tartness and light amount of brininess. There is a moderate amount of lingering tartness.
M: Medium bodied with moderate amounts of carbonation. Moderate amounts of acidic prickliness.
O: Probably one of the most authentic and enjoyable kvasses I have had the opportunity to try to date. Very enjoyable flavors of rye and caraway as well as the citrus tartness. Definitely one to get to experience the style.
Aug 12, 2018
metter98 from New York
3.99
/5
rDev
-5.2%
look: 4 | smell: 3.75 | taste: 4 | feel: 4 | overall: 4.25
A: The beer is hazy yellow in color—too hazy to see if there is any visible carbonation. It poured with a short white head that covered most of the surface.
S: Light aromas of lemon juice are present in the nose along with faint hints of rye.
T: The taste has a light amount of sour, but given the low alcohol content of this beer it seems to mask most of the hints of the underlying grain bill. There are hints of caraway seeds towards the finish.
M: It feels light-bodied and faintly tart on the palate with a moderate amount of carbonation.
O: This beer isn't your typical kvass and exhibits subtle aromas and flavors.
Serving type: bottle
Aug 12, 2018
StonedTrippin from Colorado
4.63
/5
rDev
+10%
look: 4.5 | smell: 4.5 | taste: 4.75 | feel: 4.25 | overall: 4.75
this style is starting to make a little bit of a comeback, which i think is awesome. i have seen more of these so far in 2018 than in the last five years put together. its a cool style and this might be the best example of it that i have ever had. traditionally brewed with rye bread, this one also has caraway seeds to sort of double down on that liquid breadiness and give it a wonderful earthy complexity. its also slightly wild and funky from a yeast standpoint, both sour and winey, and bretty and wild, its truly a marvel, and at such a low abv, i could drink this endlessly. up there with my favorites that we had at scratch, and thats really saying something. the rye is amazing in here, with an earthy hearth baked complexion, even light smoke to it, with the spicy almost nutty caraway really bold in the mix too, toasted and hearty, i love it, so compatible with the wild culture here, which i reckon has improved over time for these guys. bone dry, effervescent, and interesting all the way though. this is as good a kvass as i have had, and the one beer from our visit here that i would love to drink again above all the others. one of a kind and absolutely brilliant!
May 29, 2018

flagmantho from Washington
4.2
/5
rDev
-0.2%
look: 4 | smell: 4 | taste: 4.25 | feel: 4 | overall: 4.5
Poured from 500mL bottle into a sort of tulip pint glass.
Appearance: medium orange hue with a bit of haze and a thin layer of ivory foam atop. A traditional look!
Smell: lightly tart and rather bready; it's quite different than most mass-produced kvasses I've had. It's balanced and enticing.
Taste: quite tart up front, subsiding into a great breadiness and strong but traditional kvass flavor. Perhaps a bit on the tart side, but this is one damn good beer.
Mouthfeel: medium body with a decent carbonation and actually a surprisingly good creaminess. I like it a lot.
Overall: this beer appeals to me greatly. It's got a great dynamic character, going from highly tart to sweet and bready, and I think it's extremely well-crafted.
May 03, 2018

bnes09 from Illinois
4.16
/5
rDev
-1.2%
look: 3.75 | smell: 4 | taste: 4.25 | feel: 4.25 | overall: 4.25
Light orange with a slight haze and some yeast sentiment. Minimal head. Light and fresh citrus aroma with loads of rye bread. Flavor is more balanced with a moderate rye character. Assertive citric acid with fresh lemon zest. Light, wet body and finishes slightly dry. This is good stuff. I love how the rye character is really distinct.
Jun 13, 2017

emerge077 from Illinois
4.27
/5
rDev
+1.4%
look: 4.5 | smell: 4.25 | taste: 4.25 | feel: 4.25 | overall: 4.25
Hazy orange with a lasting skim of foam and spotty lacing.
Bizarrely, there was rapid champagne carbonation shooting up from the bottom, carrying up chunks of yeast which looked like jumping sea monkeys. Strange and entertaining.
Aroma is lightly acidic with rye and caraway notes there if you search for them.
Taste is tart and crisp with bready rye and light caraway in the aftertaste. A tiny bit of salinity from the bread, lending a slight slickness. This is similar to a homemade kvass i've had, much more authentic than most of the commercial sweetened stuff. Mixed fermentation with probiotic bacteria is the way Kvass is traditionally meant to be.
Really nice stuff, probably the best Kvass available stateside. $17/500mL at the brewery, it's also the most expensive one, most likely. Kvass #31
May 13, 2017
Kvass from Scratch Brewing Company
Beer rating:
89
out of
100
with
21
ratings