Lustful Maiden
| Apocalypse Ale Works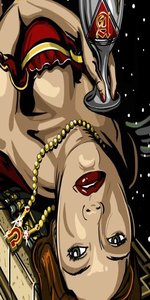 BEER INFO
Brewed by:
Apocalypse Ale Works
Virginia
,
United States
endofbadbeer.com
Style:
Dubbel
Alcohol by volume (ABV):
7.90%
Availability:
Year-round
Notes / Commercial Description:
No notes at this time.
Added by hokieguy95 on 07-10-2013
Reviews: 6 | Ratings: 46
4.91
/5
rDev
+29.6%
look: 4.75 | smell: 5 | taste: 5 | feel: 4.75 | overall: 4.75
I've enjoyed Belgian style ales for years, (all of them). I never thought I would find a Belgian Dubbel brewed in the US that was far and away better than my favorite import in this category. This ale is perfection. When it was served it had a smooth creamy tan head already showing the lacey design on the glass. The aroma was a smooth balance of fruit and slight spice with what was almost like an anise or caramel on the front end with dried fruit as it warmed. The first sip was a subtle combination of dried figs and something like citrus that finished with a subtle belgian candi sugar. I also noticed this ale won an international gold medal (even over Belgian brewery entries). Based on the website they used a Belgian style candi for this that was also made in the US. D180 candi syrup from a US company. Not sure which it was. After about 5 minutes of good conversation this ale was still adding new and complex flavors on the palate. Bread, caramel, anise, citrus?, and dried fruit. This brewer has my hat off. I did not expect this. This is the best Belgian style Dubbel I have tasted to date, (in 20 years of tasting).
1,131 characters
4.61
/5
rDev
+21.6%
look: 4.75 | smell: 4.25 | taste: 4.75 | feel: 4.5 | overall: 4.75
I have to say that I am not much of a Belgian style fan, but this one has definitely opened my eyes and in a BIG way.
I cannot really comment on exactly what I pick up in the flavor at this point. Most likely I will have to have a few more glasses of it in the future. What I can say is that in the past when I have had Belgians, specifically of the Dubbel nature I have not been very impressed. The beer changed that for me and that is why I am rating it so high.
Loved the smell, loved the taste, loved the color. Triple win for this beer in my book.
Also, this beer has won both beer championships that it was entered in the Belgian style category. The 2013 Open Beer Championships, and today it won gold in he Belgian Style category at the Microfestivus in Roanoke, VA.
776 characters

4.42
/5
rDev
+16.6%
look: 3.5 | smell: 4.5 | taste: 4.5 | feel: 4.25 | overall: 4.5
Poured into a snifter glass
Appearance: rich mahogany in color with some reddish hues. Was surprised there was little foam or head retention. After a few minutes there was none. Was it the way it was poured?
Smell: Immediate notes of spice and the malts came through as you swirled the glass. Intensified as the glass warmed. Very complex.
Taste: Tastes of brown sugar, and spices. Nice sweet flavor, but not overpowering sweetness from candied sugars. As it warmed the bread flavors surfaced and it became more complex. Finish of mild hops and all the flavors lingered on nicely. Taste and nose definately compliment one another. There's alot going on in this beer.
Moutfeel: medium bodied and creamy with decent carbonation. Alcohol taste was mild and not too noticeable for being 7.9%
Overall: A great beer! Was a little concerned when I saw how it poured, but nothing to worry about in the taste. Will be trying again soon and comparing to this experience.
Hope they begin experimenting with other Beligan styles. Bartender told me this beer won the Belgian style Gold medal at the 2013 US Open Beer Championship. Definately would be a contender in any contest.
1,172 characters
3.65
/5
rDev
-3.7%
Appearance: a dark garnet red color that lacks just a little bit of the brightness that often comes with similar colors. a finger of a whitish head that fades slowly and leaves just about nothing behind. pretty dark and almost opaque but clearer around the edges. 3.5/5
Smell: dark fruits, raisins and prunes. dark sweet candi sugar and belgian yeast. 3.75/5
Taste: opens up with sweet candi and hints of dark fruits. belgian yeast comes off slightly clove-like and fruity. backend is strong, bold and almost juicy raisins and prunes. Just a bit too strong on the raisins. 3.5/5
Mouthfeel: fairly heavy and full bodied. a touch on the velvety smooth side. quite dry. 4/5
Overall: A decent dubbel. the raisin taste is too strong for me and strikes the balance a little bit too far.
784 characters

3.55
/5
rDev
-6.3%
look: 3 | smell: 3 | taste: 4.25 | feel: 3 | overall: 3.25
This beer just adds to the arguement that Virginia is rapidly becoming a great source for great craft brews. This beer has a great darkfruit fig flavor. Super smooth too. But almost too smooth. If it weren't for tube flavor I would almost mistake this for a milk stout. Not really a lot of carbonation. But the flavor is Belgian as you can get. Very easy to drink. I can see why it won the awards it has. I would definayely drink this again.
441 characters
3.38
/5
rDev
-10.8%
look: 3.5 | smell: 3.5 | taste: 3.25 | feel: 3.25 | overall: 3.5
As inspiration from the Belgian abbey finds favor at the doorstep of Apocalypse Ale Works, the wine-ish taste of tart grape couples with malt sweetness, yeast spices and stone fruit to capture the essence of those classics.
And as the ale pour a dark russet brown with burgundy shades, its light carbonation fuels only a creme-like swirl before falling still. With one pass of the nose, those candied fruit flavors come to life with plum, red grape, date and raisin. As the taste glosses the tastebuds, the initial flavors are savory with hard candy and steely caramels.
Its light carbonation allows the fruit and sweetness to rest weightily on the tongue, saturating it with those residual caramels, simply syrups and confectioner's sweetness. Deep, dark and dried stone fruits offer their succulent, earthen and strong sweetness to suggest flavors of old fashioned horehound candy and cola. Finishing peppercorn and cinnamon trail in taste and usher in a dryly sweet, red wine character.
Medium-full and simply sweet, the beer's lack of expressive carbonation never allows the beer's lively, bubbly or spice action to evolve. Like a light, spicy barleywine, its dull bubbles limits the beer's aromas, it upsets the fruit/spice balance and keeps the beer sweet rather than dry. Still, its Belgian roots remain in tact and delight the palate with its fruit and spice medley deep in aftertaste.
1,396 characters
Lustful Maiden from Apocalypse Ale Works
3.79
out of
5
based on
46
ratings.