Dismiss Notice
PsycHOPathy IPA
| MadTree Brewing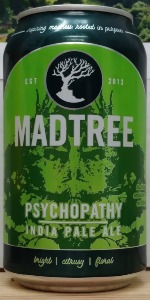 BEER INFO
Brewed by:
MadTree Brewing
Ohio
,
United States
|
website
Style:
American IPA
Alcohol by volume (ABV):
6.90%
Availability:
Year-round
Notes / Commercial Description:
The subtle malt backbone combats the bitterness and intensity of floral, grassy and citrus hop flavors. However, taste is perception. What's your slant?
Added by Brew33 on 04-09-2013
Reviews: 85 | Ratings: 633

3.89
/5
rDev
-1.3%
look: 3.75 | smell: 4 | taste: 4 | feel: 3.5 | overall: 3.75
Love that a new exciting brewery is has made its place in the growing Cincinnati craft beer scene. Happy to finally try it.
Pours a surprisingly golden, clear yellow with just a touch of copper. Much lighter and golden than most IPAs, but not off putting. Soapy white head that quickly filled up my snifter. Its reduced but hanging around for a while.
Nice fruity, resiny, dank hops in the nose. Maybe some lemongrass in there too. Sweet caramel whiffs as well.
The flavor is lighter than I expected but very very refreshing. sweet up front, with a mild bittering on the tongue. Grapefruit rind, lemon, just overall subtle citrus flavors with pithy bitterness.
Light, airy, slightly thin, easy drinking, Great IPA for a hot day.
I like this. This is an IPA for people who like Pale Ales and dont like big, malty IPAs. It drinks really really easy and leaves a nice bitterness behind. A must try if you have access to it.
★
927 characters

3.99
/5
rDev
+1.3%
look: 4 | smell: 3.75 | taste: 4 | feel: 4.5 | overall: 4
Reviewed from notes. Had at Great American Ballpark in Cincinnati for the game with the Cardinals. Poured from a 12 oz. can into a plastic cup (unfortunately, the only available option).
A: Nice gold with a bit of haze apparent. One finger worth of white head, and some good active carbonation visible.
S: Pine resin and citrus hops, very light biscuit malt and just a touch of grassiness.
T: Big citrus (grapefruit and lemon rind) and pine hops. A nice bready malt, but one that completely loses the flavor battle against the strong hoppiness for a (single) IPA. Light bitterness lasts into the hang.
M: Light body, a rather bubbly mouthfeel for an IPA, and low alcohol presence.
O: I was trying real hard to be realistic about this one, as it was the right beer at the right time at a beautiful night to watch a ballgame. But it was quite good. Never had anything else from this brewery, but they've got me interested. It's a level down from the elite of the class, but certainly a solid beer. Recommended.
★
1,013 characters

3.08
/5
rDev
-21.8%
look: 4 | smell: 3.5 | taste: 3 | feel: 2.5 | overall: 2.75
Much thanks to my friends Richard and Alanna for grabbing me this brew.
A: Pale yellow straw in color, with good clarity and a nice amount of white rocky head on top.
S: Pine and grapefruit peel with small notes of orange peel as well. There may even be a hint of lemon balm in there. Nice super clean hoppy smell, not a lot as far as caramel sweetness. Smells nice.
T: Clean bitterness with grapefruit being the predominant flavor. Some pine and light citrus. Not a lot as far as a malt profile goes.
M: Fairly light body, in fact a little too light. There is a nice dryness to it, but leaves the mouth wanting a bit of gravity. There is a slight oily feel from the hops and certainly an assertive bitterness.
O: The alcohol is in there somewhere, but it isn't too obvious. For me the flavor is a little one note, it's hoppy, and that's about it. It's bordering on a little watery for me, and the lack of malt flavor makes it seem like a one trick pony.
★
962 characters

4.1
/5
rDev
+4.1%
look: 3.75 | smell: 4.25 | taste: 4.25 | feel: 3.5 | overall: 4
a - poured a one finger thick off-white head into a snifter that left a thin ring and sheet throughout. the body was a bright orange-amber color.
s - citrusy and grassy hops.
t - citrus, grassy and floral hops with some honey sweetness to balance it out. this reminds me a little of hopslam, jr.
m - bubbly and crisp but a little too thin.
o - very drinkable and solid ipa. i would have like more carbonation but overall really good. loved the aroma and taste.
★
460 characters
4.4
/5
rDev
+11.7%
look: 4 | smell: 4.5 | taste: 4.5 | feel: 4.25 | overall: 4.25
A: First off i want to say the design on this can is awesome! poured a light copper. a good amount of carbonation is coming up from the bottom on this. it left a two finger bright white head with large bubbles that held on well.
S: first thing that catches me a sweet tropical fruit note. pineapple, fresh orange juice and a touch of grapefruit. there is a floral note on the end.
T: Very earthy and floral. Herbal. a little onion in there as well with a nice dry bitter finish. But there is a nice caramel sweet malt backbone. and the more i drink the more the citrus shines! orange zest, a squeeze a lemon and a dry grapefruit. an herbal pine in there as well! some acid on the finish makes your mouth crave more. balanced nicely.
M: its pretty light on the palate. medium carbonation. the bitterness is sticking around on the middle of my tongue which is excellent.
O: This is a great brew! its refreshing but bursting with flavor. The aroma is much more tropical fruit forward than the flavor but its has alot of citrus and earthy, herbal, resin in the flavor. this is a great session ipa and i could probably drink a case of them! 91
★
1,145 characters

4.14
/5
rDev
+5.1%
look: 3.75 | smell: 4 | taste: 4.25 | feel: 4 | overall: 4.25
A - Poured into a pint glass without much head retetion and a light to golden color.
S - hops, citrus and pine
T - Hop centric, citrus and grapefruit with a piney flavor. This is bitter but balanced out with the malts.
M - Medium body, high carbonation.
O - Its really nice that this is brewed in my neighborhood.
★
316 characters
3.96
/5
rDev
+0.5%
look: 4.25 | smell: 3.75 | taste: 4 | feel: 4 | overall: 4
Poured from a can into an IU mason jar.
A: Pours a light orange, translucent body. Produces a big and fluffy, pillow-like white head with good retention and decent lacing.
S: Some spicy black pepper, Mango, Pineapple, and grapefruit sweetness backed by a good hop presence.
T: Bitter upfront bite, followed with a very nice hop character, ends with juicy orange and grapefruit.
M: Medium body, Medium-high carbonation, sticky, buttery.
O: Glad to see a good, seshy IPA grace the shelves from Cincy - gotta love that it's from a can too. Nice citrus character and good hoppiness. Excited to see what else MadTree does.
★
622 characters

3.97
/5
rDev
+0.8%
look: 4.25 | smell: 4 | taste: 4 | feel: 4 | overall: 3.75
Pours a brilliant golden light copper color with a frothy one inch ivory head that leaves thick lacing as it dissipates.
Slightly sweet, grainy malt, resin, dank cannabis, and underpinnings of citrus form the initial aroma. Onion and pine surface late, adding complexity.
Flavor reveals more citrus dominance, becoming moderately bitter mid palate, and finishing fairly dry. Grapefruit, lime, and resin hit early in the profile, with grassy, earthy notes carrying into the finish. Notes of mango are slight. The malt backbone is extremely subtle and slightly grainy.
Body is moderate, carbonation a tad high, along with moderate astringency and slight alcohol warmth.
Good levels of hop flavoring and bitterness, but wish the malt were less grainy. More specialty malt would help. Hop citrus character could stand a touch more complexity.
★
842 characters
3.98
/5
rDev
+1%
look: 4 | smell: 4 | taste: 4 | feel: 3.75 | overall: 4
Cincinnati has always been a town to celebrate its brewing history. But with surprisingly poor beer culture, that history has largely circulated around the industrial lagers and without regard to the quality of craft beer... until now. And it looks like MadTree Brewing Company will be a part of the new movement, that is if they can continue to make beers like their flagship IPA!
PsycHOPathy pours a honey-gold color and shows absolute bright clarity as the beer settles and the foam separates. Capped with a frothy white hat, the beer retains stubbornly and clings the the glass with broken lacy rings. While much clearer than I expect dry-hopped beers to be and a tinge lighter in color than the norm- the beer's filtered character creates a charming appearance but isn't necessary.
Bright and zesty aromas are led by citrusy American hops, distinguishable grapefruit and orange peels, mild chivy herbs, and soft tropical esters all seem to be of fresh field-sliced sweetness because of the supple caramel and honey-sweet floral scent that brings this whole bouquet to life.
Early sweetness is supple and savory and arrives to greet the early palate just before the hops grow to take command of the taste. Starting fruity with oranges and apricots, a slight jammy taste resides. But deeper into the taste, its the turn to grapefruit-type that brings about the bitterness of citrus oils, pith and zest until the beer nose dives into a resinous pine bitterness to finish.
Medium bodied, the beer's early carbonation and residual sweetness lingers slightly before trailing quickly to favor hop dryness, grain sharpness, and alcohol warmth. Though quite dry, the beer doesn't deliver on the premiere dry texture a hop glory that I so wanted in this IPA.
MadTree's IPA will certainly quench the thirst of the most discriminating Hop Head. It's a refreshing and clean hop-dominant ale, but it needs a little more aggression in the "bitter" and "dry" departments to become truly irresistible.
★
1,994 characters

4.36
/5
rDev
+10.7%
look: 4.25 | smell: 4.5 | taste: 4.25 | feel: 4.25 | overall: 4.5
I was able to try this on tap at Flipdaddy's Mason location.
PsycHOPathy came to the table a very light gold in color. A one finger, snow white head on top. The aroma was outstanding. Big, juicy hop aromas. Oranges, grapefruit, some generic tropical fruit aromas.
I loved this beer. Lots of late addition hopping is evident. The malt profile is subtle and provides a great base for the abundance of hops. Not overly bitter for such a full flavored IPA. Quite refreshing for such a hoppy beer. Dry, light, and well carbonated. Finishes incredibly quickly and has you craving another drink. Alcohol is well masked.
Overall, I'm incredibly impressed. I can't wait until the cans begin hitting local stores. This may become a staple in my fridge. Well done MadTree. I can't wait to try more of your beers.
★
812 characters
PsycHOPathy IPA from MadTree Brewing
88
out of
100
based on
85
ratings.