Starrs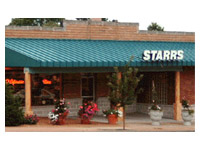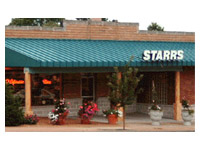 PLACE INFO
Type:
Store
1135 S Big Bend Blvd
Saint Louis
,
Missouri
, 63117-1635
United States
(314) 781-2345 |
map
starrs1.com
Notes:
No notes at this time.
Added by maxpower
PLACE STATS
Reviews:

10

Ratings:

pDev:

16.48%
HISTOGRAM
View: Place Reviews
Ratings: 14 | Reviews: 10
Reviews by wagenvolks:

4
/5
rDev
+11.7%
Love this store for some tasty food, wine, and beer. As far as selection goes, it doesn't have much in the way of local missouri/midwest microbrews (O'fallon, Schlafly, Boulevard, etc), but it does have a nice german and belgium contingent. Chimay, Unibroue, St. Bernardus, and a good selection of hard-to-find Lambics.
Service can be a bit slow at times, but the staff are friendly. Value is a bit overpriced, but it just depends on what you're looking for...a nice bottle of lambic ran for $13 dollars while a six pack of O'dells 5 Day IPA was around $8.
560 characters
More User Reviews:
3.25
/5
rDev
-9.2%
vibe: 3.25 | quality: 3.25 | service: 3.25 | selection: 3.25
3.5
/5
rDev
-2.2%
vibe: 3.5 | quality: 3.5 | service: 3.5 | selection: 3.5

4.35
/5
rDev
+21.5%
vibe: 4.5 | quality: 4.25 | service: 5 | selection: 3.75
This is a great store with knowledgeable and friendly employees. They had a sample table with more than a dozen premium liquors. I was able to try some excellent tequila and rum after purchasing beer. One of the employees also works at a winery, and gave us some tips for trying wines while visiting Missouri.
While I had to visit a few other places to complete my wish list, I was very happy with what I got here and the service I received.
442 characters
4.01
/5
rDev
+12%
vibe: 3 | quality: 4 | service: 4 | selection: 4.5
The store isn't very fancy at all, but Bud are Karen are super nice to talk to and work with and take care of their customers. It's definately more of a locals store, and seems like a specialty grocery store from the outside, but the craft beer selection is very good, if a little disorganized. Prices are in-line with the other major beer stores, and less than Friar Tucks. Great place to stop by and just a minute off of Interstat 64/hwy 40 if you are traveling through St. Louis. They have wine and spirits, but I'm not into either so can't comment on those selections but based on the beer choices, I'd guess they are good.
I see some of the old reviews mention the selection is small, it's definately been re-done, and they have nearly everything that gets distributed in MO.
781 characters
3.4
/5
rDev
-5%
Good beer selection and pricing seems to be correct for the area.I did have an off-putting visit though. The person who I perceived as the owner was having a loud and distrubing conversation with an employee or perhaps his wife regarding employees and hiring practices....among several other things. The loud ongoing arguement continued as costomers stood waiting at the unmanned register. Help was offered early in the visit, but the hateful coversation between the two concerned was off-putting and made me and my wife very uncomfortable. Whew!
546 characters
3.85
/5
rDev
+7.5%
Just a couple items to add the previous reviews.
One: yeah, if you've been to Corrall you're gonna be disappointed in the size of the offerings; maybe only 1/3 the quantity. But, very nice quality and selection on what they do have. Slightly higher in prices than Corrall, too.
Second; Found out you cannot mix packs. This is a *business* decision they made, they think (incorrectly, IMO) the singles will not sell. Bummer, DON"T wanna buy whole sixers/four packs of some brews! My *business* decision will be to go back to stores with singles.
Still, nice and friendly service. Grab a pack of craft beers if you're in the area and check it out for yourself.
672 characters
3.65
/5
rDev
+2%
I've stopped in here on and off for the last few years;
The place itself is a little funny looking; feels like an old funky grocery store in need of a style update. It is primarily a wine store, but has a number of specialty items like coffee, fresh tuna and other meats (btw the whole bean coffee is pretty good and reasonably priced). BUT, most importantly for us, it has a long row of beers to choose from.
I go here because there is noplace else nearby that has quite the same selection of specialty beers. Yes, I can get Ommengang products and Unibroue stuff at Whole Foods or even Schnucks (local grocery), but they only usually carry a few limited varieties, where I can usually expect to find many different varieties at Starrs.
Certainly has plenty of Belgian beers (sorry, no illegal Westy that I saw), and a good spread of micros, german, and others. No, they don't have every beer ever made by anyone (no Arrrogant Bastard, no Avery's Beast- or is that a good thing?); I can't imagine that there's enough interest in this Bud town to keep the stock from getting old if they tried to carry everything. But this is the only place nearby me with a good variety.
I do have to share that I had stayed away for a little while after getting two "off" bottles (flat, funky tasting); but I get the sense that some storage rotation issues have been worked on; Also, when I mentioned this to the owner, he stated that I should bring back any bottle that I though was iffy so he can both replace it and check in to where the problem occurred.
So overall, yes, I've had some mixed experiences, but overall it's been positive in the sense that I can't find this selection anywhere else in this town, and any bad experiences have been at least addressed- I'll update over time my experiences with stock quality.
Oh, and BTW- if you are into wine, he really does have a nice selection of wines, and a different selection than most other wine stores- some really nice stuff too.
1,993 characters
2.7
/5
rDev
-24.6%
Alright. I've had a bad experience with this place and I'm going to do this review in two parts: the good news and the bad news.
The good news:
They have a good selection. They really do. Cantilion, Fantome, Unibroue, Rogue, Capitol, Kalamazoo, Rochefort, St. Bernardus, Liefmans, LaChouffe, etc, etc. a great selection of English and German beers. They've a unique (in St. Louis, at least) selection of vintage beers including many, many years of Gales Prize Old Ale and several vintages of J.W. Lee's Harvest Ale, Fuller's Vintage, etc. It's really a nice selection in this regard.
It's worth a stop for the size of the Belgian selection and for all the great old beers, but buyer beware. Sometimes the beers are off.
And here we come to the bad news:
My earlier review of this place mentioned that there are some problems with stock rotation and that I had bought too many old and off bottles of beer. Based on my review I received a nasty gram from the owner of Starr's. He complained that if I'd had bad bottles I should've brought them to him rather than "sneaking around anonymously on the internet".
Fair enough, I thought, and I attempted to write a diplomatic response stating that I and others I know have indeed bought off and old beers from him and that I would give his store another chance at some point and adjust my review accordingly. I even went so far as to attempt to lessen the negative tone of my initial review through editing.
His response to this was another nasty gram about how my review of his store was undermining his attempt to bring craft brews into St. Louis. I had no idea that I possessed such power.
At this point it's obvious that he didn't care that I'd had a bad experience he simply cared that I was talking about it.
So here's the bad news. Too often there is old or bad beer on the shelves. On top of that, the owner apparently doesn't care for dissenting opinions and would rather berate a reviewer than befriend them.
I suggest spending your money elsewhere while in St. Louis. If you can't make it to Corral, try Lukas. This place has a thing or two to learn about how to treat customers.
2,174 characters

3.85
/5
rDev
+7.5%
Very nice sellection. Not as huge as it you would like, but they can't have everything all the time. Wide variety of Bellgians', many Roges', Yong's, K'zoos' & other well known micros. Lots to chose from in single bottles, though never exactly what I'm looking for on any given day it seems. If you ask the staff is very helpfull & knowledable about most of thier stock, some more than others as allways though. It is mainly a wine shop, giving maybe 70% of its floor space to it. Lots of treats in the deli cases, from fine cheese, olives, spreads, breads, dips & chips. Prices certainly are not discount, though they are generaly slightly bellow the gouge level of some specialty shops.
Ave
696 characters
4
/5
rDev
+11.7%
Quality: Good range of brews...everything seemed to be rotated on a regular basis (no dusty bottles.)
Service: Workers were helpful and knowledgable...
Selection: Pretty good overall. Great Belgian selection. I saw some beers here that I'd never seen before.
264 characters

4
/5
rDev
+11.7%
They have a great selection of US Micros, Imports, Vintage Ales, Lambics and one of the best Belgian Ale selections around. Any one looking for something good will find it here. I have found alot rare beers.
207 characters
Starrs in Saint Louis, MO
Place rating:
3.58
out of
5
with
14
ratings