Hefeweizen
| Six String Brewing Company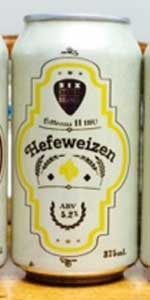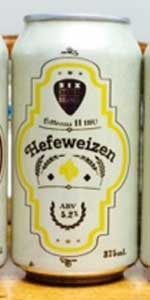 BEER INFO
Brewed by:
Six String Brewing Company
Australia
sixstringbrewing.com.au
Style:
Hefeweizen
Alcohol by volume (ABV):
5.20%
Availability:
Year-round
Notes / Commercial Description:
No notes at this time.
Added by laituegonflable on 03-20-2013
HISTOGRAM
Ratings: 9 | Reviews: 3
None found.
More User Reviews:


3.33
/5
rDev
+2.5%
look: 3.5 | smell: 3 | taste: 3.5 | feel: 3 | overall: 3.5
Pours a pale straw colour, hazy. White head, thin and pretty lacking. OK I guess.
Slight tartness on the nose, banana and apple coming through. Just a hint of mild spice. Par for the course, nothing too special.
Taste is a bit weak, some banana esters and other fruit, with a touch of anise on there. Fairly sweet and fruity characters throughout, particularly on the back where I'd prefer more spice esters to come through.
Not a very full bodied hefe, quite light and slightly dry without much spice oomph. Bit of light sizzle from the carbonation.
Drinkable though, and accessible. Good entry platform for Six String's range.
641 characters

2.64
/5
rDev
-18.8%
look: 2 | smell: 3 | taste: 2.5 | feel: 3 | overall: 2.5
Hefeweizens seem to be a difficult style for Aussie brewers to replicate and these days more and more I suspect it all comes down to yeast - here's a good example: Weihenstephan, arguably the greatest Weizen brewery in the world, also have the largest collection of yeast in the world - a giant yeast library. They aren't collecting it to test out athletes foot cream now are they? The difficulty of obtaining decent yeast to use in brewing of yeast-driven styles such as Weizens, Quadrupels and Saisons results in most Aussie yeast-driven brews having what I call a "homebrew" flavour... why do I call it that? Because the yeast in them tastes similar to the yeast in my own previous homebrew [disasters!]. Hopefully Six String have perfected this.
Poured from a 375ml can into a Weizen glass.
A: Hmmm, missing the "hefe" part of Hefeweizen (i.e. yeast haze) with a clear golden body and white head that went from 1 inch to fizzle out completely... this is probably one of the weakest Weizens I've seen... no head? That is un-ac-ceptable! *said in a German accent* 4/10.
S: Caramel/banana notes upfront, a bit of diacetyl is perfectly OK for a Weizen... minor notes of lemon and pear round out the aroma which is missing, again, some spiciness (or clove) character which yeast would bring to the table. 6/10.
T: Yep, homebrew flavour, dammit! That fusel alcohol note in the fore. Was looking forward to a good Weizen too. Grainy notes accompany the above noted flavours, more caramel/butterscotch than banana driven. This is not good Weizen flavour territory to be in IMO. 5/10.
M: Mid to light bodied with a lively carbonation that is reasonably dense (though nowhere near what a German Braumeister would find acceptable). 6/10.
D: If my disappoint is palpable it is because of the umpteen number of Australian Hefeweizens I've tried that don't even come close to what German brewers can craft. It's either through laziness or lack of knowledge that so many Aussie brewers fail to reproduce a decent Weizen, and depending on who it is it may be one or both (Matilda Bay Redback springs to mind, as do many other brewers). I might have to just give up or avoid buying another Australian Weizen, unless someone can convince me that they've found anything close to decent, from here on out. Sad because I love a good Weizen, but the Germans they have a lock on that style AFAIC. 5/10.
Food match: It wouldn't be justice to serve it with German fare, just BBQ it.
2,492 characters




3.76
/5
rDev
+15.7%
look: 4 | smell: 3.5 | taste: 3.75 | feel: 3.75 | overall: 4
Hybrid review - I had both on tap and also grabbed a squealer from the brewery.
Appearance - Very cloudy gold, one finger head, good head retention.
Smell - wheat, yeast, lemon.
Taste - yeast, lemon, hint banana tho under-represented for style.
Mouthfeel - nicely carbonated and light on tap, lost some of that in growler, consumed five hours after fill.
Overall - Hef seems a horribly poorly made style in Aus, however, this reverses that trend. Good solid offering from the Coast. I would tend toward not filling a growler with this style of beer in future, tho.
569 characters

Hefeweizen from Six String Brewing Company
Beer rating:
3.25
out of
5
with
9
ratings