Boris
| Alpine Beer Company
BA SCORE
81
good
58
Reviews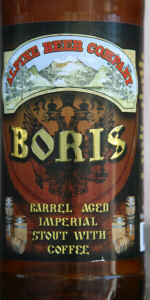 BEER INFO
Brewed by:
Alpine Beer Company
California
,
United States
alpinebeerco.com
Style:
American Double / Imperial Stout
Alcohol by volume (ABV):
10.00%
Availability:
Limited (brewed once)
Notes / Commercial Description:
No notes at this time.
Added by seaoflament on 11-11-2008
This beer is retired; no longer brewed.
Reviews: 58 | Ratings: 70

3.85
/5
rDev
+8.8%
look: 4.5 | smell: 4.5 | taste: 3.5 | feel: 3 | overall: 4
Man this is a great looking beer with an even better more appealing looking head. Pours like used motor oil with a deep mocha head that cleans up somewhat into a more deep tan appearance. Good lacing and very little light penetrates.
Nose is sensational as well. Mocha, dark chocolates high in cocoa percentages, loads of coffee with an espresso like appeal. The bourbon comes through and melds nicely with the coffee aromas and adds a bit of oak and toasty vanilla to the mix. Multiplexed with black fruits as well.
A little thin in mouthfeel with a tannic woody presence bearing down on the middle and finish. Coffee tannins as well with a bit of hop bitterness. Full of chocolatey mocha induced coffee grounds with a good amount of the bourbon making itself known. Much in the way of dark fruits, plum, mollasses, blackberries and even a hint of blueberry. Some oak and vanilla with a hint of caramel. A very slight roast on the end. Anxious to see how this ages as it will either come into itself and mellow out or totally fuck up.
1,037 characters
3.8
/5
rDev
+7.3%
look: 4 | smell: 4 | taste: 3.5 | feel: 4 | overall: 4
Big thanks to Joey for recommending another solid beer for me to try. This one arrived the other day and was quickly chilled and decanted into an oversized wine glass. Consumed on 11/22/2008.
The pour was nice, a rich and very dark brown, nearly black color appeared before me straight away. Nice hints of light peaking in through the sides on an otherwise dark as an abyss pour. Light tan head of maybe a half an inch peaking up through the top and settling down quickly, leaving some light side glass lacing and a decent little crown.
The aroma was charged with coffee and brandy. Light and sweet with delicate notes of molasses and sweet sugar like barrel ntoes. Hints of coffee buried underneath of it all. The flavor carried more of the same, but came off a little bit lighter then what I had hoped. Nice light notes of coffee, hints of molasses and dark caramel sugars. Some light woody flavors dancing around a caramel sweetness that rolled toward a nice finish that hinted at vanilla before dissapearing into a void of bitter coffee. Smooth feel on this one, with not alot of carbonation, but nowhere near thin. I was able to easily finish this one without much of an issue, as most of the alcohol was more then well hidden,
Overall not a bad big stout, though it falls short of the big boys. It has its place though and it is very sweet and drinkable. I would have no issue with drinking this one again and will be intrested to see how it holds up.
1,460 characters
3.77
/5
rDev
+6.5%
look: 4 | smell: 4.5 | taste: 3.5 | feel: 3.5 | overall: 3.5
A: Dark, dark brown; chocolate ice cream-colored head...creamy but kinda wet, as such no lacing whatsoever.
S: bakers chocolate, ripe dark fruit, sour oak barrel,
T: roasted chocolate malts with a strong acidity from the bourbon barrel. The dry finish literally feels like you bit into the oak of the barrel...
M: Somewhat thin for an imperial stout. Well carbonated.
D: A little bit light for the style, strong acidity from the oak barrel. Weird kind of taste. It's not bad, but its not one of my favorite barrel aged stouts either.
540 characters

3.83
/5
rDev
+8.2%
look: 4 | smell: 3.5 | taste: 4 | feel: 3.5 | overall: 4
On tap at O'Brien's, served in a pint glass. Also had a 10oz. glass for good measure. A very dark brown pour with a 1/4" cocoa brown head and decent carbonation. The head faded fast leaving some rings of lace clinging on each sip initially.
The first sniffs were somewhat faint with oak out front, followed by some fig, prune and black coffee. The bourbon was barely noticable to my old nose, which came as a bit of surprise for my expectations. Oak and coffee remainrd the stand-outs of this brew with notes of ripend plum (prune) and a hint of bitter baking chocolate intertwined. Even as it warmed a bit, the nose was still lacking.
The taste starts off mildly sweet of dark malt, chocolate and prune, that turn a bit raisiny and then wham...bitter coffee, black bitter coffee to the bitter end. Tasty enough, but not the complexity I was hoping for.
Body is a bit thin but not fron the barrel ageing...it just seems to lack viscosity and bold flavor as well. The alcohol seems pretty tame and well hidden for 10% brew. A good, easy to drink stout in any case, not what I was expecting.
1,092 characters
3.93
/5
rDev
+11%
look: 4 | smell: 3.5 | taste: 4 | feel: 3.5 | overall: 4.5
Picked up from Joey at South Bay on a recent beer haul.
A: Pours a nice pitch black, oil smoothness, and quickly develops a great coffee ice cream colored head, although this is just a teaser and doesn't hang around very long.
S: Rich coffee smell, South American type beans, with hints of a cherry-filled chocolate bar. Don't get much from the Heaven Hill bourbon barrels. For some reason I feel I can only get 70% of the smell, like its holding something back.
T: Not quite what I was anticipating but definitely a pleasant surprise. Coffee is apparent but what comes through strong are the fruit notes. Chocolate makes an appearance, as well as the Boris alcohol punch. Little sourness, maybe some wood flavors, can't get the bourbon notes. Unique interpretation of the style.
M: For a 10% Imperial stout, this one is rather thin. Since it plays more to the lighter flavors, it ends up that way on the mouth. Would be really an amazing brew on a Nitro tap.
D: Very drinkable for an Imperial Stout. As long as you're not opposed to the unexpected profile, a few of these could be put back no problem.
Overall, an interesting brew, might disappoint me slightly if I wanted one of the "keep me warm" bourbon stouts.
1,225 characters
2.09
/5
rDev
-41%
look: 4 | smell: 2.5 | taste: 1.5 | feel: 3.5 | overall: 1.5
Picked up a bottle of this at South Bay Drugs while I was in San Diego last weekend. Pours dark if not black in color with an appetizing thick tan head. Looks fantastic.
Smells and tastes of coffee and chocolate. However, there is also a tart fruit flavor going on here that does not work with the roasted malts, coffee and chocolate, or maybe that's tannins from the wood?
Although this was aged in bourbon barrels, I didn't notice much, if any, bourbon in the taste either. If Goose Island BCS is at the extreme bourbon end of the spectrum for bourbon barrel aged stouts, I would put this at the opposite end. I split this bottle with abfraser and unfortunately we both ended pouring out a fair amount of our glasses.
723 characters
4.11
/5
rDev
+16.1%
look: 4.5 | smell: 3.5 | taste: 4 | feel: 4 | overall: 5
650 ml bottle from Bev4less in Santee. Pours an opaque dark brown-black color with a small khaki head that has fair retention.
The aroma is medium in strength and features chocolate, coffee and a touch of whiskey.
The flavor, like the aroma, also has plenty of chocolate and coffee, but there is an acidic quality that materializes and distracts(I speculate that this is because of the wood). Other prominent flavors are biter walnuts, mocha and very light bourbon. The bitterness was also quite distinct--this is perhaps the bitterest bourbon barrel concoction yet.
The mouthfeel is initially light but builds to a full effect. The finish is long with lingering acidic oak.
In conclusion, I believe there are three typical types of bourbon barrel aged beer; those with too much bourbon, those with too little and those with a good balance. This one falls into the second category, there is just barely a trace of the bourbon flavor. Personally I prefer the stronger types. That aside, this one agrees with me from the standpoint of drink-ability, it goes down easy and quickly. This might age well. I say Try it.
1,121 characters

3.66
/5
rDev
+3.4%
look: 4.5 | smell: 3.5 | taste: 3.5 | feel: 3.5 | overall: 4
Just picked up a bomber of this at South Bay Drugs and Liquor. Had been looking forward to trying this since I first saw the barrels in the brewery back in April.
Barrel Aged Imperial Stout With Coffee
From the label:
*Boris is a hearty Imperial Stout that is aged in 10 year old Bourbon barrels. We've added a custom blend of cold brewed coffee to enhance the complexity. You'll love the rich maltiness with hints of chocolate and dark fruit in this formidable brew.*
Poured into my Alpine Ale pint glass. Pours the color of ink, complete darkness and a somewhat fizzy, rapidly descending, two inches of mocha colored foam.
Huge barrel and wood presence with notes of vanilla, tons of dark fruits, black cherries and apricot pits. As the foam falls down to a ring the chocolate malts and coffee notes strengthen. It has a nice mocha aroma along with some cocoa, toast, and somewhat of a rye and whiskey finish. Wow, let this one sit in the glass for a few moments and it begins to shine. Dry wood, milk chocolate, roasted barley, and malted milk. I think the barrel is a tad too aggressive though, there are just some noticeable bitter tannins in there from the barrels. Hints of smoke and tobacco. Ha ha ha, there's an aroma there that just reminds me of how old people smell...crusty, stale bread. Grain and cereal too. As the beer warms up it reveals some brown sugar, maple syrup, and caramel.
Tastes of roasted barley, bitter chocolate, grains, cereal, oak, cocoa, and dry fruits. Again I get the apricot pit flavor, black cherries, and plums. More coffee flavor on the second sip but it seems a little too mellow. I don't know, something just seems missing. A tad ashen but not much. Notes of tobacco, toast, and more fruit in the finish. A bit of alcohol in the finish but for a 10% beer I think it's pretty well hidden. Some tangy wheat or rye-like flavor in the back of the tongue and well into the aftertaste. Hardly any mid-palate to speak of. There are the initial flavors of roastiness and oak and hardly anything in the middle and then a long finish and aftertaste of cocoa, bitter chocolate, coffee, dark fruits, tangy wheat/rye, and lots of oak. A little grape flavor, long in the aftertaste.
Feels rather thin on the palate, good carbonation but some meaty body is lacking. Dry, oaky finish. Lively carbonation fortunately picks up the mouthfeel toward the finish but the body is still lighter than what I hoped for.
Not a bad beer. I just don't think the barrel aging came out as good as it could have.
2,529 characters
Boris from Alpine Beer Company
3.54
out of
5
based on
70
ratings.